Today, for­mer Chica­go police com­man­der Jon Burge, who was con­vict­ed of lying about tor­tur­ing over 100 African-Amer­i­can men at sta­tion­hous­es on Chicago's South and West Sides, will walk out of the But­ner Cor­rec­tion­al Insti­tu­tion, hav­ing been released to a halfway house in Tam­pa, Florida.
The total in financial damages to taxpayers from the torture of over 100 black men that Burge oversaw, and the ongoing pension payouts to his collaborating officers, exceeds $120,000,000—with no end on the horizon.
Burge's 2010 con­vic­tion for per­jury came near­ly 20 years after his reign of racist ter­ror final­ly end­ed. From 1972 to 1991, he led a tor­ture ring of white Chica­go detec­tives who rou­tine­ly used elec­tric shock, suf­fo­ca­tion with plas­tic bags and type­writer cov­ers, mock exe­cu­tions and bru­tal attacks on the gen­i­tals to obtain con­fes­sions from their vic­tims. A team of lawyers at the People's Law Office, includ­ing myself, doc­u­ment­ed 118 such cas­es. But a series of police super­in­ten­dents, numer­ous Cook Coun­ty pros­e­cu­tors and a cov­er-up that impli­cat­ed for­mer May­or Richard M. Daley (dur­ing his time as both may­or and state's attor­ney) pro­tect­ed Burge and his men from pros­e­cu­tion until well after the statute of lim­i­ta­tions had run out on their crimes of torture.
Like Al Capone's pros­e­cu­tion for tax eva­sion, Burge could only be pros­e­cut­ed for lying about what he and his men did, not for the deeds them­selves. He was sen­tenced to the max­i­mum term of four and a half years, and end­ed up serv­ing three and a half before being released to a halfway house — a stark con­trast to the fates of his vic­tims, many of whom received death sen­tences or life in prison on the basis of con­fes­sions that were tor­tured from them.
Despite his felony con­vic­tion, Burge con­tin­ued to col­lect his pen­sion (now at $54,000 per year) while serv­ing his time, and the Illi­nois Supreme Court recent­ly decid­ed four to three that he may con­tin­ue to do so in the future. But the near­ly $700,000 that Burge has already col­lect­ed is lit­tle com­pared to what Chica­go, Cook Coun­ty, the State of Illi­nois and fed­er­al tax­pay­ers have already expend­ed as a result of the Burge tor­ture scandal.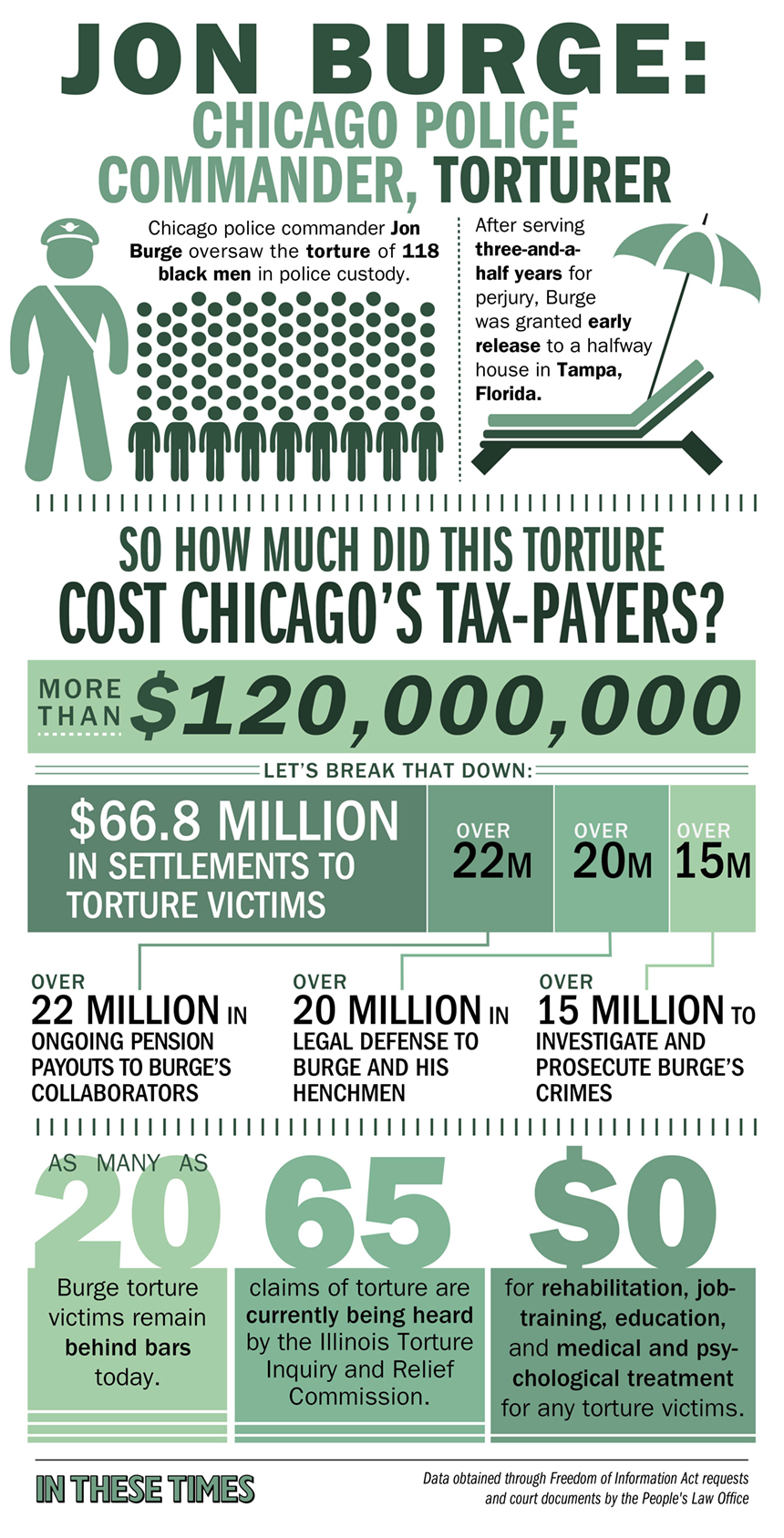 Chica­go has spent more than $20,000,000 to pro­vide legal defense to Burge and his men in the numer­ous civ­il dam­ages suits brought against them over the years. Chica­go, Cook Coun­ty and the State of Illi­nois have paid out more than $66,000,000 in set­tle­ments to com­pen­sate the Burge tor­ture sur­vivors who were wrong­ful­ly con­vict­ed on the basis of false con­fes­sions. The city, coun­ty, state and fed­er­al gov­ern­ments have spent more than $15,000,000 inves­ti­gat­ing and pros­e­cut­ing Burge. And his cabal of offi­cers has received $22,000,000 in pen­sions to date.
The total finan­cial dam­age to tax­pay­ers as a result of the tor­ture of over 100 black men that Burge over­saw, and the ongo­ing pay­outs to his col­lab­o­rat­ing offi­cers, now exceeds $120,000,000, and will only keep growing.
While Burge's con­vic­tion and impris­on­ment were right­ly seen as a major vic­to­ry for the ongo­ing human rights strug­gle against police tor­ture, the bat­tle has con­tin­ued apace. As many as 20 Burge tor­ture vic­tims remain behind bars decades after their con­vic­tions, and the move­ment has focused on demand­ing new hear­ings for them at which they would be per­mit­ted to present the evi­dence of sys­tem­at­ic tor­ture that has come to light since their convictions.
Some of these men have won new hear­ings, while oth­ers have either been denied or are await­ing deci­sions from the courts or the Illi­nois Tor­ture Inquiry and Relief Com­mis­sion (TIRC) on their requests. A court appoint­ed mon­i­tor is exam­in­ing pris­on­er files and let­ters to deter­mine whether there are addi­tion­al pris­on­ers who may be enti­tled to judi­cial review of their claims of Burge-relat­ed tor­ture. And the TIRC, which was cre­at­ed by the Illi­nois Leg­is­la­ture in response to the demands of com­mu­ni­ty activists, is also review­ing some 65 claims of tor­ture and relat­ed abuse at the hands of detec­tives who, while not work­ing for Burge at the time of the alleged tor­ture, had pre­vi­ous­ly worked for him.
While Chica­go has spent more than $20 mil­lion defend­ing Burge and his crew, the dozens of sur­vivors who have not been offi­cial­ly exon­er­at­ed have received lit­tle or no com­pen­sa­tion. Work­ing menial jobs or unem­ployed, with many in need of health ser­vices for their phys­i­cal and men­tal trau­ma, a num­ber of them have coura­geous­ly stepped for­ward and tes­ti­fied against Burge or have oth­er­wise spo­ken out about their torture.
Two lead­ing exam­ples are Antho­ny Holmes and Dar­rell Can­non. Holmes, who was the first known vic­tim of Burge's elec­tric shock and suf­fo­ca­tion tac­tics, was a key wit­ness against Burge at his tri­al and sen­tenc­ing near­ly 40 years lat­er. Can­non, who in 1983 was sub­ject­ed to elec­tric shock and a mock exe­cu­tion by three of Burge's most racist hench­men, has become the lead­ing spokesman in Chicago's anti-tor­ture move­ment, and his case is fea­tured in Amnesty International's cur­rent cam­paign against tor­ture in the Unit­ed States.
Both men spent decades in prison on the basis of con­fes­sions tor­tured from them, but Holmes has received no com­pen­sa­tion, while Can­non received a $3,000 set­tle­ment before the tor­ture cov­er-up came unglued.
The con­trast between the offi­cial treat­ment of the tor­tur­ers and their vic­tims has spurred activists, tor­ture sur­vivors and lawyers work­ing with the Chica­go Tor­ture Jus­tice Memo­ri­als Project (CTJM) to cam­paign for the pas­sage of a city ordi­nance that would address this appalling dis­crep­an­cy. Intro­duced into City Coun­cil last Octo­ber by Alder­men Joe Moreno and Howard Brookins, the ​"Repa­ra­tions Ordi­nance" calls for the estab­lish­ment of a $20 mil­lion fund to com­pen­sate tor­ture sur­vivors who have so far received lit­tle mon­ey or noth­ing at all.
The repa­ra­tions would also include an offi­cial pub­lic apol­o­gy from the City of Chica­go and the estab­lish­ment of a cen­ter on Chicago's South Side where sur­vivors and their fam­i­lies could receive treat­ment and edu­ca­tion­al and job train­ing oppor­tu­ni­ties. Addi­tion­al­ly, the ordi­nance man­dates that the his­to­ry of Chica­go police tor­ture be taught in Chicago's pub­lic schools, and that memo­ri­als to the tor­ture sur­vivors be erect­ed in the city.
As a result of CTJM's work, the ordi­nance now has the spon­sor­ship of a major­i­ty of the 50 Chica­go city coun­cil mem­bers. CTJM has also issued a for­mal request to all of the city's major Demo­c­ra­t­ic can­di­dates for may­or, both declared and unde­clared, to pub­licly sup­port the ordi­nance. Chica­go Teach­ers Union Pres­i­dent Karen Lewis, who is con­sid­er­ing chal­leng­ing May­or Rahm Emanuel in the 2015 may­oral race, has issued a strong endorse­ment of the ordi­nance, stat­ing that ​"repa­ra­tions for the sur­vivors of Chica­go police tor­ture are long past due."
With the Feb­ru­ary 2015 pri­ma­ry fast approach­ing, Emanuel, whose asser­tions of con­cern for the needs of the African-Amer­i­can com­mu­ni­ty all too often ring hol­low, would be wise to con­sid­er the con­se­quences of fail­ing to sup­port such a rea­son­able effort to heal the still fes­ter­ing wounds inflict­ed by the tor­ture scandal.
Chica­go, like the coun­try at large, has been sen­si­tized to racist police vio­lence by the events in Fer­gu­son, Mis­souri. In July, two African-Amer­i­can youths were shot down by Chica­go police offi­cers, and a Chica­go police com­man­der has been sus­pend­ed and crim­i­nal­ly charged for tor­tur­ing an arrestee by shov­ing a gun into his mouth.
In this racial­ly charged atmos­phere, Burge's release serves to fur­ther ener­gize the forces that are fight­ing for jus­tice for the sur­vivors of tor­ture. Repa­ra­tions and fair hear­ings will go a long way to final­ly afford­ing clo­sure to a scan­dal that has dogged Chica­go for more than forty years.