Ossoff's Loss Is Further Proof: Democrats' Path to Power Is Through Moving Left, Not Center
The results in Georgia show that the Trump resistance can show up to the polls, but centrism isn't a strategy to win.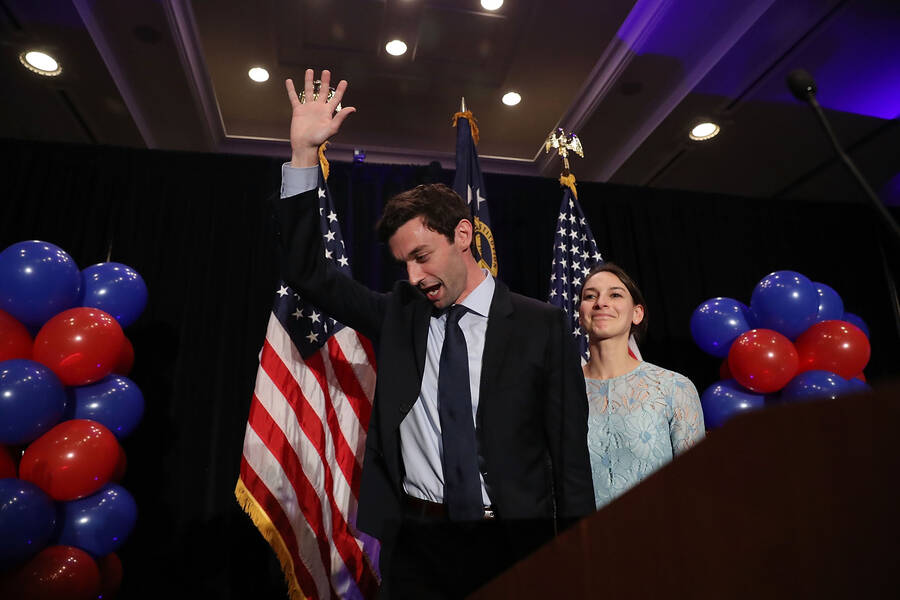 Repub­li­cans love to point to their suc­cess at the bal­lot box as proof of their vital­i­ty. A par­ty that con­trols a major­i­ty of state­hous­es and the U.S. Con­gress, along with the Supreme Court and the pres­i­den­cy, must have the most pop­u­lar ideas. Right?
There is a clearly marked and well-known path to new life for the Democratic Party: embrace and run on a bold, progressive agenda.
So the the­o­ry goes. And there was more evi­dence for it on Tues­day, as Repub­li­can Karen Han­del beat Demo­c­rat Jon Ossoff in the spe­cial elec­tion for Georgia's 6th District.
For a par­ty that's so suc­cess­ful, though, the GOP sure doesn't have much con­fi­dence in its poli­cies. Hun­kered down in a closed-off D.C. office build­ing, Repub­li­can sen­a­tors are now work­ing out the fin­er points of their plan to repeal and replace Oba­macare, keep­ing the details secret because ​"we're not stu­pid," as one staffer said. They can hide, but they can't run. They know, as we all know, the reck­on­ing that awaits when the truth — about the plan's cuts to Med­ic­aid pro­grams and big tax cuts for the wealthy — is revealed.
It's the same sto­ry on near­ly any issue you can name: the GOP agen­da is tox­ic. As I've not­ed before, a nation­al con­sen­sus has emerged around a remark­ably left-lean­ing set of poli­cies. Even the once-rad­i­cal idea of sin­gle-pay­er health­care is now main­stream, as is the idea of rough­ly dou­bling the fed­er­al min­i­mum wage. At least 58 per­cent of Amer­i­cans also sup­port abor­tion rights, unions, action on cli­mate change, more invest­ment in renew­able ener­gy, high­er tax­es on the wealthy, free child care, legal­ized mar­i­jua­na and stricter lim­its on cam­paign spending.
There is a rea­son, in oth­er words, that Bernie Sanders is the most pop­u­lar politi­cian in Amer­i­ca. These are the kind of poli­cies he con­sis­tent­ly talks about and is push­ing for. There's a rea­son that Don­ald Trump, when he wasn't being racist on the cam­paign trail, talked a good pop­ulist game on eco­nom­ics, promis­ing uni­ver­sal health care and a tril­lion dol­lars worth of spend­ing on infra­struc­ture. These are very pop­u­lar ideas.
But they aren't Repub­li­can ideas. Nor is it clear that the par­ty actu­al­ly has any ideas. Handel's cam­paign in Geor­gia was no excep­tion. Its theme boiled down to a slight­ly more pol­ished ver­sion of, ​"You ain't from round these parts, are ya?" As an ad by Handel's cam­paign put it, not very sub­tly, ​"He's just not one of us." It wasn't exact­ly clear what that meant since Ossoff was in fact born in Atlanta and grad­u­at­ed from a high school there, before earn­ing degrees from George­town and the Lon­don School of Economics.
But it was clear enough. One of Handel's lines of attack tried to paint Ossoff as sym­pa­thiz­ing with Islam­ic ter­ror­ists since his film pro­duc­tion com­pa­ny has done busi­ness with Al Jazeera. (Poli­ti­Fact rat­ed the ad ​"most­ly false" because of its unfair char­ac­ter­i­za­tion of Al Jazeera.) Oth­er areas where Ossoff isn't ​"one of us" were tax­es, abor­tion and Oba­macare, all of which Han­del oppos­es and wants to cut or abol­ish. That's a play­book right out of 2004. It still works, clear­ly, at least in some districts.
But would it have worked against a more robust and full-throat­ed pro­gres­sive cam­paign, ver­sus the bland and vague cen­ter-left approach tak­en by Ossoff, who couldn't bring him­self to sup­port sin­gle-pay­er health­care or high­er tax­es on the rich, but did pro­duce cam­paign ads stress­ing the need to reduce the deficit? We'll nev­er know for cer­tain the answer to that ques­tion. But here are few things we do know.
We know that the most con­se­quen­tial midterm elec­tion in many decades will hap­pen in Novem­ber 2018. Democ­rats and many pro­gres­sives invest­ed a lot in the Ossoff race, with the hope of send­ing a mes­sage to Trump and the GOP and build­ing momen­tum for 2018. The result is dis­ap­point­ing, but the only thing Democ­rats can do is learn from it.
We know, too, that Han­del closed ground on Ossoff in the final week of the race by attack­ing him for cam­paign dona­tions he took in from peo­ple out­side of Geor­gia. The strat­e­gy was total­ly hyp­o­crit­i­cal — Han­del raked in mil­lions from PACs out­side the state — but it caught Ossoff flat-foot­ed. The charge stuck in part because he had already been paint­ed as an out­sider. But there's a broad­er takeaway.
Demo­c­ra­t­ic politi­cians need to work for reforms that elim­i­nate cor­po­rate PAC mon­ey in pol­i­tics. Until that hap­pens, they need to make the sources of their oppo­nents' fund­ing a cen­tral issue. That assumes, of course, that Democ­rats aren't tak­ing such funds them­selves — a huge assumption.
As long as Democ­rats' rely on cor­po­rate sup­port and back­ing from super-rich donors, they will open them­selves up to this very same line of attack from their oppo­nents, as hyp­o­crit­i­cal as it may be. Which means that orga­ni­za­tions like Brand New Con­gress, which is run­ning can­di­dates who agree not to accept dona­tions from cor­po­rate PACs, are on to something.
As not­ed, we know the pop­u­lar­i­ty of left-lean­ing poli­cies — and the unpop­u­lar­i­ty of the GOP's agen­da — when vot­ers actu­al­ly hear about them.
Final­ly, we know that par­ties don't always grow or decline in a lin­ear fash­ion. So much hap­pens under the radar, and an orga­ni­za­tion can be simul­ta­ne­ous­ly thriv­ing and dying. Con­sid­er the case of Block­buster Video, which ruled the rental mar­ket in the mid-2000s but was forced into bank­rupt­cy by 2010, nev­er able to adapt to the new era of stream­ing video.
Recent days have pro­vid­ed evi­dence that the GOP is much like Block­buster cir­ca the mid-2000s — thriv­ing yet dying, win­ning elec­tions but inca­pable of adapt­ing to pop­u­lar opin­ions, whol­ly unable to come up with new ideas or even make pub­lic pol­i­cy in pub­lic. This is not the play­book for an ascen­dant par­ty, but one stuck in its ways that can­not chart a path forward.
And the Democ­rats? They can hard­ly be described as thriv­ing. Yet there is a clear­ly marked and well-known path to new life for the par­ty: embrace and run on a bold, pro­gres­sive agen­da. Recruit can­di­dates who will be trust­wor­thy mes­sen­gers, refus­ing to tack to the cen­ter or rely on cor­po­rate sup­port. The elec­tion results in Geor­gia showed why that path is the right one. Now it's up to the Demo­c­ra­t­ic Par­ty to take it.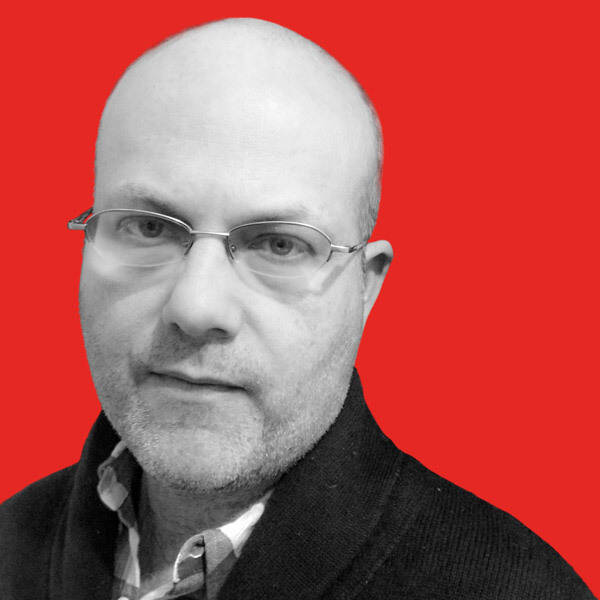 Theo Ander­son
is an In These Times con­tribut­ing writer. He has a Ph.D. in mod­ern U.S. his­to­ry from Yale and writes on the intel­lec­tu­al and reli­gious his­to­ry of con­ser­vatism and pro­gres­sivism in the Unit­ed States. Fol­low him on Twit­ter @Theoanderson
7
.