Joseph Stiglitz on the Trans Pacific Partnership: "This Is A Big Deal"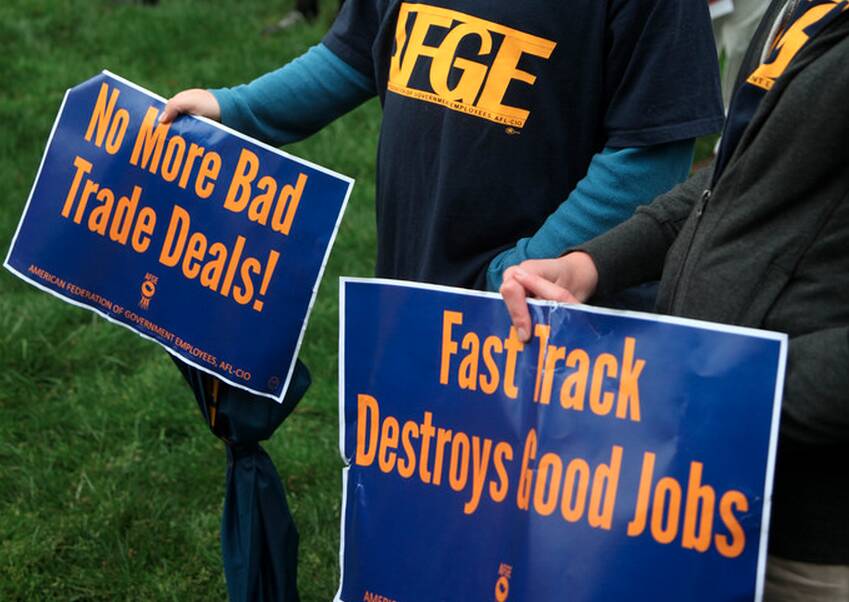 Trade agree­ments are about more than busi­ness — they're about who has final say in the way peo­ple around the world live, what they eat, how much they are paid, what med­i­cines they can buy and whether they have jobs. Such agree­ments shape eco­nom­ic poli­cies that impact bil­lions of peo­ple. The dis­cus­sions sur­round­ing these agree­ments are far too impor­tant to done in secret. But that's pre­cise­ly how the Oba­ma admin­is­tra­tion is try­ing to pass the Trans Pacif­ic Part­ner­ship (TPP).
What Is TPP?
The TPP is a mas­sive trade agree­ment between the Unit­ed States, Cana­da, Chile, Aus­tralia, Brunei Darus­salam, Malaysia, Mex­i­co, New Zealand, Peru, Sin­ga­pore and Viet­nam. Observers like Miraya Solis, a senior fel­low at the Brook­ings Insti­tute, have called it ​"the most ambi­tious trade ini­tia­tive pur­sued by the Oba­ma Administration."
Pro­po­nents of the TPP argue that the agree­ment will encour­age glob­al eco­nom­ic inte­gra­tion, increase U.S. com­pet­i­tive­ness in a ​"dynam­ic Asia region" and stim­u­late polit­i­cal reform lead­ing to more ​"open" mar­kets. All this, they claim, will result in bet­ter jobs, wages and products.
Crit­ics of the agree­ment say it amounts to the pro­mul­ga­tion of cor­po­rate glob­al­iza­tion and neolib­er­al­iza­tion and have likened it to ​"NAF­TA on steroids." In a recent inter­view in Salon, Noam Chom­sky described the TPP's aims as to ​"max­i­mize prof­it and dom­i­na­tion and to set the work­ing peo­ple of the world in com­pe­ti­tion with one anoth­er, to low­er wages and increase inse­cu­ri­ty, … [and] to pro­tect at the same time … the top wealth sector."
In spite of its sig­nif­i­cance, the main­stream media has not pro­vid­ed lit­tle cov­er­age of the TPP. ​"It's one of those issues that is delib­er­ate­ly obscured by its pro­po­nents," Dan Can­tor, Nation­al Direc­tor of the Work­ing Fam­i­lies Par­ty, says. ​"When peo­ple get a clear expla­na­tion, it's like a light­bulb goes off in their head."
The Com­mu­ni­ty Meet­ing With Joseph Stiglitz
The Work­ing Fam­i­lies Par­ty of New York has expend­ed con­sid­er­able effort orga­niz­ing in Jack­son Heights, a diverse, large­ly immi­grant sec­tion of New York City, to pres­sure local Rep. Thomas Crow­ley. Crow­ley is a very influ­en­tial Demo­c­rat on the Ways and Means com­mit­tee who has been eva­sive about which way he will vote on the issue. Accord­ing to Can­tor, sim­i­lar efforts to con­vince ret­i­cent politi­cians of the agree­men­t's dan­gers have been strong nation­wide. In Ore­gon, the WFP has been work­ing to per­suade Sen­a­tor Ron Wyden, a Demo­c­rat who has his­tor­i­cal­ly sup­port­ed free trade agree­ments, to ​"shift his posi­tion" on the issue.
Labor unions, com­mu­ni­ty orga­ni­za­tions and Nobel lau­re­ates don't often share a pub­lic school audi­to­ri­um, but that was pre­cise­ly the con­stel­la­tion of char­ac­ters that gath­ered on a recent Wednes­day night at P.S. 69 in Jack­son Heights to dis­cuss the poten­tial ram­i­fi­ca­tions of the TPP, which is slat­ed for con­gres­sion­al fast-track­ing.
Around 400 peo­ple attend­ed the com­mu­ni­ty meet­ing, orga­nized by a vari­ety spon­sors, includ­ing the WFP, Make the Road New York, Com­mu­ni­ca­tions Work­ers of Amer­i­ca (CWA), Ter­raza 7 (a local bar and com­mu­ni­ty space) and oth­ers. The crowd of union­ized work­ers, small busi­ness own­ers, activists and local res­i­dents filled the ele­men­tary school audi­to­ri­um to dis­cuss the impli­ca­tions of the trade agree­ment and hear Joseph Stiglitz's remarks on the agree­ment. With­in the eco­nom­ics dis­ci­pline, Stiglitz, a Nobel Prize win­ner in eco­nom­ics and Colum­bia Uni­ver­si­ty pro­fes­sor, has been one of the TPP's most out­spo­ken critics.
"One of the rea­sons you should know [the TPP] is impor­tant is that they've tried to get it passed with­out any­one know­ing about it," Stiglitz began. ​"And that should make you sus­pi­cious." The bill's back­ers ​"always say … they're going to cre­ate jobs. If that were real­ly true, you'd expect the unions that rep­re­sent the work­ers [affect­ed by the bill] to be all in favor of it."
Allud­ing to the 2008 finan­cial cri­sis, he con­tin­ued, ​"The peo­ple that are in favor [of TPP] are the peo­ple in Wall Street."
Call­ing on com­mu­ni­ty orga­ni­za­tions and unions to ramp up the pres­sure, he explained that U.S. Trade Rep­re­sen­ta­tive Michael Fro­man, an appoint­ed gov­ern­ment offi­cial respon­si­ble for nego­ti­at­ing the agree­ment, ​"comes from Citibank and does not rep­re­sent work­ers or typ­i­cal Amer­i­cans — he rep­re­sents a group of spe­cial inter­ests. And that's why the only way it is going to be defeat­ed is if there is an out­pour­ing of con­cern and … action."
A fun­da­men­tal com­po­nent sur­round­ing the TPP debate is the process by which the Oba­ma admin­is­tra­tion is try­ing to have it approved called fast track­ing, a pro­ce­dure for Con­gres­sion­al approval of inter­na­tion­al trade treaties. Unlike the stan­dard pro­ce­dure to pass a bill, by which mem­bers of Con­gress debate and delib­er­ate on spe­cif­ic pro­vi­sions, fast track­ing allows Con­gress to vote ​"up" or ​"down" on the trade agree­ment with­out mak­ing any amend­ments or open­ing any of the spe­cif­ic provisions.
While advo­cates of fast track argue that the process pro­vides the pres­i­dent with a nec­es­sary strong man­date when nego­ti­at­ing inter­na­tion­al agree­ments, Stiglitz found that man­date prob­lem­at­ic. ​"There is a great deal of secre­cy." The U.S. trade rep­re­sen­ta­tive hasn't allowed some mem­bers of Con­gress to review the deal's content.
"It's much worse than a blank check about trade," Stiglitz said, ​"because the trade agree­ment has pro­vi­sions that would affect a whole set of reg­u­la­tions that would affect the envi­ron­ment, work­er safe­ty, con­sumer safe­ty and even the econ­o­my." TPP ​"would not only become the law of the land, but every oth­er law would have to adapt to it … and our Con­gress would have giv­en up all author­i­ty in those areas.
"What are they try­ing to hide?" he asked.
With­out nam­ing names, Stiglitz explained that mem­bers of the busi­ness com­mu­ni­ty have been privy to the agree­ment and have nego­ti­at­ed on the behalf of pri­vate inter­ests rather than the pub­lic good.
Aca­d­e­mics, he said, gen­er­al­ly see it dif­fer­ent­ly ​"even among those who were ear­li­er sup­port­ers of free trade. … There is an increas­ing recog­ni­tion that today in the Amer­i­can econ­o­my, … we are in a sit­u­a­tion where the job-destroy­ing aspects of these agree­ments is assured to be greater than job-cre­at­ing aspects."
He explained that the con­tent of the TPP does not empha­size the tra­di­tion­al con­cepts of trade agree­ments, such as low­er­ing tar­iffs and increas­ing imports or exports. Instead, the TPP seeks to under­mine reg­u­la­tions in sec­tors like food safe­ty, med­i­cine and intel­lec­tu­al prop­er­ty, ren­der­ing gov­ern­ments and the cit­i­zen­ry that elects them inept in their abil­i­ty to mean­ing­ful­ly reg­u­late those sec­tors. By entan­gling such pro­vi­sions with an agree­ment on inter­na­tion­al trade, the Oba­ma admin­is­tra­tion would open up sov­er­eign coun­tries to unprece­dent­ed lev­els of inter­fer­ence by multi­na­tion­al corporations.
As a cau­tion­ary exam­ple, Stiglitz con­tend­ed that coun­tries which had been rav­aged by glob­al­iza­tion, see­ing mas­sive­ly expand­ing inequal­i­ty like Brazil and India, refused to join the trade agreement.
At the con­clu­sion of the speech, audi­ence mem­bers asked about the main­stream media's silence on the agree­ment and the TPP's poten­tial impact on the envi­ron­ment. He opined that the media cov­er­age would like­ly increase as the deci­sion drew near­er, but empha­sized the role that orga­nized mobi­liza­tions could play in increas­ing vis­i­bil­i­ty. On the envi­ron­ment, Stiglitz explained that the reg­u­la­to­ry claus­es in agree­ment could be dis­as­trous as coun­tries would lose the abil­i­ty to reg­u­late multi­na­tion­als in sec­tors that could adverse­ly impact profits.
After the event the room was abuzz with con­ver­sa­tion. Reg­gie Pierre Louis, a mem­ber of the CWA, told In These Times, ​"This deal is going to destroy the fab­ric of Amer­i­can work­ers, the spir­it of what's sup­posed to be a demo­c­ra­t­ic nation."
Asked whether he wor­ried about the impli­ca­tions of the TPP for him per­son­al­ly, he remarks, ​"Poten­tial­ly, because once they start with this, who knows what's next. How does this pro­tect us from cor­po­rate greed and cor­po­rate malfeasance?"
Mala Huacu­ja del Toro was at the meet­ing with Somos Los Otros New York, an orga­ni­za­tion that grew out of the reac­tion to the recent mass mur­der of Mex­i­can students.
"We fought NAF­TA and we lost. Our lives changed com­plete­ly; mil­lions of Mex­i­cans were forced to sell their lands and escape to urban places con­trolled by orga­nized crime or to cross the bor­der and become cheap labor in the U.S," she says. These agree­ments help nei­ther the Mex­i­can peo­ple nor the U.S. peo­ple. And they are not rep­re­sent­ed by the peo­ple because they are signed in secret."
Sound­ing opti­mistic about the poten­tial to stop the TPP dur­ing a phone call sev­er­al days after the event, the Work­ing Fam­i­lies Party's Can­tor says, ​"I feel we're up against the strongest actors in the world cap­i­tal­ist sys­tem, but they don't actu­al­ly have pop­u­lar sup­port. We've got a real chance to block this."
Full dis­clo­sure: The CWA is a spon­sor of In These Times. Spon­sors have no role in edi­to­r­i­al content.
Alexan­dros Orphanides
is a New York City-based free­lance jour­nal­ist, researcher and teacher of Greek-Cypri­ot and Hon­duran descent. He writes on polit­i­cal, social and cul­tur­al issues with an empha­sis on mar­gin­al­ized com­mu­ni­ties. Fol­low him on Twit­ter: @subsentences.