JPMorgan Chase Made a Secret $159.5 Million Deal To Finance a Private Prison
Activists have been pressuring the bank and its CEO, Jamie Dimon, to stop their dealing with the private detention industry.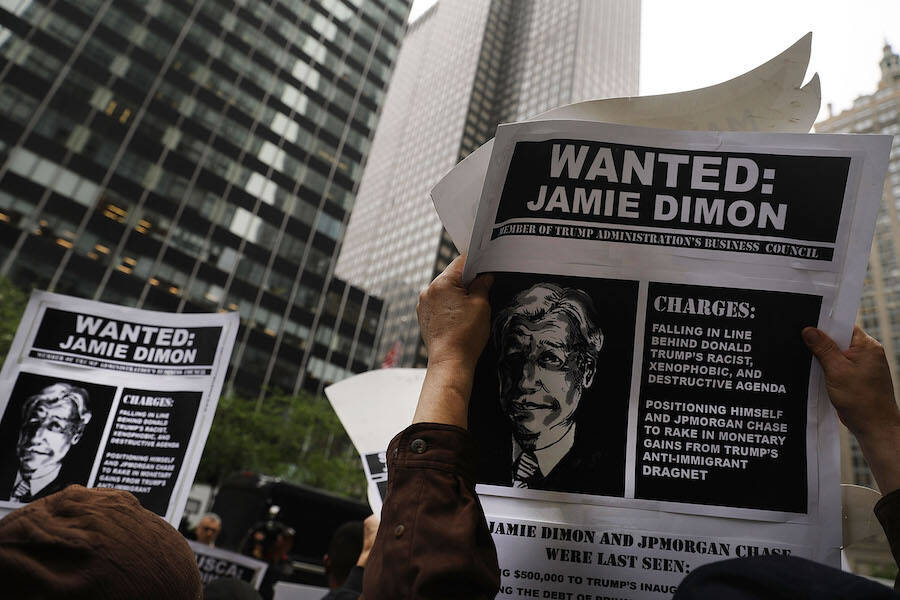 Activists have not let up in their cam­paigns to push for bankers to stop prof­it­ing from mass incar­cer­a­tion and the ware­hous­ing of immi­grants. And now they have uncov­ered that one of the nation's biggest banks – JPMor­gan Chase – has an even deep­er con­nec­tion to the pri­vate prison indus­try than pre­vi­ous­ly known.
JPMorgan Chase facilitated hidden debt financing for CoreCivic to carry out its new business strategy, something that will only increase the economic pull of mass incarceration and keep flush companies that are partnering with the Trump administration in caging migrants.
An April 2018 report revealed that JPMor­gan Chase is far and away the largest lender to pri­vate prison behe­moths GEO Group and Core­Civic, hold­ing $254 mil­lion in their debt as of June 2017. Now, advo­ca­cy group Edu­ca­tors for Migrant Jus­tice has dis­cov­ered on a pri­vate Thom­son Reuters data­base that JPMor­gan under­wrote anoth­er $159.5 mil­lion bond for Core­Civic to finance the con­struc­tion of a 2,432-bed cor­rec­tions facil­i­ty in Kansas.
The bond was issued this June through an unusu­al financ­ing method, the ​"pri­vate place­ment," that allows a com­pa­ny to keep the bond's finan­cial part­ners and investors secret.
Core­Civic spokesper­son Steve Owen con­firmed JPMorgan's involve­ment to In These Times. ​"The financ­ing solu­tion pro­vid­ed by Core­Civic and JPMor­gan enables the state of Kansas to have access to a mod­ern, effi­cient cor­rec­tion­al facil­i­ty that is safer for inmates and employ­ees," Owen wrote in an email. While Owen argues that the pri­vate place­ment was used because it was most cost-effec­tive for the project, it also obscures the involve­ment of JPMor­gan Chase, which was list­ed as ​"sole place­ment agent" on the tear sheet viewed by In These Times.
Activist groups such as Make the Road New York have con­demned JPMorgan's finan­cial entan­gle­ment with pri­vate pris­ons for years, argu­ing that the company's pro­fessed com­mit­ment to human rights doesn't fit with bring­ing a prof­it motive into lock­ing up pris­on­ers. Today, Make the Road New York, New York Com­mu­ni­ties for Change and oth­er groups protest­ed Jamie Dimon at a Gold­man Sachs invest­ment con­fer­ence in Man­hat­tan. ​"When will you stop being a backer of hate?" yelled one immi­grant advo­cate at Dimon as he sat onstage in the Con­rad Hotel ball­room. A ban­ner unfurled in the lob­by read ​"Jamie Dimon Loves Pri­vate Prisons.""
"This deal is just the lat­est exam­ple of how JPMor­gan Chase, while claim­ing to sup­port immi­grants and com­mu­ni­ties of col­or, con­tin­ues to bankroll the com­pa­nies that put mem­bers of our com­mu­ni­ties in cages," says Daniel Altschuler of Make the Road New York.
An unusu­al deal
This Jan­u­ary, Core­Civic announced it won a con­tract from the Kansas Depart­ment of Cor­rec­tions to con­struct a prison in Lans­ing. The facil­i­ty, meant to replace a 150-year-old pre­de­ces­sor, would house state pris­on­ers and be oper­at­ed by the state of Kansas' own cor­rec­tions offi­cers. The state would lease the facil­i­ty from Core­Civic for 20 years, and there­after take over ownership.
This reflects a new busi­ness mod­el for Core­Civic and Geo Group, which typ­i­cal­ly run the pris­ons they build. But turn­ing over oper­a­tions could open up real estate deals in states resis­tant to pri­va­ti­za­tion, and secur­ing real estate is cru­cial to these com­pa­nies because they oper­ate as real estate invest­ment trusts (REITs). If REITs earn a cer­tain amount of rev­enues from real estate, they enjoy an exemp­tion from cor­po­rate tax­es. As a report from the anti-pri­va­ti­za­tion research group In The Pub­lic Inter­est points out, this tax shel­ter saved Geo Group $43.6 mil­lion in 2017 alone.
"It's very impor­tant that they own real estate," said Shar Habibi, a researcher with In The Pub­lic Inter­est. ​"They see it as a way to get into states that haven't been amenable to pri­va­ti­za­tion. They are going into these states and say­ing, ​'We can build this for you.'"
But build­ing real estate assets requires cap­i­tal — and lots of it. That means turn­ing to Wall Street.
A hand­ful of banks pro­vide revolv­ing cred­it, term loans and bond under­writ­ing to Core­Civic and Geo Group, help­ing them fund facil­i­ty con­struc­tion and gen­er­al oper­a­tions. This amounts to bil­lions of dol­lars in debt. It's fair to say that pri­vate prison com­pa­nies would be unable to sur­vive with­out this stream of financ­ing. ​"They are very depen­dent on their rela­tion­ship with these banks," says Habibi.
Core­Civic decid­ed to finance the Kansas facil­i­ty through the pri­vate place­ment: a 20-year, $159.5 mil­lion bond at 4.43 per­cent. Unlike reg­u­lar cor­po­rate bonds, which must be reg­is­tered with the Secu­ri­ties and Exchange Com­mis­sion, a pri­vate place­ment doesn't have to receive a bond rat­ing or dis­close its investors. Activists who have scoured pri­vate prison finan­cial records described the pri­vate place­ment bond as an unusu­al financ­ing mech­a­nism for pri­vate prison operators.
CoreCivic's Owen said that two of its oth­er facil­i­ties ​"were financed through pri­vate­ly placed debt," though he didn't spec­i­fy which. In the case of Kansas, he said, the pri­vate place­ment made it cheap­er for them to bor­row than more tra­di­tion­al financ­ing meth­ods. ​"This direct­ly ben­e­fit­ed Kansas by reduc­ing their annu­al lease pay­ment to Core­Civic ver­sus alter­na­tive financ­ing meth­ods," Owen concluded.
That's an odd enough claim, since pri­vate place­ments often require high­er inter­est rates to entice investors, who get few­er pro­tec­tions than when buy­ing pub­lic cor­po­rate bonds. But whether Core­Civic got to pay less to investors to finance the con­struc­tion of the prison doesn't mean Kansas couldn't have done the job cheap­er by itself.
A state leg­isla­tive audit from July 2017 esti­mat­ed that if Kansas mere­ly bor­rowed funds itself to pay to con­struct the facil­i­ty, it would pay between 3.4 and 4.1 per­cent inter­est, less than the 4.43 per­cent inter­est rate on the bond. ​"Oth­er things being equal, bond financ­ing with con­tract­ed main­te­nance appears to be less expen­sive than leas­ing through a long-term lease-pur­chase agree­ment," the audit states.
Nev­er­the­less, Kansas gave Core­Civic the contract.
The com­pa­ny saw this as a huge vic­to­ry, open­ing up a new busi­ness line and a boun­ty of tax advan­tages. On an earn­ings call in May, Core­Civic CEO Damon Hininger said, ​"We know that many gov­ern­ments were close­ly watch­ing the devel­op­ments out of Kansas … We are in active dis­cus­sions with numer­ous states as well as local gov­ern­ments, who are seek­ing and look­ing at sim­i­lar pub­lic-pri­vate part­ner­ship solu­tions for their crim­i­nal jus­tice infra­struc­ture needs."
Under pres­sure
The deal was enabled by JPMor­gan. Accord­ing to the tear sheet, ​"JPM act­ed as Sole Place­ment Agent on the trans­ac­tion." That means that they mar­ket­ed the bond to prospec­tive investors. How­ev­er, there's no need to issue a prospec­tus or get the bond rat­ed, as banks would with a pub­lic bond offer­ing. They just need to find will­ing investors. ​"The com­pa­ny needs to bor­row $160 mil­lion, so you can round up say 80 rich guys who each want a home for $2 mil­lion," explains Daniel Davies, a senior research advi­sor with Front­line Ana­lysts and author of the book Lying for Mon­ey, a his­to­ry of finan­cial fraud.
Pri­vate place­ments from a pub­licly trad­ed com­pa­ny like Core­Civic are rel­a­tive­ly unusu­al. Core­Civic gets plen­ty of its financ­ing direct­ly from banks, includ­ing JPMor­gan. The bank has pro­vid­ed at least $167.5 mil­lion in debt financ­ing to Core­Civic and Geo Group, mak­ing it the industry's sin­gle largest debt hold­er.
"If something's already a pub­lic com­pa­ny and it's doing a pri­vate place­ment, it would usu­al­ly because they need the mon­ey real­ly quick," said Davies. ​"If they're already pub­lic and they aren't in a hur­ry, I would say that's weird."
The Kansas facil­i­ty won't be built for two years, mak­ing it unlike­ly that Core­Civic need­ed to speed up fund­ing. How­ev­er, when you con­sid­er the fact that the indus­try is under siege, a pri­vate place­ment for Core­Civic in this case might make sense.
Activists believe the anonymi­ty of investors was a key fac­tor. ​"We have no idea of the iden­ti­ty of these investors," says In The Pub­lic Inter­est's Habibi. ​"It didn't seem like there was any log­i­cal busi­ness or finan­cial rea­son [for the pri­vate placement]."
That means that JPMor­gan Chase facil­i­tat­ed hid­den debt financ­ing for Core­Civic to car­ry out its new busi­ness strat­e­gy, some­thing that will only increase the eco­nom­ic pull of mass incar­cer­a­tion and keep flush com­pa­nies that are part­ner­ing with the Trump admin­is­tra­tion in caging migrants. And JPMorgan's role in this deal was also hid­den — until now.
Asked to com­ment on the pri­vate place­ment, Andrew Gray, a spokesper­son for JPMor­gan Chase, point­ed out that the state and not Core­Civic would be oper­at­ing the Kansas facil­i­ty, but added, ​"Oth­er­wise, we can't com­ment further."
The rev­e­la­tion of the pri­vate place­ment is sure to be part of the ongo­ing pres­sure placed on JPMor­gan Chase for its prop­ping up of the pri­vate prison indus­try. That began today, with the protest in New York.