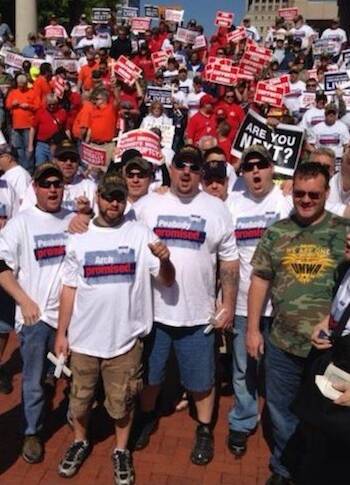 Today, in a deci­sion long dread­ed by union coal min­ers, a bank­rupt­cy court in St. Louis agreed that Patri­ot Coal has the right to void its col­lec­tive bar­gain­ing agree­ments and can­cel its pen­sion and retire­ment oblig­a­tions to 20,000 work­ers and fam­i­ly members.
The Unit­ed Mine Work­ers of Amer­i­ca (UMWA) argued in court that Patri­ot should not be let out of its debts, charg­ing that its par­ent com­pa­ny, Peabody Ener­gy, had designed Patri­ot to fail as a ploy to get out of $1 bil­lion in retiree oblig­a­tions. Accord­ing to a finan­cial analy­sis by Tem­ple Uni­ver­si­ty Pro­fes­sor of Finance Bruce Rad­er, Patri­ot Coal was spun off from Peabody Ener­gy with 42 per­cent of Peabody's lia­bil­i­ties, but only 11 per­cent of its assets.
How­ev­er, Judge Kathy Sur­ratt-States of the U.S. Bank­rupt­cy Court of the East­ern Dis­trict of Mis­souri ruled that Patri­ot can stop pay­ments to the union pen­sion fund as soon as July 1 and no longer has to cov­er the full cost of retiree health­care plans, instead pay­ing a fixed amount into a health­care fund admin­is­tered by the union.
In her 102-page deci­sion, Sur­ratt-States wrote:
Unions gen­er­al­ly try to bar­gain for the best deal for their mem­bers, how­ev­er, there is like­ly some respon­si­bil­i­ty to be absorbed for demand­ing ben­e­fits that the employ­er can­not real­is­ti­cal­ly fund in per­pe­tu­ity, par­tic­u­lar­ly giv­en the avail­abil­i­ty of sophis­ti­cat­ed actu­ar­i­al ana­lysts and cost trend experts.
The com­pa­ny cheered the rul­ing, which is expect­ed to save it $150 mil­lion a year in labor costs.
​"This rul­ing rep­re­sents a major step for­ward for Patri­ot, allow­ing our com­pa­ny to achieve sav­ings that are crit­i­cal to our reor­ga­ni­za­tion and the preser­va­tion of more than 4,000 jobs," said Patri­ot Pres­i­dent and Chief Exec­u­tive Offi­cer Ben­nett K. Hat­field in a state­ment released by the com­pa­ny. ​"The sav­ings con­tem­plat­ed by this rul­ing, togeth­er with oth­er cost reduc­tions imple­ment­ed across our com­pa­ny, will put Patri­ot on course to becom­ing a viable business."
The UMWA and its sup­port­ers imme­di­ate­ly blast­ed the decision.
​"The UMWA pre­sent­ed a very clear pic­ture in court of what Patri­ot actu­al­ly need­ed to come out of bank­rupt­cy," said UMWA Pres­i­dent Cecil Roberts in a state­ment. ​"Patri­ot can sur­vive as a viable and prof­itable com­pa­ny well into the future with­out inflict­ing the lev­el of pain on active and retired min­ers and their fam­i­lies it seeks. Patri­ot is using a tem­po­rary liq­uid­i­ty prob­lem to achieve per­ma­nent changes that will sig­nif­i­cant­ly reduce the liv­ing stan­dards of thou­sands of active and retired min­ers and their fam­i­lies."
​"I join the thou­sands of min­ers in our state who are deeply dis­ap­point­ed with today's rul­ing," said Sen. Jay Rock­e­feller (D‑W.Va.) in a state­ment. ​"Once again we are see­ing how the bank­rupt­cy sys­tem is stacked against the Amer­i­can work­er. I will con­tin­ue fight­ing to put work­ers and employ­ers on a lev­el play­ing field by clos­ing the legal loop­holes that allow com­pa­nies to pad their prof­its while abus­ing the legal sys­tem to escape from the promis­es they made. It's trag­ic to watch how some indus­tries treat their work­ers after they've giv­en much of their lives to these companies."
The union plans to appeal the deci­sion in Fed­er­al Dis­trict Court. In the mean­time, although Patri­ot is at lib­er­ty to leave the bar­gain­ing table, both the union and the com­pa­ny say they will con­tin­ue negotiations.
​"While the Court has giv­en Patri­ot the author­i­ty to impose these crit­i­cal changes to the col­lec­tive bar­gain­ing agree­ments, and our finan­cial needs man­date imple­men­ta­tion by July 1, we con­tin­ue to believe that a con­sen­su­al res­o­lu­tion is the best pos­si­ble out­come for all par­ties," Hat­field­'s state­ment read.
Unless the par­ties come to anoth­er agree­ment, the rul­ing means that Patri­ot Coal's health­care oblig­a­tions will be turned over to the Vol­un­tary Employ­ees Ben­e­fits Asso­ci­a­tion (VEBA), a fund that would be admin­is­tered by the union. Accord­ing to the UMWA, Patri­ot will only guar­an­tee to pay in a total of $15 mil­lion, plus $0.20 per ton of coal mined, which the UMWA cal­cu­lates will cov­er only $5 mil­lion a year in retiree ben­e­fits. Retiree health­care for Patri­ot Coal's 20,000 ben­e­fi­cia­ries cur­rent­ly costs $7 mil­lion a month, the union says.
Accord­ing to the UMWA, Patri­ot Coal has offered the union a 35 per­cent stake in the com­pa­ny that the union can choose to sell in order to bet­ter fund the VEBA. The union, how­ev­er, says that ​"since the cur­rent and future val­ue of the com­pa­ny is unknown, there is no way of know­ing how much mon­ey this could pro­vide for health­care ben­e­fits or when such fund­ing would be avail­able." The com­pa­ny has also pro­posed a prof­it-shar­ing mech­a­nism to help fund VEBA, the UMWA says, but it esti­mates the plan would pro­vide only an addi­tion­al $2 mil­lion a year.
​"We will con­tin­ue to meet with the com­pa­ny this week to see if there is a way for­ward," Roberts said. ​"We have long acknowl­edged that Patri­ot is in trou­ble, because it can no longer pay Peabody and Arch's bills. We remain will­ing to take painful steps to help Patri­ot get through the rough peri­od it faces over the next cou­ple of years. But if we're going to share in that pain, then we have every right to share in the company's gain when it becomes prof­itable again."
With the col­lec­tive bar­gain­ing agree­ments can­celed, the union, which rep­re­sents 1,700 cur­rent work­ers at Patri­ot Coal in addi­tion to the 20,000 ben­e­fi­cia­ries, is now legal­ly free to declare a strike at any time.
The union says it is keep­ing that pos­si­bil­i­ty on the table. ​"No option has been ruled out," UMWA Com­mu­ni­ca­tion Direc­tor Phil Smith wrote in an email to Work­ing In These Times. ​"We are in talks with the com­pa­ny to see if there is an agree­ment that can be reached that is more rea­son­able than what the judge ruled. We'll see what the future brings."