Janitors Commemorate 21st Anniversary of Justice for Janitors March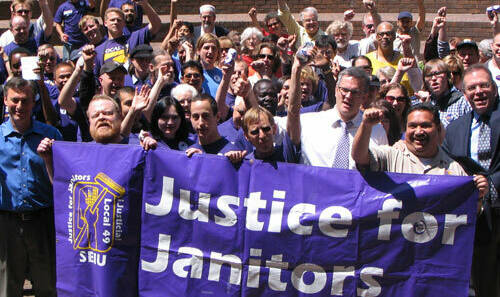 Twen­ty-one years ago, on June 15, hun­dreds of low-wage jan­i­tors marched in Los Ange­les, demand­ing bet­ter work­ing conditions.
The march turned into a bloody scene when police on horse­back sur­round­ed the jan­i­tors and their sup­port­ers, beat­ing them back with clubs. It sparked a move­ment. The Jus­tice for Jan­i­tors cam­paign was born and jan­i­tors won their first ever union contract.
Yes­ter­day, near­ly 1,000 jan­i­tors again ral­lied in Los Ange­les to demand fair wages and a bet­ter qual­i­ty of life.
They were part of the nation­al Jus­tice for Jan­i­tors Day, protest­ing an econ­o­my many con­sid­er unbal­anced and unjust as the work­ing class is squeezed to a break­ing point. And it seems the gains made over the years that lift­ed jan­i­tors out of pover­ty have since dwin­dled, with wages not keep­ing up with the cost of liv­ing and afford­able health care becom­ing just a memory.
One work­er held up a sign: ​"What's Dig­ni­ty?: New shoes for my daugh­ter. A birth­day par­ty for my son."
"The mid­dle class in this coun­try is under the gun," said Martha Mar­tinez, a jan­i­tor employed by ABM, a facil­i­ty ser­vices cor­po­ra­tion, at the Cen­tu­ry City Tow­ers in Los Ange­les. ​"While big cor­po­ra­tions are get­ting all the mon­ey, a lot of peo­ple don't have jobs. And even more peo­ple are work­ing for a liv­ing but not mak­ing a living."
Union orga­niz­er Mike Chavez said that the paid wages are so low that ​"jan­i­tors strug­gle to meet the basic needs of their families."
Some work­ers, accord­ing to Chavez, earn as lit­tle as $312 per week after taxes.
Oth­er ral­lies were held in Chica­go, Seat­tle and Den­ver and sim­i­lar events were held across the globe in Ger­many, Aus­tralia, Ire­land and the Netherlands.
Jan­i­tors are fight­ing on all fronts. Accord­ing to a June 2011 report by the Uni­ver­si­ty of Mass­a­chu­setts Amherst, unreg­u­lat­ed temp agen­cies are hir­ing jan­i­tors and oth­er blue-col­lar work­ers at low wages, often in dan­ger­ous envi­ron­ments and with­out benefits.
The Boston Globe states that, ​"Some are paid less than min­i­mum wage and often do not receive due over­time pay because both the agency and the employ­er split 40-plus-hour work weeks into two paychecks."
The Mass­a­chu­setts House is look­ing at a mea­sure that would reg­u­late temp agencies.
Back in the Bay Area at Stan­ford Uni­ver­si­ty, it's a sto­ry whose theme many read­ers are prob­a­bly famil­iar with: work­ers are employed by one jan­i­to­r­i­al sub­con­trac­tor (ABM) then trad­ed to a new sub­con­trac­tor hired by the employ­er, in this case, UGL UNIC­CO, whom the uni­ver­si­ty said would pro­vide ​"supe­ri­or services."
In many cas­es that means anoth­er sub­con­trac­tor sub­mits a low­er bid. As has played out in var­i­ous super­mar­ket labor fights, the new con­trac­tor cuts the staffing and the remain­ing clean­ers are forced to work longer hours with less help. Most recent­ly, this dynam­ic led sev­er­al jan­i­to­r­i­al work­ers to go on a hunger strike in Min­neapo­lis, as report­ed in this May 27 post.
Under the agree­ment at Stan­ford between UGL and the SEIU (which rep­re­sent 225,000 jan­i­tors nation­wide), UGL was oblig­at­ed to offer all ABM work­ers the oppor­tu­ni­ty to keep their jobs as long as they sub­mit­ted to back­ground checks to ver­i­fy their iden­ti­ty and check their crim­i­nal history.
In a let­ter from UGL, accord­ing to The Stan­ford Dai­ly, the pur­pose of the checks was to ver­i­fy employ­ees' legal right to work in the U.S. While UGL could have used an I‑9 form, which does not ask for a social secu­ri­ty form, the com­pa­ny chose to use ​"no-match" let­ters, which are issued if the social secu­ri­ty num­bers on W2 forms don't match up to Social Secu­ri­ty Admin­is­tra­tion records.
The Stu­dent Labor Action Coali­tion, a stu­dent advo­ca­cy group call­ing for UGL to rehire all for­mer ABM jan­i­tors, request­ed the uni­ver­si­ty to step in. They sub­mit­ted a let­ter to Stan­ford and UGL with 2,000 sig­na­tures that read:
"Work­ers should retain their employ­ment and the wages and ben­e­fits asso­ci­at­ed with their senior­i­ty rights through a sub­con­tract­ing transition."
The let­ter states that as many as 70 work­ers are at risk of being unjust­ly fired or los­ing their senior­i­ty and benefits.
UGL denies this and says ​"only" 29 work­ers will be affect­ed, claim­ing they are not the longest work­ing or high­est paid, and that none have worked at the uni­ver­si­ty for more than 15 years.
Rose Arri­eta
was born and raised in Los Ange­les. She has worked in print, broad­cast and radio, both main­stream and com­mu­ni­ty ori­ent­ed — includ­ing being a for­mer edi­tor of the Bay Area's inde­pen­dent com­mu­ni­ty bilin­gual biweek­ly El Tecolote. She cur­rent­ly lives in San Fran­cis­co, where she is a free­lance jour­nal­ist writ­ing for a vari­ety of out­lets on social jus­tice issues.