Keeping America Empty
How one small-town conservationist launched today's anti-immigration movement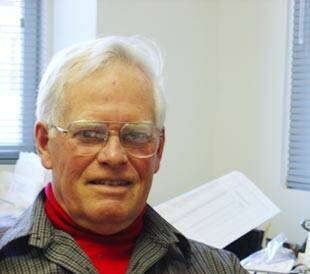 At the north­ern tip of Michigan's low­er penin­su­la lies the quaint town of Petoskey, pop­u­la­tion 6,080. In late March, a thick white shelf of ice still cov­ers Lake Michi­gan, and a few miles north, over the Mack­inac Bridge, the Upper Penin­su­la appears as a grey tan­gle of vir­gin wilder­ness. This isn't the end of the world, res­i­dents say, but you can see it from here.
The town seems to have escaped much of the last four decades. Mom-and-pop stores and unas­sum­ing church­es line its down­town, and there's hard­ly a chain restau­rant in sight. Peo­ple wear flag pins on their lapels, even when they're not run­ning for office.
On the day I dri­ve to Petoskey, the radio is buzzing with voic­es from the Great Immi­gra­tion Debate: rant­i­ng talk show hosts, ser­mo­niz­ing sen­a­tors and the chant­i­ng protests of thou­sands in Grand Rapids, a few hours south of Petoskey. Like hun­dreds of thou­sands of oth­ers, they are march­ing against House-passed leg­is­la­tion that would turn approx­i­mate­ly 12 mil­lion undoc­u­ment­ed immi­grants into felons.
All the cacoph­o­ny lacks is a men­tion of the one man who set much of this in motion 25 years ago, the man I had come to see: 72-year-old retired opthamol­o­gist John Tanton.
Tan­ton may not make head­lines, but even a casu­al dust­ing of today's anti-immi­gra­tion move­ment reveals his fin­ger­prints every­where. Turn on Lou Dobbs and you'll see experts from the Fed­er­a­tion for Amer­i­can Immi­gra­tion Reform (FAIR), the nation's old­est and most influ­en­tial immi­gra­tion restric­tion group, which Tan­ton found­ed in 1979. Scan the news­pa­pers and you'll find Repub­li­can law­mak­ers report­ing a tidal wave of calls from mem­bers of Num­ber­sUSA, which Tan­ton cofound­ed. Watch the com­mit­tee hear­ings on C‑SPAN and you'll hear anti-immi­gra­tion talk­ing points lift­ed straight from the Cen­ter for Immi­gra­tion Stud­ies, anoth­er Tan­ton cre­ation. And on and on.
Thir­ty years ago, ​"if you want­ed to call some group and say, ​'Tell me about immi­gra­tion,' there was no phone num­ber," recalls found­ing FAIR board mem­ber Otis Gra­ham. Devin Burghart, who mon­i­tors the anti-immi­gra­tion move­ment for the pro­gres­sive Cen­ter for New Com­mu­ni­ty, says that Tan­ton has done for immi­gra­tion pol­i­tics ​"what Pat Robert­son did for the Chris­t­ian Right. As a tac­ti­cian, he's done a bril­liant job."
Giv­en that the move­ment he helped cre­ate now finds its base among con­ser­v­a­tive Repub­li­cans, you might expect John Tan­ton to be an unapolo­getic reac­tionary. You'd be wrong. He's a self-described pro­gres­sive, ex-Sier­ra Club mem­ber, Planned Par­ent­hood sup­port­er and harsh crit­ic of neo­clas­si­cal econ­o­mists. So I want­ed to know: How did a whip-smart, mild-man­nered farm boy com­mit­ted to con­serv­ing the nat­ur­al world end up seed­ing and nur­tur­ing a move­ment that now dis­patch­es gun-tot­ing vig­i­lantes to patrol the border?
— —  —  —  —  —  —  —  — -
In per­son, Tan­ton hard­ly seems like a fire­brand. He speaks soft­ly, and car­ries him­self with the reserved polite­ness of the small town doc­tor he was for 35 years. When I get to Petoskey at noon on a Mon­day, I find him in a Pres­by­ter­ian church, where for the last 20 years his Great Books club has con­vened. Tan­ton briefly inter­rupts the dis­cus­sion of Joseph Conrad's Under West­ern Eyes to intro­duce me, casu­al­ly men­tion­ing the mag­a­zine I write for, where I went to school and even what my major was. For a 72-year-old man, he sure knows his way around Google.
Tan­ton and his wife Mary Lou moved to Petoskey in 1964 after he fin­ished med­ical school. The town's small clin­ic had an open­ing, and, par­tic­u­lar­ly impor­tant, some of the most pris­tine wilder­ness in Amer­i­ca was just min­utes away. The cou­ple quick­ly threw them­selves into a vari­ety of con­ser­va­tion causes.
A fun­da­men­tal prob­lem the nascent envi­ron­men­tal move­ment iden­ti­fied was, in Tanton's words, that ​"the eco­nom­ic sys­tem is based on con­tin­u­al growth for­ev­er," which ​"in a finite world" isn't pos­si­ble. The Tan­tons and oth­ers in the move­ment became con­vinced that some­thing would have to give, and that it shouldn't be the plan­et. To avoid cat­a­stro­phe, soci­ety would have to recon­sti­tute itself to favor con­ser­va­tion over growth. It is a small‑c con­ser­v­a­tive phi­los­o­phy: What the cheer­lead­ers of moder­ni­ty called ​"progress," they called a plague.
In 1968, a Stan­ford biol­o­gist named Paul Ehrlich made these ideas main­stream with his book, The Pop­u­la­tion Bomb. With ter­ri­fy­ing cer­tain­ty, Ehrlich argued that the expo­nen­tial growth in pop­u­la­tion and the incre­men­tal growth in food could only mean one thing: mass famine. ​"The bat­tle to feed all of human­i­ty is over," the book begins. ​"In the 1970s … hun­dreds of mil­lions of peo­ple are going to starve to death."
It was an instant sen­sa­tion, turn­ing ​"over­pop­u­la­tion" into a hot top­ic and land­ing Ehrlich repeat­ed­ly on ​"The Tonight Show." Tan­ton had been ahead of the curve. As ear­ly as the ​'50s, he avid­ly read reports from the Pop­u­la­tion Ref­er­ence Bureau, and by the time Ehrlich's book was pub­lished, he and Mary Lou had already start­ed work on the first North­ern Michi­gan chap­ter of Planned Par­ent­hood. ​"I believed in the mul­ti­pli­ca­tion tables," says Tan­ton. ​"Since I was a physi­cian and could do some­thing about birth con­trol, it struck me that this was where I could make my con­tri­bu­tion to the con­ser­va­tion movement."
Time hasn't been kind to Ehrlich's pre­dic­tions: Due to a tech­no­log­i­cal rev­o­lu­tion in agri­cul­ture, there was no mass famine. World pop­u­la­tion growth has slowed con­sid­er­ably; the Unit­ed Nations now pre­dicts it could plateau by 2050. Many, if not most, pro­fes­sion­al demog­ra­phers today are more wor­ried about depop­u­la­tion in the devel­oped world.
But in many quar­ters, this ​"fixed pie" view per­sists, and the log­ic isn't nec­es­sar­i­ly flawed. Resources, par­tic­u­lar­ly oil, are finite and the notion that tech­nol­o­gy will always be able to bail us out is dubi­ous. Per­haps Ehrlich's pre­dic­tions weren't wrong, just premature.
Tan­ton, whose world­view was forged in this intel­lec­tu­al milieu, is haunt­ed by the spec­tre of an apoc­a­lypse just over the hori­zon, and the thought that he is one of a select few who see it com­ing. Sit­ting at his desk dur­ing one of our inter­views, he reach­es into a draw­er, with­draws an elec­tric metronome and flicks it on. As the device puls­es at 135 beats per minute, he explains that each beat is a new birth (at the 1969 rate), and each new birth requires resources: food, cloth­ing, edu­ca­tion. It's a trick he used when he gave talks on pop­u­la­tion in the ​'70s, and it's effec­tive. His voice bare­ly ris­es over the per­cus­sive onslaught, and after just 30 sec­onds you want to yell: ​"Make it stop!"
You get the sense that Tan­ton hears that beat inside his head all the time.
In 1969, Tan­ton start­ed and chaired the pop­u­la­tion com­mit­tee of his local Sier­ra Club chap­ter, and when Ehrlich and like-mind­ed envi­ron­men­tal­ists found­ed the advo­ca­cy group Zero Pop­u­la­tion Growth (ZPG), he became one of its most active mem­bers, ris­ing to its pres­i­den­cy in 1975. By then, the birthrate for Amer­i­cans had declined below the replace­ment rate, but the Amer­i­can pop­u­la­tion was pro­ject­ed to keep grow­ing. Tan­ton set­tled on the cul­prit: immigration.
The num­ber of immi­grants was still small by today's stan­dards but had start­ed to creep upwards, thanks in part to a 1965 immi­gra­tion bill that insti­tut­ed fam­i­ly reuni­fi­ca­tion poli­cies and did away with 40 years of quo­tas that heav­i­ly favored north­ern Euro­peans. Since immi­grants had high­er birthrates, reduc­ing their num­bers would allow the Unit­ed States to achieve the zero pop­u­la­tion growth that had seemed a pipe dream only a few years earlier.
Tan­ton pushed for the Sier­ra Club to take a strong stand to reduce immi­gra­tion, but the orga­ni­za­tion balked. He didn't have much more suc­cess with his fel­low trav­el­ers at ZPG. Tan­ton chalks it up to fear of tack­ling a taboo sub­ject, but it seems just as like­ly that they couldn't see why it mat­tered on which side of the Rio Grande some­one was born. Today, ZPG, since renamed Pop­u­la­tion Con­nec­tion, takes what its cur­rent pres­i­dent, John Sea­ger, calls a ​"glob­al approach," sup­port­ing female lit­er­a­cy, access to birth con­trol and fam­i­ly-plan­ning ser­vices in the devel­op­ing world. If Tanton's con­cern is the health of the plan­et, why doesn't he sub­scribe to this view? He explains that reduc­ing immi­gra­tion will force coun­tries like Mex­i­co to con­front their own pop­u­la­tion growth rates. ​"Each coun­try," he says, ​"ought to try to match its pop­u­la­tion to its resource base."
Ulti­mate­ly, Tan­ton real­ized it would be impos­si­ble to graft a new agen­da onto an exist­ing orga­ni­za­tion and resolved to found his own group. With Otis Gra­ham and a cou­ple of sym­pa­thet­ic board mem­bers poached from ZPG and sev­er­al hun­dred thou­sand dol­lars in start­up mon­ey from a wealthy Ehrlich devo­tee, Tan­ton found­ed FAIR on Jan. 2, 1979, with a mis­sion to end ille­gal immi­gra­tion and reduce legal immigration.
It was at this point that Tan­ton ini­ti­at­ed the hyper-pro­duc­tive sched­ule he'd main­tain for the next 29 years, spend­ing Tues­day through Fri­day see­ing patients at the clin­ic and work­ing evenings, week­ends and Mon­days on immi­gra­tion. While his physician's life gave him the ​"abil­i­ty to restore sight," it was repet­i­tive, he says. His activism was ​"abstract, focused on the long term and peo­ple called you bad names, but it was extreme­ly stimulating."
Tan­ton talks with such evi­dent pas­sion about the minu­ti­ae of orga­niz­ing – the impor­tance of cor­rect­ly nam­ing orga­ni­za­tions, rules for recruit­ing effec­tive board mem­bers – that it's tempt­ing to see his work on immi­gra­tion as some­thing like Oppenheimer's work on the bomb, dri­ven as much by the sheer intel­lec­tu­al chal­lenge as by its ulti­mate goal. In an ear­ly memo to FAIR staffers, he explained his enjoy­ment of fundrais­ing: ​"t's the ulti­mate chess game, in three dimen­sions, with the play­ers all able to move themselves."
The Tan­tons spent a year in D.C. work­ing for FAIR between 1981 and 1982 ("crowd­ed" is John's assess­ment of the city) and their enthu­si­asm was con­ta­gious. One FAIR staffer wrote that the orga­ni­za­tion had ​"all the excite­ment and ener­gy of a gold rush town." When he returned to Petoskey, Tan­ton con­tin­ued to grow the move­ment, help­ing to found the Cen­ter for Immi­gra­tion Stud­ies, Num­ber­sUSA, Immi­gra­tion Reform Law Insti­tute and a jour­nal, the Social Con­tract Press, which he has pub­lished out of his office for 16 years. He had some suc­cess­es: FAIR mem­ber­ship grew to 50,000 by 1990 (today it claims 198,000 ​"mem­bers and sup­port­ers"), and it suc­cess­ful­ly lob­bied for increased bor­der secu­ri­ty and harsh­er penal­ties in the two rounds of immi­gra­tion leg­is­la­tion passed in 1986 and 1996.
But by the late ​'90s, the Repub­li­can Par­ty, reluc­tant to alien­ate the grow­ing Lati­no elec­torate and under pres­sure from its cor­po­rate back­ers, large­ly dropped immi­gra­tion from its agen­da. Mean­while, the ear­li­er crack­downs that FAIR had pushed for failed to stanch the flow of immi­grants. As day labor­ers start­ed appear­ing in for­mer­ly lily-white sub­urbs across the coun­try, back­lash pol­i­tics began to gain momen­tum below the main­stream polit­i­cal radar.
The prob­lem, from an orga­niz­ing stand­point, was that FAIR wasn't in a good posi­tion to take advan­tage of this. ​"FAIR is a big prob­lem," says Peter Brimelow, an anti-immi­gra­tion activist who runs the Web site VDARE​.com, ​"because its nat­ur­al con­stituen­cy is con­ser­v­a­tive nation­al­ists, but its oper­a­tives are basi­cal­ly lib­er­al and cen­trist and ter­ri­fied by Pat Buchanan." In fact, in the ear­ly days of the orga­ni­za­tion, the lead­er­ship was scared of its own mem­bers. The board resist­ed set­ting up local chap­ters for fear of who might show up and kept a tight lid on FAIR's sta­tionery, afraid some mem­ber would get their hands on it and write some­thing ​"dem­a­gog­ic" that would dis­cred­it the group.
Tan­ton rec­og­nized this sit­u­a­tion was unten­able. Notes from a 1982 FAIR board meet­ing report that Tan­ton was ​"very con­cerned that FAIR has acquired only 4,000 real mem­bers in three years, and believes it is time to change our meth­ods." Criss­cross­ing the coun­try, Tan­ton found lit­tle inter­est in his con­ser­va­tion-based argu­ments for reduced immi­gra­tion, but kept hear­ing the same com­plaint. "'I tell you what piss­es me off,'" Tan­ton recalls peo­ple say­ing. "'It's going into a bal­lot box and find­ing a bal­lot in a lan­guage I can't read.' So it became clear that the lan­guage ques­tion had a lot more emo­tion­al pow­er than the immi­gra­tion question."
Tan­ton tried to per­suade FAIR to har­ness this ​"emo­tion­al pow­er," but the board declined. So in 1983, Tan­ton sent out a fundrais­ing let­ter on behalf of a new group he cre­at­ed called U.S. Eng­lish. Typ­i­cal­ly, Tan­ton says, direct mail gar­ners a con­tri­bu­tion from around 1 per­cent of recip­i­ents. ​"The very first mail­ing we ever did for U.S. Eng­lish got almost a 10 per­cent return," he says. ​"That's unheard of." John Tan­ton had dis­cov­ered the pow­er of the cul­ture war.
The suc­cess of U.S. Eng­lish taught Tan­ton a cru­cial les­son. If the immi­gra­tion restric­tion move­ment was to suc­ceed, it would have to be root­ed in an emo­tion­al appeal to those who felt that their coun­try, their lan­guage, their very iden­ti­ty was under assault. ​"Feel­ings," Tan­ton says in a tone rem­i­nis­cent of Spock shar­ing some hard-won insight on human behav­ior, ​"trump facts."
More than any­one, Tan­ton served as the liai­son between the ​"main­stream" anti-immi­gra­tion move­ment, whose argu­ments were still root­ed in pop­u­la­tion and job con­cerns, and its nat­ur­al allies on the far right, who saw an epic strug­gle to main­tain America's nation­al and racial char­ac­ter. He court­ed main­stream con­ser­v­a­tive donors, like the Scaife fam­i­ly, as well as the fringe Pio­neer Fund, whose cur­rent pres­i­dent argues that blacks are genet­i­cal­ly less intel­li­gent than whites. He had the Social Con­tract Press trans­late, pub­lish and pro­mote The Camp of the Saints, a stark­ly racist apoc­a­lyp­tic nov­el about a wave of Indi­an immi­grants over­run­ning France. In 1996, Tan­ton coau­thored The Immi­gra­tion Inva­sion with Wayne Lut­ton, who sits on the advi­so­ry board of a pub­li­ca­tion put out by the white nation­al­ist Coun­cil of Con­ser­v­a­tive Cit­i­zens. Edi­tor of the Social Con­tract Press since 1998, Lut­ton now occu­pies an office just a few feet from Tanton's.
In 1985, Tan­ton began con­ven­ing an annu­al retreat for the immi­gra­tion restric­tion movement's activists and writ­ers, called WITAN, after Wite­nage­mot, an Old Eng­lish word for ​"wise coun­cil." The gath­er­ings draw every­one from labor econ­o­mist Ver­non Brig­gs, a self-described ​"lib­er­al Demo­c­rat," who worked on Texas union cam­paigns led by Cae­sar Chavez, to Jared Tay­lor, a white nation­al­ist who pub­lish­es the jour­nal Amer­i­can Renais­sance. ​"Blacks and whites are dif­fer­ent," Tay­lor wrote in a recent arti­cle on Hur­ri­cane Kat­ri­na. ​"When blacks are left entire­ly to their own devices, West­ern Civ­i­liza­tion – any kind of civ­i­liza­tion – disappears."
Tay­lor has attend­ed the WITAN gath­er­ings since their incep­tion and says despite the diver­gent back­grounds of the par­tic­i­pants, every­one is col­le­gial out of respect for Tan­ton. ​"There's a real lead­er­ship qual­i­ty in a man who can bring togeth­er so many dif­fer­ent points of view to work togeth­er towards a com­mon goal."
In a 1986 memo writ­ten to stim­u­late dis­cus­sion at the upcom­ing retreat, Tan­ton mused on the effects of immi­gra­tion on Cal­i­for­nia, won­der­ing if Latin Amer­i­can immi­grants would ​"bring with them the tra­di­tion of the mor­di­da (bribe)" and ​"the lack of involve­ment in pub­lic affairs." Lat­er he fret­ted that Lati­nos' high­er birth rates would lead to increased polit­i­cal pow­er: ​"On the demo­graph­ic ques­tion: per­haps this is the first instance in which those with their pants up are going to get caught by those with their pants down!"
Two years lat­er, as U.S. Eng­lish was cam­paign­ing for a ref­er­en­dum in Ari­zona, oppo­nents leaked the memo to the press, prompt­ing ear­ly sup­port­ers like Lin­da Chavez and Wal­ter Cronkite to pub­licly sev­er their ties to the orga­ni­za­tion. The South­ern Pover­ty Law Cen­ter reprint­ed the memo in a 2002 cov­er sto­ry in its mag­a­zine, doc­u­ment­ing Tanton's var­i­ous con­nec­tions to hard right pro­po­nents of extrem­ist racial views.
Tan­ton calls the ​"pants down" sec­tion ​"a throw­away line I should have thrown away." He bris­tles when I bring up the SPLC arti­cle, call­ing charges of racism a means of avoid­ing the real ques­tions about immi­grant quo­tas and pol­i­cy enforce­ment. And he's so prac­ticed at respond­ing to this crit­i­cism, he eas­i­ly swats away my repeat­ed attempts to pin him down: Does he think white Amer­i­ca is imper­iled by the growth of the Lati­no pop­u­la­tion? How does he feel about the views of the white nation­al­ists with whom he has allied himself?
"What's the def­i­n­i­tion of racism?" he snaps. ​"I have a dif­fer­ent type of def­i­n­i­tion: tak­ing race into account. They" – mean­ing groups like SPLC who crit­i­cize him– ​"are notic­ing it. They're say­ing that race is impor­tant to them."
Though he plays the vic­tim, Tan­ton wants it both ways: har­ness­ing the polit­i­cal pow­er that comes from tap­ping into nativist griev­ances and build­ing bridges with out­right racists, while at the same time dis­miss­ing any of the neg­a­tive con­se­quences that might come from such part­ner­ships. Per­haps Tan­ton shares the views of his allies, or per­haps he sim­ply under­stands that if what peo­ple like Tay­lor euphemisti­cal­ly call ​"cul­tur­al" issues were tak­en out of the equa­tion, there wouldn't be the same flood of phone calls to sen­a­tors. ​"If the 12 mil­lion ille­gal immi­grants in this coun­try were all good-look­ing, Eng­lish-speak­ing, white peo­ple," Tay­lor told me, ​"the oppo­si­tion to ille­gal immi­gra­tion would be con­sid­er­ably less."
— —  —  —  —  —  —  —  — -
After I return home, Tan­ton sends me a bar­rage of fol­low-up cor­re­spon­dences: a cor­rec­tion for the birthrate of India, which he'd mis­stat­ed, a Paul Krug­man col­umn on immi­gra­tion, and an arti­cle from a local con­ser­va­tion newslet­ter about the hav­oc an inva­sive fun­gus called the Phy­toptho­ra has wreaked on the Amer­i­can chest­nut tree.
In our inter­views, Tan­ton returned time and again to the threat inva­sive species pose for the Amer­i­can ecosys­tem. Read­ing his note, it occurred to me that what has tied togeth­er all of Tanton's activism – from set­ting up local pre­serves, to reduc­ing high­way bill­boards, to his 25 years in the anti-immi­gra­tion move­ment – is a fear of con­t­a­m­i­na­tion, a desire for some ide­al­ized notion of puri­ty, a land­scape and nation undefiled.
The irony is that on the one issue where he's direct­ed the bulk of his effort, the means he's cho­sen haven't proved par­tic­u­lar­ly effec­tive. Thanks in large part to Tanton's efforts, over the last two decades the num­ber of hours bor­der guards spend on patrol has increased eight­fold and the bor­der patrol's bud­get has gone from $151 mil­lion in 1986 to $1.6 bil­lion by 2002. It hasn't worked.
The prob­lem is that nowhere else in the world do two coun­tries with such dis­parate rel­a­tive wealth share such a mas­sive bor­der. The ulti­mate way to reduce immi­gra­tion is, as one writer once put it, to fix the ​"the pover­ty, pop­u­la­tion and dis­tri­b­u­tion of wealth" in the coun­tries that peo­ple are leaving.
That was John Tan­ton in the ​'70s, when he first start­ed writ­ing about immi­gra­tion. Going through Tanton's ear­ly writ­ing, I was struck by how much empha­sis he put on the brain drain prob­lem that immi­gra­tion caused for devel­op­ing nations, and the need to address under­ly­ing inequal­i­ty between coun­tries. With a lib­er­al like me sit­ting in front of him, Tan­ton cogent­ly and per­sua­sive­ly recites these arguments.
But con­ser­v­a­tive talk radio hosts, and Lou Dobbs view­ers, and Min­ute­men along the Ari­zona bor­der aren't focused right now on devel­op­ment, or reduc­ing inequal­i­ty. They want fences. They want enforce­ment. They want arrests.
So that's what John Tan­ton wants, too.
Christo­pher Hayes
is the host of MSNBC's All In with Chris Hayes. He is an edi­tor at large at the Nation and a for­mer senior edi­tor of In These Times.