Inside the Koch Family's 60-Year Anti-Union Campaign That Gave Us Janus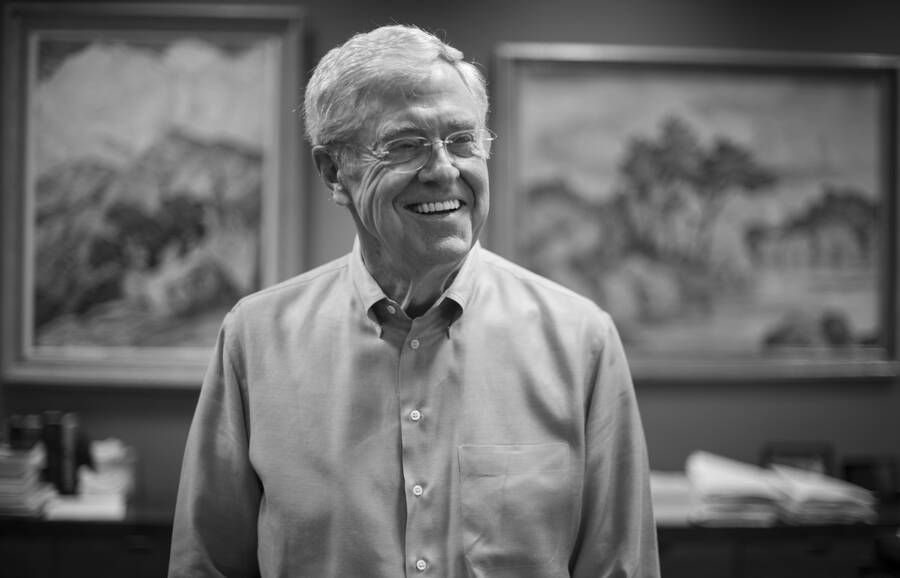 With last month's mon­u­men­tal Janus deci­sion by the Supreme Court, the Koch fam­i­ly won a major vic­to­ry in their mul­ti-gen­er­a­tional attack on unions.
The rul­ing spreads to the entire pub­lic sec­tor one of the laws the Koch for­tune first helped push through in Kansas 60 years ago: ​"right-to-work." And in doing so it enshrines the union-bust­ing agen­da their fos­sil fuel mon­ey has helped advance for decades.
Through a sin­gle vote, the Court's 5 – 4 Janus deci­sion revers­es decades of legal prece­dent that had obstruct­ed part of the Koch's pro-cor­po­rate agen­da. That vote was secured with the Kochs' help in bankrolling efforts that include: help­ing to main­tain a GOP Sen­ate major­i­ty; help­ing the Sen­ate block Pres­i­dent Oba­ma from fill­ing the Feb­ru­ary 2016 Supreme Court vacan­cy; and help­ing to win the con­fir­ma­tion of right-wing cor­po­rate activist Neil Gorsuch.
Janus helps cement the nation's high­est court as the Koch Court, and Charles Koch wants to keep it that way.
As Doc­u­ment­ed first detailed in part­ner­ship with the Inter­cept, for months the Kochs had been invest­ing heav­i­ly in antic­i­pa­tion of Jus­tice Antho­ny Kennedy's retire­ment from the Court, which was announced on June 27, the same day as Janus. Ear­li­er this year, the Koch group ​"Amer­i­cans for Pros­per­i­ty" (AFP) hired Sarah Field from the Koch-fund­ed Fed­er­al­ist Soci­ety to spear­head its cam­paign to extend the Koch hold on the Court for per­haps a gen­er­a­tion or more.
Despite claims by AFP that help­ing to seat Gor­such was their ​"first" for­ay into Supreme Court nom­i­na­tions, the Koch effort to influ­ence who becomes a judge and how they inter­pret the law goes back much further.
In fact, the Kochs have been invest­ing in reshap­ing the law to suit their per­son­al agen­da for decades. For exam­ple, the Koch group Cit­i­zens for a Sound Econ­o­my, AFP's pre­de­ces­sor, backed Clarence Thomas' con­tro­ver­sial con­fir­ma­tion to the Court more than 25 years ago.
The Kochs' long-term agen­da to remake the Unit­ed States in their image is a mul­ti-pronged effort that includes chang­ing both the law and who makes or inter­prets the laws, includ­ing the anti-union Janus decision.
The seeds of Janus
The effort to roll back union rights actu­al­ly began almost a cen­tu­ry ago, as wealthy indus­tri­al­ists object­ed to the Nation­al Labor Rela­tions Act of 1935, known as the Wag­n­er Act, which enshrined the right to col­lec­tive bar­gain­ing in the Unit­ed States.
Many tycoons of the time, like Alfred Sloan, head of Gen­er­al Motors, opposed those rights along with oth­er busi­ness reforms of FDR's New Deal.
Fred Koch, co-founder of the cor­po­ra­tion that lat­er became Koch Indus­tries, harsh­ly crit­i­cized Amer­i­can work­ers under New Deal poli­cies in 1938. He extolled the eco­nom­ic poli­cies of Emper­or Hiro­hi­to and fas­cists Adolf Hitler and Ben­i­to Mussolini:
Although nobody agrees with me, I am of the opin­ion that the only sound coun­tries in the world are Ger­many, Italy, and Japan, sim­ply because they are all work­ing and work­ing hard… The labor­ing peo­ple in those coun­tries are pro­por­tion­ate­ly much bet­ter off than they are any place else in the world. When you con­trast the state of mind of Ger­many today with what it was in 1925 you begin to think that per­haps this course of idle­ness, feed­ing at the pub­lic trough, depen­dence on gov­ern­ment, etc., with which we are afflict­ed is not per­ma­nent and can be overcome.
Only recent­ly, through the inves­tiga­tive work of Jane May­er, has the pub­lic learned that the Koch for­tune was actu­al­ly built in part on direct­ly aid­ing Hitler by build­ing the oil-crack­ing fac­to­ry that became ​"a key com­po­nent in the Nazi war machine." As May­er not­ed in her 2016 book Dark Mon­ey: The Hid­den His­to­ry of the Bil­lion­aires Behind the Rise of the Rad­i­cal Right, that fac­to­ry refined high-octane fuel need­ed for the Luft­waffe, which tar­get­ed, ter­ror­ized, and killed many thou­sands of inno­cent civil­ians. Fred Koch's praise of Ger­many came after Hitler's air bombers helped mur­der 136 men, women, and chil­dren in Guer­ni­ca in the Basque region, a tragedy made famous by the mur­al paint­ed by Pablo Picas­so.
Mean­while, indus­tri­al­ists like Sloan pur­sued efforts to undo New Deal reforms. In 1947, Con­gress amend­ed the Wag­n­er Act with the Taft-Hart­ley Act. It gave states the pow­er to pass ​"right-to-work" laws that under­mined col­lec­tive bar­gain­ing by not requir­ing work­ers who ben­e­fit from bar­gained rights to pay dues to the unions that secured and enforced them.
How the Kochs fer­til­ized ​"right-to-work"
As May­er noted:
[Fred Koch] was an ear­ly and active mem­ber of the Wichi­ta-based DeMille Foun­da­tion for Polit­i­cal Free­dom, an anti-labor group [found­ed in 1945] that was a fore­run­ner of the Nation­al Right to Work Defense Foun­da­tion. In a reveal­ing pri­vate let­ter, one of its staff mem­bers explained the group's ​'Astro­turf' strat­e­gy. In real­i­ty, he said, big-busi­ness indus­tri­al­ists would run the group, serv­ing as its ​'anony­mous quar­ter­backs,' and ​'call the turns.' But he said they need­ed to sell the ​'yarn' that the group was ​'com­posed of house­wives, farm­ers, small busi­ness­men, pro­fes­sion­al peo­ple, wage earn­ers-not big busi­ness indus­tri­al­ists.' Oth­er­wise, he admit­ted, the move­ment was ​'almost cer­tain­ly doomed to failure.'
By 1954, an engi­neer from Wichi­ta, Kan., Reed Lar­son, took a leave from his job at the Cole­man Com­pa­ny, to launch Kansans-for-the-Right-to-Work. The fol­low­ing year, for­mer Rep. Fred Hart­ley, Jr., (R‑N.J.) co-found­ed the Nation­al Right to Work Com­mit­tee (NRTWC). By 1958, the NRTWC was tar­get­ing six states to adopt right-to-work laws but it failed in every place, except Kansas.
"Fred [Koch] co-led a ref­er­en­dum dri­ve to alter the state con­sti­tu­tion in order to make it hard­er for unions to take root in Kansas," Duke Uni­ver­si­ty Pro­fes­sor Nan­cy MacLean not­ed.
On Nov. 9, 1958, the New York Times report­ed that right-to-work won in Kansas because anti-union views had tak­en hold, noting:
More cam­paign efforts and more mon­ey were expend­ed on the emo­tion-pro­vok­ing issue than on the cam­paigns of all Repub­li­can and Demo­c­ra­t­ic state and Con­gres­sion­al can­di­dates com­bined. … For the last 10 days or so before Elec­tion Day an orga­ni­za­tion called Kansans-for-the-Right-to-Work flood­ed news­pa­pers, tele­vi­sion chan­nels and oth­er adver­tis­ing media with appeals to ​'vote yes.' These by far out­num­bered the ​'vote no' adver­tise­ments of unions oppos­ing the amending.
A month lat­er, Fred Koch joined Robert Welch and ten oth­er men in Indi­anapo­lis to found the extreme rightwing group dubbed the ​"John Birch Soci­ety" (JBS).
As the Wash­ing­ton Post not­ed in its 1961 pro­file of JBS:
At the top of the Society's struc­ture in Wichi­ta are sev­er­al very wealthy indus­tri­al­ists. Oil engi­neer Fred Koch is pres­i­dent of the Rock Island Oil and Refin­ing Co. A mil­lion­aire sev­er­al times over, he is on the Society's nation­al coun­cil. … Wichi­ta is the John Birch Society's cen­ter of strength in Kansas, and one of its great­est in the coun­try. … The lead­er­ship of the Birch Soci­ety over­laps heav­i­ly with the lead­er­ship of the orga­ni­za­tions that suc­cess­ful­ly cam­paigned in 1958 for a right to work amend­ment to the State's Constitution.
As detailed by Group Research Inc. in its 1962 his­to­ry of JBS, Koch worked with both NRTWC and the Chris­t­ian Cru­sade in argu­ing against union dues like those at issue in the Janus case.
A his­to­ry of hostility
In 1959, Fred Koch joined the Exec­u­tive Com­mit­tee to plan the JBS strat­e­gy to push back against what it viewed as com­mu­nism in near­ly every Amer­i­can institution.
In 1960, Koch pub­lished his polemic ​"A Busi­ness Man Looks at Com­mu­nism" and dis­trib­uted it to JBS chap­ters across the coun­try. That pam­phlet makes a vari­ety of hys­ter­i­cal claims against unions, including:
Labor Unions have long been a Com­mu­nist goal. How far they have been pen­e­trat­ed by Com­mu­nists I have no idea, but it must be very far indeed, judg­ing the hatred and ven­om poured out in some labor papers….
Koch also accused the U.S. Supreme Court under for­mer Gov. Earl War­ren (R‑CA) of issu­ing pro-Com­mu­nist deci­sions, the uni­ver­si­ties of hav­ing thou­sands of Com­mu­nist pro­fes­sors, the Unit­ed Nations of being sub­ver­sive, and for­mer GOP Pres­i­dent Dwight Eisen­how­er of being soft on Communism.
Sim­i­lar sen­ti­ments were expressed in numer­ous oth­er pub­li­ca­tions the JBS also pushed. The orga­ni­za­tion pitched a screed against the union work­ers who orga­nized against Kohler fix­tures in Wis­con­sin. It pushed attacks on the UAW's Wal­ter Reuther, who was posthu­mous­ly award­ed a Pres­i­den­tial Medal of Freedom.
It pub­lished and ped­dled right-wing writer Ros­alie Gordon's attack on the U.S. Supreme Court for deci­sions enforc­ing col­lec­tive bar­gain­ing rights as pro­tect­ing the ​"labor-union monop­oly," along with what she called the ​"plague" of deseg­re­ga­tion caused by Brown v. Board of Edu­ca­tion.
The JBS also pushed reprints of tomes by Lud­wig von Mis­es attack­ing unions as ille­git­i­mate inter­venors in the ​"free mar­ket," arti­fi­cial infla­tors of wages for work­ers, and thieves of the prof­its of tycoons. It pro­mot­ed F.A. Hayek's vil­i­fi­ca­tion of gov­ern­ment reg­u­la­tion of cor­po­ra­tions as lead­ing to fas­cism and Hilaire du Berrier's con­spir­a­cy the­o­ries that Amer­i­can labor unions were sup­pos­ed­ly using union dues to finance com­mu­nist ter­ror­ist vio­lence abroad.
Fred Koch's son Charles urged vis­i­tors to the John Birch Soci­ety book­store in Wichi­ta to read copies of JBS pam­phlets, includ­ing those by anti-labor writ­ers from the Aus­tri­an School of Eco­nom­ics, like Mis­es.
Indeed, as the present author first doc­u­ment­ed for the Cen­ter for Media and Democ­ra­cy, Charles Koch became active in JBS after return­ing home to Wichi­ta to help with the fam­i­ly busi­ness. Charles was a leader and fundrais­er for JBS, includ­ing under­writ­ing its pub­li­ca­tions and nation­al radio net­work, while it attacked col­lec­tive bar­gain­ing and lead­ers of the civ­il rights move­ment such as the Rev­erend Mar­tin Luther King, Jr., and Rosa Parks.
Charles Koch in action
Though he left JBS in 1968, Charles Koch nev­er aban­doned its core anti-union agen­da and the lessons of his father's com­mit­ment to right-to-work. He did try to shed some of the rhetoric around com­mu­nist con­spir­a­cies, though of late he was paint­ed by Koch polit­i­cal strate­gist Richard Fink as a mar­tyr against ​"col­lec­tivism," in audio obtained by the Under­cur­rent, which also includ­ed out­landish claims link­ing fas­cism and the min­i­mum wage.
It was Charles Koch's invest­ment in lift­ing up the work of Mis­es and Hayek, who made sim­i­lar claims, that helped pre­serve and extend their lega­cy. As Stephen Moore not­ed in a 2006 pro­file on Charles for the Wall Street Jour­nal:
The authors who have had the most pro­found influ­ence on his own polit­i­cal phi­los­o­phy include F.A. Hayek, Lud­wig von Mis­es, Joseph Schum­peter, Julian Simon, Paul John­son and Charles Mur­ray. Mr. Koch says that he expe­ri­enced an intel­lec­tu­al epiphany in the ear­ly 1960s, when he attend­ed a con­fer­ence on free-mar­ket cap­i­tal­ism host­ed by the late, great Leonard Reed.
Charles brought Mis­es to Wichi­ta to speak and deployed F.A. ​"Baldy" Harper's Insti­tute for Humane Stud­ies (IHS) to pro­mote Mis­es and his pro­tégé Hayek. As laud­ed by Reed's Foun­da­tion for Eco­nom­ic Edu­ca­tion (FEE), Hayek argued that unions vio­lat­ed the very idea of the ​"rule of law" and that the Wag­n­er Act was cen­tral to that vio­la­tion, a sen­ti­ment he pro­mot­ed in numer­ous writings.
Charles Koch is deeply devot­ed to an alter­na­tive uni­verse in which col­lec­tive bar­gain­ing under­mines the rule of law and is not a major cause of increased wages. Moore not­ed in his interview:
As we con­tin­ue, Mr. Koch becomes increas­ing­ly ani­mat­ed. He dis­cuss­es anoth­er sem­i­nal work in his col­lec­tion, F.A. Harper's 1957 Why Wages Rise. The book demon­strates ​'that wages rise not because of unions or gov­ern­ment action, but because of mar­gin­al pro­duc­tiv­i­ty gains – peo­ple get more mon­ey when they pro­duce more val­ue for oth­er peo­ple.' Then he con­fides, ​"I was so thrilled by this rev­e­la­tion that I had what Maslow called a ​'peak experience.''"
Koch has also sup­port­ed the NRTWC, which ​"sought to put a new face on the anti-union cam­paign by build­ing its rhetoric on the argu­ments of Hayek, Mis­es, and oth­ers with a ​'respectable' pedi­gree." The NRTWC argues that:
Com­pul­so­ry union­ism itself vio­lates the dig­ni­ty of the indi­vid­ual work­er, regard­less of how the forced union trib­ute is spent. As the late Nobel Prize-win­ning econ­o­mist Friedrich A. von Hayek wrote: "[T]he coer­cion which unions have been per­mit­ted to exer­cise … is pri­mar­i­ly the coer­cion of fel­low workers.
Deep devo­tion and investment
Hayek and Mis­es are not the only two vir­u­lent­ly anti-union econ­o­mists Charles Koch backed. As Nan­cy MacLean doc­u­ment­ed in Democ­ra­cy in Chains, one of the key archi­tects of the Koch agen­da domes­ti­cal­ly and inter­na­tion­al­ly, James Buchanan, also railed against the so-called ​"union monop­o­lies" for dis­tort­ing ​"free mar­ket" wages.
And, as UnKoch My Cam­pus has detailed, Koch mon­ey has fund­ed scores of aca­d­e­mics to push their agen­da at uni­ver­si­ties, buy­ing con­trol over con­tent and per­son­nel with restric­tive dic­tates attached to their donations.
Many of the rightwing groups Charles Koch is known to have made a major invest­ment in since the 1970s have pushed right-to-work or attacked col­lec­tive bar­gain­ing rights. These include Rea­son mag­a­zine, the Cato Insti­tute, Amer­i­cans for Pros­per­i­ty, the Amer­i­can Leg­isla­tive Exchange Coun­cil, the State Pol­i­cy Net­work and many more.
Dur­ing David Koch's 1980 bid to become vice pres­i­dent, run­ning on the tick­et of Lib­er­tar­i­an Ed Clark — which was pushed by Charles and fueled with Koch cash — the cam­paign plat­form includ­ed mak­ing right-to-work the law of the land:
[W]e urge repeal of the Nation­al Labor Rela­tions Act, and all state Right to Work Laws, which pro­hib­it employ­ers from mak­ing vol­un­tary con­tracts with unions. We oppose all gov­ern­ment back-to-work orders as impos­ing a form of forced labor.
That is, there would be no need for state right-to-work laws if there were no NLRA that pro­tects col­lec­tive bar­gain­ing rights. As a result, right-to-work would be effec­tive­ly nation­al­ized at the deter­mi­na­tion of the employer.
After bad­ly los­ing that elec­tion, the Kochs have invest­ed heav­i­ly in chang­ing the cul­ture — and courts of Amer­i­ca — to make their anti-union vision a reality.
Right-to-work is part of that vision.
Mil­lions spent
A leak of the Kochs' sum­mer retreat in 2010 revealed that they fea­tured NRTWC lead­ers at their gath­er­ing of bil­lion­aires to plot plans for that year's midterm elections.
In 2012, before most of Amer­i­ca even knew that the Kochs had brand­ed their bil­lion­aire con­clave as ​"Free­dom Part­ners," that group inject­ed $1 mil­lion direct­ly into the NRTWC among the more than $200 mil­lion of its known spend­ing that cycle.
In 2016, they focused much of their known polit­i­cal spend­ing on keep­ing a GOP major­i­ty in the Sen­ate, and they influ­enced the make-up of the U.S. Supreme Court by help­ing to block Judge Mer­rick Garland's confirmation.
For the 2018 elec­tion, they've pledged to spend more than $400 mil­lion through the Sem­i­nar Net­work, the lat­est rebrand­ing of their net­work of tycoons.
To be clear, the Koch fam­i­ly for­tune is not the only one that has been expend­ed push­ing right-to-work laws to try to weak­en the pow­er of ordi­nary peo­ple to nego­ti­ate through unions. A major fun­der of right-to-work effort has been the Lyn­de and Har­ry Bradley Foun­da­tion, along with Donors Trust and Donors Cap­i­tal Fund, which Moth­er Jones has dubbed ​"the ATM" of the right wing.
Col­lec­tive bar­gain­ing has pro­vid­ed women with greater eco­nom­ic oppor­tu­ni­ties and job secu­ri­ty. Right-to-work laws also have a dis­pro­por­tion­ate impact on peo­ple of col­or, who are union mem­bers at a high­er rate than whites. Black women will like­ly be the group most adverse­ly affect­ed by the Janus case. Notably, work­ers in right-to-work states also have low­er wages than in states that have reject­ed this agenda.
Under­min­ing pro­gres­sives too
The spread of right to work through Janus also will affect our elections.
As In These Times has doc­u­ment­ed with the Cen­ter for Media and Democ­ra­cy, the nation­al push for right-to-work is designed to under­mine the pow­er of unions and to ​"defang and defund" them as a way to weak­en the chances for pro­gres­sives to win in pol­i­tics and policy.
The Koch invest­ment in mak­ing right-to-work a nation­al real­i­ty rep­re­sents one of the longest and deep­est com­mit­ments to this agen­da, aside from NRTWC itself.
And this year marks the 60th anniver­sary of Fred Koch's vic­to­ry of mak­ing right-to-work legal­ly bind­ing in Kansas.
Now, six decades lat­er, Charles Koch has helped make his father's wish bind­ing on the rest of Amer­i­ca through help­ing to make the Janus rul­ing a reality.
Lisa Graves
is the Co-Direc­tor of Doc­u­ment­ed. She pre­vi­ous­ly served as the Chief Coun­sel for Nom­i­na­tions for the U.S. Sen­ate Judi­cia­ry Com­mit­tee. She was also Deputy Assis­tant Attor­ney Gen­er­al in the Office of Pol­i­cy Devel­op­ment at the U.S. Depart­ment of Jus­tice, where she vet­ted poten­tial judi­cial nom­i­nees. She pre­vi­ous­ly led the Cen­ter for Media and Democ­ra­cy (CMD) where she spear­head­ed the launch of ALEC Exposed. She is an Advi­sor to UnKoch My Cam­pus and on the Board of Direc­tors of CMD.