How the Government Targeted Occupy
A new report reveals the U.S. spent millions spying on Occupiers and other anti-corporate activists.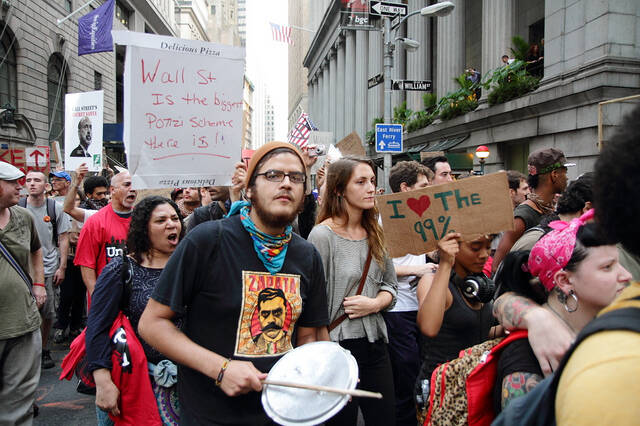 Free­dom of con­science is one of the most fun­da­men­tal human free­doms. This free­dom is not mere­ly about one's abil­i­ty to choose to believe or not believe in a par­tic­u­lar reli­gion or phi­los­o­phy. In a democ­ra­cy, free­dom of con­science is about the abil­i­ty to be crit­i­cal of gov­ern­ment and cor­po­ra­tions, and to be free from the chill­ing fear that doing so will sub­ject you to gov­ern­ment surveillance.
Little evidence has emerged, in the years since the horrific violence of 9/11, of any widespread threat from al-Qaeda within the United States. Nevertheless, politicians have used that potent memory to fund an enormous domestic surveillance infrastructure.
Free­dom of con­science can­not be ful­ly real­ized in iso­la­tion. It requires the abil­i­ty to share one's thoughts, to speak out about injus­tice and to join with oth­ers in peace­able assem­blies to peti­tion for redress of griev­ances. Amer­i­cans should be able to exer­cise these most sacred rights in a free soci­ety with­out fear of being mon­i­tored by the government.
A new report from the Cen­ter for Media and Democ­ra­cy (of which I am exec­u­tive direc­tor), ​"Dis­sent or Ter­ror: How the Nation's Counter Ter­ror­ism Appa­ra­tus, in Part­ner­ship with Cor­po­rate Amer­i­ca, Turned on Occu­py Wall Street," writ­ten by CMD con­trib­u­tor and DBA Press pub­lish­er Beau Hodai, details sev­er­al ways in which U.S. tax dol­lars are being squan­dered on law enforce­ment — or so-called ​"home­land secu­ri­ty" forces — mon­i­tor­ing Amer­i­cans who voice dis­sent against the extra­or­di­nary influ­ence that some of the world's most pow­er­ful cor­po­ra­tions have on our elect­ed offi­cials. This inves­ti­ga­tion documented:
How per­son­nel at U.S. Depart­ment of Home­land Secu­ri­ty-fund­ed ​

"

fusion cen­ters" have spent end­less hours mon­i­tor­ing their fel­low Amer­i­cans though Face­book and oth­er social media, and how fusion cen­ters nation­wide have expend­ed count­less hours and tax dol­lars in the mon­i­tor­ing of Occu­py Wall Street, bank activists and civ­il lib­er­tar­i­ans con­cerned about nation­al secu­ri­ty powers.
How some of these ​

"

coun­tert­er­ror­ism" gov­ern­ment employ­ees applied facial recog­ni­tion tech­nol­o­gy to Face­book pho­tographs, draw­ing from a state data­base of driver's license pho­tos, in an effort to pro­file cit­i­zens believed to be asso­ci­at­ed with activist groups.
How cor­po­ra­tions have joined in an ​

"

infor­ma­tion shar­ing envi­ron­ment" with law enforce­ment and intel­li­gence agen­cies — and how, through these part­ner­ships, the home­land secu­ri­ty appa­ra­tus has been focused on Amer­i­cans protest­ing these corporations.
How pri­vate groups and indi­vid­u­als, such as Charles Koch, his son Chase Koch, Koch Indus­tries and the Koch-fund­ed Amer­i­can Leg­isla­tive Exchange Coun­cil (ALEC) have hired off-duty cops — some­times still armed and in uni­form — to per­form the pri­vate secu­ri­ty func­tions of keep­ing unde­sir­able peo­ple (e.g., reporters and activists) away. At one ALEC con­fer­ence, off-duty offi­cers, work­ing on behalf of ALEC and the resort at which the con­fer­ence was held, led on-duty, riot-gear-clad police in the pep­per-spray­ing and arrests of sev­er­al peace­ful, law-abid­ing protestors.
How law enforce­ment agen­cies in Phoenix, Ariz., dis­patched an under­cov­er offi­cer to infil­trate activist groups orga­niz­ing anti-ALEC demon­stra­tions and the launch of Occu­py Phoenix.
How ​

"

coun­tert­er­ror­ism" per­son­nel mon­i­tored the protest activ­i­ties of cit­i­zens opposed to the ​

"

indef­i­nite deten­tion" lan­guage con­tained in the Nation­al Defense Autho­riza­tion Act of

2012

(which is being chal­lenged in court, in a law­suit in which the CMD has filed an ami­cus brief).
How the FBI applied ​

"

Oper­a­tion Trip­wire," an ini­tia­tive orig­i­nal­ly intend­ed to appre­hend domes­tic ter­ror­ists through the use of pri­vate-sec­tor infor­mants, to its mon­i­tor­ing of Occu­py Wall Street groups.
Even if the amount of mon­ey being wast­ed were small (and it's not — we're talk­ing mil­lions of dol­lars heaped into the cof­fers of local law enforce­ment agen­cies annu­al­ly), the notion that we the peo­ple should tol­er­ate the deploy­ment of police, osten­si­bly hired to pro­tect us, to spy on us with­out any crim­i­nal pred­i­cate is an out­rage. The mon­ey spent spy­ing on Amer­i­cans could be spent strength­en­ing our pub­lic schools, pro­vid­ing access to life-sav­ing med­i­cine for our neigh­bors or help­ing to achieve the Constitution's promise of form­ing ​"a more per­fect union."
In the years since the hor­rif­ic vio­lence of 9⁄11, lit­tle evi­dence has emerged of any wide­spread threat from al-Qae­da with­in the Unit­ed States. Nev­er­the­less, politi­cians have used that potent mem­o­ry to fund an enor­mous domes­tic sur­veil­lance infra­struc­ture. The result of this trough of mon­ey and excess capac­i­ty was utter­ly pre­dictable: the turn­ing of ​"coun­tert­er­ror­ism" resources against law-abid­ing Amer­i­can citizens.
A his­to­ry of covert surveillance
It has been more than 30 years since Con­gress act­ed with deep skep­ti­cism regard­ing gov­ern­ment agents deployed to spy on Amer­i­cans. The last thor­ough and tru­ly inde­pen­dent inves­ti­ga­tion of such covert activ­i­ties was after Water­gate, when the Church and Pike Com­mit­tees spent months inten­sive­ly inves­ti­gat­ing the ways in which pri­or admin­is­tra­tions had vio­lat­ed Amer­i­cans' pri­va­cy and tram­pled civ­il lib­er­ties under the guise of nation­al secu­ri­ty. The out­come was the 1976 ​"Levi Guide­lines," pro­mul­gat­ed by then-Attor­ney Gen­er­al Edward Levi to pre­vent the kind of domes­tic sur­veil­lance abus­es, such as COIN­TEL­PRO, that had been per­pe­trat­ed by J. Edgar Hoover's FBI.
Since the Carter admin­is­tra­tion, how­ev­er, pro­tec­tions from domes­tic sur­veil­lance have erod­ed steadi­ly. The Levi Guide­lines were large­ly coun­ter­mand­ed through revi­sions by John Ashcroft and his suc­ces­sors at the Jus­tice Depart­ment. With the post‑9/​11 shift from enforc­ing the law to ​"gath­er­ing intel­li­gence," both pub­lic rules and secret guide­lines were altered to max­i­mize the har­vest­ing of infor­ma­tion about Amer­i­cans with­out any require­ment for prob­a­ble cause. The new rule appears to be that almost every­thing except for home search­es and phone taps is fair game. And even the rules for elec­tron­ic sur­veil­lance are now sub­ject to enor­mous loop­holes due to changes pushed into law in 2008 by Direc­tor of Nation­al Intel­li­gence-turned-Booz Allen Hamil­ton Vice Chair­man Mike McConnell—with help from AT&T, Ver­i­zon and oth­ers.
It was a stroke of mis­for­tune that, on 9⁄11, Vice Pres­i­dent Dick Cheney served as the de fac­to head of the nation­al secu­ri­ty hier­ar­chy. Cheney's ​"dark side" approach cre­at­ed a cli­mate in which long­stand­ing rules intend­ed to pro­tect basic rights were replaced with an array of ques­tion­able, if not absurd, inter­pre­ta­tions of domes­tic and inter­na­tion­al law.
Cheney's push for unfet­tered sur­veil­lance pow­ers goes back to his time as a staffer for Pres­i­dent Ford in the 1970s, when he and Deputy Attor­ney Gen­er­al Lau­rence H. Sil­ber­man tried to thwart essen­tial reforms of sur­veil­lance agen­cies. In anoth­er case of ill fate, Sil­ber­man sat on the For­eign Intel­li­gence Sur­veil­lance Court when George W. Bush took office and helped facil­i­tate legal opin­ions instru­men­tal to the Bush administration's expan­sion of domes­tic sur­veil­lance activ­i­ties by redefin­ing Amer­i­cans' Fourth Amend­ment rights.
Unfor­tu­nate­ly, much of this back­slid­ing has been embraced and fur­ther entrenched by the Oba­ma administration.
Gen­er­al­ly, the fed­er­al gov­ern­ment claims to abide by a long-stand­ing rule that a per­son will not be inves­ti­gat­ed based ​"sole­ly" on pro­tect­ed First Amend­ment activ­i­ty. But what does that amount to in real­i­ty? In Ari­zona, it appears fusion cen­ter per­son­nel used the prospect of anar­chist involve­ment in protests of banks, cor­po­ra­tions and ALEC as a pre­text for dis­patch­ing at least one under­cov­er offi­cer to infil­trate groups of Amer­i­cans orga­niz­ing peace­ful demon­stra­tions. Fusion cen­ter per­son­nel even cit­ed past instances of ​"vio­lent tac­tics" per­pe­trat­ed against ALEC in oth­er states, when, in real­i­ty, there had been only one inci­dent of graf­fi­ti at an ALEC protest.
Quite frankly, there is no way to know if U.S. anar­chist groups have been infil­trat­ed by law enforce­ment or by intel­li­gence agents act­ing as agent provo­ca­teurs. It is worth not­ing that, in the case of the Phoenix infil­tra­tion, the under­cov­er offi­cer appar­ent­ly said he was affil­i­at­ed with a Mex­i­can anar­chist group that claimed to have com­mit­ted acts of arson.
If the prospect of graf­fi­ti can trig­ger months of infil­tra­tion and sur­rep­ti­tious sur­veil­lance, then the idea that our gov­ern­ment will not mon­i­tor cit­i­zens sole­ly for exer­cis­ing their First Amend­ment rights becomes lit­tle more than a joke. And that joke is on us.
Read the full report on Source­Watch.
Read the full report and view doc­u­ment archive on DBA Press.
Lisa Graves
is the Co-Direc­tor of Doc­u­ment­ed. She pre­vi­ous­ly served as the Chief Coun­sel for Nom­i­na­tions for the U.S. Sen­ate Judi­cia­ry Com­mit­tee. She was also Deputy Assis­tant Attor­ney Gen­er­al in the Office of Pol­i­cy Devel­op­ment at the U.S. Depart­ment of Jus­tice, where she vet­ted poten­tial judi­cial nom­i­nees. She pre­vi­ous­ly led the Cen­ter for Media and Democ­ra­cy (CMD) where she spear­head­ed the launch of ALEC Exposed. She is an Advi­sor to UnKoch My Cam­pus and on the Board of Direc­tors of CMD.