Return to Nixonland
How the NSA slipped its leash under Bush and Obama.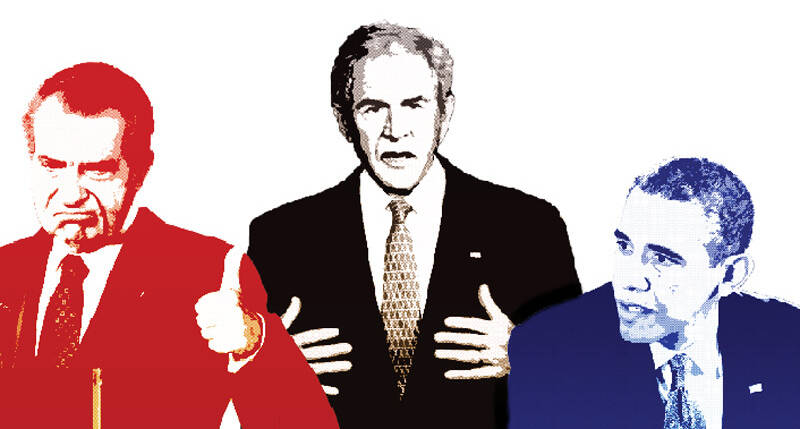 The doc­u­ments leaked by Edward Snow­den and pub­lished by the Guardian and oth­er out­lets con­firm what pri­va­cy advo­cates have been say­ing for years: The gov­ern­ment has secret­ly turned its most pow­er­ful weapons of for­eign intel­li­gence sur­veil­lance inward on mil­lions of Americans.
Each time we give up a bit of information about ourselves to the Government, we give up some of our freedom. For the more the Government or any institution knows about us, the more power it has over us.
How can an ordi­nary cit­i­zen cut through the brush — with the avalanche of com­pli­cat­ed, clas­si­fied mate­ri­als released, the flur­ry of polit­i­cal fin­ger-point­ing, and the var­i­ous denials and nar­row­ly craft­ed dodges? Wel­come to a guid­ed tour of the Nation­al Secu­ri­ty Agency (NSA) scan­dal. We'll explore how we got here and what Nixon's got to do with it.
Who? Me?
The NSA has rebuffed demands by some in Con­gress for an esti­mate of the num­ber of Amer­i­cans whose infor­ma­tion has been gath­ered, stored and searched, but the math is sim­ple. Unless you are a child, a Lud­dite or a her­mit who has nev­er dialed a phone or used the Inter­net, records of your phone calls and online inter­ac­tions have been cap­tured by the NSA.
This includes your num­ber and every­one you dial or text, plus how of- ten and how long you talk, as well as your loca­tion — although the NSA has claimed it doesn't actu­al­ly use the loca­tion data. In oth­er words, the NSA has the fact of all your calls with your friends, fam­i­ly, lover(s), bank(s) and doc­tors' offices for what­ev­er ails you, along with calls to psy­chic hot­lines or phone sex work­ers, if that's your thing. The num­ber of inno­cent Amer­i­cans affect­ed: at least 260 million.
That's not all. For near­ly a decade, the NSA was gath­er­ing records about Amer­i­cans' ​"Inter­net trans­ac­tions," includ­ing ​"meta­da­ta" such as the ​"to, from, cc and bcc lines of a stan­dard email," when your email was sent and opened, your IP address and loca­tion, and an array of data about you as you search the Inter­net, and inter­act with friends and strangers through social media. That pro­gram is no longer autho­rized by a secret court in Wash­ing­ton, D.C., but whether it con­tin­ues is unknown. Also unknown: whether the NSA's gath­er­ing of Amer­i­cans' cred­it card trans­ac­tions is con­tin­u­ing or was secret­ly stopped.
Even that's not all. Though the NSA has empha­sized that it does not obtain the ​"con­tents" of your calls or emails through this pro­gram, the gov­ern­ment has decid­ed that the con­tents of all inter­na­tion­al phone calls and emails ​"to or from" Amer­i­cans and oth­ers abroad are fair game for acqui­si­tion by the NSA with­out a war­rant. At least 40 mil­lion Amer­i­can cit­i­zens trav­el inter­na­tion­al­ly each year, and Amer­i­ca is home to 40 mil­lion immi­grants, who call or email their loved ones over­seas about their most inti­mate wor­ries and desires.
And there's more. New­ly declas­si­fied doc­u­ments prove that count­less pure­ly ​"domes­tic" con­ver­sa­tions between inno­cent Amer­i­cans here in the Unit­ed States have also been acquired and searched by the NSA.
Addi­tion­al­ly, the affi­davits in law­suits filed in 2006 by the Elec­tron­ic Fron­tier Foun­da­tion present evi­dence that short­ly after 9⁄11 the NSA installed ​"NARUS" devices at AT&T's main trans­mis­sion sta­tion in San Fran­cis­co and at oth­er telecom­mu­ni­ca­tions hubs across the coun­try. Those devices are designed to make a dupli­cate of the com­mu­ni­ca­tions stream (con­tent and data) as it pass­es through the sys­tem at the speed of light.
Accord­ing­ly, such devices can give the NSA access to all Amer­i­can domes­tic and inter­na­tion­al phone calls and Inter­net activ­i­ty that trav­el through AT&T, which pro­vides the back­bone of the com­mu­ni­ca­tions sys­tem that oth­er phone and Inter­net ser­vice providers rely on. So, as a tech­no­log­i­cal mat­ter, if law were no bar­ri­er, the evi­dence indi­cates that the NSA could tech­ni­cal­ly acquire, store and ana­lyze almost every word spo­ken or writ­ten on Amer­i­can phones and computers.
Snowden's rev­e­la­tions include Pow­er Point pre­sen­ta­tions ref­er­enc­ing an array of tools — with code names like ​"PRISM" — the NSA has used to tar­get the social media activ­i­ties, Inter­net search­es and emails of spe­cif­ic peo­ple. But there's still a lot we don't know. And that's a prob­lem in a democ­ra­cy in which the gov­ern­ment is sup­posed to gov­ern by con­sent of the people.
The risk of ​'total tyranny'
Sen. Frank Church (D‑Idaho) said after his inves­ti­ga­tion of the NSA in 1975, fol­low­ing leaks about Pres­i­dent Richard M. Nixon's use of the NSA to spy on his ene­mies, oppo­nents of the war in Viet­nam and others:
If this gov­ern­ment ever became a tyrant, if a dic­ta­tor ever took charge in this coun­try, the tech­no­log­i­cal capac­i­ty that the intel­li­gence com- muni­ty has giv­en the gov­ern­ment could enable it to impose total tyran­ny, and there would be no way to fight back because the most care­ful effort to com­bine togeth­er in resis­tance to the gov­ern­ment, no mat­ter how pri­vate­ly it was done, is with­in the reach of the gov­ern­ment to know. Such is the capa­bil­i­ty of this tech­nol­o­gy. … We must see to it that this agency and all agen­cies that pos­sess this tech­nol­o­gy oper- ate with­in the law and under prop­er super­vi­sion so that we nev­er cross over that abyss. That is the abyss from which there is no return.
Those were the late Sen­a­tor Church's fears before almost every Amer­i­can had a ​"smart phone" and before most of us heard of the Inter­net — which in the 1970s was mere­ly a com­put­er net­work with­in the Pen­ta­gon and a few Sil­i­con Val­ley com­pa­nies — let alone tra­versed it daily.
Indeed, before Google was a word, let alone an empire; before almost all of our tele­phone con­ver­sa­tions, emails and trans­ac­tions of dai­ly life were trans­mut­ed into a search­able dig­i­tal world; and before a hand­ful of mur­der­ers crashed into the World Trade Cen­ter and the Pen­ta­gon on Sep­tem­ber 11, 2001, we need­ed greater pro­tec­tions for our pri­va­cy and liberty.
Now that need is even more urgent.
Along with the seis­mic trans­for­ma­tion in the way we com­mu­ni­cate, the legal con­trols on the NSA's pow­ers have been sys­tem­at­i­cal­ly loos­ened, if not oblit­er­at­ed, by the White House, Con­gress and the courts at the urg­ing of lead­ers of the mil­i­tary intel­li­gence community.
The NSA says it has ​"inter­nal con­trols" but once infor­ma­tion about Amer­i­cans is stored by the NSA — includ­ing in a gar­gan­tu­an 1‑mil­lion-square-foot data store­house being final­ized in Bluff­dale, Utah — it can be accessed by numer­ous civil­ians at home and abroad. The agency claims there have been only 12 inci­dents of NSA staffers using its ​"Sig­nals Intel­li­gence" (SIG­INT) improp­er­ly. Most of them spied on lovers, such as girl­friends sus­pect­ed of infi­deli­ty. How­ev­er, almost all of these were dis­cov­ered only through poly­graph tests of work­ers renew­ing secu­ri­ty clear­ances. How many more times have lovers or ene­mies been ​"tar­get­ed" by gov­ern­ment employ­ees, the mil­i­tary and intel­li­gence con­trac­tors with access to the trove of SIG­INT data?
More impor­tant­ly, how can we ever trust that the NSA's new pow­ers won't be mis­used by those in pow­er? We already know that dur­ing the Occu­py Wall Street protests, fed­er­al ​"coun­tert­er­ror­ism" dol­lars were used by the Fed­er­al Bureau of Inves­ti­ga­tion, the Depart­ment of Home­land Secu­ri­ty and local law enforce­ment to mon­i­tor Amer­i­cans guilty only of speak­ing against Wall Street's destruc­tion of our econ­o­my and its cor­rup­tion of our democ­ra­cy. And the gov­ern­ment got away with it.
So the ques­tion isn't whether the infor­ma­tion that the NSA has been allowed to gath­er on Amer­i­cans will be mis­used. The ques­tion is, when? And by whom? Per­haps our next pres­i­dent? Reli­gious- Reac­tionary Rick (San­to­rum)? Tea Par­ty Ted (Cruz)? Take-Two Rick (Per­ry)? You may laugh, but remem­ber that pri­or to the 1980 pres­i­den­tial elec­tion, Trees-Cause-More-Pol­lu­tion-Than-Auto­mo­biles Ronald (Rea­gan) was a joke.
Who in the NSA's qua­si-mil­i­tary hier­ar­chy has the pow­er to ques­tion a demand to pro­vide infor­ma­tion in its data­bas­es about spe­cif­ic Amer­i­cans when made under the author­i­ty of the com­man­der in chief, no mat­ter who the pres­i­dent is or which pow­er-hun­gry advi­sors aid the White House in 2016 or 2020 or beyond?
It's a state of affairs that would make Nixon smirk. It's also why for­eign cit­i­zens who've lived under author­i­tar­i­an regimes, in Ger­many and else­where, have expressed some of the great­est hor­ror at the rev­e­la­tions over the NSA's ubiq­ui­tous monitoring.
The past isn't even past
To under­stand what hap­pened to the rule of law since 9⁄11, it's impor­tant to under­stand the path of the law before the World Trade Cen­ter tow­ers fell.
It begins with the Fourth Amend­ment, which makes no dis­tinc­tion between ​"intel­li­gence gath­er­ing" and ​"law enforce­ment." The Con­sti­tu­tion speaks instead to the rights of Amer­i­cans regard­less of the agent that would vio­late them:
The right of the peo­ple to be secure in their per­sons, hous­es, papers and effects, against unrea­son­able search­es and seizures, shall not be vio­lat­ed, and no War­rants shall issue, but upon prob­a­ble cause, sup­port­ed by Oath or affir­ma­tion, and par­tic­u­lar­ly describ­ing the place to be searched, and the per­sons or things to be seized.
Those words were born of the van­quish­ing of an author­i­tar­i­an tyrant whose offi­cers used ​"gen­er­al war­rants" to search colonists at will to pro­tect the crown and its interests.
Sur­pris­ing­ly, it was not until 1967 that the Supreme Court ruled that the gov­ern­ment need­ed a war­rant to lis­ten to Amer­i­cans' phone calls. The fol­low­ing year, in 1968, Con­gress passed a crime bill to pro­vide rules for obtain­ing war­rants for wire­taps but — at the secret urg­ing of the NSA — the leg­is­la­ture exempt­ed sur­veil­lance in the name of nation­al security.
In Novem­ber of that year, Nixon was elect­ed president.
In 1969, just six months after tak­ing office, Nixon direct­ed the NSA to search its files for infor­ma­tion on spe­cif­ic Amer­i­cans whom he and J. Edgar Hoover had placed on a watch list.
At that time, the exis­tence of the NSA, for­mal­ly estab­lished in 1952, was so secret that almost no one in Con­gress knew about it, and its fund­ing was con­cealed in the Pentagon's clas­si­fied ​"black bud­get." For decades, the NSA and its pre­de­ces­sors had act­ed as the government's sig­nal corps, lis­ten­ing for radio com­mu­ni­ca­tions from ene­my ships, tap­ping into the cables of diplo­mats of the Sovi­et Union and decrypt­ing ciphers sent by spies. Unbe­knownst to Con­gress, the NSA and its pre­de­ces­sor, the Armed Forces Secu­ri­ty Agency, had also been spy­ing on Amer­i­cans for decades, mak­ing dupli­cates of all of the inter­na­tion­al telegrams sent to or from Amer­i­cans by ​"wire" or cable since 1945, as well as gath­er­ing radio trans­mis­sions from across the globe through earth-bound satel­lite receivers and satel­lites. By the ear­ly 1970s, the NSA's ana­lysts were read­ing over 150,000 telegrams to or from Amer­i­cans a month under that pro­gram, called ​"Oper­a­tion SHAMROCK."
With this vast and secret intel­li­gence-gath­er­ing appa­ra­tus at his dis­pos­al, Nixon lat­er expand­ed his watch list, direct­ing the NSA to search for any­thing ​"sub­ver­sive" or relat­ed to drug-deal­ing. In the mean­time, in 1972, a case involv­ing Nixon spy­ing on Amer­i­cans under the guise of nation­al secu­ri­ty, with no link to a for­eign gov­ern­ment, made its way to the Supreme Court. In that case, known as the Kei­th case, the Court unan­i­mous­ly declared:
The Fourth Amend­ment free­doms can­not prop­er­ly be guar­an­teed if domes­tic secu­ri­ty sur­veil­lances may be con­duct­ed sole­ly with­in the dis­cre­tion of the Exec­u­tive Branch. … The Fourth Amend­ment does not con­tem­plate the exec­u­tive offi­cers of Gov­ern­ment as neu­tral and dis­in­ter- est­ed magistrates.
In August 1974, in the wake of the Water­gate scan­dal involv­ing the ille­gal sur­veil­lance activ­i­ties of the Com­mit­tee to Re-Elect the Pres­i­dent (CREEP), Nixon resigned in disgrace.
Yet the extent of elec­tron­ic sur­veil­lance under the admin­is­tra­tion wasn't revealed until Decem­ber 1974, when the New York Times pub­lished a front-page sto­ry by Sey­mour Hersh under the head­line ​"Huge C.I.A. Op- era­tion Report­ed in U.S. Against Anti-War Forces." The arti­cle exposed part of Nixon's spy­ing under a pro­gram code-named ​"Oper­a­tion MINARET," which made use of the cables the NSA searched via SHAM­ROCK and by cap­tur­ing radio transmissions.
Con­gress was shocked. Dur­ing the inves­ti­ga­tion led by Sen. Church in 1975, Con­gress dis­cov­ered that the NSA had access to com­mu­ni­ca­tions involv­ing mil­lions of Amer­i­cans and that there were about 1,200 Amer­i­cans on watch lists, most­ly peo­ple oppos­ing the Viet­nam War.
But the names of some Amer­i­cans on the watch list were kept sealed until they were released this Sep­tem­ber. The new­ly declas­si­fied doc­u­ments reveal that the NSA's spy­ing tar­get­ed promi­nent Amer­i­cans even before Nixon took office. Accord­ing to the Nation­al Secu­ri­ty Archive, the NSA ​"eaves- dropped on civ­il rights lead­ers Mar­tin Luther King and Whit­ney Young, as well as box­ing cham­pi­on Muham­mad Ali, New York Times jour­nal­ist Tom Wick­er, and Wash­ing­ton Post colum­nist [and humorist] Art Buch­wald"— and Sen. Church himself.
In response to Sen. Church's inves­ti­ga­tion, Con­gress passed the For­eign Intel­li­gence Sur­veil­lance Act (FISA) of 1978, over the objec­tions of a few hard-lin­ers in the Ford admin­is­tra­tion, includ­ing Lau­rence Sil­ber­man. It was intend­ed to ensure that the NSA was focus­ing on for­eign­ers and not on Amer­i­cans, and ​"to curb the prac­tice by which the Exec­u­tive Branch may con­duct war­rant­less elec­tron­ic sur­veil­lance on its own uni­lat­er­al deter­mi­na­tion that nation­al secu­ri­ty jus­ti­fies it."
FISA barred the NSA from inten- tion­al­ly acquir­ing radio sig­nals of the domes­tic com­mu­ni­ca­tions of Ameri- cans with­out a war­rant. It also barred the NSA from acquir­ing wire com­mu­ni­ca­tions here that were to or from Amer­i­cans, whether inten­tion­al or not. And it barred the NSA from inten­tion­al­ly tar­get­ing radio com­mu­ni­ca­tions to or from a known U.S. per­son in the coun­try. It also cre­at­ed rules for ob- tain­ing war­rants to tar­get Amer­i­cans, requir­ing prob­a­ble cause that a per­son was know­ing­ly aid­ing an agent of a for- eign pow­er or some­one plan­ning ​"ter- ror­ism" or sab­o­tage, as well as short-term rules for emer­gency or war.
Con­gress also cre­at­ed a spe­cial court, the For­eign Intel­li­gence Sur­veil­lance Court (FISC), to hear these war­rant requests. At the same time, Con­gress estab­lished per­ma­nent Sen­ate and House Intel­li­gence Com­mit­tees to con­duct over­sight of the NSA, CIA and more.
Project MINARET and Oper­a­tion SHAM­ROCK were said to be ter­mi­nat­ed when FISA passed, and the pub­lic believed such activ­i­ties were barred. By almost all accounts, the NSA was direct­ing its pow­er­ful sur­veil­lance tools out­side of the Unit­ed States, dis­card­ing Amer­i­cans' com­mu­ni­ca­tions that were not rel­e­vant to its oper­a­tions, and tun­ing its radio chan­nels to for­eign navies and diplo­mats. Mean­while, a Sovi­et reformer named Mikhail Gor­bachev came to pow­er, the Cold War thawed, the Berlin Wall fell, and the need for enor­mous mil­i­tary and intel­li­gence bud­gets was being questioned.
Then came 9⁄11.
Checks and balances?
This much is clear: In the weeks fol­low­ing 9⁄11 a hand­ful of men in the Exec­u­tive Branch lit­er­al­ly rewrote our rights as cit­i­zens. While Amer­i­cans were sold war to secure ​"free­dom" against al Qae­da, our free­doms at home were delib­er­ate­ly undone in the name of pro­tect­ing us.
That revi­sion of our rights occurred on two fronts. One was a pub­lic debate over the Patri­ot Act, which obscured the sec­ond: even more dra­mat­ic changes being orches­trat­ed by Vice Pres­i­dent Dick Cheney's office behind the scenes.
As the Pen­ta­gon pre­pared for war in Afghanistan and Con­gress passed an ​"Autho­riza­tion for the Use of Mil­i­tary Force," the George W. Bush admin­is­tra­tion sent Con­gress a wish list of changes to the law that were lat­er titled ​"Unit­ing and Strength­en­ing Amer­i­ca by Pro­vid­ing Appro­pri­ate Tools Required to Inter­cept and Obstruct Ter­ror­ism Act of 2001," oth­er­wise known as the ​"USA Patri­ot Act," or Patri­ot Act.
The Patri­ot Act changed some parts of FISA, but nowhere did it autho­rize the NSA to acquire all of Amer­i­cans' phone or inter­net records. Nor did it change FISA's rules to allow Oper­a­tion SHAM­ROCK-style mon­i­tor­ing of the con­tent of Amer­i­cans' inter­na­tion­al communications.
While Con­gress was con­sid­er­ing the Patri­ot Act, the White House had already secret­ly changed the rules for NSA sur­veil­lance on these shores. Arch-auto­crat David Adding­ton (Vice Pres­i­dent Cheney's right-hand man) hand-picked one Jus­tice Depart­ment offi­cial — the new­ly hired John Yoo — to write a legal memo jus­ti­fy­ing the NSA sur­veil­lance pro­grams that Edward Snow­den would expose 12 years lat­er. Yoo wrote a secret memo assert­ing that the pres­i­dent is not bound by FISA's legal rules for war­rants because he has ple­nary pow­ers as com­man­der in chief.
Attor­ney Gen­er­al John Ashcroft, who was busy push­ing the Patri­ot Act, did not even know Yoo had writ­ten that memo about what became known as the ​"President's Sur­veil­lance Pro­gram" when he cosigned the president's first autho­riza­tion doc­u­ment on Oct. 5, 2001 and the NSA began ask­ing telecom­mu­ni­ca­tions com­pa­nies for access to their switches.
It was two years after the launch of the new NSA sur­veil­lance before the White House told even one judge on the For­eign Intel­li­gence Sur­veil­lance Court (FISC) about the pro­grams. That judge, the chief judge, was not asked to approve the sur­veil­lance and was not allowed to tell the oth­er FISC judges about it.
In 2004, the Jus­tice Depart­ment hun­kered down to cre­ate a new legal memo ratio­nal­iz­ing the pro­gram as implic­it­ly autho­rized by the Autho­riza­tion to Use Mil­i­tary Force in Afghanistan. Lat­er that year, the FISC was asked to approve an order autho­riz­ing this sur­veil­lance for the first time, and it did.
While this bat­tle was brew­ing and the pres­i­den­tial elec­tion was in full swing, James Risen and Eric Licht­blau of the New York Times were onto a sto­ry about the NSA's domes­tic sur­veil­lance, but the White House claimed the sto­ry would hurt nation­al secu­ri­ty and risk Amer­i­can lives, and so pub­lish­er Arthur Ochs Sulzberg­er, Jr. held it until more than a year after the election.
On Dec. 16, 2005, the Risen-Licht­blau sto­ry broke: ​"Bush Lets U.S. Spy on Callers With­out Courts." The Bush admin­is­tra­tion respond­ed by declas­si­fy­ing the least con­tro­ver­sial com­po­nent of the pro­gram and rebrand­ing it as the ​"Ter­ror­ist Sur­veil­lance Pro­gram," or TSP. As Bush famous­ly quipped in try­ing to dis­tract from the rev­e­la­tions: ​"If some­body from al Qae­da is call­ing you, we'd like to know why."
In the midst of the uproar over the NSA spy­ing, the Patri­ot Act was reau­tho­rized in March 2006.
But in May of that year, more leaks came, with USA Today pub­lish­ing a sto­ry that said the NSA was ​"amass­ing infor­ma­tion about the calls of ordi­nary Amer­i­cans — most of whom aren't sus­pect­ed of any crime."
By the time these extra­or­di­nary sur­veil­lance pro­grams had been oper­a­tional for six years, near­ly 3,000 unelect­ed exec­u­tive branch employ­ees (and an unknown num­ber in the pri­vate sec­tor) knew of the pro­grams, but only 60 out of the 535 mem­bers of Congress.
Nev­er­the­less, in 2007, aid­ed by lob­by­ing from telecom­mu­ni­ca­tions com­pa­nies like AT&T — which feared it would be held crim­i­nal­ly or civil­ly liable for vio­lat­ing the Wire­tap Act and FISA— Direc­tor of Nation­al Intel­li­gence Mike McConnell began a full-court press to get FISA changed to give retroac­tive immu­ni­ty to the com­pa­nies and Congress's bless­ing to the pro­grams. After a court struck down a por­tion of the pro­gram, McConnell demand­ed Con­gress tem­porar­i­ly autho­rize it through the Pro­tect Amer­i­ca Act, which was re- placed a few months lat­er in 2008 by the FISA Amend­ments Act.
Then-Sen. Oba­ma, despite express­ing ear­li­er con­cerns about the NSA's war­rant­less elec­tron­ic sur­veil­lance, sup­port­ed those bills as he began to seek the White House. As pres­i­dent, he has embraced those (and oth­er) con­tro­ver­sial uses of pow­er that were ini­ti­at­ed by the Bush admin­is­tra­tion. Although he imme­di­ate­ly sought to shut down Guan­tá­namo, only to be thwart­ed by Con­gress, on the issue of NSA spy­ing he has large­ly con­tin­ued the pro­grams and defend­ed them. There has been lit­tle ​"change" or ​"hope" when it comes to pro­tect­ing Amer­i­cans' pri­va­cy from the NSA's sur­veil­lance pow­ers. It's been most­ly busi­ness as usu­al under for the NSA, FBI and DHS.
More­over, in light of the full weight of the Snow­den rev­e­la­tions, when one looks at the statu­to­ry con­straintson the NSA now, the lim­its in FISA that osten­si­bly pro­tect Amer­i­cans' rights look slippery.
For exam­ple, Sec­tion 702 of the FISA Amend­ments Act repeats the tra­di­tion­al rule that the NSA can­not acquire com­mu­ni­ca­tions that ​"inten­tion­al­ly tar­get any per­son known at the time of acqui­si­tion to be locat­ed in the Unit­ed States." Giv­en the rev­e­la­tions, though, does this mean the statute allows tar­get­ing of Amer­i­cans in pools of infor­ma­tion after inter­na­tion­al com­mu­ni­ca­tions are seized?
Sim­i­lar­ly, the NSA ​"may not inten­tion­al­ly acquire any com­mu­ni­ca­tion as to which the sender and all intend­ed recip­i­ents are known at the time of the acqui­si­tion to be locat­ed in the Unit­ed States." How­ev­er, at the time an email is trans­mit­ted and thus acquired, the NSA could argue that it does not know where all the recip­i­ents are locat­ed, as a Bush rep argued ​"hypo­thet­i­cal­ly" to pri­va­cy advo­cates in 2007.
Thus the pro­tec­tions in the FISA statute that at first appear to be shields against spy­ing on Amer­i­cans, appear upon clos­er inspec­tion to oper­ate as swords.
Where's the Fourth Amendment?
Three rul­ings issued by FISA judges hand-picked by the Chief Jus­tice have nar­row­ly con­strued people's Fourth Amend­ment rights when it comes to two core issues: the rules for con­tent and data acquired by the NSA.
The Bush admin­is­tra­tion set the stage for its eva­sion of the Fourth Amend­ment in 2002, when it asked for a rul­ing from the FISA Court of Review (FIS­CR), which over­sees FISC, in a case involv­ing a Patri­ot Act pro­vi­sion chang­ing the pur­pose of FISA sur­veil- lance. Judge Sil­ber­man (who tes­ti­fied against FISA in 1978) and two oth­er judges heard gov­ern­ment argu­ments— argu­ments orig­i­nal­ly con­coct­ed by Yoo. Sil­ber­man act­ed like an advo­cate from the bench, argu­ing that the Con­sti­tu­tion does not require a war­rant before the gov­ern­ment can acquire the con­tent of Amer­i­cans' communications.
The FIS­CR rul­ing opined that the con­sti­tu­tion­al test for search­es in intel- ligence cas­es was ​"rea­son­able­ness," not a war­rant, and ​"the key to the rea­son- able­ness of any search is the exte­ri­or threat." In 2008, an unnamed ​"Inter­net Ser­vice Provider" (ISP) chal­lenged ​"direc­tives" issued after FISA Amend­ments Act as uncon­sti­tu­tion­al, but the FIS­CR ruled that the Con­sti­tu­tion did not require a war­rant based on prob­a­ble cause to demand con­tent of com­mu­ni­ca­tions. In bal­anc­ing whether a search order was ​"rea­son­able" under the Fourth Amend­ment, the court ruled that nation­al secu­ri­ty is of the ​"high­est order of magnitude."
In the most recent deci­sion issued by the FISC, a low­er court judge ruled that the NSA could acquire Amer­i­cans' call records en masse because Amer­i­cans have ​"no rea­son­able expec­ta­tion of pri­va­cy" in their phone or Inter­net data— a claim based on a Supreme Court deci­sion from 1979 that most Amer­i­cans have nev­er heard of.
In that obscure case, Smith v. Mary­land, a rob­bery sus­pect named Michael Lee Smith sued the state after police obtained his call records from his phone com­pa­ny with­out a search war­rant. The Supreme Court, dom­i­nat­ed by four new Nixon appointees, ruled that Smith had no con­sti­tu­tion­al expec­ta­tion of pri­va­cy in infor­ma­tion about him­self con­veyed to a third par­ty, such as the phone com­pa­ny. (Jus­tices Thur­good Mar­shall, Pot­ter Stew­art and William J. Bren­nan, Jr. dis­sent­ed, not­ing that using a tele­phone does not car­ry with it an assump­tion that this infor­ma­tion will be released to oth­ers, let alone the government.)
The FISC embraced this prece­dent despite dra­mat­ic changes in tech­nol­o­gy since the orig­i­nal deci­sion. In the old days, the num­bers you dialed could be obtained by law enforce­ment through a court order, with­out access­ing the con­tent of the con­ver­sa­tion. But in the dig­i­tal age, if the gov­ern­ment has access to the calls as they tran­sit the phone com­pa­ny in fiber optic cables, the gov­ern­ment can dupli­cate the con­tent as it seizes data.
Despite these dif­fer­ences, the FISC ruled that Amer­i­cans' elec­tron­ic call records can be vac­u­umed up by the NSA.
Addi­tion­al­ly, the court servile­ly stat­ed that the NSA's com­put­ers work best when they have records of all of your calls — so all the call records they must have.
The FISC also claimed that the sur­veil­lance was con­sis­tent with the statu­to­ry rules for access to third par­ty records, as mod­i­fied by the Patri­ot Act, which allow courts to order busi­ness­es to turn over records ​"rel­e­vant to an autho­rized inves­ti­ga­tion." The court's order deemed all Amer­i­cans' phone re- cords to be rel­e­vant to a gen­er­al inves­ti­ga­tion to pre­vent ter­ror­ism because any record might be a link to a poten­tial terrorist.
If every­thing is rel­e­vant or poten­tial­ly rel­e­vant, then rel­e­vance means nothing.
Now what?
The good news is that Amer­i­cans are reject­ing these ratio­nales and are doing so in a way that tran­scends tra­di­tion­al polit­i­cal par­ty divides. A grow­ing num­ber of Amer­i­cans dis­sent from these poli­cies. Most Amer­i­cans know they have should have a right to pri­va­cy in their com­mu­ni­ca­tion and Inter­net records. A grow­ing num­ber of Amer­i­cans believe that the con­tent of their emails, phone calls and Inter­net search­es should not be giv­en to the NSA if they have done noth­ing wrong.
No gov­ern­ment agency should be allowed to access the back­bone of America's com­mu­ni­ca­tions infra­struc­ture inside or out­side the Unit­ed States.
Two of the most recent direc­tors of nation­al intel­li­gence, James Clap­per (USAF-ret.) and Mike McConnell (USN-ret.) have led efforts to turn the NSA inward on Amer­i­cans and have mis­led Amer­i­cans about the scope of these pow­ers in the name of keep­ing us safe. Both cashed out their mil­i­tary ser­vice with the pri­vate-sec­tor con­sult­ing firm of Booz Allen Hamil­ton (Edward Snowden's for­mer employ­er) and then moved to top gov­ern­ment ​"civil­ian."
Con­cerns about trust­ing the NSA are only under­scored when the gov­ern­ment has been decep­tive in its com­mu­ni­ca­tions with the Amer­i­can peo­ple and with con­gres­sion­al and judi­cial over­seers. In March, Sen. Ron Wyden (D‑Ore.) asked Clap­per: ​"Does the NSA col­lect any type of data at all on mil­lions or hun­dreds of mil­lions of Amer­i­cans?" Clap­per replied stout­ly, ​"No, sir."
This denial was exposed as a demon­stra­ble lie four months lat­er, when the Snow­den mate­ri­als surfaced.
The NSA should only be allowed to access the con­tents of Amer­i­cans' calls or emails based on an indi­vid­u­al­ized war­rant pred­i­cat­ed on prob­a­ble cause of wrong­do­ing. As for inter­na­tion­al calls and emails to or from an Amer­i­can, they should be sub­ject to the require­ment of an indi­vid­ual war­rant on one end before they can be searched.
No American's name should be queried in the NSA data­base of calls, emails and Inter­net search­es with­out an indi­vid­u­al­ized warrant.
Amer­i­cans' phone and Inter­net data should not be acquired at all, unless it is direct­ly con­nect­ed (in one or two hops) to a spe­cif­ic per­son who is a legit­i­mate tar­get of a ter­ror­ism or espi­onage investigation.
We also need bet­ter pro­tec­tions for infor­ma­tion we have already ​"shared" with a com­pa­ny — includ­ing the data that trails you as a result of dig­i­tal com­mu­ni­ca­tions — to pro­tect our inher­ent right to pri­va­cy against both the pri­vate sec­tor and government.
As Sen. Sam Ervin (D‑N.C.) — a staunch advo­cate of civ­il lib­er­ties despite his South­ern seg­re­ga­tion­ist roots — said in 1974 after inves­ti­gat­ing gov­ern­ment spy­ing on Amer­i­cans, ​"Each time we give up a bit of infor­ma­tion about our­selves to the Gov­ern­ment, we give up some of our free­dom. For the more the Gov­ern­ment or any insti­tu­tion knows about us, the more pow­er it has over us. When the Gov­ern­ment knows all of our secrets, we stand naked before offi­cial pow­er. Stripped of our pri­va­cy, we lose our rights and priv­i­leges. The Bill of Rights then becomes just so many words."
Lisa Graves
is the Co-Direc­tor of Doc­u­ment­ed. She pre­vi­ous­ly served as the Chief Coun­sel for Nom­i­na­tions for the U.S. Sen­ate Judi­cia­ry Com­mit­tee. She was also Deputy Assis­tant Attor­ney Gen­er­al in the Office of Pol­i­cy Devel­op­ment at the U.S. Depart­ment of Jus­tice, where she vet­ted poten­tial judi­cial nom­i­nees. She pre­vi­ous­ly led the Cen­ter for Media and Democ­ra­cy (CMD) where she spear­head­ed the launch of ALEC Exposed. She is an Advi­sor to UnKoch My Cam­pus and on the Board of Direc­tors of CMD.