Here's Where the 2020 Candidates Stand on Labor
Democrats have a history of empty promises when it comes to bolstering unions and workers' rights. Who can be trusted in 2020?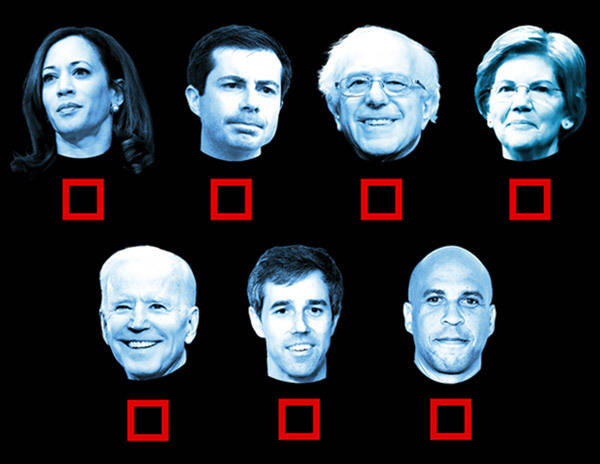 For a few days in April, gro­cery store chain in New Eng­land mag­net­i­cal­ly attract­ed Demo­c­ra­t­ic pres­i­den­tial hope­fuls. Thou­sands of Stop & Shop work­ers were on strike in the biggest pri­vate-sec­tor walk­out in years. Sen. Eliz­a­beth War­ren (Mass.), May­or Pete Buttigieg (South Bend, Ind.), for­mer Vice Pres­i­dent Joe Biden and Sen. Amy Klobuchar (Minn.) all joined pick­et lines to stand in sol­i­dar­i­ty. Oth­ers tweet­ed mes­sages of support.
Since the 1970s, as the country's industrial base withered and union-busting flourished, Democrats in Washington have done little to reverse the labor movement's decline.
"This is moral­ly wrong what's going on in this coun­try, and I've had enough of it," Biden said. ​"I'm sick of it, and so are you. We got­ta stand togeth­er, and if we do, we will take back this coun­try — I mean it."
By May, the labor con­flict mak­ing head­lines was McDonald's work­ers strik­ing for a $15 wage. Sen. Kamala Har­ris (Calif.), for­mer U.S. Hous­ing Sec­re­tary Julián Cas­tro, May­or Bill de Bla­sio (New York City), Sen. Bernie Sanders (Vt.) and Gov. Jay Inslee (Wash.) joined street protests. Near­ly a dozen oth­ers expressed sup­port for workers.
"We have got to rec­og­nize that work­ing peo­ple deserve liv­able wages," Har­ris said, not­ing she once worked at McDonald's.
Dur­ing the pri­maries, Demo­c­ra­t­ic pres­i­den­tial can­di­dates have always made a point of show­ing up at union halls and play­ing up ties to work­ing peo­ple: It's one of the first pages in the Demo­c­ra­t­ic polit­i­cal play­book. Biden offi­cial­ly start­ed his cam­paign at a Team­sters ban­quet hall in Pitts­burgh, announc­ing he is a ​"union man." War­ren kicked off her cam­paign at the site of the his­toric 1912 tex­tile work­ers' Bread and Ros­es strike in Lawrence, Mass. Klobuchar and Sen. Cory Book­er (N.J.) men­tion union mem­bers in their extend­ed fam­i­ly while speak­ing to union audiences.
The next by-the-book move is a piv­ot to the cen­ter dur­ing the gen­er­al elec­tion. After fight­ing for union endorse­ments dur­ing pri­ma­ry sea­son, the Demo­c­ra­t­ic nom­i­nee zeroes in on swing vot­ers, tak­ing union vot­ers for grant­ed even as unions send a door-to-door army to get out the vote. Labor has been a core part of the Demo­c­ra­t­ic Party's coali­tion going back to the Great Depression.
Eighty years lat­er, in 2016, some­thing changed. Don­ald Trump had the best GOP pres­i­den­tial can­di­date per­for­mance with union house­holds since 1984, trail­ing Hillary Clin­ton by only 8 per­cent­age points. In 2012, Mitt Rom­ney trailed Barack Oba­ma in this demo­graph­ic by 18 points. All of which rais­es the ques­tion: Are Democ­rats los­ing labor as a reli­able con­stituen­cy? Dems can still count on union endorse­ments, to be sure. But with Trump attack­ing from the left on free trade, sup­port from white male union mem­bers — who still make up a plu­ral­i­ty of the movement's mem­bers — is up for grabs.
This uncer­tain­ty was born of neglect: Since the 1970s, as the country's indus­tri­al base with­ered and union­bust­ing flour­ished, Democ­rats in Wash­ing­ton have done lit­tle to reverse the labor movement's decline. Under Pres­i­dents Jim­my Carter, Bill Clin­ton and Barack Oba­ma, union mon­ey and orga­niz­ing mus­cle helped deliv­er con­trol of Con­gress and the White House to Democ­rats. Each time, the par­ty failed to pass labor law reform that would have empow­ered work­ers and bol­stered the movement.
In 2016, the par­ty paid an elec­toral price for their way­ward­ness. This time around, will can­di­dates do more than pan­der dur­ing the pri­maries? Pub­lic sup­port for labor is at a 15-year high, espe­cial­ly among young peo­ple, women and col­lege grad­u­ates. Near­ly half a mil­lion work­ers were part of a strike or lock­out last year — the high­est fig­ure since 1986. Might we final­ly see Democ­rats place unions at the heart of their polit­i­cal agen­da? It's far-fetched, but con­ceiv­able. Can­di­dates know they can no longer take union votes for granted.
More sig­nif­i­cant­ly, the cen­ter of grav­i­ty on labor and eco­nom­ic issues has moved left.
"There's this sense now that we have a big prob­lem of inequal­i­ty and cap­i­tal­ism run amok," says Nel­son Licht­en­stein, a his­to­ry pro­fes­sor at Uni­ver­si­ty of Cal­i­for­nia, San­ta Bar­bara, where he directs the Cen­ter for the Study of Work, Labor and Democ­ra­cy. ​"That's clear on the Demo­c­ra­t­ic side. But what is the solu­tion? Is it about tax­a­tion? Or is it vital­iza­tion of the union move­ment? That lat­ter idea has become more understood."
In some ways, can­di­dates' rush to the left makes it hard­er to dis­cern just how deeply com­mit­ted they are to strength­en­ing unions. Every­one always says they want to rebuild the mid­dle class. Who real­ly wants to rebuild the labor movement?
RAIS­ING THE BAR
If you zero in on the Pro­tect­ing the Right to Orga­nize (PRO) ACT, the answer appears to be: most of the lead­ing can­di­dates. Co-spon­sored by 40 sen­a­tors and 100 mem­bers of the House, the PRO Act offers a litany of labor law reforms. The larg­er con­text here is that the Unit­ed States has among the weak­est work­ers' rights pro­tec­tions of any indus­tri­al­ized coun­try—on par with Myan­mar, Pak­istan and Ethiopia. Over the past 40 years, employ­ers have aggres­sive­ly fought union­iza­tion through (per­fect­ly legal) tac­tics like ​"cap­tive audi­ence" meet­ings, when work­ers must sit and lis­ten to anti-union pre­sen­ta­tions, or the (some­times legal) fir­ing of strik­ing workers.
The PRO Act would strength­en the right to orga­nize and strike by, among oth­er things, elim­i­nat­ing so-called right-to-work laws, ban­ning per­ma­nent strike replace­ments, legal­iz­ing sec­ondary boy­cotts and pick­et­ing, and broad­en­ing the def­i­n­i­tion of ​"employ­ee" to include many cur­rent inde­pen­dent con­trac­tors. Com­pared to the Employ­ee Free Choice Act (EFCA), the reform law pushed by the labor move­ment dur­ing the 2008 elec­tion cycle that ulti­mate­ly died in the Sen­ate, the PRO Act is a pro­gres­sive smörgås­bord. But the PRO Act does fall short of EFCA in one sig­nif­i­cant regard: While EFCA enabled work­ers to orga­nize through a major­i­ty sign-up process ("card check"), the PRO Act only requires card check if an employ­er is found to have vio­lat­ed labor law dur­ing a failed union elec­tion. Every cur­rent sen­a­tor run­ning for pres­i­dent backs the bill.
With mul­ti­ple lead­ing can­di­dates able to point to a his­to­ry of sup­port for unions, today's Demo­c­ra­t­ic field stands in stark con­trast to the 2016 pri­ma­ry with its bina­ry choice of estab­lish­ment lib­er­al Hillary Clin­ton ver­sus change agent Bernie Sanders. Near­ly all unions endorsed Clin­ton, many ear­ly on, rankling rank-and-file Sanders sup­port­ers. This time around, unions are in no hur­ry to back a can­di­date — only the Inter­na­tion­al Asso­ci­a­tion of Fire Fight­ers has done so (Biden got the nod). The Amer­i­can Fed­er­a­tion of Teach­ers (AFT), the Nation­al Edu­ca­tion Asso­ci­a­tion and oth­ers have unveiled new endorse­ment approach­es to more deeply engage both can­di­dates and mem­bers (and, one assumes, to close any per­ceived dis­tance between the wish­es of the rank-and-file and exec­u­tive boards).
Read more about unions' new approach to endorse­ments here.
"There's inten­si­ty for a bunch of can­di­dates this time," says Ran­di Wein­garten, pres­i­dent of the AFT. The union endorsed Clin­ton in July 2015 and poured $1.7 mil­lion into her cam­paign and pro-Clin­ton PACs.
Heart­burn from the calami­tous 2016 elec­tion appears to be giv­ing the union endorse­ment process a dose of democ­ra­cy. As mil­lions of union mem­bers decide who to back, they'll be wrestling with the ques­tion of which can­di­date would most effec­tive­ly fight for their inter­ests. Because the lead­ing Demo­c­ra­t­ic can­di­dates are stak­ing out sim­i­lar ground to make their case, it's impor­tant to look at the can­di­dates' records, how cen­tral the union move­ment is to their the­o­ry of change, and what uni­lat­er­al actions they would be will­ing to embrace as pres­i­dent (should Con­gress fail to act)
DIF­FER­ENCES BIG AND SMALL
This much is clear across the Demo­c­ra­t­ic pri­ma­ry field: Rais­ing the fed­er­al min­i­mum wage to $15 and tax­ing the rich have become table stakes. All the lead­ing can­di­dates — Biden, Book­er, Buttigieg, Har­ris, for­mer Rep. Beto O'Rourke (Texas), Sanders, War­ren — sup­port both. Beyond those two issues, the top of the field is replete with dif­fer­ences big and small.
It's easy to sort out where can­di­dates stand on a raft of pro­posed leg­is­la­tion. It's hard­er to know what they would try to do for the labor move­ment if all those pro­pos­als become moot — which will be the case should the GOP hold the Senate.
Biden is an old pro at sig­nal­ing he's a fight­er for the union cause, but it's hard to find an exam­ple of him stick­ing his neck out for work­ers. In May, Biden held a fundrais­er at the Los Ange­les home of a board mem­ber of Kaiser Foun­da­tion Hos­pi­tals, a sub­sidiary of health­care giant Kaiser Per­ma­nente. The Nation­al Union of Health­care Work­ers (NUHW), which has a long­stand­ing dis­pute with Kaiser in Cal­i­for­nia over men­tal health staffing lev­els, called on Biden to can­cel the event. They nev­er heard back, says NUHW Pres­i­dent Sal Rossel­li. NUHW mem­bers protest­ed out­side the house, but Biden ​"went into the event and didn't even talk to our folks," Rossel­li says. ​"That's very disappointing."
Biden also didn't endear him­self to the labor move­ment by vot­ing for NAF­TA and sup­port­ing the Trans-Pacif­ic Part­ner­ship (TPP) trade agree­ment, both of which unions opposed. Biden did sup­port EFCA as a sen­a­tor but has not com­mit­ted to the PRO Act, and his cam­paign did not respond to a request for comment.
In con­trast, the lead­ing pres­i­den­tial can­di­dates from the Sen­ate have been out front on labor law reform. Sanders has been push­ing the Work­place Democ­ra­cy Act (WDA) for decades (begin­ning as a con­gress­man in 1992), which is co-spon­sored by Book­er, Har­ris and War­ren. The WDA can be seen as a fore­run­ner of the PRO Act; it also legal­izes sec­ondary boy­cotting, stops com­pa­nies from delay­ing a first con­tract with work­ers and gives bar­gain­ing rights to many work­ers who are cur­rent­ly clas­si­fied as inde­pen­dent con­trac­tors. (Unlike the PRO Act, it would let all work­ers union­ize via card check as a mat­ter of course.) Sanders' method has been per­sis­tence: He rein­tro­duced the WDA through­out the 1990s in the House, then brought new ver­sions into the Sen­ate in 2015 and 2018. As with oth­er issues, such as Medicare for All, the Demo­c­ra­t­ic Par­ty has now caught up to him.
It took Sanders years to earn the back­ing of any nation­al union. They didn't flock to him when he first ran for Con­gress in 1988, but came around after he won con­gres­sion­al cam­paigns in the ear­ly 1990s. Today, Sanders remains as out­spo­ken as ever about the pow­er of unions — they live at the heart of his agen­da. ​"The trade union move­ment is the last line of defense against a cor­po­rate agen­da that not only wants tax breaks for bil­lion­aires but wants to pri­va­tize Social Secu­ri­ty, Medicare and Med­ic­aid," Sanders told In These Times via email. ​"We must strength­en unions and bar­gain­ing rights of work­ers everywhere."
It's not hard to imag­ine the oth­er lead­ing can­di­dates say­ing some­thing sim­i­lar — indeed, most have before crowds of union mem­bers. It's Sanders' long record of actu­al­ly sup­port­ing labor actions that makes him stand out. Polit­i­cal can­di­dates love to call their cam­paigns a ​"move­ment," and Sanders is no excep­tion, but it feels less cliched when a cam­paign active­ly urges sup­port­ers to join protests around the coun­try — like those held by Uni­ver­si­ty of Cal­i­for­nia cam­pus work­ers and Delta Air Lines flight atten­dants. ​"What Bernie is doing is very, very unique," Licht­en­stein says. ​"The most rad­i­cal thing in this cam­paign cycle that's hap­pened is Bernie using his email list to get peo­ple to pick­et lines and protests."
In March, Sanders' staffers became the first pres­i­den­tial cam­paign staff to union­ize, start­ing a trend. Castro's cam­paign staff fol­lowed in May, and Warren's team did so in June. The can­di­dates each pub­licly sup­port­ed the union efforts. ​"Every work­er who wants to join a union, bar­gain col­lec­tive­ly, & make their voice heard should have a chance to do so," War­ren tweeted.
Unlike Sanders, War­ren can't point to decades of direct sol­i­dar­i­ty work with the labor move­ment, but the two New Eng­land sen­a­tors share much in com­mon. Yes, War­ren has called her­self ​"cap­i­tal­ist to my bones" while Sanders keeps trum­pet­ing his demo­c­ra­t­ic social­ism, but both have New Deal lib­er­al­ism deep in their blood — includ­ing the sense that work­er empow­er­ment is vital to eco­nom­ic jus­tice — and they broad­ly agree that Amer­i­can cap­i­tal­ism needs struc­tur­al change.
Warren's Account­able Cap­i­tal­ism Act is a good exam­ple. Intro­duced in the Sen­ate in 2018, the bill would empow­er employ­ees to elect at least 40% of board mem­bers at large U.S. com­pa­nies. This new board could then (in the­o­ry) push man­age­ment to do some­thing about yawn­ing pay dis­par­i­ties between the C‑suite and aver­age work­ers. For Sanders' part, he unveiled plans in May to boost employ­ee own­er­ship of cor­po­ra­tions and attend­ed a Wal­mart share­hold­ers meet­ing in June at the request of Unit­ed for Respect, a work­ers' rights group, to sup­port a res­o­lu­tion to require Wal­mart to put hourly employ­ees on its board.
Both sen­a­tors want to do more than tin­ker around the edges of neolib­er­al­ism. This per­spec­tive, and a will­ing­ness to call out the rich as an ene­my along class lines, is what sets them apart from their pri­ma­ry sea­son peers.
"Strength­en­ing America's labor unions will be a cen­tral goal of my admin­is­tra­tion," War­ren told In These Times via email. ​"For too long, a worker's right to union­ize has been under attack. The rich and pow­er­ful have teamed up with the Repub­li­can Par­ty to push for mea­sures at all lev­els of gov­ern­ment designed to dec­i­mate unions and col­lec­tive bargaining."
War­ren says she wants to ​"mod­ern­ize our labor laws for the 21st cen­tu­ry," not­ing var­i­ous reforms includ­ed in the PRO Act, and that she would fight for ​"ful­ly portable ben­e­fits for every­one and make sure that all work — full-time, part-time, gig — car­ries basic, pro-rata ben­e­fits." She also wants to push to amend fed­er­al law so the pres­i­dent and fed­er­al courts can­not ​"enjoin law­ful strikes that pose a threat to nation­al health or safety."
"Far too often, these injunc­tions have been invoked in strikes not because there is a gen­uine threat to nation­al health or safe­ty, but rather to curb the pow­er of unions engag­ing in law­ful strikes," she says.
This atti­tude has endeared War­ren to the labor move­ment. She spoke in Las Vegas at the Ser­vice Employ­ees Inter­na­tion­al Union (SEIU) and Cen­ter for Amer­i­can Progress Action Fund's Nation­al Forum on Wages and Work­ing Peo­ple in April, along with a hand­ful of oth­er can­di­dates. ​"We need more pow­er in the hands of employ­ees," she said. The Wash­ing­ton Post report­ed the crowd gave her its ​"most pas­sion­ate response."
THE REST OF THE FIELD
To be sure, oth­er lead­ing can­di­dates have built up sup­port with­in the labor move­ment. Buttigieg, for exam­ple, has been in tune with the build­ing trades unions in South Bend. ​"He's been fan­tas­tic," says Jim Gard­ner, busi­ness rep­re­sen­ta­tive of the Oper­at­ing Engi­neers Local 150. Buttigieg spoke out against repeal­ing the com­mon con­struc­tion wage and backed a ​"respon­si­ble bid­ding" city ordi­nance that requires any com­pa­ny bid­ding on a city con­tract to reveal OSHA vio­la­tions, Gard­ner says. Buttigieg's unsuc­cess­ful 2010 cam­paign for Indi­ana state trea­sur­er was run from the build­ing trades office in South Bend, says Mike Comp­ton, who was busi­ness man­ag­er with IBEW Local 153 until 2016. ​"Pete did what he could for us and with us," he says.
Buttigieg tells In These Times, ​"I believe that unions must have a pow­er­ful seat at the table — to stand up against unfair and abu­sive prac­tices and to col­lab­o­rate in improv­ing work envi­ron­ments and productivity."
With no offense to South Bend, Har­ris' deep ties to Cal­i­for­nia unions could prove a bit more valu­able come Super Tues­day. The state's biggest unions backed her 2016 cam­paign for Sen­ate and the for­mer pres­i­dent of SEIU Cal­i­for­nia, Laphon­za But­ler, is one of her top strate­gists. ​"We've known Kamala since she first ran for dis­trict attor­ney in San Fran­cis­co, and we have sup­port­ed her and endorsed her ever since," NUHW's Rossel­li says. ​"She's extreme­ly respon­sive to work­ers' issues, union issues."
In May, Har­ris unveiled a gen­der pay equi­ty pro­pos­al that would require com­pa­nies to seek ​"equal pay cer­ti­fi­ca­tion." Com­pa­nies would be fined 1% of their prof­its for every 1% wage gap that per­sists between men and women. Har­ris has also cham­pi­oned mea­sures to extend full labor rights to domes­tic work­ers and farm­work­ers, two groups exclud­ed from the 1935 Nation­al Labor Rela­tions Act (in a racist com­pro­mise with South­ern law­mak­ers). And she has pro­posed the largest-ever fed­er­al invest­ment in teacher pay: $300 bil­lion over 10 years to boost teacher salaries by an aver­age of $13,500.
As like­ly intend­ed, the plan piqued the inter­est of at least one rank-and-file teacher, Lucy Moreno. An ele­men­tary school teacher and AFT mem­ber in Hous­ton, Moreno fre­quent­ly spends mon­ey out of pock­et on school sup­plies. ​"We teach­ers are at our break­ing point," Moreno says. Most of the issues that will be top of mind for her this pri­ma­ry sea­son hook to edu­ca­tion — bet­ter pay, less test­ing and stu­dent loan forgiveness.
Moreno also liked what she heard from Biden in May at an AFT-spon­sored town hall event. She says she has not been fol­low­ing the cam­paign of O'Rourke, the lead­ing can­di­date from Texas.
O'Rourke's rela­tion­ship to unions has had a few bumps. He didn't endear him­self to the Texas AFL-CIO after fail­ing to attend its Jan­u­ary 2018 con­ven­tion dur­ing his chal­lenge to Repub­li­can Sen. Ted Cruz, but ulti­mate­ly won the endorse­ment. And as Vox has report­ed, O'Rourke's vot­ing record in Con­gress was more con­ser­v­a­tive than the aver­age Democrat's. He has backed eas­ing reg­u­la­tions on Wall Street and rais­ing the eli­gi­bil­i­ty age for Social Security.
Booker's cur­rent stance on labor and work­ers' rights is solid­ly pro­gres­sive (rel­a­tive to the oth­er lead­ing can­di­dates), but he has a bit of an Achilles' heel: his long­stand­ing sup­port for school vouch­ers and the char­ter school move­ment in Newark, N.J., where he was a city coun­cil mem­ber and may­or. Along with Repub­li­can Gov. Chris Christie, Book­er want­ed to make the city ​"the char­ter school cap­i­tal of the nation." Newark teach­ers unions were less enthused with the plan — and teach­ers nation­wide may prove less than enthu­si­as­tic with Booker's can­di­da­cy, giv­en their grow­ing will­ing­ness to strike.
The issue isn't just Booker's ​"school reform" past, but the way it illu­mi­nates his neolib­er­al ten­den­cies. In a 2011 speech at the Stan­ford Grad­u­ate School of Busi­ness, he said that ​"dis­par­i­ties in income in Amer­i­ca are not because of some ​'greedy cap­i­tal­ist' — no! It's because of a fail­ing edu­ca­tion system."
Of the can­di­dates polling at 2% or less as of ear­ly July, none emerge as a ​"labor can­di­date." Rep. Tim Ryan (Ohio), a long-time mag­net for union dona­tions, touts his Rust Belt cre­den­tials and says he was spurred to run by the clo­sure of the Lord­stown Gen­er­al Motors plant in his dis­trict. But Ryan's stump speech rarely includes the phrase ​"union jobs." He focus­es on the need to invest in elec­tric car­mak­ing. Con­verse­ly, Inslee, more known as a ​"cli­mate can­di­date," has made unions and a job guar­an­tee cen­tral to his cli­mate plan.
Ser­i­al entre­pre­neur Andrew Yang is run­ning as a cap­i­tal­ist who saw the light on eco­nom­ic inequal­i­ty and the threat of automa­tion. His trade­mark pro­pos­al is a guar­an­teed uni­ver­sal income of $1,000 a month that he calls a ​"free­dom div­i­dend." In a 2018 Labor Day blog post, Yang gave the impres­sion of hav­ing recent­ly dis­cov­ered U.S. labor his­to­ry, enthu­si­as­ti­cal­ly relat­ing the life sto­ry of Wal­ter Reuther. He closed with an appeal to unions to sup­port his free­dom div­i­dend, not­ing: ​"It would also dra­mat­i­cal­ly increase work­er bar­gain­ing pow­er, as work­ers would have a cush­ion to fall back on and could push hard­er against exploita­tive labor conditions."
Klobuchar nev­er miss­es an oppor­tu­ni­ty to men­tion she is the grand­daugh­ter of a union min­er and daugh­ter of a union teacher and a union ​"news­pa­per man." The line drew weak applause from union work­ers in March at the SEIU labor forum in Neva­da, com­pared to cheers for Warren's pol­i­cy pro­pos­als. Klobuchar has also had to con­tend with reports of emo­tion­al­ly abu­sive behav­ior toward her staff.
Sen. Kirsten Gilli­brand (N.Y.), his­tor­i­cal­ly a cen­trist, has run hard to the left and brings up labor pro­pos­als, unasked, in inter­views, includ­ing debt-free col­lege, a Green New Deal, afford­able day care, a nation­al paid leave plan and equal pay. Her most note­wor­thy posi­tion may be full employ­ment, which she tells Splin­ter News she will effect through ​"appren­tice­ship pro­grams, not-for-prof­its, and com­mu­ni­ty col­leges to train local work­ers for real, avail­able, good-pay­ing jobs.
EXEC­U­TIVE FUNCTIONING
Pres­i­den­tial can­di­dates always focus on leg­is­la­tion as a way of defin­ing their val­ues and polit­i­cal pro­gram, and a lot of them this cycle would do a lot of good for work­ers — from var­i­ous tax plans to the PRO Act to the Fam­i­ly Act (intro­duced by Gilli­brand in Feb­ru­ary, it would man­date up to 12 weeks of par­tial­ly paid leave for var­i­ous health rea­sons). But all of it will come to naught if the GOP holds the Sen­ate, and even if Democ­rats gain the major­i­ty, don't hold your breath: Pro-busi­ness Democ­rats couldn't stom­ach EFCA in the Sen­ate back when their par­ty con­trolled all of Con­gress in 2009, so they will like­ly be hap­py to obstruct the far more expan­sive PRO Act.
Lar­ry Cohen, for­mer pres­i­dent of the Com­mu­ni­ca­tion Work­ers of Amer­i­ca, notes that the fil­i­buster, which requires 60 votes to over­come, pre­vent­ed EFCA from pass­ing and watered down the Afford­able Care Act.
"Are [can­di­dates] pre­pared to work to change the way the U.S. Sen­ate oper­ates, should we be lucky enough to get 50 Demo­c­ra­t­ic sen­a­tors again?" asks Cohen, who is now board chair of Our Rev­o­lu­tion, the orga­ni­za­tion that emerged from the 2016 Sanders campaign.
War­ren, Buttigieg and O'Rourke are in favor of elim­i­nat­ing the fil­i­buster. Sanders, Har­ris and Book­er have vac­il­lat­ed but are lean­ing toward the sta­tus quo. Biden, who spent 45 years in the Sen­ate, tends to defend the chamber's tra­di­tions. He has spo­ken in favor of the fil­i­buster, although not this year.
Nonethe­less, giv­en the like­li­hood of a divid­ed gov­ern­ment (or a divid­ed par­ty), the lead­ing Dems are strik­ing­ly silent about how they might direct­ly wield the Oval Office to bol­ster the labor movement.
A pres­i­dent can do plen­ty to dri­ve a pro-labor agen­da through the fed­er­al gov­ern­ment with­out Con­gress, such as make strong appoint­ments to run the Depart­ment of Labor (DOL) and sit on the Nation­al Labor Rela­tions Board, says Moshe Mar­vit, a Cen­tu­ry Foun­da­tion fel­low who focus­es on labor and employ­ment. Actu­al­ly enforc­ing cur­rent laws could make a huge dif­fer­ence, too — the DOL could, for exam­ple, aggres­sive­ly bring law­suits against com­pa­nies that mis­clas­si­fy work­ers as con­trac­tors, while the IRS could pur­sue the same bad actors for tax eva­sion, Mar­vit says. Or the pres­i­dent could bring more peo­ple from work­ers' rights groups and unions with first­hand knowl­edge of the chal­lenges into pol­i­cy­mak­ing — a teacher to run the Depart­ment of Edu­ca­tion, for exam­ple. The DOL's Bureau of Labor Sta­tis­tics could expand data col­lec­tion on unfair labor prac­tices, union-bust­ing and oth­er employ­er vio­la­tions and sex­u­al harass­ment in the work­place. And, says Mar­vit, it could restart its track­ing of strikes and walk­outs that involve few­er than 1,000 work­ers, which stopped a few decades ago.
In These Times asked Biden, Book­er, Buttigieg, Har­ris O'Rourke, Sanders and War­ren what they would do, leg­isla­tive­ly and exec­u­tive­ly, giv­en the chance. Biden, Book­er, and Har­ris did not respond. Buttigieg and Sanders cit­ed only leg­isla­tive plans — Buttigieg, for exam­ple, wants a new Nation­al Labor Rela­tions (Wag­n­er) Act to cov­er work­ers his­tor­i­cal­ly exclud­ed from col­lec­tive bar­gain­ing, and Sanders wants to pass his Work­place Democ­ra­cy Act, which includes ​"the right to know if [a] com­pa­ny spends huge amounts of mon­ey to run anti-union campaigns."
O'Rourke sent a brief response, but a spokesper­son expand­ed on it to say that the can­di­date would increase employ­er penal­ties for inter­fer­ence with work­er orga­niz­ing and increase invest­ments in work­ers' rights enforce­ment mech­a­nisms. (Har­ris has also pledged to crack down on com­pa­nies ​"that cheat their work­ers," and Sanders has else­where promised to restore the Oba­ma NLRB's expand­ed over­time pro­tec­tions.)
Only Warren's response detailed pro­posed exec­u­tive actions, say­ing she would appoint peo­ple ​"who have a his­to­ry of fight­ing for work­ers and are com­mit­ted to fight­ing for work­ers' rights" to help lead her admin­is­tra­tion. She also says she would give union mem­bers a ​"real voice" in trade deal nego­ti­a­tions, reim­ple­ment Obama's over­time pay expan­sion rules and pre­vent employ­ers from mis­clas­si­fy­ing work­ers as inde­pen­dent con­trac­tors. ​"I will use the White House bul­ly pul­pit to sup­port work­ers," she says.
Read Pete Buttigieg, Beto O'Rourke, Eliz­a­beth War­ren and Bernie Sanders' full respons­es to In These Times here.
Warren's two-pronged approach is some­thing Mar­vit would love — a gov­er­nance approach that places the strug­gles of work­ers at the cen­ter of pub­lic dis­course, while mak­ing pol­i­cy changes in the back­ground. Think of it as flip­ping the Trump script.
"Every pres­i­dent gets to define how they talk about the econ­o­my," Mar­vit says. ​"Trump has made it all about trade and tar­iffs, so sud­den­ly we're all talk­ing about trade and tar­iffs in the news every sin­gle day. Anoth­er pres­i­dent could real­ly frame eco­nom­ic con­cerns around labor and employ­ment issues. It will force peo­ple to choose sides."
Imag­ine a pres­i­dent pub­licly con­demn­ing a com­pa­ny for mis­clas­si­fy­ing work­ers as con­trac­tors, and then har­ness­ing the full range of exec­u­tive branch pow­ers — the Depart­ment of Jus­tice, the Depart­ment of Labor, the IRS — to pun­ish bad actors. The sce­nario can only occur if the pres­i­dent thinks of work­ers not just as an inter­est group, but as their core con­stituen­cy, Mar­vit says. ​"There has to be a work­er con­cern in every sin­gle pol­i­cy that is tak­en, whether you're talk­ing about health­care, whether you're talk­ing about the envi­ron­ment, whether you're talk­ing about employment."
Jane McAlevey, a for­mer union orga­niz­er and author of No Short­cuts: Orga­niz­ing for Pow­er in the New Gild­ed Age, says that get­ting a sym­pa­thet­ic Demo­c­rat in the White House is only the first step. The next, McAlevey says, is a mas­sive wave of strikes.
The rela­tion­ship between direct action, pow­er and cre­at­ing a cri­sis with a Demo­c­rat in the White House is ​"the miss­ing link so often in this dis­cus­sion," McAlevey says. The labor move­ment should back a can­di­date who will ​"restore the fun­da­men­tal con­sti­tu­tion­al right to strike" (as the PRO Act effec­tive­ly would) and com­mit to nev­er call­ing out fed­er­al troops on strik­ing work­ers. ​"We need a can­di­date … who com­mits to defend­ing the right of work­ers to be on strike and using the full resources of the fed­er­al gov­ern­ment to aid work­ers in re-claim­ing some of what's deserved by the work­ing class."
Noth­ing like that has been seen in the Unit­ed States since the 1930s, when FDR first entered the White House and waves of strikes fol­lowed. The back­drop was the Great Depres­sion. Short of anoth­er cri­sis, far-reach­ing strikes are far-fetched. But one thing is clear enough: Wait­ing for Democ­rats to lead the labor move­ment out of decline is a los­ing strategy.
Anna Attie, Eleanor Col­bert, Ramen­da Cyrus, Daniel Fer­nan­dez, Gabe Levine-Drizin and Alex Schwartz con­tributed research and fact-check­ing to this story.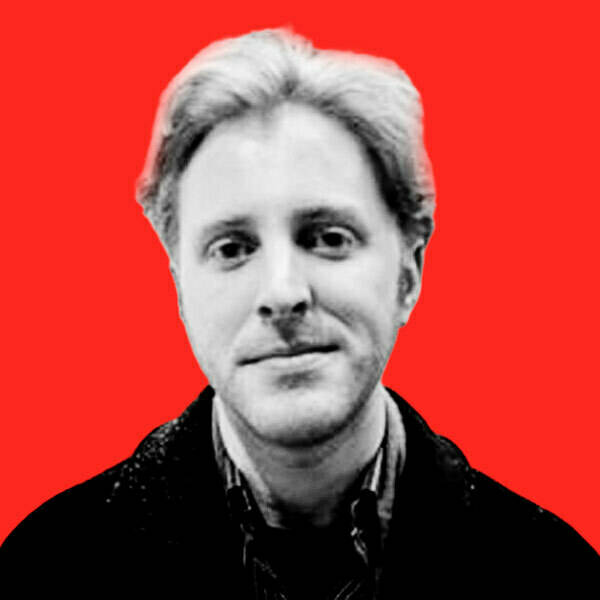 Jere­my Gantz is a con­tribut­ing edi­tor at the mag­a­zine. He is the edi­tor of The Age of Inequal­i­ty: Cor­po­rate America's War on Work­ing Peo­ple (2017, Ver­so), and was the Web/​Associate Edi­tor of In These Times from 2008 to 2012.