From Victories to Union Militancy, 5 Reasons for Workers to Celebrate This Labor Day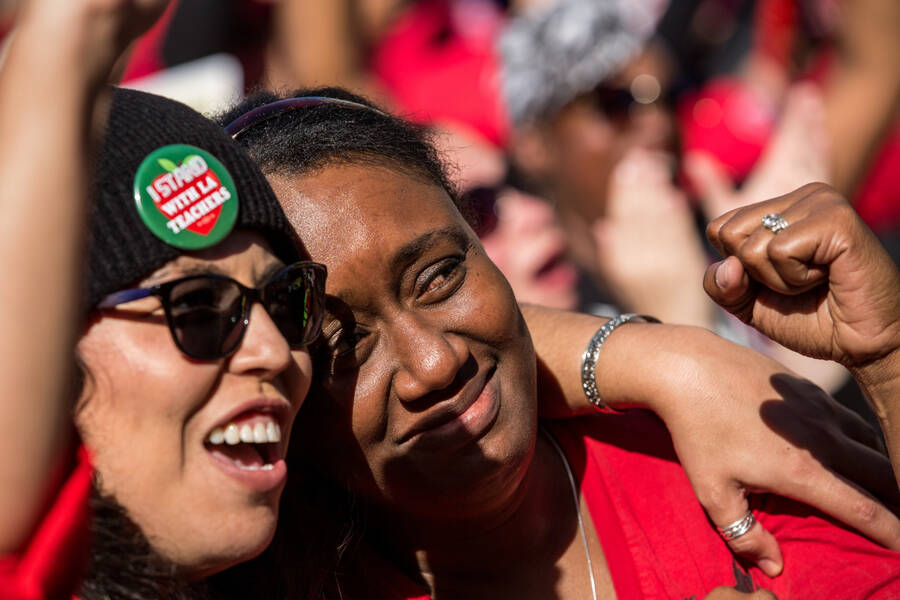 Labor Day often gets short shrift as a worker's hol­i­day. Marked pri­mar­i­ly by sales on patio fur­ni­ture and mat­tress­es, the day also has a more mud­dled his­to­ry than May Day, which stands for inter­na­tion­al­ism and sol­i­dar­i­ty among the work­ing class. Labor Day, by con­trast, was declared a fed­er­al hol­i­day in 1894 by Pres­i­dent Grover Cleve­land, fresh off his administration's vio­lent sup­pres­sion of the Pull­man rail­road strike.
But Labor Day was first cel­e­brat­ed twelve years ear­li­er, when a coali­tion of social­ists and labor activists orga­nized a mass march in New York City call­ing for short­er hours, safer work­ing con­di­tions, increased pay and a labor hol­i­day. On Sep­tem­ber 5, 1882, 10,000 peo­ple took to the streets of New York instead.
That his­to­ry, plus the sim­ple fact that work­ers deserve more than one hol­i­day, makes Labor Day worth cel­e­brat­ing. And this year, there are more rea­sons than usu­al for work­ing peo­ple to rejoice.
The teacher strike wave rolls on
The wave of teacher strikes that began in red states last year has con­tin­ued apace in some of the biggest U.S. cities. Ear­li­er this year, Los Ange­les teach­ers wrung a hard-won deal from their school dis­trict through a week-long strike.
A first-ever char­ter strike in Chica­go last year kicked off a domi­no effect — more than 700 Chica­go char­ter teach­ers at 22 dif­fer­ent cam­pus­es have walked off the job in the past year, and they're win­ning things pre­vi­ous­ly unthink­able in the tra­di­tion­al­ly union-free char­ter industry.
An impend­ing teacher strike in Las Vegas is draw­ing some cre­ative sol­i­dar­i­ty from stu­dents, and the Chica­go Teach­ers Union — whose 2012 walk­out arguably laid the ground­work for renewed teacher mil­i­tan­cy — could be on the verge of anoth­er mas­sive strike.
Work­ers are win­ning strikes in the pri­vate sec­tor, too
There's an impor­tant caveat to sta­tis­tics show­ing that the num­ber of strik­ing work­ers is at a two-decade high: Most of this strike activ­i­ty is still lim­it­ed to the pub­lic sector.
In the pri­vate sec­tor, there is not yet an equiv­a­lent strike wave. There are, how­ev­er, some encour­ag­ing signs. A rare, coor­di­nat­ed strike by work­ers at near­ly 30 hotels in Chica­go end­ed large­ly in vic­to­ry (work­ers at one hotel are still hold­ing out). This spring, loco­mo­tive plant work­ers in Erie, Penn­syl­va­nia staged a nine-day strike against the com­pa­ny that pur­chased their facil­i­ty and attempt­ed to impose sig­nif­i­cant­ly low­er wages for new hires. Nego­ti­a­tions con­tin­ued into the sum­mer, and the deal the union even­tu­al­ly accept­ed includ­ed some con­ces­sions. But the strike against a two-tier wage sys­tem — long-ago con­ced­ed by most man­u­fac­tur­ing unions — was an impor­tant sign of life in the once-mil­i­tant sector.
Labor sup­port for Green New Deal is on the rise
To hear the main­stream media tell it, blue-col­lar work­ers are unit­ed in their oppo­si­tion to cli­mate action. In June, Politi­co pub­lished an arti­cle cit­ing local labor lead­ers who lev­eled a dire warn­ing at Democ­rats: the Green New Deal is push­ing mem­bers into the Repub­li­can camp.
In fact, a sur­vey released this year from the think tank Data for Progress found that 62 per­cent of cur­rent union mem­bers back the GND. That fig­ure sug­gests that while cli­mate activists cer­tain­ly can't take labor's back­ing as a giv­en, there's sub­stan­tial sup­port from work­ers — and the biggest fac­tor in grow­ing this sup­port is orga­niz­ing with labor to ensure that the Green New Deal ben­e­fits work­ers, and that they're at the core of the fight to pass it.
This year, the Green New Deal picked up major endorse­ments from the Ser­vice Employ­ees Inter­na­tion­al Union and the Asso­ci­a­tion of Flight Atten­dants led by pres­i­dent Sara Nel­son. In May, Nel­son spoke to In These Times about how Green New Deal advo­cates can engage labor:
Make labor cen­tral to the dis­cus­sion, includ­ing labor rights, labor pro­tec­tions and labor exper­tise. We must rec­og­nize that labor unions were among the first to fight for the envi­ron­ment because it was our work­spaces that had pol­lu­tants, our com­mu­ni­ties that indus­try pol­lut­ed. Let's not dis­miss the labor move­ment. Let's rec­og­nize and engage the infra­struc­ture and expe­ri­ence of the labor move­ment to make this work.
Rank-and-file reform­ers are gain­ing traction
Speak­ing of Sara Nel­son, her star has been ris­ing since she called for a gen­er­al strike to end the gov­ern­ment shut­down in Jan­u­ary, and she could poten­tial­ly end up suc­ceed­ing Richard Trum­ka as the next pres­i­dent of the AFL-CIO.
While they're still few in num­ber, it's a breath of fresh air to see nation­al labor lead­ers who come out of the rank-and-file use their posi­tions to encour­age, rather than sti­fle, inde­pen­dent action by work­ers, hap­pi­ly break bread with social­ists and read­i­ly draw con­nec­tions between labor issues and those of cli­mate change and immigration.
Labor could actu­al­ly make gains through the 2020 elections
Let's be hon­est: Pres­i­den­tial elec­tions have long been a dead-end for unions. Award­ing ear­ly endorse­ments with­out mem­ber input and spend­ing mil­lions of dol­lars on behalf of can­di­dates who won't even talk about work­ers' rights is not a win­ning strategy.
This year could be different.
With Demo­c­ra­t­ic can­di­dates scram­bling to tack to the left, the pri­maries are also putting impor­tant labor pol­i­cy ideas back on the table. As Jere­my Gantz report­ed in July, 2020 can­di­dates are rush­ing to embrace work­er-friend­ly poli­cies in order to win labor's support.
Bernie Sanders' Work­place Democ­ra­cy Plan, in par­tic­u­lar, includes ideas that should get a full hear­ing — end­ing ​"at-will" employ­ment, expand­ing work­ers' rights to strike and per­mit­ting col­lec­tive bar­gain­ing at the sec­toral level.
Sanders is also using his cam­paign infra­struc­ture to turn sup­port­ers out for strikes and labor actions, anoth­er wel­come devel­op­ment for labor when it comes to pres­i­den­tial cam­paign season.
The U.S. labor move­ment may still be under siege, thanks to pow­er­ful anti-union forces, includ­ing the Trump admin­is­tra­tion. But with the approval of unions near­ing a 50-year high, and a wave of labor mil­i­tan­cy on the rise, work­ing peo­ple have plen­ty to cel­e­brate this Labor Day.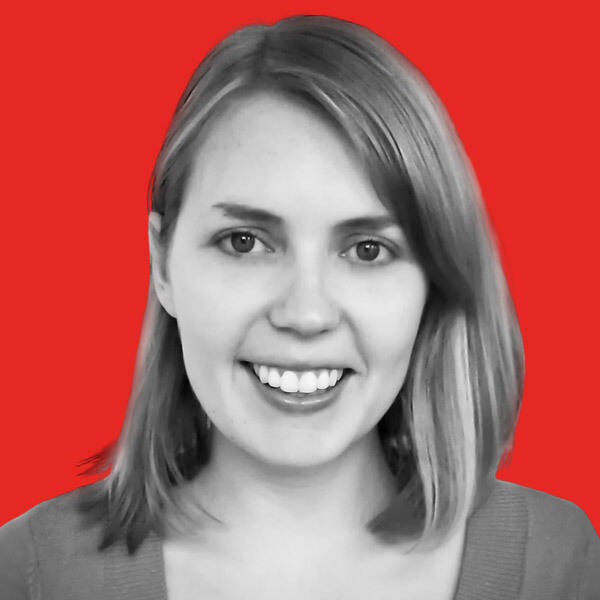 Rebec­ca Burns
is an award-win­ning inves­tiga­tive reporter whose work has appeared in The Baf­fler, the Chica­go Read­er, The Inter­cept and oth­er out­lets. She is a con­tribut­ing edi­tor at In These Times. Fol­low her on Twit­ter @rejburns.