Labor Intent on Breaking Wisconsin GOP Chokehold, as Recall Votes Start Today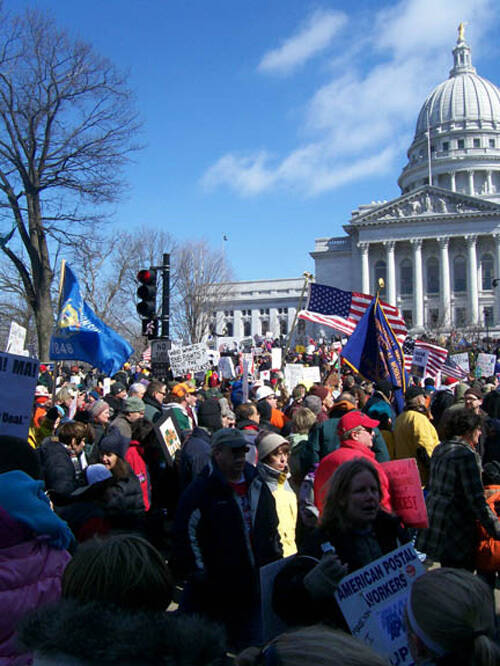 "I nev­er expect­ed the Repub­li­cans would act fair­ly, but I am appalled." —Wis­con­sin State Rep. Kel­da Helen Roys, D‑Madison, on Repub­li­can redis­trict­ing plan that could negate the results of recall elec­tions this summer.
MIL­WAU­KEE — Under Gov. Scott Walk­er, Wisconsin's far-Right Repub­li­cans have — shame­less­ly and some­times bizarrely — shown their zeal for destroy­ing labor rights and nar­row­ing the state's mis­sion to sub­si­dize the cor­po­rate class. That's why Wis­con­sin became known to the crit­ics of Walk­er and GOP leg­isla­tive lead­ers Scott and Jeff Fitzger­ald as ​"Fitzwalk­er­stan," an out­law state brazen­ly using extreme and unde­mo­c­ra­t­ic meth­ods to ensure the impo­si­tion of extreme measures.
But pay­back time may be at hand: Sum­mer recall elec­tions may dis­rupt Repub­li­cans' big Sen­ate major­i­ty gained in Novem­ber 2010. How­ev­er, the always-inven­tive Repub­li­cans have come up with a solu­tion befit­ting their dic­ta­to­r­i­al men­tal­i­ty: Negate democ­ra­cy by wip­ing out the dis­tricts where three Demo­c­ra­t­ic can­di­dates now reside.
The Repub­li­cans are aim­ing to approve the redis­trict­ing plan on July 19, before the results of the nine Sen­ate recall elec­tions are in. Fur­ther, Repub­li­cans have also insert­ed pho­ny Demo­c­ra­t­ic can­di­dates into six of the races, scram­bling the elec­tion sched­ule and giv­ing the GOP machine more time to put down the vot­er rebel­lion. (Repub­li­cans are also stag­ing three efforts to unseat three of the Demo­c­ra­t­ic sen­a­tors who fled the state to pre­vent a Repub­li­can quo­rum on the union-bust­ing bill.)
PRI­MARIES START TODAY
The round of recall elec­tions start today, with Repub­li­cans run­ning GOP stal­warts as Democ­rats to force a set of pri­ma­ry elec­tions in six races, with the final elec­tions August 9. In two oth­er races, July 19 Repub­li­can pri­maries will pre­cede the final elec­tions on Aug. 16.
For the Repub­li­cans, the recall elec­tions enforce a lev­el of demo­c­ra­t­ic account­abil­i­ty that they would sim­ply pre­fer to erad­i­cate. Pre­dictably, the Repub­li­cans have begun talk­ing about weak­en­ing Wisconsin's recall law, in effect since 1926.
The Repub­li­cans claim the recall process diverts leg­is­la­tors and the pub­lic from such urgent busi­ness as the quick approval of an iron-ore mine in far north-cen­tral Wis­con­sin. Walk­er spokesman Cullen Wer­wie betrayed the GOP's remark­able lev­el of con­tempt for democ­ra­cy when he declared,
The upcom­ing recall elec­tions are an incon­ve­nience and a dis­trac­tion to most Wis­con­sin vot­ers. The governor's goal is to move for­ward to get Wis­con­sin work­ing again.
But the recall process is no mere incon­ve­nience, accord­ing to Uni­ver­si­ty of Wis­con­sin polit­i­cal sci­en­tist Den­nis Dresang. The recall process was insert­ed into state law by the leg­endary Pro­gres­sive Par­ty Gov. ​"Fight­ing Bob" LaFol­lette as a means of break­ing the choke­hold that cor­po­rate inter­ests held on Wis­con­sin legislators:
The roots of the recall process date to post-Civ­il War pol­i­tics. Around that time, polit­i­cal machines began to take shape, com­bin­ing the cor­po­rate inter­ests of the pri­vate­ly owned rail­road com­pa­nies, banks, lum­ber, util­i­ty and road com­pa­nies under the umbrel­la of the Repub­li­can Party.

The recall was all about destroy­ing the polit­i­cal machines. It's a right vot­ers gave to them­selves dur­ing the pro­gres­sive movement.
ORGA­NIZED LABOR AND ALLIES REMAIN FOCUSED
Orga­nized labor and its allies have refused to be dis­cour­aged or intim­i­dat­ed by the GOP's redis­trict­ing efforts and record of unde­mo­c­ra­t­ic maneu­vers. (To cite just two: Repub­li­cans vio­lat­ed the state's Open Meet­ings law to ram through the anti-union bill passed this year, and Gov. Walk­er and oth­er Repub­li­cans have been unwill­ing to con­sult with Democ­rats, much less nego­ti­ate with them on major leg­is­la­tion, a major break with Wis­con­sin polit­i­cal traditions.)
Instead, they have kept their eyes on the prize this sum­mer: using the recall process to unseat as many as six Repub­li­can sen­a­tors who vot­ed to strip pub­lic work­ers of their right to any mean­ing­ful union representation.
With a switch of only three seats need­ed, the Repub­li­can grip on the Sen­ate will be bro­ken and the stream of far-Right leg­is­la­tion can final­ly be dammed up.
The Wis­con­sin AFL-CIO, the Ser­vice Employ­ees Union, Cit­i­zen Action of Wis­con­sin (dis­clo­sure: I worked at Cit­i­zen Action for six years) and a coali­tion called We Are Wis­con­sin are pro­mot­ing the anti-Repub­li­can recalls with inten­sive grass­roots, door-to-door orga­niz­ing dri­ves. They are also stag­ing bus tours to the dis­tricts and hold­ing ral­lies with local sup­port­ers of the Demo­c­ra­t­ic challengers.
The recall efforts appear to be well-orga­nized. Last Sat­ur­day morn­ing in a north­ern Mil­wau­kee sub­urb, pro­gres­sive U.S. Rep. Tam­my Bald­win fired up about 100 vol­un­teers work­ing to defeat Repub­li­can Sen. Alber­ta Dar­ling and replace her with State Rep. Sandy Pasch, who has been wag­ing a hard-hit­ting cam­paign against Darling's sup­port for mas­sive $800 mil­lion cuts in pub­lic edu­ca­tion while back­ing mas­sive new cor­po­rate tax breaks.
Vol­un­teers for Pasch seemed unfazed by the Repub­li­cans' redis­trict­ing plans, con­fi­dent that the GOP's maps will face a strong chal­lenge in court.
State Rep. Fred Kessler (D‑Milwaukee), per­haps the state's reign­ing expert on re-dis­trict­ing, expressed shock at the Repub­li­can plan when reached by phone in Tues­day night in Utah. ​"It's the most par­ti­san redis­trict­ing I have ever seen," said Kessler, a for­mer judge.
The Repub­li­cans appear to have shaped the new dis­tricts in order to cre­ate 59 Repub­li­can-lean­ing Assem­bly dis­tricts com­pared to just 40 for the Democ­rats, despite the Democ­rats aver­ag­ing 53.4% in the last five pres­i­den­tial races, said Kessler, who under the plan would be liv­ing out­side the new dis­trict he represents.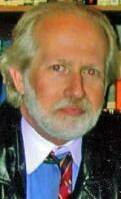 Roger Bybee

is a Mil­wau­kee-based free­lance writer and Uni­ver­si­ty of Illi­nois vis­it­ing pro­fes­sor in Labor Edu­ca­tion.Roger's work has appeared in numer­ous nation­al pub­li­ca­tions, includ­ing

Z

mag­a­zine,

Dol­lars

&

Sense, The Pro­gres­sive, Pro­gres­sive Pop­ulist, Huff­in­g­ton Post, The Amer­i­can Prospect, Yes!

and

For­eign Pol­i­cy in Focus

.More of his work can be found at

zcom​mu​ni​ca​tions​.org/​z​s​p​a​c​e​/​r​o​g​e​r​d​bybee

.