This Week in Labor: Backlash in Ohio, Teamsters & Mexico and Tax Day Protests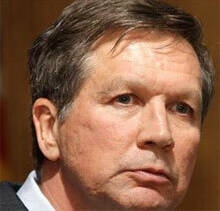 Every Friday, Working In These Times rounds up labor news we've missed during the past week, with a focus on new and ongoing campaigns and protests. Heavy on hyperlinks, think of this as cliff notes on the state of the labor movement. For all our other headlines from this week, go here. —Jeremy Gantz, Working ITT editor

In Ohio, state officials gave opponents of the anti-collective bargaining bill SB.5 the green light to start collecting the 231,000 signatures they must obtain by June 30 to put the law up for repeal on the November ballot.

Hotel cleaners from UNITE-HERE urged a California senate subcommittee on Wednesday to vote for a bill that would require long-handled mops so that cleaners will no longer have to scrub floors stooped over, or on their knees. The committee voted 5 – 2 to approve the bill.

The General President of the Teamsters pledged his undying opposition to a Department of Transportation plan to open the border to Mexican truck drivers, citing the drug war. (A story Mike Elk covered on this site last month.)
The International Brotherhood of Electrical Workers shed some light on wage theft in Florida; after prodding from the union, federal investigators are probing a contractor at a VA hospital for allegedly misclassifying workers and violating prevailing wage laws.
In Washington D.C. last month, the Amalgamated Transit Union held a ​"boot camp" for more than 100 transportation activists la in the hopes of fostering coalitions between transit riders, activist and the union.
And next Monday, which is Tax Day this year, thousands of union members and MoveOn supporters will gather outside the headquarters of major tax-dodging corporations to demand that the deadbeat firms pay up.
Lindsay Beyerstein
is an award-winning investigative journalist and In These Times staff writer who writes the blog Duly Noted. Her stories have appeared in Newsweek, Salon, Slate, The Nation, Ms. Magazine, and other publications. Her photographs have been published in the Wall Street Journal and the New York Times' City Room. She also blogs at The Hillman Blog (http://​www​.hill​man​foun​da​tion​.org/​h​i​l​l​m​a​nblog), a publication of the Sidney Hillman Foundation, a non-profit that honors journalism in the public interest.