Labor Unrest Roils Global Aviation Industry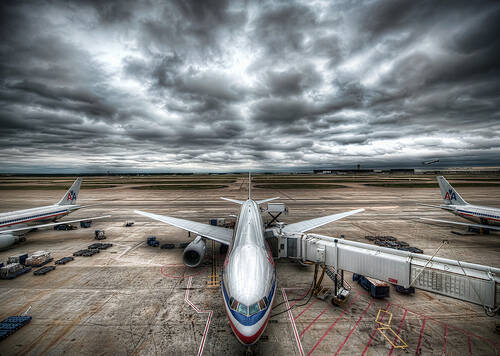 Reader donations, many as small as just $1, have kept In These Times publishing for 45 years. Once you've finished reading, please consider making a tax-deductible donation to support this work.
Labor unrest is spreading in the global aviation industry.
On Tuesday, the union that represents pilots at Air Berlin, Germany's second-largest airline, called for a three-hour work stoppage. Last month pilots at the country's largest carrier, Lufthansa, walked off the job for 24 hours. Cabin crews at British Airways are also poised to strike. Greek air traffic controllers announced another work stoppage today to protest the lastest round of public spending cuts.
The U.S. aviation industry is no exception to global trends: American, Continental, United, US Airways and Southwest are all in protracted and contentious negotiations with their respective unions. The airline industry has suffered severe losses during the global recession, but workers are getting tired of being asked to bear the brunt of an unprofitable industry. Unions made painful concessions to keep the industry alive, and workers are rapidly losing patience.
American Airlines and the Transport Workers Union have literally been in contract talks for years, with little to show for their trouble. Two weeks ago, the Transport Workers Union announced that it would call in federal mediators if its dispute with American Airlines was not resolved by March 8. The TWU warned that if all outstanding contract issues are not resolved by the end of that mediated discussion, the union would seek immediate release from federal mediation. Workers released from federal mediation would essentially have the right to strike, but only after a 30-day ​"cooling off" period.
The TWU represents 28,000 workers at American Airlines and American Eagle. The union and management have been negotiating for 4 years. Some commentators believe that a strike is unlikely. If workers walked off the job, President Obama would have the right to quash a strike under the Railway Labor Act.
The Association of Professional Flight Attendants said in a statement late last night that it was asking for release from mediation after a 5‑day bargaining session with American Airlines came to naught.
The two major sticking points between the TWU and American Airlines are wages and work schedules. The airline wants workers to accept a lump-sum payment at the end of a multi-year contract in lieu of wage increases. That's going to be a tough sell with the TWU membership. The airline has been losing money, but AA executives still get bonuses. AA also wants to outsource cabin cleaning and aircraft fueling to non-union workers.
TWU International President James C. Little argues that four years is more than enough time to agree on a contract. In a statement on the TWU blog, Little points out that it took just two weeks to reach a contract in 2003 when labor and management came together to ensure the airline's continued survival.
Many U.S. analysts say that domestic airline strikes are unlikely because unemployment is so high and airline profits are so low. That's not a very convincing argument. For all its struggles to turn a profit, the aviation industry is a life support system for the global economy. If the people who keep those planes in the air aren't happy, they can easily make their displeasure felt. Maybe the ruinous flirtation with airline privatization has finally run its course.
Your donation makes In These Times possible
Lindsay Beyerstein
is an award-winning investigative journalist and In These Times staff writer who writes the blog Duly Noted. Her stories have appeared in Newsweek, Salon, Slate, The Nation, Ms. Magazine, and other publications. Her photographs have been published in the Wall Street Journal and the New York Times' City Room. She also blogs at The Hillman Blog (http://​www​.hill​man​foun​da​tion​.org/​h​i​l​l​m​a​nblog), a publication of the Sidney Hillman Foundation, a non-profit that honors journalism in the public interest.