Labor's Excellent Adventure: 'Truth Tour' Urges Recall of Wis. GOP Senators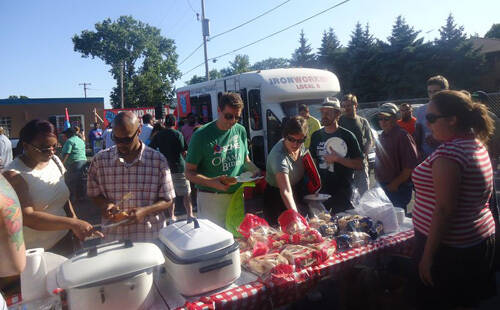 Much of Wis­con­sin has soured on the overt­ly anti-work­er, anti-demo­c­ra­t­ic nature of rook­ie Repub­li­can Gov. Scott Walker's harsh new poli­cies. So Wis­con­sin AFL-CIO lead­ers have been con­duct­ing a bus tour of the state, hold­ing local ral­lies in dozens of towns and gen­er­at­ing sup­port for recall­ing six Repub­li­can state sen­a­tors August 9 and retain­ing two Demo­c­ra­t­ic sen­a­tors August 16.

Tues­day after­noon in Mil­wau­kee, State AFL-CIO Pres­i­dent Phil Neuen­feldt explained the tour's pur­pose to a crowd of about 200. ​"It all goes back to the theme of an extreme pow­er grab. Scott Walk­er has been wag­ing an all-out assault on the mid­dle class and col­lec­tive bar­gain­ing, and expect­ing every­thing to be OK," he thun­dered. ​"But he is look­ing out just for the big cor­po­ra­tions and the Koch broth­ers at the expense of work­ing peo­ple."

A net gain of three seats will flip con­trol of the State Sen­ate to the Democ­rats, giv­ing them the pow­er to block Gov. Walker's agen­da, which has been shaped heav­i­ly by such groups as the cor­po­rate-fund­ed Amer­i­can Leg­isla­tive Exchange Coun­cil, Amer­i­cans for Pros­per­i­ty, and Club for Growth. If suc­cess­ful, the recall effort would also add immense momen­tum to the mount­ing cam­paign to recall Walk­er him­self ear­ly next year, whose pop­u­lar­i­ty hit a new low with a dis­ap­proval rat­ing of 59 per­cent in a Uni­ver­si­ty of Wis­con­sin poll released July 13.
Walker's pop­u­lar­i­ty has been plum­met­ing since Feb­ru­ary 11, when he began his cam­paign to vir­tu­al­ly erad­i­cate the right to union rep­re­sen­ta­tion in the pub­lic sec­tor, de-fund pub­lic edu­ca­tion to the tune of $800 mil­lion and add $300 mil­lion in tax breaks to cor­po­ra­tions, many of whom have already shift­ed their best-pay­ing pro­duc­tion jobs out of Wis­con­sin to Mex­i­co and Chi­na.

Walker's dec­la­ra­tion of war on work­ers and the mid­dle class (he referred to his anti-union bill as ​"the bomb") trig­gered weeks of protests draw­ing crowds of 100,000 or more union­ists and their allies among the gen­er­al pub­lic at the State Capi­tol dur­ing the winter's most frigid weeks. Despite the enor­mous protests in Madi­son and across Wis­con­sin — ral­lies were held in 20 cities on a sin­gle day — Walker's leg­isla­tive allies rammed through the bill in mid-March.

The cur­rent bus tour exem­pli­fies the ongo­ing effort to con­sol­i­date the protest move­ment through­out the state. Labor and its allies like Cit­i­zen Action and the We Are Wis­con­sin coali­tion view the bus tour as build­ing a long-term move­ment in every cor­ner of the state to restore the state's tra­di­tion of thor­ough­ly demo­c­ra­t­ic, reform-ori­ent­ed, and pub­lic-focused pol­i­tics.

The rov­ing tour has pro­vid­ed rank-and-file union­ists, labor lead­ers, and local com­mu­ni­ty mem­bers across the state an oppor­tu­ni­ty to speak out against Repub­li­can poli­cies under­min­ing the eco­nom­ic rights of work­ers and the mid­dle class and brazen­ly chip­ping away at the foun­da­tions of Wis­con­sin democ­ra­cy. A sam­ple of the voic­es heard along the tour:
"

Peo­ple are final­ly start­ing to see how harm­ful this extreme agen­da is for Wis­con­sin fam­i­lies. Folks are los­ing their jobs and schools are get­ting cut," —Paulette Feld, a librar­i­an at UW Oshkosh and mem­ber of AFSCME Coun­cil

24

.

"

At what time did teach­ers, nurs­es and fire fight­ers become the prob­lem? Let's talk about the real prob­lem – the dereg­u­la­tion of banks and Wall Street." —Mahlon Mitchell, pres­i­dent of the Wis­con­sin Pro­fes­sion­als Fire Fight­ers Association.

"

This is not just about unions. This is about basic rights and tak­ing a stand to pro­tect Wisconsin's mid­dle class. My wife is a school teacher and the way teach­ers have been vil­lainized is shame­ful. These are some of the best indi­vid­u­als in the com­mu­ni­ty and we blame our finan­cial prob­lems on them? It does not make sense." —Rich McAl­lis­ter. from Tomahawk.

"

I have worked at a lot of places with a lot of peo­ple who are being hurt by Walker's pro­grams and extreme agen­da … As more peo­ple begin to see what is com­ing down, more are say­ing – ​

'

not in our Wis­con­sin.' That is why we are out on the doors talk­ing to our neigh­bors every week. [The Repub­li­cans and their cor­po­rate fun­ders] may have the mon­ey, but we have the peo­ple." —teacher John Scott, a Racine Edu­ca­tion Asso­ci­a­tion member.

"

If we don't have the right to col­lec­tive­ly bar­gain, we don't have democ­ra­cy," assert­ed Roger Krah, a retired UAW Local

72

mem­ber who worked at Chrysler, which used fed­er­al bailout funds to move its last

850

jobs from Kenosha to a new low-wage engine plant in Mexico.
FIRST EFFORT TO RECALL DEM IS CRUSHED

The recall efforts led by labor are pro­ceed­ing strong­ly despite the fact that few of the six dis­tricts have been won by Democ­rats in recent years. In the July 19 recall elec­tion held in Green Bay against Demo­c­ra­t­ic Sen. David Hansen, a long­time labor activist, Hansen crushed Repub­li­can oppo­nent and Tea Par­ty activist David Van­der­leest by a 66 – 31 mar­gin. Nonethe­less, Van­der­leest boast­ed after­ward, ​"It showed how well my mes­sage was received."

Union mem­bers across the state are work­ing hard to make sure that the stun­ning hos­til­i­ty of the Repub­li­cans to work­er rights and democ­ra­cy is sim­i­lar­ly ​"received" in the eight oth­er dis­tricts where the recall elec­tions are being held August 9 and August 16.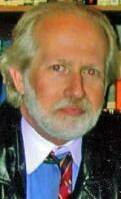 Roger Bybee

is a Mil­wau­kee-based free­lance writer and Uni­ver­si­ty of Illi­nois vis­it­ing pro­fes­sor in Labor Edu­ca­tion.Roger's work has appeared in numer­ous nation­al pub­li­ca­tions, includ­ing

Z

mag­a­zine,

Dol­lars

&

Sense, The Pro­gres­sive, Pro­gres­sive Pop­ulist, Huff­in­g­ton Post, The Amer­i­can Prospect, Yes!

and

For­eign Pol­i­cy in Focus

.More of his work can be found at

zcom​mu​ni​ca​tions​.org/​z​s​p​a​c​e​/​r​o​g​e​r​d​bybee

.