Nurses Union to Wall St.: 'You Got to Give Up the Dough—Pay What You Owe!'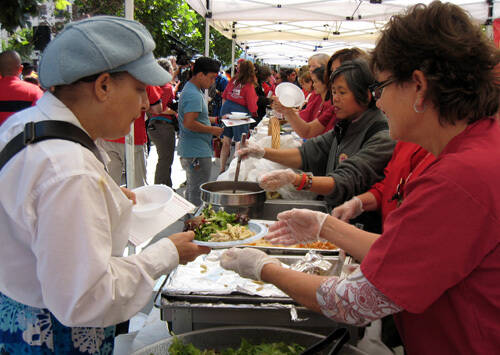 In nationwide actions, nurses demand transaction tax to repair country
SAN FRANCISCO — The largest U.S. nurses union, National Nurses United, sponsored soup kitchens and street theater actions across the country on Thursday, while calling on Congress to support a half-cent Wall Street transaction tax ​"to pay for the devastation it has caused on Main Street." Some 10,000 nurses and community participants took part in actions in 21 states, including California.
Wall Street speculative activity is directly linked to the 2008 financial meltdown, which triggered a recession from which the country has yet to emerge.
"It's time for Wall Street financiers, who created this crisis and continue to hold so much of the nation's wealth, to start contributing to rebuild this country, and for the American people to reclaim our future," NNU Executive Director Rose Ann DeMoro said.
The union sent all 535 members of the House and Senate a certified letter last week asking them to ​"take the pledge" to help U.S. families that are hurting. Nurses visited the home offices of 61 lawmakers with the message that Americans need jobs, healthcare, food and a secure retirement. They say the half-cent tax would help rebuild educational, health and social programs that were cut during the recession.
NNU has 170,000 members, including 75,000 in California, who are part of the California Nurses Association.
"People are suffering from poor nutrition, the loss of homes or shelter or the loss of retirement security. … Wall Street bailouts did absolutely nothing for main street," NNU Vice President Zenei Cortez told supporters at the one-day San Francisco soup kitchen in front of the Federal Building.
In Southern California, about 200 people went Rep. Baca's (D-San Bernardino) to demand that he join the Tax Wall Street movement. According to a local newspaper report, he signed a life-size version of a pledge to support legislation to establish a transaction tax. Six or seven Congress members have signed the pledge, according to an NNU spokesman.
Of the 100 highest paid U.S. corporate chief executives, 25 took home more in CEO pay than their company paid Uncle Sam in 2010 federal corporate income taxes, the Institute for Policy Studies revealed in a new study this week (as reported by In These Times here).
According to the report, ​"Employment levels have barely rebounded from their recessionary lows. Top executive pay levels, by contrast, have rebounded nearly all the way back from their pre-recession levels.
This contrast shows up starkly in the 2010 ratio between average worker and average CEO compensation. In 2009, we calculate, major corporate CEOs took home 263 times the pay of America's average workers. Last year, this gap leaped to 325-to-1."
Rose Arrieta
was born and raised in Los Angeles. She has worked in print, broadcast and radio, both mainstream and community oriented — including being a former editor of the Bay Area's independent community bilingual biweekly El Tecolote. She currently lives in San Francisco, where she is a freelance journalist writing for a variety of outlets on social justice issues.