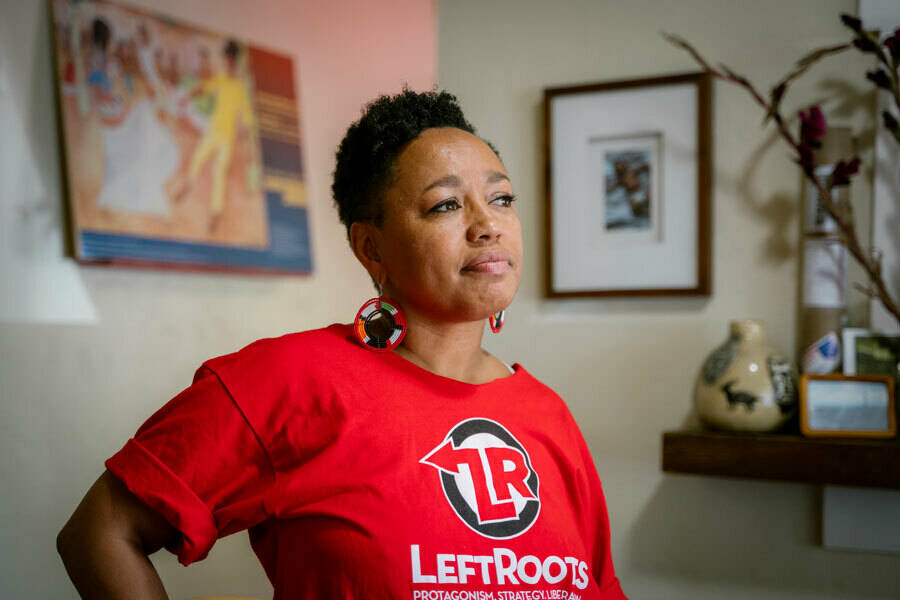 One evening in late May, upward of 50 grass­roots orga­niz­ers from dif­fer­ent groups around the coun­try gath­ered at a union hall in Dorch­ester, Mass. They were grap­pling with some of the Left's age-old ques­tions: In a future where the Left wins polit­i­cal pow­er, what would we like to see hap­pen? And more prag­mat­i­cal­ly: What would it take to get there?
That LeftRoots even exists might send much of established media stumbling back on their heels.
A local com­mu­ni­ty orga­niz­er sets the scene: ​"It's 2019. Burn­ing issues are fac­ing our com­mu­ni­ties." She lists off gal­lop­ing inequal­i­ty, a trig­ger-hap­py white nation­al­ist move­ment, loom­ing envi­ron­men­tal dis­as­ter. It's urgent, she says, to do ​"more cross-fer­til­iza­tion work" to har­ness pro­gres­sive forces (like the strik­ing teach­ers around the coun­try) to build sol­i­dar­i­ty across issues.
This dis­cus­sion of base-build­ing to include more dif­fer­ent types of peo­ple is typ­i­cal of many Left gath­er­ings. But what's note­wor­thy is the faces in the room, who reflect the kind of diverse base the Left has aspired to build for decades.
That's by design. The meet­ing host is Left­Roots, a five-year-old social­ist group that offers a hub for on-the-ground orga­niz­ers around the coun­try to strate­gize togeth­er. Left­Roots' mem­ber­ship includes ​"super-majori­ties both of peo­ple of col­or, and of women and oth­er gen­der-oppressed peo­ple." Co-founder NTanya Lee says this isn't ​"just a racial cri­tique that the con­tem­po­rary U.S. Left is too white" (though ​"that is a fact," she adds). Instead, it's vital, she says, that any move­ment to trans­form the world be ​"root­ed in the strug­gles of work­ing-class com­mu­ni­ties of col­or who are the ones who have the most at stake in defeat­ing the sys­tem and win­ning the lib­er­a­tion that we real­ly want."
In the Amer­i­can polit­i­cal imag­i­na­tion, talk of the work­ing class still con­jures an image of gruff, salt-of-the-earth white men in the Rust Belt. While they're cer­tain­ly out there, at 59% of 25 – 64-year-olds, white peo­ple (and white men, espe­cial­ly) make up a declin­ing share of the work­ing class. The Eco­nom­ic Pol­i­cy Insti­tute projects that, by 2032, a major­i­ty of the Amer­i­can work­ing class will be peo­ple of col­or. Women already make up near­ly half of work­ing-class adults in the coun­try at 46%.
That Left­Roots even exists might send much of estab­lished media stum­bling back on their heels. The chat­ter­ing class­es have been quick to inter­pret the surg­ing inter­est in social­ism as a fad for a loud (but small!) band of white mil­len­ni­als. (A snarky New York mag­a­zine piece pub­lished in March reports on the sil­ly quirks of the ​"young social­ist pow­er elite" in Brook­lyn, who sup­pos­ed­ly live on Twit­ter and believe social­ism to be ​"sexy" with­out real­ly know­ing what it means.)
Of course, there's a long his­to­ry of social­ism in com­mu­ni­ties of col­or in Amer­i­ca, from what his­to­ri­an Rox­anne Dun­bar-Ortiz calls pre-colo­nial ​"indige­nous social­ism" (and its rad­i­cal heir, the Amer­i­can Indi­an Move­ment) to spir­it­ed tra­di­tions of Chi­nese Amer­i­can social­ism in San Fran­cis­co in the ear­ly 20th cen­tu­ry and the rad­i­cal Chi­cano move­ments of the South­west in the late 20th cen­tu­ry. Black social­ists have been a pain in the ass to many of their white coun­ter­parts for more than a cen­tu­ry, relent­less­ly insist­ing that white suprema­cy is chief among the Goliaths that social­ism must slay. In a 1913 essay, not­ed social­ist W.E.B. Du Bois famous­ly described ​"The Negro Prob­lem" as ​"the great test of the Amer­i­can Socialist."
Lee launched Left­Roots in 2014 with a crew of three oth­er San Fran­cis­co Bay Area orga­niz­ers who thought the polit­i­cal Left was fail­ing to bridge the gap between urgent, dai­ly, in-the-trench­es action and a longer-term vision and strat­e­gy. ​"It wasn't enough to cross our fin­gers and be like, ​'One day this shit is all going to get con­nect­ed and we're going to win,' " says Lee, 50, the for­mer exec­u­tive direc­tor of San Fran­cis­co-based com­mu­ni­ty orga­niz­ing group Cole­man Advocates.
It's worth empha­siz­ing what Left­Roots is not. Left­Roots does not ini­ti­ate or run cam­paigns, whether issue-based or elec­toral, like the Demo­c­ra­t­ic Social­ists of Amer­i­ca and many oth­er social­ist groups. Nor does it orga­nize protests. Left­Roots' focus is sim­ply on its stat­ed pur­pose: to strate­gize around ​"21st-cen­tu­ry social­ism" and then bring peo­ple togeth­er to help get there.
Left­Roots offers reg­u­lar branch meet­ings and oth­er train­ing events. Mem­bers also work through an online cur­ricu­lum they call the Lit­tle Red School, cov­er­ing top­ics from polit­i­cal econ­o­my to cul­tur­al hege­mo­ny to strate­gies for build­ing orga­ni­za­tion­al pow­er. This breadth is also appar­ent in Left­Roots' Out to Win! jour­nal. At 150 pages, it makes ref­er­ences from Engels and Marx to Amer­i­can Idol, includes quotes from Paulo Freire to Langston Hugh­es and Grace Lee Bog­gs, and explores ideas from cis-het­eropa­tri­archy to neolib­er­al­ism, all while cit­ing sources and mark­ing points of debate.
Today, Left­Roots has more than 200 mem­bers spread across sev­en branch­es — Boston, Philadel­phia, New York, the Bay Area, Los Ange­les and two at-large branch­es that meet online. While their num­bers may seem small, their influ­ence is mul­ti­plied by the sim­ple fact that near­ly every­one is already involved in oth­er grass­roots work aimed at improv­ing their com­mu­ni­ties. Mem­bers say Left­Roots has deeply informed that work.
Some­times when you're in the day-to-day of the work, you're [only] focused on what's right in front of you," says Mike Ley­ba, 31, an elec­toral strate­gist and orga­niz­er in Boston who sits on the Left­Roots Nation­al Coor­di­nat­ing Com­mit­tee. It's Left­Roots' job ​"to zoom out and … see where our poten­tial for real­ly strate­gic action is."
Ley­ba, who spent his for­ma­tive years in Comp­ton, Calif., became a polit­i­cal orga­niz­er in 2008, when he joined the fight against a Cal­i­for­nia bal­lot pro­pos­al ban­ning same-sex mar­riage. He joined Left­Roots in April 2016. For Ley­ba, Left­Roots has ​"real­ly honed my polit­i­cal strat­e­gy around elec­toral work." Since 2010, he has staffed or man­aged four local elec­toral cam­paigns in Mass­a­chu­setts and Cal­i­for­nia, includ­ing state house races and a Boston may­oral campaign.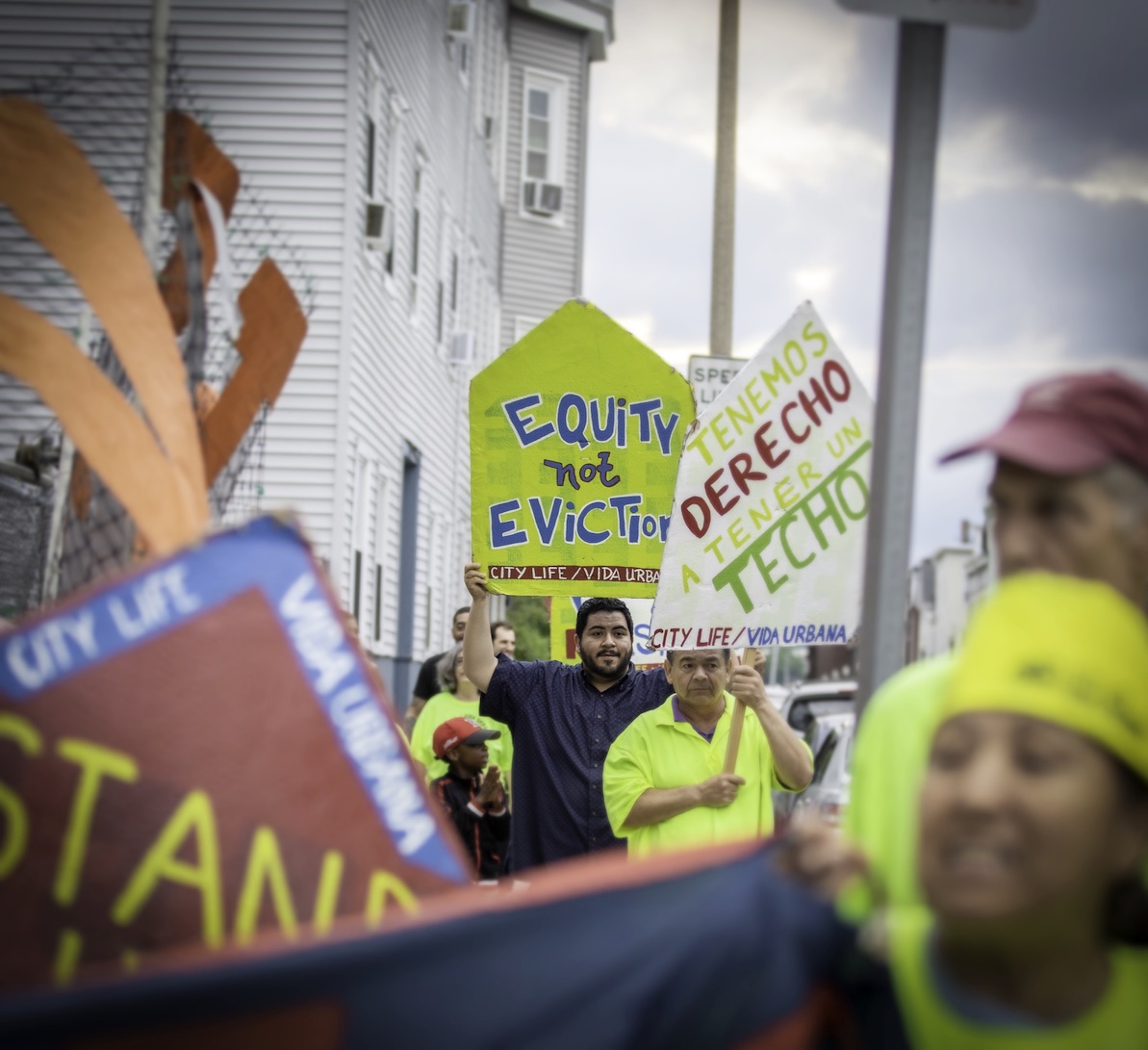 (Activist Mike Ley­ba says his work with Left­Roots keeps him from becom­ing ​"much more cyn­i­cal" about elec­toral pol­i­tics. Elec­toral cam­paigns, he now says, can help build a social­ist base. Pho­to by Flavio DeBarros.)
"If I weren't a part of Left­Roots, I prob­a­bly would be much more cyn­i­cal about work­ing in elec­toral pol­i­tics," Ley­ba says. ​"If pro­gres­sive can­di­dates, once elect­ed, don't always deliv­er," he says, the feel­ing becomes, ​"I worked so freak­ing hard for this per­son and they didn't do shit for me or my peo­ple, and we're still in crisis."
But Ley­ba says Left­Roots helped him see that elec­toral cam­paigns can be a way to build a social­ist base, regard­less of the election's out­come or how the offi­cial per­forms once elect­ed. For exam­ple, Ley­ba ​"deep can­vass­es" Boston neigh­bor­hoods; rather than just recit­ing a candidate's biog­ra­phy to poten­tial vot­ers, he now asks ques­tions root­ed in race and class, such as, ​"When was the last time you got a rent increase?" Those con­ver­sa­tions can spin out into deep­er dis­cus­sions about rent con­trol or fund­ing pub­lic schools. He says ​"It's putting an ear to the ground and see­ing where peo­ple are at. Where are they feel­ing the squeeze? Where should we be focus­ing our ener­gy? Where is the trans­for­ma­tive potential?
"Now mul­ti­ply this by tens of thou­sands of con­ver­sa­tions. You're able to see much big­ger than any par­tic­u­lar can­di­date. Who­ev­er wins will have very real lim­its on their pow­er. But there aren't the same lim­its on social movements."
Paige Kümm, 32, anoth­er mem­ber of the Left­Roots Nation­al Coor­di­nat­ing Com­mit­tee, serves as a nation­al orga­niz­er with Right to the City, an alliance of social jus­tice orga­ni­za­tions that aims to offer ​"a uni­fied response to gen­tri­fi­ca­tion" nation­wide. At a March staff retreat in Brook­lyn, Right to the City dis­cussed Left­Roots' new­ly expand­ed work­ing def­i­n­i­tion of class, laid out in the first issue of Out to Win. Here, Left­Roots sees poten­tial allies for work­ing-class issues in the low­er tiers of the own­er­ship class, like taxi dri­vers and cor­ner store own­ers. While the upper lay­er of cap­i­tal­ists ("the exec­u­tives, board mem­bers and major share­hold­ers") may fight social­ist change tooth and nail, this low­er-tier group still faces sig­nif­i­cant hard­ship and could be moved to join a move­ment to redis­trib­ute wealth and power.
Left­Roots' lay­ered def­i­n­i­tion of class helped Right to the City ​"bet­ter under­stand the lay­ers of the work­ing class," says Kümm. Some home­own­ers may tech­ni­cal­ly be land­lords, in that they rent to ten­ants and depend on rent to make their pay­ments to the bank, but these home­own­ers are still ​"bank ten­ants," as Kümm describes them, who face fore­clo­sure if they fall on hard times. Left­Roots' def­i­n­i­tion was a help­ful reminder to not pit these home­own­er-ten­ants against sub­tenants, Kümm says, since both have inter­ests in fight­ing the pow­er that banks have to make them homeless.
"We're try­ing to bet­ter under­stand: What are the dif­fer­ent stra­ta of the work­ing class and how can we speak to their inter­est?" Kümm says. ​"How can we make them feel like they are a part of this movement?"
There are two ways to join Left­Roots, which holds no mem­ber­ship dri­ves and no puri­ty tests beyond its ​"points of uni­ty," which includes notes like ​"social­ism is the future" and ​"the plan­et is not a com­mod­i­ty." The first is as a ​"com­pa" (from the Span­ish for ​"friend"), an ongo­ing finan­cial and polit­i­cal sup­port­er, impor­tant for an orga­ni­za­tion that doesn't apply for phil­an­thropic foun­da­tion grants.
The sec­ond way to become a mem­ber is by invi­ta­tion only. To be eli­gi­ble, you must com­plete the Gen­er­al Bak­er boot­camp, named after a giant of Black social­ist orga­niz­ing in Detroit. In one-day ses­sions over eight weeks, held simul­ta­ne­ous­ly around the coun­try and online, par­tic­i­pants share their ideas about social­ism and their own jour­neys as activists. After­ward, some are invit­ed to become full-fledged mem­bers, called cadre.
That word, ​"cadre," may be off-putting for those who remem­ber it main­ly as a descrip­tion of var­i­ous left­ist fac­tions with top-down lead­er­ship struc­tures, the kind that aspired to be rev­o­lu­tion­ary van­guards — an elite tier sup­pos­ed­ly most qual­i­fied to lead rad­i­cal change — in the 1960s and 1970s. These groups based them­selves on a par­tic­u­lar inter­pre­ta­tion of social­ist the­o­ries of change in which a lead­er­ship role in work­ing-class pol­i­tics was guar­an­teed by devo­tion to a par­tic­u­lar ide­ol­o­gy and intel­lec­tu­al rank, rather than earned by a prac­tice in mass strug­gle to help forge and unleash the pow­er of work­ers and oppressed peoples.
Most on the Left now reject that par­tic­u­lar ver­sion of cadreism as both fun­da­men­tal­ly anti-demo­c­ra­t­ic and doomed to fail­ure — and the dozen or so Left­Roots cadres I spoke with agree. They use the term in a much more gener­ic sense, to mean the activists who believe in a polit­i­cal project; devote a con­sid­er­able por­tion of their time, ener­gy and tal­ent to mov­ing it for­ward; and are seri­ous about devel­op­ing the intel­lec­tu­al and prac­ti­cal skills to do so effec­tive­ly. Thus they see no con­tra­dic­tion between the impor­tance of devel­op­ing rev­o­lu­tion­ary cadre and reject­ing the van­guardist prac­tices of the past. In fact, the Left­Roots web­site has an explic­it ​"against van­guardism" sec­tion: ​"Chal­leng­ing the prac­tice of many 20th cen­tu­ry cadre orga­ni­za­tions on the Par­ty Left, we reject the van­guardism and the asso­ci­at­ed prac­tices of oper­at­ing secret­ly with­in mass orga­ni­za­tions while try­ing to con­trol them; cre­at­ing front groups; or being oppor­tunist and leech­ing onto authen­tic mass strug­gles to avoid doing the long hard work of build­ing a real base."
Left­Roots insists that ​"the peo­ple that are doing the strat­e­gy" should be ​"real­ly ground­ed in the work," Ley­ba says. ​"Oth­er­wise, you're just an arm­chair activist and we don't need more of those."
Instead, Left­Roots refers to a cadre as a com­mit­ted mem­ber who ​"will­ing­ly makes sac­ri­fices, learns skills and plays roles that are required in order to fight for the change we wish to see." Here, ​"cadre" acts as a small way to high­light, yet again, that iso­la­tion can be over­come, because the walls that sep­a­rate those who are hun­gry for an egal­i­tar­i­an world are thin­ner than they imagine.
Left­Roots does­n't see itself as the final home of this 21st-cen­tu­ry social­ism. Rather, it is ​"attempt­ing to lay the ground­work for the launch­ing of a polit­i­cal instru­ment in the future," Kümm says. Left­Roots, she says, is a way to ​"train up social move­ment left­ists to be pre­pared to take part in the launch­ing of that polit­i­cal instru­ment." Left­Roots folks are can­did about how far the Left has to trav­el before it can flex its polit­i­cal mus­cle the same way as robust cadre move­ments of the past (the rad­i­cal Black social­ist autowork­ers in Detroit in the late 1960s and 1970s, for exam­ple). But Left­Roots intends, after a cou­ple years of rig­or­ous study, exper­i­men­ta­tion and analy­sis, to draw a clear­er pic­ture of the sorts of vehi­cles the Left needs to bring its vision to life.
In that union hall near Boston (which Left­Roots request­ed not be named, out of ​"an abun­dance of cau­tion" about red­bait­ing), close to 100 area orga­niz­ers also par­tic­i­pat­ed, rep­re­sent­ing groups like City Life/​Vida Urbana, Domini­can Devel­op­ment Cen­ter, New Eng­land Unit­ed for Jus­tice, Boston Lib­er­a­tion Health and Right to the City Boston, groups fight­ing for every­thing from racial, eco­nom­ic and envi­ron­men­tal jus­tice to land, labor and hous­ing rights.
The dis­cus­sion closed with long-term ques­tions: Should the Left pre­pare to launch a third par­ty or com­mit to a takeover of the Demo­c­ra­t­ic Par­ty? And speak­ing of takeovers, how cool would it be if work­ers in weapons fac­to­ries just took the damn things over and retro­fit them for green purposes?
After decades in the polit­i­cal wilder­ness, the Amer­i­can Left is aware of the obsta­cles to a more egal­i­tar­i­an world. But in rooms like this, where polit­i­cal imag­i­na­tion and ana­lyt­ic rig­or walk hand in hand, you can see pos­si­bil­i­ties unfold, a tapes­try of rad­i­cal hopes and ideas. In an increas­ing­ly des­per­ate moment, it's a refresh­ing revival: an old social­ist tra­di­tion being built upon and refined and expand­ed to ensure mean­ing­ful par­tic­i­pa­tion for all, par­tic­u­lar­ly work­ing-class com­mu­ni­ties — of col­or, especially.
ELI DAY was an inves­tiga­tive fel­low with In These Times' Leonard C. Good­man Insti­tute for Inves­tiga­tive Report­ing. He's also a Detroi­ter, where he writes about pol­i­tics, pol­i­cy, racial and eco­nom­ic jus­tice. His work has appeared in Vox, Cur­rent Affairs, Moth­er Jones, and the New Repub­lic, among others.