Legislators Take Notice As Northwestern Votes On Athlete Unionization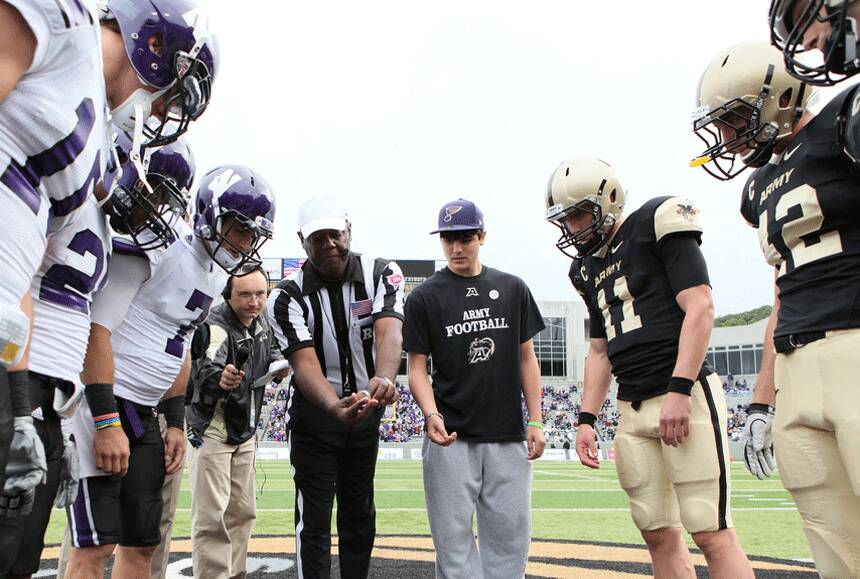 We wanted to make sure you didn't miss the announcement of our new Sustainer program. Once you've finished reading, take a moment to check out the new program, as well as all the benefits of becoming a Sustainer.

The Northwestern football team's union drive has garnered national press attention since Kain Colter announced that he and the Wildcats would seek representation from a players union in January. And the media aren't the only ones paying attention — college sports' ​"powers that be" are also taking notice.
On the eve of Northwestern's union vote, which took place this morning, the NCAA expanded meal coverage for all athletes in what seemed to be an attempt to curry favor with players. Now, both scholarship athletes and walk-on players are entitled to receive unlimited meals and snacks; only athletes on full scholarship had previously been provided three meals a day or a food stipend.
But the impact of the Northwestern Wildcats' imminent union vote is being felt far beyond the NCAA. Legislators in Ohio inserted a terse clause in the budget they passed last week stipulating that college athletes in their state cannot be considered university employees. Meanwhile, Connecticut legislators have come out on social media — largely in response to a widely publicized comment made by UConn basketball star Shabazz Napier that he sometimes goes to bed ​"starving" while playing for the school's Huskies — pledging to help athletes at their state schools organize.
If Northwestern football players vote to unionize and their status as employees is deemed legal — a process that may take years and may have to pass the scrutiny of federal courts — all student athletes at private institutions would be eligible to join unions if they so chose. The reactions in both the Ohio and Connecticut legislatures indicate that state-funded institutions are watching Northwestern closely as well, even if the outcome of their unionization effort won't affect them directly.
Connecticut state Reps. Matt Lesser (D) and Patricia Dillon (D) spoke with Working In These Times Wednesday and reiterated their commitment to athlete rights. Both expressed serious concerns about the NCAA as a governing institution: Borrowing esteemed civil-rights scholar Taylor Branch's phrase, Lesser characterized the Association as a ​"cartel," while Dillon expressed concern over the lack of medical coverage provided to student athletes.
Rep. Lesser believes the most effective way to help athletes unionize is to change the definition of ​"employee" in Connecticut's collective bargaining statutes to include athletes who receive scholarships to play revenue-generating sports at state-funded institutions.
Rep. Dillon is, for now, more cautious. She and research staff see a number of options besides making student athletes employees as viable ways to ensure that college athletes are afforded their due rights, including the Northwestern route of unionization, the passing of Congressional legislation to reform NCAA or compensating players for their work as athletes. ​"Those three [options] are still out there on the table," she explained. ​"I'm sure there are more possibilities." Rep. Dillon emphasized that her staff was still in the early stages of researching the issue.
Given that Connecticut's legislative session ends in two weeks, a solution is unlikely to be proposed before January, according to Rep. Lesser. And it remains unclear whether actions taken in state legislatures can have meaningful effects over student-athlete unionization.
Meanwhile at the heart of the unionization battle in Evanston, Northwestern has doubled down on its commitment to keeping athletes from organizing. In an email to the team, coach Pat Fitzgerald employed relatively standard anti-union rhetoric: ​"Understand that by voting to have a union," he cautioned, ​"you would be transferring your trust from those you know — me, your coaches and the administrators here — to what you don't know — a third party who may or may not have the team's best interests in mind."
At the first practice following Peter Ohr's NLRB March ruling that declared college football players university employees, each Northwestern football player was mysteriously given a free iPad. The university claims that the gifts had nothing to do with the ruling. The administration also created a 21-page document for the players intended to ​"inform" the voting decision.
The school seems to have convinced at least a few athletes that it is in their best interest to vote against unionization. Former running back Venric Mark has described the union effort as Kain Colter's movement, while other players have said that they stand behind their coach.
Public opinion is also split on whether athletes should be treated as employees. A recent Washington Post-ABC News poll found opinion on the matter is divided along racial lines: while a meager 24% of white respondents supported paying college players, 51% of respondents who were also people of color were in favor.
We may not know the outcome of the Wildcats' secret ballot vote for months, as the results of the election will remain secret until the NLRB makes a final decision on the University's appeal. But regardless of whether Northwestern Football chooses to unionize, they've started a movement that's gained traction nationally. Students at the University of Georgia, Georgia Tech and the University of Miami have reportedly already been in touch with Ramogi Huma, the founder of the College Athletes Players Association, the would-be players' union.
If NU doesn't unionize soon, it's likely that players at another school will.
Be a Sustainer
We surveyed thousands of readers and asked what they would like to see in a monthly giving program. Now, for the first time, we're offering three different levels of support, with rewards at each level, including a magazine subscription, books, tote bags, events and more—all starting at less than 17 cents a day. Check out the new Sustainer program.
Alex Lubben
is the former Deputy Publisher at In These Times and is currently a freelance journalist in New York. You can follow him on Twitter at @alexlubben.