After Missouri Students Force President's Resignation, Will More College Football Players Organize?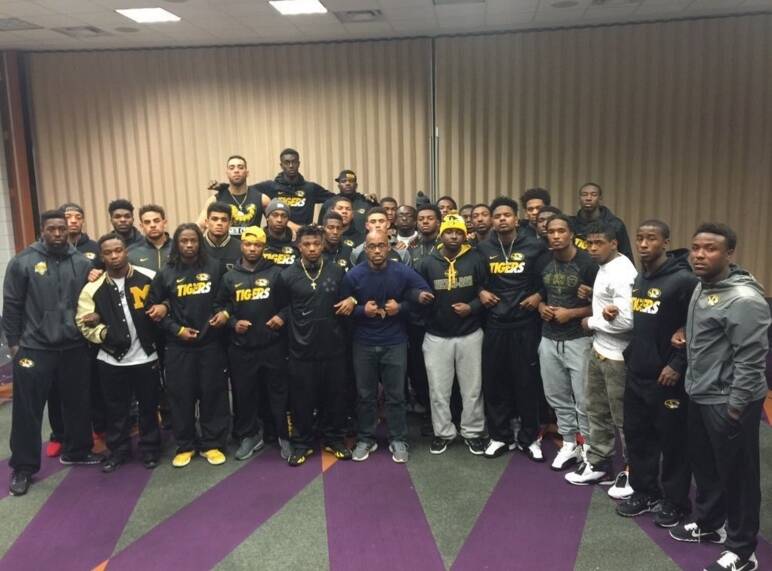 Tim Wolfe, the Uni­ver­si­ty of Mis­souri Sys­tem pres­i­dent, has resigned amidst con­tro­ver­sies on cam­pus, pri­mar­i­ly relat­ing to vis­i­ble racist inci­dents that stu­dents say the cam­pus admin­is­tra­tion failed to mean­ing­ful­ly address. R. Bowen Loftin, the chan­cel­lor of the flag­ship cam­pus in Colum­bia, announced that he would resign at the end of this year.
In a res­ig­na­tion announce­ment yes­ter­day morn­ing, Wolfe lament­ed the terms of his res­ig­na­tion: ​"This is not — I repeat, not — the way change should come about. Change comes from lis­ten­ing, learn­ing, car­ing and con­ver­sa­tion. We have to respect each oth­er enough to stop yelling at each oth­er and start lis­ten­ing, and quit intim­i­dat­ing each oth­er through either our role or what­ev­er means we decide to use."
But Tim Wolfe nev­er changed any­thing. This is exact­ly how social change comes about, and stu­dent and fac­ul­ty activists across the coun­try can use what's hap­pened at Miz­zou as a blueprint.
Wolfe's res­ig­na­tion is the cul­mi­na­tion of an extreme­ly effec­tive activist cam­paign demand­ing an end to racism on cam­pus, cul­mi­nat­ing with the threat of a foot­ball play­ers' strike. They refused to play until Wolfe resigned. Had they not played against BYU this week­end, they would have cost the Uni­ver­si­ty $1,000,000. Wolfe made less than $500,000.
Over the course of the last sev­er­al months, ten­sions around racial issues have esca­lat­ed on cam­pus. In Sep­tem­ber, Pay­ton Head, the pres­i­dent of the Mis­souri Stu­dents Asso­ci­a­tion, who is black, described an inci­dent on Face­book in which he said white stu­dents repeat­ed­ly called him the N‑word as he walked through cam­pus. In Octo­ber, stu­dents of the Legion of Black Col­le­gians were harassed by a man on cam­pus dur­ing a rehearsal for a the­atre per­for­mance. On Octo­ber 24, a swasti­ka drawn with human feces was dis­cov­ered in an MU dorm bathroom.
These inci­dents, pro­test­ers say, aren't sin­gu­lar but demon­stra­tive; they're rep­re­sen­ta­tive of the campus's cul­ture, not excep­tion­al. And while stu­dents and fac­ul­ty have been cit­ing these events as the rea­sons they're protest­ing, many stu­dents say racism has been a fact of life in Colum­bia and at Miz­zou long before this fall. Cyn­thia Fris­by, a black pro­fes­sor in the school's jour­nal­ism pro­gram, post­ed to Face­book that dur­ing her 18 years in Colum­bia, she has ​"been called the n word too many times to count."
As the string of inci­dents com­pound­ed, the response from stu­dents and fac­ul­ty esca­lat­ed. A cam­pus group, Con­cerned Stu­dent 1950 (named for the year that the uni­ver­si­ty began admit­ting black stu­dents), demand­ed Wolfe's removal from office in late Octo­ber. Jonathan But­ler, a grad­u­ate stu­dent at UM, began a hunger strike on the morn­ing of Novem­ber 2, vow­ing not to eat until Wolfe resigned. Among his rea­sons for the hunger strike, he says, were the overt racist inci­dents on cam­pus, and the university's remov­ing of Colleen McNicholas's hos­pi­tal priv­i­leges. She had been per­form­ing abor­tions at the Planned Par­ent­hood clin­ic in Colum­bia. Mis­souri state law dic­tates that doc­tors can only per­form abor­tions if they have clin­i­cal priv­i­leges at a hos­pi­tal with­in 30 miles of where the abor­tions are tak­ing place. Her removal con­sti­tut­ed a de fac­to ban on abor­tions in Columbia.
Speak­ing to the Colum­bia Mis­souri­an, But­ler spoke fur­ther as to why he ini­ti­at­ed a hunger strike:
A hunger strike specif­i­cal­ly speaks to the nature of the beast that we're deal­ing with when we talk about sys­temic issues, because it deals with human­i­ty. I think what I want peo­ple to come away with, if noth­ing else, (is) to under­stand that I'm so com­mit­ted to mak­ing things bet­ter here at the uni­ver­si­ty … that I'm lit­er­al­ly will­ing to give up my human­i­ty to see some injus­tices stop.
The day But­ler began his strike, stu­dents camped on the university's Car­na­han Quad­ran­gle in sup­port. Con­cerned Stu­dent 1950 called for a boy­cott on all aca­d­e­m­ic ser­vices until Wolfe resigned.
The university's response didn't sat­is­fy. Loftin announced an online diver­si­ty train­ing pro­gram that drew skep­ti­cism from fac­ul­ty and stu­dents. Stu­dents con­front­ed Wolfe in Kansas City, ask­ing him what he thought ​"sys­tem­at­ic oppres­sion" is. Wolfe respond­ed, ​"Sys­tem­at­ic oppres­sion is because you don't believe that you have equal oppor­tu­ni­ty for success."
On Sun­day, the same day that MU foot­ball coach Gary Pinkel tweet­ed a pho­to announc­ing the full team's sol­i­dar­i­ty with his black play­ers' deci­sion not to play until But­ler end­ed his hunger strike, Wolfe released a state­ment indi­cat­ing that he was ​"ded­i­cat­ed to ongo­ing dia­logue to address these very com­plex, soci­etal issues".
He resigned the fol­low­ing morning.
Foot­ball play­ers at major aca­d­e­m­ic insti­tu­tions have been show­ing increas­ing signs of activist mil­i­tan­cy. From Northwestern's union cam­paign to Gram­bling State's strike in 2013 in protest of their unsafe work­ing con­di­tions, there's a grow­ing aware­ness of the pow­er that col­lege foot­ball play­ers wield. And they're real­iz­ing that their pow­er isn't lim­it­ed to fights over col­lege ath­letes' rights.
At the St. Louis Post-Dis­patch, Ben Fred­er­ick­son writes, "[Foot­ball play­ers] are no longer name­less fig­ures in video games from which they don't prof­it. They don't have to stick to sports. They have more ways than ever before to spread their mes­sage. And they are becom­ing increas­ing­ly aware of their pow­er, espe­cial­ly when it comes to issues of race."
Foot­ball is deeply engrained in the social and eco­nom­ic fab­ric of the uni­ver­si­ty. When play­ers decide to take action, the admin­is­tra­tion notices. The dynam­ics of this action, which can't be under­stood as any­thing less than a strike, shows the play­ers for what they are: work­ers, whose labor dri­ves the econ­o­my of the uni­ver­si­ty. And as work­ers, they con­trol the means of (academic/​cultural) pro­duc­tion, whether or not they glean any prof­it from it.
And though the foot­ball team's deci­sion to strike seems to have forced Wolfe's res­ig­na­tion, their deci­sion not to play was the result of activism across cam­pus, from both stu­dents and fac­ul­ty. The foot­ball team wouldn't play until But­ler start­ed eat­ing. But­ler wouldn't eat until Wolfe was out. No one was act­ing alone.
Alex Lubben
is the for­mer Deputy Pub­lish­er at In These Times and is cur­rent­ly a free­lance jour­nal­ist in New York. You can fol­low him on Twit­ter at @alexlubben.