These Workers Are Fighting To Keep Your North Face Jacket From Being Made for Poverty Wages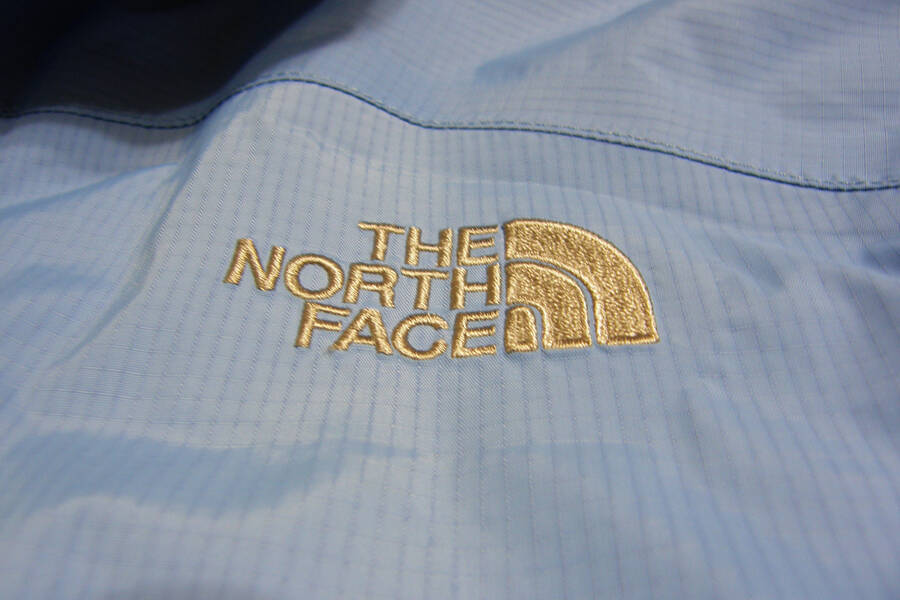 When Saudia Dur­rant approached the man­ag­er at an REI store in Man­hat­tan ear­li­er this month to explain that Polartec, the com­pa­ny that makes much of the fab­ric that REI uses in their prod­ucts, was clos­ing their flag­ship pro­duc­tion facil­i­ty in Lawrence, Mass­a­chu­setts, the man­ag­er lis­tened attentively.
"I let her know that we're there to rep­re­sent the Polartec work­ers [in Lawrence] who are orga­niz­ing to put pres­sure on Polartec to have a con­ver­sa­tion about keep­ing Polartec in Lawrence, Mass­a­chu­setts," Durant told In These Times.
Dur­rant, who works for UNITE HERE in New York, was one of over 100 union mem­bers, includ­ing a num­ber of work­ers from the Lawrence plant, who approached man­age­ment at REI stores in 21 cities across the coun­try last Wednes­day to draw atten­tion to the clos­ing of the his­toric tex­tile mill.
Dur­rant says the union tar­get­ed REI because many of their prod­ucts con­tain Polartec fab­rics, and they have a ​"rep­u­ta­tion for being super pro­gres­sive." ​"They care a lot about their employ­ees and imple­ment a lot of pro­grams geared toward their employ­ees. They also have a respon­si­bil­i­ty in look­ing out for Polartec workers."
Polartec, best known for invent­ing polar fleece, pro­vides mate­ri­als for com­pa­nies like Patag­o­nia, The North Face and LL Bean, as well as the U.S. mil­i­tary. The com­pa­ny has oper­at­ed the fac­to­ry since 1906. Once a thriv­ing fac­to­ry town, Lawrence has seen numer­ous fac­to­ries close in the last few decades as domes­tic man­u­fac­tur­ing has left in search of cheap­er labor mar­kets in the South and over­seas. The town has a vibrant his­to­ry of labor mil­i­tan­cy: In 1912, dur­ing the ​"Bread and Ros­es Strike," tens of thou­sands of work­ers, who spoke over 20 dif­fer­ent lan­guages and worked at near­ly every tex­tile mill in Lawrence, suc­cess­ful­ly struck to protest management's response to local laws that sought to reduce the num­ber of hours they were able to work.
The clos­ing of the Polartec fac­to­ry comes as a sur­prise to the 350 work­ers at the mill, who are rep­re­sent­ed by UNITE HERE's Local 311. Many of the work­ers have been at Polartec for decades. They say that busi­ness — in spite of what man­age­ment has sug­gest­ed—seems to be going well.
In a state­ment pro­vid­ed to In These Times, Polartec claims that at its busiest, it was only ever able to use 25 per­cent of the Lawrence facil­i­ty. ​"The intend­ed change in Polartec's man­u­fac­tur­ing is the result of glob­al mar­ket­ing pres­sures, cus­tomer needs, and an over­large facil­i­ty in Lawrence that can­not be made to sup­port Polartec's pro­duc­tion needs."
The work­ers, on the oth­er hand, claim to be busy at work, strug­gling at times to keep up with their workloads.
Until recent­ly, work­ers say their rela­tion­ship with man­age­ment was good. Aaron Feuer­stein, who owned Malden Mills (the com­pa­ny that was lat­er renamed Polartec) until 2007, treat­ed his work­ers fair­ly and val­ued them high­ly, they say. For the own­er of a suc­cess­ful com­pa­ny, he has led a rel­a­tive­ly mod­est life. He owned a five-room con­do­mini­um where he lived with his wife while he ran Malden Mills. He now lives with two of his grand­chil­dren, ful­fill­ing a promise he made to his wife before she died in 2013 that he wouldn't ever live alone.
In late 1995, when the mill burned down in a fac­to­ry fire, Feuer­stein rather than tak­ing his $300 mil­lion insur­ance pay­out and retire, he would rebuild the fac­to­ry. He kept all of his employ­ees on pay­roll for 60 days and gave them Christ­mas bonus­es. Rather than fol­low the tex­tile indus­try out of Lawrence, Feuer­stein kept a his­toric tex­tile mill running.
Tony Melo, who has worked at Polartec for 31 years, tells In These Times, ​"A lot of peo­ple vol­un­teered to go there and help clean the ash­es and move things out of the way, … ​'cause we want­ed to get this place going again." Of Feuer­stein, he said, ​"I don't think there's no more peo­ple with a heart like that."
Unfor­tu­nate­ly, Malden Mills was nev­er able to ful­ly recov­er from the fire. Sad­dled with debt that it was ulti­mate­ly unable to pay off, Feuer­stein sold the com­pa­ny out of bank­rupt­cy in 2007 to Ver­sa Cap­i­tal Man­age­ment, a ven­ture cap­i­tal firm spe­cial­iz­ing in ​"restruc­tur­ings and turn­around" and ​"reor­ga­ni­za­tions and liq­ui­da­tions." They changed the name of the com­pa­ny from Malden Mills to Polartec in an attempt to spruce up the company's image.
In 2012, Ver­sa thought it had suc­cess­ful­ly revi­tal­ized the com­pa­ny. They put out a pro­mo­tion­al video, like­ly as part of an attempt to sell Polartec. (Since they acquired Polartec, they've tried to sell the com­pa­ny twice, both times unsuc­cess­ful­ly.) They claimed to have breathed ​"new life into Polartec," result­ing in ​"a trans­for­ma­tion that saved jobs and a town."
Ver­sa and Polartec are now look­ing to close the company's flag­ship pro­duc­tion facil­i­ty and move to a marked­ly small­er facil­i­ty in Ten­nessee, a right-to-work state. (Mass­a­chu­setts is not.) In a let­ter to employ­ees dat­ed Jan­u­ary 13, Polartec CEO Gary Smith wrote, ​"We've made our fab­ric in a loca­tion too far removed from where our cus­tomers actu­al­ly con­sume it, and in a mill that was gross­ly over­built from the day it re-opened twen­ty years ago."
While the fab­ric is pro­duced domes­ti­cal­ly, Polartec claims that their largest cus­tomers most­ly cut and sew their prod­ucts abroad. But a union staffer says she doesn't under­stand the company's rationale.
"If a major part of the deci­sion to move was due to ​'bur­den of long tran­sit times, ship­ping costs, import duties, and expo­sure to for­eign cur­ren­cy fluc­tu­a­tions,' how will con­sol­i­dat­ing into NH and TN help mat­ters?" asks UNITE HERE spokesper­son Meghan Cohorst.
Polartec also oper­ates a facil­i­ty in Chi­na, which in the 2012 video is referred to as a ​"man­u­fac­tur­ing part­ner." Work­ers spec­u­late that Polartec will keep the pro­duc­tion of goods relat­ed to gov­ern­ment con­tracts, which must be pro­duced domes­ti­cal­ly, in the Unit­ed States while mov­ing pro­duc­tion for its con­sumer goods overseas.
The work­ers who spoke to In These Times empha­sized that Polartec is a great place to work. ​"You get com­fort­able with the place you work," Melo told In These Times. ​"It becomes like a fam­i­ly." Many of the work­ers have been there for decades.
Greg Guz­man, who's worked at Polartec for 11 years and sup­ports a fam­i­ly of six, stressed the skilled nature of work at the plant: ​"With the qual­i­ty of mate­r­i­al we got here, … you have to get trained. … These guys know what they're doing, they've been here for­ev­er. … The peo­ple here in our Lawrence plant def­i­nite­ly have bet­ter qual­i­ty and style of work­ing than you would find in our oth­er plants."
"If the mill clos­es, there's rumors going around that we're sup­posed to be pro­vid­ed with train­ing and some help get­ting jobs and all that," Guz­man said. ​"But hon­est­ly that doesn't mat­ter because a lot of us are going to the unem­ploy­ment lines."
As part of their orga­niz­ing strat­e­gy, UNITE HERE is reach­ing out to orga­ni­za­tions that are invest­ed in Ver­sa, like­ly in hopes of ask­ing them to help keep the Lawrence fac­to­ry open. The Penn­syl­va­nia Pub­lic School Employ­ees Retire­ment Sys­tem, which man­ages Pennsylvania's school employ­ees pen­sion funds, has $375 mil­lion invest­ed in Ver­sa Cap­i­tal. The Col­orado Pub­lic Employ­ee Retire­ment Sys­tem also has $50 mil­lion in the fund.
It's not unheard of for these sorts of funds to move their mon­ey away from cor­po­ra­tions deemed irre­spon­si­ble invest­ments: In the wake of the New­town shoot­ings, the Cal­i­for­nia Pub­lic Employ­ees Retire­ment Sys­tem (Calpers) sold its stakes in two gun man­u­fac­tur­ing com­pa­nies, includ­ing the com­pa­ny that pro­duced the Bush­mas­ter assault rifle used by Adam Lan­za, the New­town shooter.
UNITE HERE has also begun to reach out to some of Polartec's largest cus­tomers. These com­pa­nies — Patag­o­nia, North Face, LL Bean — pride them­selves on what they claim is eth­i­cal sourc­ing, envi­ron­men­tal friend­li­ness and sound labor prac­tices. Polartec pro­duces many of its mate­ri­als from recy­cled plas­tic, a major sell­ing point for many of its eco-mind­ed cus­tomers. The process is com­plex, and could be dif­fi­cult to repli­cate at anoth­er facil­i­ty — a fact the union hopes will add pres­sure to keep the fac­to­ry in Lawrence.
Work­ers like those at Polartec are affect­ed most by fac­to­ry clo­sures in search of cheap­er wages and a more docile work­force. The Lawrence work­ers say they are ready to push back in order to keep what they have.
"We need to help each oth­er, we need to show that we care, we need to keep push­ing," says Melo. ​"One way or anoth­er, we've got­ta give them a black eye."
Alex Lubben
is the for­mer Deputy Pub­lish­er at In These Times and is cur­rent­ly a free­lance jour­nal­ist in New York. You can fol­low him on Twit­ter at @alexlubben.