Hawai'i's Managed Retreat Proposal Offers an Early Model for Relocation—At a Cost
As seas rise, middle- and working-class Hawaiians worry they'll be forced out of their homes, while the rich rebuild.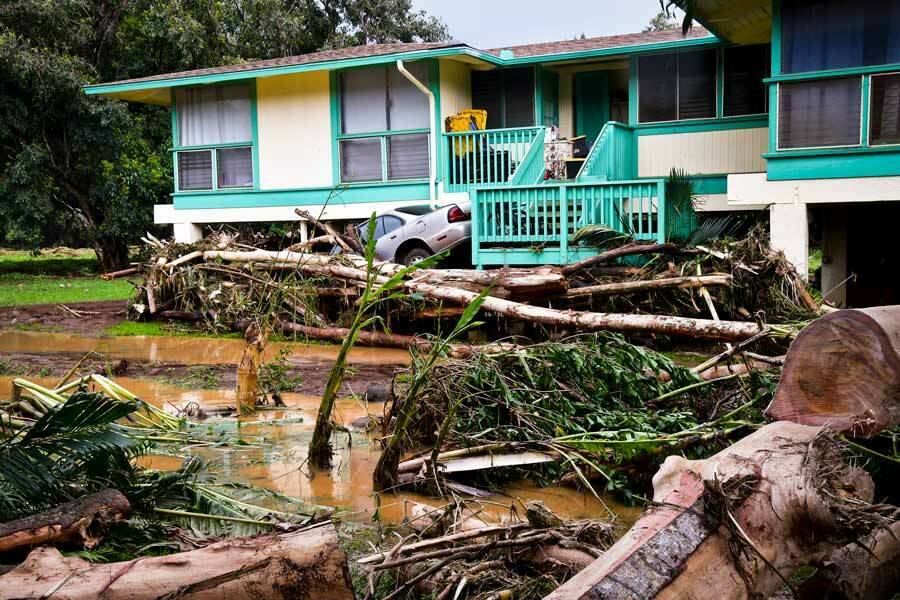 On April 15, 2018, near­ly 50 inch­es of rain fell on Hanalei, a small town on the north shore of Kauai, Hawai'i, the heav­i­est 24-hour rain­fall in U.S. his­to­ry. It caused a his­toric flood that strand­ed hun­dreds in evac­u­a­tion cen­ters as water seeped into the foun­da­tions of beach­front prop­er­ties and mul­ti­mil­lion-dol­lar homes plum­met­ed into the ocean.
Hawaiians are deeply attached to their coastal homes, and being forced to abandon them is a difficult prospect.
The peo­ple who live in Hanalei are gen­er­al­ly wealthy enough to rebuild far­ther inland, but the peo­ple who trav­el to work in the town — like ser­vice indus­try work­ers — were cut off. For months, a one-lane road open only to res­i­dents and non­govern­men­tal work­ers was the sole way in and out of town, caus­ing mas­sive back­ups. Tourists were turned away, dev­as­tat­ing many local busi­ness­es that rely on tourism.
That storm, and the fact that most Hawai­ians live along the coast of the low-lying islands, have sparked a statewide reck­on­ing with cli­mate change. Hawai­ians are being forced to decide whether to rebuild in place or aban­don their shorelines.
"In the last 48 years I've been here, [I thought the land these homes were built on was] part of the earth," says Joel Guy, pres­i­dent of the Hanalei-to-Ha'ena Com­mu­ni­ty Asso­ci­a­tion. ​"And now you're like, whoa, that was just a sand­bar that got wiped out by this mas­sive flood."
Accord­ing to a 2017 report by the Hawai'i Cli­mate Change Mit­i­ga­tion and Adap­ta­tion Com­mis­sion, more than 6,500 struc­tures are at risk of being under­wa­ter by the end of the cen­tu­ry, assum­ing a fair­ly con­ser­v­a­tive esti­mate of only a 3.2‑foot rise in sea levels.
In Feb­ru­ary, the Hawai­ian Office of Plan­ning, Coastal Zone Man­age­ment Pro­gram released a report on ​"man­aged retreat," a grow­ing, yet con­tro­ver­sial, response to cli­mate change that asks what cir­cum­stances should prompt an orga­nized aban­don­ment of the coast, parts of which will soon be unin­hab­it­able. Cur­rent­ly, the most com­mon way to mit­i­gate ris­ing tides is to for­ti­fy the coast­line with seawalls.
Both sea­walls and retreat­ing inland have sig­nif­i­cant draw­backs. Putting up sea­walls can erode the state's beach­es into nonex­is­tence, and because beach­es are a pub­lic buffer between the coast and pri­vate homes, their ero­sion means less pub­lic space. Beach­es are a point of pride for res­i­dents, too, and a draw for the tourists who dri­ve the state's econ­o­my. But Hawai­ians are also deeply attached to their coastal homes, and being forced to aban­don them is a dif­fi­cult prospect.
Hawai­ian offi­cials are now wrestling to define what, exact­ly, a just ver­sion of man­aged retreat might look like. The state attor­ney gen­er­al reaf­firmed the opin­ion that, as the seas rise, any pri­vate land that falls beneath the tides becomes pub­lic, essen­tial­ly dep­u­tiz­ing the ocean to expro­pri­ate pri­vate prop­er­ty and forc­ing pri­vate landown­ers to give more seri­ous con­sid­er­a­tion to relo­cat­ing soon­er than lat­er. Draw­ing on a small but grow­ing num­ber of aca­d­e­m­ic stud­ies, the Feb­ru­ary report not­ed that man­aged retreat has a high­er like­li­hood of actu­al­ly hap­pen­ing if it's done demo­c­ra­t­i­cal­ly and is ini­ti­at­ed by the com­mu­ni­ty, rather than forced upon it.
But mid­dle- and work­ing-class com­mu­ni­ties along the islands' coasts wor­ry that rich com­mu­ni­ties will con­tin­ue to be for­ti­fied with sea­walls while every­one else will be forced to move.
"Infra­struc­ture is always repaired in the wealth­i­er areas," notes Sandy Ma, the lead author of the Feb­ru­ary report. ​"There is a con­cern that man­aged retreat will be used in a way that will dis­pro­por­tion­ate­ly ben­e­fit peo­ple of means, ini­tial­ly. … We want to be sure that social jus­tice con­cerns are exam­ined and [that] cli­mate change does not fur­ther neg­a­tive­ly impact [dis­ad­van­taged communities]."
While still a large­ly unpop­u­lar solu­tion, man­aged retreat has been imple­ment­ed a hand­ful of times in the Unit­ed States. On Stat­en Island, in the after­math of Hur­ri­cane Sandy in 2013 (and in spite of then-May­or Michael Bloomberg's calls to rebuild in place), New York state bought out an entire neigh­bor­hood along the island's east­ern shore — at pre-storm home val­u­a­tions, after the com­mu­ni­ty asked the state to help them retreat from the coast.
Two native com­mu­ni­ties in the Unit­ed States won fed­er­al grant mon­ey in 2016 to allow them to buy new land and move their entire com­mu­ni­ties inland: One is relo­cat­ing from Isle de Jean Charles, La., a small island that has lost 98 per­cent of its land in the last 60 years; the oth­er is a coastal vil­lage in New­tok, Alas­ka, which had been try­ing to fund a relo­ca­tion since 1994.
Per­haps nowhere in the coun­try is local gov­ern­ment tak­ing retreat as seri­ous­ly as in Hawai'i. One pro­pos­al, cur­rent­ly stalled in the state leg­is­la­ture, would help home­own­ers along the coast refi­nance mort­gages on new inland prop­er­ty. Anoth­er pro­pos­al pro­motes retreat where fea­si­ble, and iden­ti­fies high­er ground to cre­ate new pub­lic developments.
Still, Hawai­ians aren't con­vinced retreat is wise. ​"Don't man­age a retreat; man­age ocean­front preser­va­tion," says Richard Ster­man, who lives on Oahu's north shore. Though Ster­man recent­ly lost 10 feet of his yard to encroach­ing seas, he argues that for­ti­fi­ca­tion can pre­vent dam­age and keep him in place.
"I say, make a stand at the sand dune," he added.
Unfor­tu­nate­ly, as the seas rise, that may not be an option for much longer.
Alex Lubben
is the for­mer Deputy Pub­lish­er at In These Times and is cur­rent­ly a free­lance jour­nal­ist in New York. You can fol­low him on Twit­ter at @alexlubben.