How Portland Occupiers Shut Down ICE
Protesters kept the facility closed for 10 days. Although federal police reopened it June 28, occupiers say, "The camp is not going anywhere."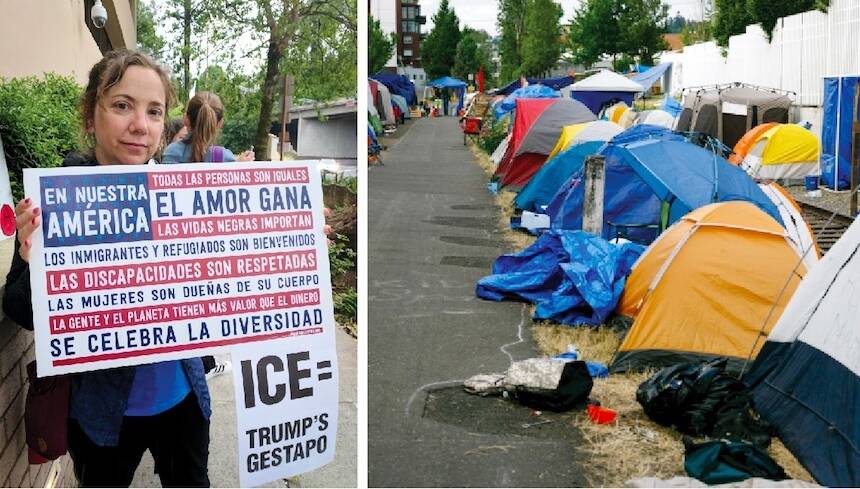 PORT­LAND, ORE.—Ali King, 48, is stand­ing out­side Portland's Immi­gra­tion and Cus­toms Enforce­ment (ICE) facil­i­ty with a protest sign for the fourth day in a row. She's pres­i­dent of Nasty Women Get Shit Done, a local resis­tance group that sprung up after Trump's elec­tion. ​"We can't tol­er­ate ICE," she says. ​"It's kid­nap­ping children."
The occupation began spontaneously after a half-dozen people who attended a Father's Day protest at the ICE building camped overnight.
King and her eldest daugh­ter are lend­ing sup­port to hun­dreds of pro­test­ers who've band­ed togeth­er as #Occu­py­I­CEPDX and shut down the ICE facil­i­ty since June 18, in one of the most suc­cess­ful protests against Trump's fam­i­ly sep­a­ra­tion policy.
The occu­pa­tion began spon­ta­neous­ly after a half-dozen peo­ple who attend­ed a Father's Day protest at the ICE build­ing camped overnight. By the next day, dozens had arrived, and about 20 pro­test­ers peace­ful­ly blocked the vehi­cles of ICE employ­ees as they left work.
Three Depart­ment of Home­land Secu­ri­ty (DHS) offi­cers threat­ened to arrest any­one who blocked cars. Apart from a lone arrest the next day, the threat turned out to be a bluff.
Port­land police could have swept pro­test­ers aside eas­i­ly, as they did dur­ing an ICE protest in Octo­ber 2017, except they were nowhere to be seen. May­or Ted Wheel­er tweet­ed he didn't want to see police ​"sucked into a con­flict." He called the sep­a­ra­tion pol­i­cy an ​"abom­i­na­tion" and indig­nant­ly cit­ed Trump admin­is­tra­tion threats to arrest may­ors of sanc­tu­ary cities like Port­land. In a con­ver­sa­tion wit­nessed by reporter Jason Wil­son, senior may­oral advi­sor Berk Nel­son told two police offi­cers that if police were seen pro­tect­ing ICE employ­ees, ​"then all of a sud­den we're com­plic­it in baby killing."
On the third day of the occu­pa­tion, a dozen DHS offi­cers in riot gear escort­ed more than 20 ICE employ­ees out of the build­ing into wait­ing vans. The facil­i­ty had been shut down.
With­in a week, a mini-soci­ety blos­somed out­side. More than 50 tents sprung up, along with a kitchen, child-care cen­ter, first-aid tent, pantry with every­thing from baby food to men­stru­al prod­ucts, and out­door liv­ing room that hosts Shab­bat rit­u­als. This being Port­land, a piz­za own­er hand-deliv­ered sev­en pies, and one evening, an acclaimed South­ern-style restau­rant served roast­ed game hens.
It could be Occu­py Wall Street. Except, as local orga­niz­er Nick Neu­mann, 39, says, ​"It feels a lot more strate­gic. There are a lot more Black and brown peo­ple. We know who the wack-a-doo­dles are. A lot of peo­ple are new­ly con­cerned because of the pol­i­cy of sep­a­ra­tion, and this is a space for radicalization."
When Ali King is asked about crit­i­cism that lib­er­als didn't protest Obama's mass depor­ta­tions, King replied, ​"It's true. It was white priv­i­lege. Things were going well for us and we got com­pla­cent." Nasty Women Get Shit Done, which draws more than 100 peo­ple at its meet­ings, ​"encour­ages mem­bers to go out and do things. Don't just post on Face­book." King's sign includes a fly­er that reads, ​"ICE = Trump's Gestapo."
Some of the more rad­i­cal occu­piers believe the pres­ence of peo­ple like King helped deter arrests. They joke, ​"The lib­er­als are our human shields." They could be talk­ing about two reg­is­tered nurs­es in their 60s hang­ing out with youth garbed in punk-casu­al: black tees, torn shorts, pierc­ings, tats. One of the nurs­es says, ​"The Unit­ed States is cul­pa­ble for what is going on in these coun­tries" and men­tions Hillary Clinton's role in the U.S.-backed coup in Honduras.
On June 28, after the facil­i­ty had been shut down for 10 days, dozens of DHS police swooped in short­ly after dawn and cleared the front entrance of the ICE build­ing of pro­test­ers, arrest­ing eight peo­ple, sev­en of whom were charged with mis­de­meanors. While DHS police reopened the facil­i­ty, it took them more than a day to clear pro­test­ers from a road along­side the build­ing because of lim­its to their juris­dic­tion. That night, about 400 peo­ple gath­ered for a vig­il, and dozens stayed in the streets all night, peace­ful­ly fac­ing off against police.
Occu­piers say civil­ian vehi­cles returned to the ICE facil­i­ty on Fri­day. The Occu­py camp remained, as it sits on land con­trolled by local and state gov­ern­ment agen­cies. Luis Mar­quez, who has been with #Occu­py­I­CEPDX since it began, says, ​"The camp is not going any­where. We are here." There was no indi­ca­tion that vans and bus­es used for detain­ing and trans­port­ing arrest­ed immi­grants were in oper­a­tion, and calls to ICE for com­ment had not been returned as of press time.
Portland's exam­ple has spread to oth­er cities, with pro­test­ers occu­py­ing, blockad­ing and camp­ing out­side ICE offices in New York, Los Ange­les, Chica­go, Detroit and Tacoma.
Ruben Lopez, 40, a con­struc­tion work­er and pro­fes­sion­al pho­tog­ra­ph­er, chanced upon a sol­i­dar­i­ty ral­ly at City Hall.
Lopez came over undoc­u­ment­ed with his moth­er from Guatemala City at age 12. He says the pho­tographs of chil­dren in cages threw him back to the time he was detained in a boy's home in Guatemala, where he would cry him­self to sleep. Thick as a line­backer and sport­ing a head tat­too that reads, ​"Trust no one," Lopez says the pho­tos made him feel ​"help­less."
On the edge of the City Hall protest, Lopez shoots black-and-white pho­tos. ​"A lot of His­pan­ic peo­ple have faced racism by white peo­ple," he says. ​"Nine­ty-five per­cent of the peo­ple here are white, and I want­ed to doc­u­ment this. I want­ed to show, ​'Here's white peo­ple fight­ing for our kids.' "