"We've Broken the Planet": A Case for Liberation Ecology and the Rights of Nature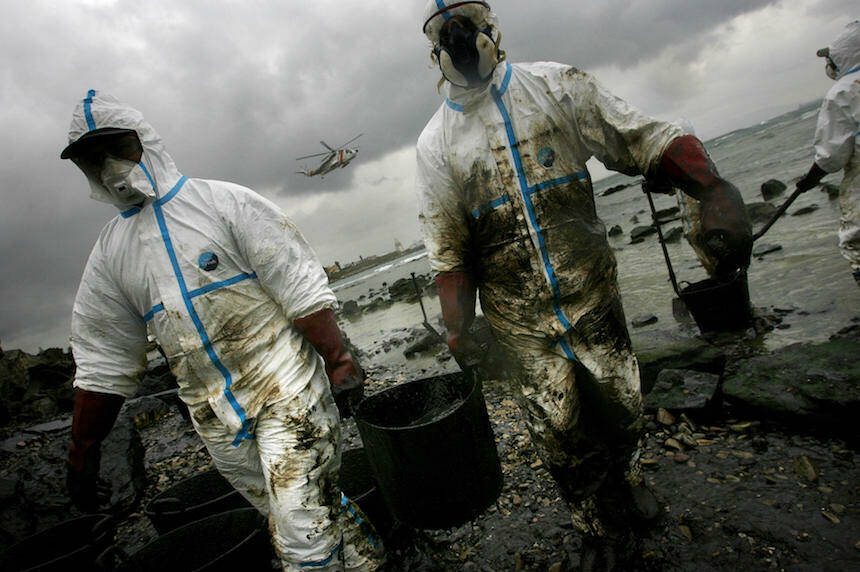 "And then, we wept."
Such were the words of Pro­fes­sor Ter­ry Hugh­es, the head of the Cen­tre of Excel­lence for Coral Reef Stud­ies at James Cook Uni­ver­si­ty in Queens­land, Aus­tralia. Hugh­es was respond­ing to the Centre's recent find­ings that over 90 per­cent of the Great Bar­ri­er Reef is expe­ri­enc­ing bleach­ing, and that north­ern por­tions of the reef are now half-dead.
The Great Bar­ri­er Reef isn't the first ocean ecosys­tem to be hit by the effects of glob­al warm­ing, of course — mass coral death around the Pacif­ic island nation of Kiri­bati was report­ed ear­li­er in 2016, and new stud­ies con­firm that these are part of a mas­sive ocean die-off of coral.
Those sur­prised at the results of these stud­ies — which doc­u­ment the ongo­ing demise of the planet's major ecosys­tems — sim­ply haven't been pay­ing attention.
Even to the most casu­al of observers, it has become clear that our lit­tle blue orb has suf­fered long and hard from the effects of human occu­pa­tion. What's sur­pris­ing isn't that we're now see­ing the effects of that occu­pa­tion, but that the plan­et has been able to bear it for so long.
In the Unit­ed States alone, 4 bil­lion pounds of tox­ic chem­i­cals — includ­ing 72 mil­lion pounds of known car­cino­gens — are released into the atmos­phere each year from 20,000 indus­tri­al pol­luters. On top of that 2 tril­lion pounds of live­stock waste — laced with antibi­otics, hor­mones, and chem­i­cals — are dumped into water­ways and applied to land. Not to men­tion the 11 mil­lion cit­i­zens who live with­in one mile of a fed­er­al Super­fund site. Cur­rent­ly, 80,000 indus­tri­al chem­i­cals are in use, with more than 700 of those chem­i­cals now found with­in every human body. Each year, 1,800 new chem­i­cals are intro­duced annually.
If any­thing could sur­prise us at this point, per­haps it's learn­ing that over 40 years after the major U.S. envi­ron­men­tal laws were passed, the envi­ron­ment is worse than ever. Take our water­ways, 40 pecent fail to meet the most basic stan­dards imposed by fed­er­al and state clean water laws. And 90 per­cent of the country's forests have been logged, and half of all ani­mal species on earth have been dri­ven to extinction.
We've bro­ken the planet.
And there's far more on the hori­zon. Today a grow­ing num­ber of cli­mate sci­en­tists agree that pre­dic­tions about the worst effects of glob­al warm­ing now appear to be down­right optimistic.
The arro­gance of the human race — that we can con­tin­ue to exhaust the plan­et that gives us life while avoid­ing any adverse con­se­quences to our own sur­vival — lies at the base of our cur­rent tragedy. The belief that end­less eco­nom­ic growth is not only pos­si­ble, but nec­es­sary for our dai­ly lives, serves as the under­ly­ing plat­form for the legal and eco­nom­ic sys­tems that are dri­ving the world off the cliff.
To be clear, clearcut­ting, pol­lu­tion, frack­ing, and the like aren't what's killing the plan­et. Rather, it's the man­ic belief sys­tem that we can do those things with­out reper­cus­sion, that some­how the human race has been ele­vat­ed above the basic laws of nature. It's delu­sion of the high­est order, and like Icarus melt­ing his wax wings by fly­ing too close to the sun, we too have begun to plum­met to the ground.
Wait­ing for Godot
We do not have the lux­u­ry of wait­ing for pre­vail­ing belief sys­tems to change to final­ly affect the deci­sion mak­ing of those cur­rent­ly in pow­er. Rather, says Mary Geddry, ​"We must revoke our con­sent to be gov­erned."
Geddry, a com­mu­ni­ty leader in Coos Bay, Ore., is work­ing to stop a pro­posed new gas pipeline from com­ing into her com­mu­ni­ty. She explains that to effect real change, we must replace our per­mis­sion for oth­ers to gov­ern us by assum­ing the man­tle of gov­ern­ing ourselves.
Peo­ple like Geddry are call­ing for the emer­gence of a time sim­i­lar to that when Amer­i­cans seized con­trol of the colonies from Great Britain; when slaves rose in Haiti; when abo­li­tion­ists and slaves broke their man­a­cles in Britain and the Unit­ed States; when suf­frag­ists forced their way into the bal­lot box; when farm­ers joined togeth­er in the late 1800s to chal­lenge the banks and the rail­road cor­po­ra­tions; and when civ­il rights pro­test­ers dared to march.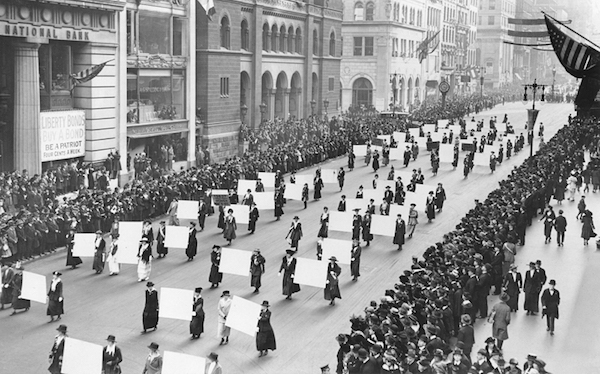 Suf­frag­ists parade down fifth avenue in 1917. (Pho­to: New York Times archive)
Over the past one hun­dred years or so, our ​"con­sent to be gov­erned" by oth­ers has turned us into rub­ber­stamps for an unholy alliance of pro­fes­sion­als — life­time politi­cians, large cor­po­ra­tions, and a small elite of pol­i­cy-mak­ers who prof­it from con­trol over pol­i­tics, the econ­o­my, and our sys­tem of law.
Our ​"con­sent" has been turned into such a mock­ery that we've come to believe that we're inca­pable of gov­ern­ing our­selves. Indeed, we believe that we would be lost with­out those pro­fes­sion­als man­ag­ing our com­plex polit­i­cal, eco­nom­ic, and legal systems.
That belief in our own depen­den­cy makes us vul­ner­a­ble to manip­u­la­tion. That belief makes it easy to present us with super­fi­cial choic­es that aren't choic­es at all. And yet we earnest­ly believe that we're decid­ing for our­selves. It's as if the choice between paper ver­sus plas­tic at the gro­cery store has invad­ed all facets of our life. Instead of being in charge, we're increas­ing­ly divorced from being able to make real deci­sions that actu­al­ly mat­ter to our survival.
It is a farce to call any of this democracy.
The first step, the hard­est one of all to take, is to cleanse our brains of all that we've been fed — like mush­rooms in the dark that have been fer­til­ized with shit — and under­stand that not only are we the best qual­i­fied to make deci­sions about the future, but that we're the only ones who can.
In short, we must begin to believe that we're not only capa­ble of seiz­ing the pow­er to make crit­i­cal deci­sions about the future, but that we would make them bet­ter than those cur­rent­ly in charge.
Revers­ing course to save ourselves
Begin­ning near­ly a decade ago, the peo­ple of Tamaqua Bor­ough, Penn., a small enclave of 7,000 peo­ple in the rur­al Schuylkill area part of the state, began to believe.
Faced with a state plan to dump PCB-laden riv­er dredge into aban­doned deep mines, along with a slew of oth­er projects that over the last cen­tu­ry have turned parts of their coun­ty into can­cer clus­ters, the peo­ple of Tamaqua gave up hope. They gave up hope that state and fed­er­al envi­ron­men­tal agen­cies would pro­tect them, or that their state gov­ern­ment was work­ing on their behalf. They gave up hope that the unholy alliance of those who gov­erned them actu­al­ly cared about what hap­pened to the peo­ple and nat­ur­al envi­ron­ment of Tamaqua.
The peo­ple in Tamaqua then pro­ceed­ed to do what peo­ple and com­mu­ni­ties have his­tor­i­cal­ly done when they've come to grips with the fail­ure of their own gov­ern­ment to help them — they revoked their con­sent to be gov­erned and took steps to gov­ern themselves.
Their first step was to adopt a law that banned the dump­ing of PCB dredge. The law con­tained a local bill of rights, which includ­ed a right to clean air and water. Fur­ther, it reaf­firmed their right to gov­ern them­selves as a com­mu­ni­ty, and ele­vat­ed that right above the rights claimed by waste cor­po­ra­tions and the state gov­ern­ment to force tox­ic dredge into their community.
Seiz­ing pow­ers that the cur­rent sys­tem of law denies that they have, the peo­ple of Tamaqua under­stood that if they didn't exer­cise those pow­ers, that they were guar­an­teed to receive the dredge. They fur­ther under­stood that only by dri­ving their own munic­i­pal­i­ty up against both the cor­po­ra­tions and the state gov­ern­ment — in a giant game of chick­en — did they stand any chance of not becom­ing a dump­ing ground again.
That was light­ning in a bot­tle by itself.
But they didn't stop there. Under­stand­ing that pro­tect­ing the peo­ple of Tamaqua required pro­tect­ing the nat­ur­al envi­ron­ment upon which the human race depends, they adopt­ed a law that rec­og­nized ecosys­tems with­in the Bor­ough — ground­wa­ter, streams, and rivers specif­i­cal­ly — as hav­ing legal­ly enforce­able, inde­pen­dent rights to be free from tox­ic dredge.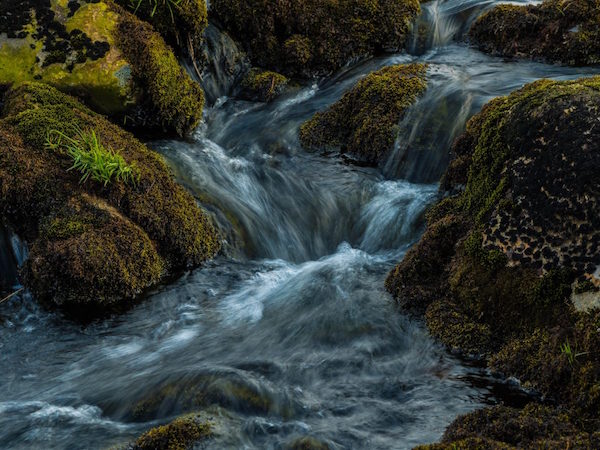 "Riv­er" by Enrique Com­ba Riepen­hausen. (Pho­to: Flickr Cre­ative Commons)
Their law open­ly and direct­ly refut­ed one of the most fun­da­men­tal rules of the sys­tem that has brought us to this place — that nature has no rights of its own—such that ecosys­tems can be used and exploit­ed by whomev­er owns them, or by whomev­er holds a per­mit to pol­lute them.
Sev­er­al years after Tamaqua adopt­ed its law, the peo­ple of Ecuador would arrive at a sim­i­lar con­clu­sion — vot­ing to adopt a new nation­al con­sti­tu­tion that rec­og­nized that all ecosys­tems in Ecuador must be afford­ed basic rights — the right to exist, flour­ish, and nat­u­ral­ly evolve.
The first case to be brought in Ecuador under those con­sti­tu­tion­al pro­vi­sions—Vil­cabam­ba Riv­er v. the Province of Loja—result­ed in a rul­ing uphold­ing the con­sti­tu­tion­al rights of the riv­er to flow, against a local government's dump­ing of road debris into the riv­er. Since then, the con­sti­tu­tion­al rights of nature have been invoked in sev­er­al cas­es, includ­ing by the nation­al gov­ern­ment itself in actions aimed at stop­ping ille­gal gold mining.
The rights of nature — lib­er­a­tion ecology
In the 1950s, a new strain of Catholi­cism arose against dic­ta­to­r­i­al gov­ern­ments and severe pover­ty in Latin Amer­i­ca. Called ​"lib­er­a­tion the­ol­o­gy," priests cast Jesus as a polit­i­cal fig­ure and rev­o­lu­tion­ary who sought to free the poor from an oppres­sive gov­ern­men­tal elite. Priests decen­tral­ized the prac­tice of Chris­tian­i­ty, trans­form­ing dis­en­fran­chised com­mu­ni­ties from being the object of church teach­ing to becom­ing direct inter­preters of the Bible and design­ers of their own wor­ship services.
Lib­er­a­tion the­ol­o­gy became a threat to the church by cri­tiquing the eco­nom­ic and social struc­tures on which the church struc­ture relied. In response, the Vat­i­can ordered purges of Catholic priests to sup­press the doctrine.
The com­mu­ni­ty rights move­ment emerg­ing in the Unit­ed States has much in com­mon with the major themes of lib­er­a­tion the­ol­o­gy, in that it seeks to decen­tral­ize deci­sion mak­ing author­i­ty to mar­gin­al­ized com­mu­ni­ties, and posits that the high­est role of the law is the pro­tec­tion of human and nat­ur­al com­mu­ni­ties, rather than pro­tec­tion of the rul­ing elite.
Its cri­tique is much the same — that an unholy alliance of gov­ern­men­tal and cor­po­rate elites prey on com­mu­ni­ties, and peo­ple have no choice but to sub­mit to frack­ing and oth­er cor­po­rate projects, thus allow­ing the elite to expand their pow­er over peo­ple and nature.
While ​"lib­er­a­tion ecol­o­gy" has been used in the past to describe the author­i­ty of human com­mu­ni­ties to serve as good stew­ards of the plan­et, it must go fur­ther — towards an expan­sion of com­mu­ni­ty law­mak­ing which rec­og­nizes nature not as prop­er­ty to be well-used and con­served by humans, but as pos­sess­ing the high­est rights pro­tec­tions capa­ble of being afford­ed by our sys­tem of governance.
With­out a true lib­er­a­tion ecol­o­gy activism — in which com­mu­ni­ty demo­c­ra­t­ic author­i­ty is expand­ed to enable peo­ple to ban that which harms human and nat­ur­al com­mu­ni­ties, and to begin to con­struct a new sys­tem which affords those com­mu­ni­ties the high­est pro­tec­tions of the law — depen­dence on the old order will guar­an­tee the destruc­tion of the plan­et continues.
The way forward
Whether it's bleach­ing of the Great Bar­ri­er Reef in Aus­tralia, the slow death of Lake Erie and the Chesa­peake Bay in the Unit­ed States, dis­ap­pear­ing glac­i­ers around the globe, or an ice-free Himalaya, peo­ple that are part of those van­ish­ing ecosys­tems must act to har­ness their own gov­ern­men­tal pow­er to pro­tect them.
Peo­ple in Tole­do and oth­er Ohio munic­i­pal­i­ties must adopt a Lake Erie Bill of Rights; Australia's cities, local coun­cils, shires, and dis­trict coun­cils must adopt a Great Bar­ri­er Reef Bill of Rights; munic­i­pal­i­ties bor­der­ing the Chesa­peake Bay must adopt a Chesa­peake Bay Bill of Rights; local gov­ern­ments in Nepal must adopt a Himalayan Bill of Rights.
As in Ecuador, peo­ple in those places — with the help of those with resources who care about the plan­et — must step into the shoes of those ocean, estu­ary, bay, moun­tain, and oth­er ecosys­tems to use every judi­cial, leg­isla­tive, and oth­er insti­tu­tion in exis­tence to stop that which threat­ens them.
Pre­cise­ly because the health and well-being of those ecosys­tems are depen­dent upon a plan­e­tary cli­mate which can sup­port them, ecosys­tem rights must also then be enforced against those actors — both pri­vate and gov­ern­men­tal — who are vio­lat­ing those rights by caus­ing glob­al warm­ing. That may mean direct­ly chal­leng­ing inter­na­tion­al norms — by pro­vid­ing for juris­dic­tion of those law­suits in com­mu­ni­ty ​"cli­mate courts" estab­lished for exact­ly that purpose.
In response to frack­ing, new gas pipelines, and a slew of ener­gy projects, com­mu­ni­ties across the Unit­ed States have begun to adopt local laws that rec­og­nize a right to, and a right of, the cli­mate to be free from fos­sil fuel emis­sions. Those laws must then be used to dri­ve law­suits and new laws that begin to reverse cli­mate change.
To do any­thing else means rely­ing on those who are destroy­ing the plan­et to vol­un­tar­i­ly restrain them­selves from doing so. That's akin to hop­ing that the slave own­ers of the 1840s would abol­ish slav­ery on their own, or that Wool­worths would vol­un­tar­i­ly deseg­re­gate its lunch counters.
As Kiri­bati and oth­er small island nations sink into the sea, as the die-off of land and ocean species accel­er­ates, we must ask what actions should be deemed too rad­i­cal to rem­e­dy the rad­i­cal dam­age that is being done to the plan­et and our­selves. Past people's move­ments were forced to ask sim­i­lar ques­tions, and sim­i­lar­ly, were forced to admit that the insti­tu­tions which cre­at­ed and depend­ed on the exist­ing sys­tem were inca­pable and unin­ter­est­ed in extract­ing them from it.
They built mass move­ments to change the exist­ing order. It's time we do the same.