The Worst Long-Term Unemployment Crisis in 80 Years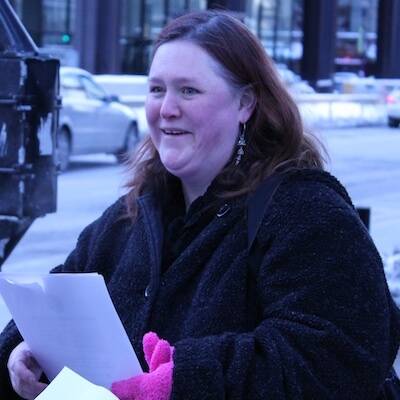 Kim Brown says that when she was laid off from her job in Novem­ber 2011 doing cus­tomer ser­vice at an elec­tric com­pa­ny in Chica­go, she wasn't too upset. ​"I thought this would be a chance for me to get a bet­ter job," says Brown, who is in her late-40s and has a col­lege degree in cre­ative writ­ing. ​"I was kind of try­ing to switch careers, maybe work for a non-prof­it or do polit­i­cal organizing."
But Brown soon dis­cov­ered that she was mired in a ter­ri­ble labor mar­ket. She got a few call backs from employ­ers in her first six months out of work, but then the calls stopped. She tried temp agen­cies, but staffing agents told her, ​"You're going to be real­ly hard for me to sell to com­pa­nies because you haven't worked in six months."
In Sep­tem­ber, Brown final­ly land­ed a job, albeit a $9.25-an-hour, 30-hours-a-week gig doing admin­is­tra­tive work at the Uni­ver­si­ty of Chicago's Nation­al Opin­ion Research Cen­ter. Brown, who does vol­un­teer work at the Illi­nois chap­ter of Orga­niz­ing for Action, Pres­i­dent Barack Obama's issue advo­ca­cy arm, says a friend she met at the Oba­ma re-elec­tion cam­paign told her about the job.
Not every­one is so lucky. The num­ber of long-term unem­ployed, who the fed­er­al gov­ern­ment defines as work­ers out of a job for at least 27 weeks, is in decline. But there are still 3.6 mil­lion peo­ple that fall into this cat­e­go­ry, out of 10.2 mil­lion total peo­ple unem­ployed as of Jan­u­ary 2014. That means that the per­cent­age of the job­less who are long-term unem­ployed cur­rent­ly stands at 35.8 — a rate much high­er than in every pri­or reces­sion, dat­ing back to the Great Depression.
​"The prob­lem has gone on mas­sive­ly longer than any past reces­sion," says Chad Stone, chief econ­o­mist for the lib­er­al Cen­ter for Bud­get and Pol­i­cy Pri­or­i­ties (CBPP) in Wash­ing­ton, D.C. ​"Some of these work­ers' skills have eroded."
On Mon­day, Brown was one of a few-dozen advo­cates who braved yet anoth­er frigid win­ter day in Chica­go and dis­trib­uted fliers to passers­by down­town, urg­ing Con­gress — and par­tic­u­lar­ly U.S. Sen. Mark Kirk (R‑Ill.) — to extend emer­gency unem­ploy­ment ben­e­fits. The advo­cates includ­ed those with the Nation­al Employ­ment Law Project, a New York-based research and advo­ca­cy group, as well as reps from SEIU Health­care Illi­nois and Obama's Orga­niz­ing for Action.
Emer­gency unem­ploy­ment ben­e­fits for those who have been out of work more than 26 weeks expired Dec. 28 after time ran out on the last exten­sion by Oba­ma and Con­gress. Last Thurs­day, an Oba­ma-backed U.S. Sen­ate effort to extend ben­e­fits for three months just missed the 60-vote hur­dle to end fil­i­busters, with sen­a­tors vot­ing 59 – 41 to stop dis­cus­sion on the matter.
A three-month exten­sion was pro­ject­ed to cost $6.4 bil­lion. But it would have brought ben­e­fits — typ­i­cal­ly about half of a laid-off work­ers' for­mer salary — to at least 1.7 mil­lion Amer­i­cans, includ­ing 80,000 Illi­nois residents.
Illi­nois has the third worst unem­ploy­ment rate of any state in the coun­try. But Kirk, a self-styled mod­er­ate, did not join four oth­er GOP Sen­a­tors in vot­ing yes on the exten­sion. Though it is not clear when or if the Sen­ate will again pur­sue the mat­ter, Illi­nois labor advo­cates tar­get­ed Kirk Mon­day, plas­ter­ing his face on fliers and bom­bard­ing his D.C. office with phone calls.
​"Illi­nois in par­tic­u­lar is in need of help for the long-term unem­ployed," says Gre­go­ry Kel­ley, vice-pres­i­dent for SEIU Health­care, explain­ing why Kirk is being tar­get­ed. ​"And in the past Kirk has demon­strat­ed some will­ing­ness to be mod­er­ate," he adds, cit­ing the sen­a­tor's sup­port for last year's com­pre­hen­sive immi­gra­tion over­haul that cleared the Sen­ate in June.
Sen­a­tor Kirk's office did not return mes­sages request­ing com­ment left on Mon­day. Recit­ing a com­plaint com­mon among GOP Sen­a­tors vot­ing against the exten­sion, Kirk tweet­ed Thurs­day that, ​"I would have sup­port­ed an unem­ploy­ment ben­e­fits exten­sion if the $6.4 b cost was paid for w/​commonsense off­sets instead of polit­i­cal gimmicks."
The fil­i­bus­tered leg­is­la­tion off­sets the $6.4 bil­lion, but it does, as Kirk alludes to, rely on some­thing of a bud­getary gim­mick: a recon­fig­ur­ing of employ­ers' pen­sion pay­ments that results in high­er employ­er fed­er­al income tax pay­ments in the short run, but small­er tax rev­enues in lat­er years.
Past bills extend­ing unem­ploy­ment ben­e­fits, how­ev­er, were not quite as con­tin­gent on com­plex nego­ti­a­tions with Repub­li­cans, to become law.
As is his­tor­i­cal­ly com­mon dur­ing reces­sions, Pres­i­dent George W. Bush and Con­gress cre­at­ed an emer­gency unem­ploy­ment com­pen­sa­tion pro­gram in June 2008. The pro­gram pro­vid­ed fed­er­al­ly-fund­ed unem­ploy­ment ben­e­fits for qual­i­fied work­ers out of a job for more than 26 weeks, who are clas­si­fied by the fed­er­al gov­ern­ment as the ​"long-term unemployed."
Oba­ma and Con­gress then extend­ed the pro­gram sev­er­al times due to the per­sis­tence of the unem­ploy­ment cri­sis. Accord­ing to an Urban Insti­tute report from last year, the long-term job­less hit 45 per­cent mul­ti­ple times in 2010 and 2011.
Anoth­er Urban Insti­tute study also found that the long-term unem­ployed were often stig­ma­tized by employ­ers, and also often lost the social con­tacts need­ed to find work.
Dur­ing her bout of long-term unem­ploy­ment, Brown says that she was the vic­tim of ageism. ​"When I was 21 it was much eas­i­er to get a job because employ­ers assume they'll have to pay you more now," she says. The gen­er­al sense of despair among job-seek­ers didn't help, either. ​"They know that peo­ple are des­per­ate and they are tak­ing advan­tage of it," Brown alleges of employ­ers she has dealt with.
The CBPP's Stone says that extend­ing ben­e­fits is real­ly the only clear way to help the long-term unem­ployed, as any oth­er fed­er­al pro­gram will cost mon­ey and so also face GOP resistance.
​"There's real­ly not an easy sub­sti­tute to it," Stone says. ​"There are no quick options."
Matthew Blake
is a free­lance jour­nal­ist based in Chica­go. He has writ­ten for the
Chica­go Jour­nal, Wash­ing­ton Month­ly, Wash­ing­ton Inde­pen­dent
and
The Nation
, among oth­er publications.