Lyin' Ted Is Still Standing—But This Democrat Has a Bold Plan To Topple Him
Rep. Beto O'Rourke is aiming to topple Ted Cruz and pursue a progressive agenda in Texas.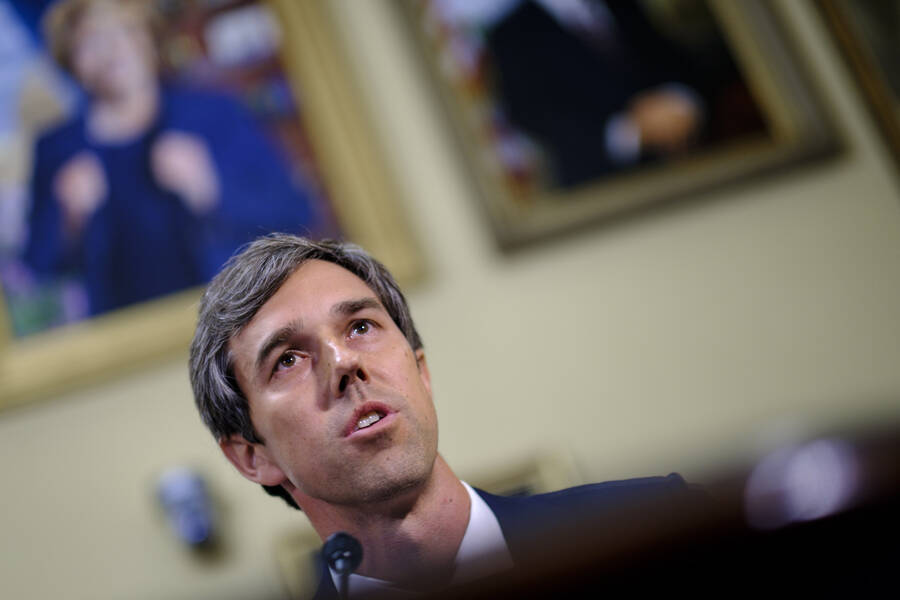 Rep. Beto O'Rourke believes he's found the way to get cor­po­rate mon­ey out of U.S. pol­i­tics: Stop tak­ing it.
You don't trim your sails, you don't tack to the mythical middle that doesn't exist. You are who you are, and you have the courage of your convictions.
O'Rourke, who is run­ning for the Demo­c­ra­t­ic nom­i­na­tion to chal­lenge Ted Cruz in Texas's U.S. Sen­ate race next year, refused dona­tions from polit­i­cal action com­mit­tees (PACs) in his 2016 House race, and the ban is in place for his ongo­ing Sen­ate race. In March, he and Rep. Ro Khan­na (D‑Calif.) intro­duced a bill that would ban con­gres­sion­al mem­bers or can­di­dates from accept­ing PAC con­tri­bu­tions, except for dona­tions from their own PAC.
Top­pling Cruz, a favorite son of far-right Repub­li­cans, would be a major vic­to­ry for Democ­rats. The par­ty hasn't won a Sen­ate race in the state since 1988, and the elec­toral map is bleak for them in 2018: Democ­rats are defend­ing 25 seats, while Repub­li­cans are defend­ing only eight. O'Rourke, who has served in the House since 2013, rep­re­sents Texas's 16th Con­gres­sion­al dis­trict, which encom­pass­es El Paso.
O'Rourke recent­ly spoke with In These Times from Amar­il­lo, Texas, a stop on his sum­mer cross-Texas cam­paign tour. The Texas Demo­c­ra­t­ic pri­ma­ry will be March 6, 2018. This con­ver­sa­tion has been edit­ed for length and clarity.
Theo Ander­son: You've imple­ment­ed a ban on PAC mon­ey in your cam­paign. Why did you make that a priority?
Beto O'Rourke: Being in Con­gress real­ly shows you how mon­ey, and inter­ests behind that mon­ey, deter­mine so much of the out­come. And it can almost seem innocu­ous. You're vot­ing on some­thing that you don't under­stand very well, and it's not impor­tant to your con­stituents. But it's impor­tant to a polit­i­cal action com­mit­tee that has giv­en you thou­sands of dol­lars over the course of your time there. Mem­bers of Con­gress can make the cal­cu­lus that this isn't real­ly going to affect my con­stituents, and it helps me get reelect­ed, so I'll go ahead and vote for their issue. And the aggre­gate of all those deci­sions, from all those mem­bers of Con­gress, ends up pro­duc­ing the oth­er­wise inex­plic­a­ble poli­cies that are so dis­ap­point­ing to so much of this coun­try. You won­der about the fed­er­al gov­ern­ment, with all its pur­chas­ing pow­er and lever­age when it comes to phar­ma­ceu­ti­cals — for vet­er­ans at the U.S. Depart­ment of Vet­er­ans Affairs, Medicare and Med­ic­aid, fed­er­al employ­ees who have health insur­ance. Why don't we use that mus­cle to low­er drug prices and get a bet­ter bar­gain for the tax dol­lars? I think you can con­nect the dots.
As soon I first got elect­ed in 2012, the PAC mon­ey just flowed in unso­licit­ed. And I thought, ​"Well, great, this is free cam­paign mon­ey. It makes it eas­i­er for me to get reelect­ed." But just see­ing the effect this has on the insti­tu­tions, and the way it skews Con­gress' focus to those cor­po­ra­tions and cor­po­rate inter­ests that can buy access through the PACs, I decid­ed we've got to walk the walk. It turns out that, not only is it the right thing to do, and not only do I feel bet­ter about myself and the way we're run­ning this cam­paign, it's part of what is bring­ing so many peo­ple to this effort. Just as of the last quar­ter, we've had rough­ly 46,000 con­tri­bu­tions, and an aver­age con­tri­bu­tion of $44. And we've raised $2.1 mil­lion — half a mil­lion more than Ted Cruz, who takes a lot of PAC mon­ey. That, to me, shows the pow­er of doing this the right way.
Theo: The issue of cli­mate change always seems to get slight­ed, at least at the nation­al lev­el, in polit­i­cal cam­paigns. Texas is inter­est­ing because it's home to oil inter­ests, famous­ly, but it's also a leader in renew­able ener­gy. Will it be an issue in your cam­paign, and will it res­onate in Texas? Are we at that point yet?
Beto: I'm talk­ing to you from Amar­il­lo, Texas, in the pan­han­dle. And as we've dri­ven through the pan­han­dle the last three days, we've seen wind farm after wind farm. Tur­bines across the hori­zon. And dur­ing my last trip to the pan­han­dle, we spent some time with engi­neers at West Texas A&M Uni­ver­si­ty and in Canyon, Texas, with engi­neers who are doing a lot of test­ing of wind tur­bines. They're cre­at­ing a lot of high-skill, high-val­ue, high-wage jobs in research, as well as exper­tise that can real­ly estab­lish Texas as a leader. That is con­nect­ed to the fact that Texas is the country's largest wind ener­gy producer.
So, that shows how Texas can main­tain its promi­nence in being an ener­gy-pro­duc­ing state and mak­ing the coun­try ener­gy inde­pen­dent. El Paso is start­ing to do util­i­ty scale solar. And you have oth­er com­mu­ni­ties that are mak­ing sig­nif­i­cant invest­ments. I'm actu­al­ly real­ly encour­aged. In so many ways, I'm see­ing Texas defy the stereo­types and expec­ta­tions that peo­ple have of us. The kick­er is, here I am in Amar­il­lo, which is split between Ran­dall and Pot­ter coun­ties, and both of those coun­ties went for Cruz by large mar­gins. This is not a blue, pro­gres­sive part of the world. But these are hard-work­ing peo­ple who under­stand the val­ue of wind ener­gy. They're ranch­ers and farm­ers who have gone through sig­nif­i­cant droughts and wild­fires and anx­i­ety about avail­abil­i­ty of water. So, they get the envi­ron­men­tal sci­ence, but they also see that the issue of jobs is impor­tant. Texas is, I think, a great win­dow into the future of the coun­try and of us get­ting it right.
Theo: There is a lot of fer­ment with­in the Demo­c­ra­t­ic Par­ty at the moment, and a lot of focus on the fact that the par­ty needs to actu­al­ly stand for some­thing, rather than just rage against Trump and the Repub­li­cans. What's your case for why pro­gres­sives should get behind you and work to help you get elect­ed to the Sen­ate, beyond just loathing Ted Cruz?
Beto: Some­body asked me about PAC mon­ey last night, and I likened it to grow­ing up in the 1980s. The stuff that was com­ing through the radio was so glossy and pro­duced — it was cor­po­rate rock ​'n' roll. And then I dis­cov­ered punk rock, and I just loved the hon­esty and the imme­di­a­cy of it. It was just real peo­ple like me shar­ing their sto­ries through songs. And I use that as a metaphor for what's going on with pol­i­tics in this coun­try, in both par­ties. With Democ­rats, there's too much cor­po­rate rock ​'n' roll at the top. And peo­ple spend­ing for­tunes on poll­sters and con­sul­tants and pack­ag­ing and pro­duc­ing — and spend­ing a lot of time with the donors and PACs and spe­cial inter­ests. Democ­rats, with one hand, take mon­ey from them and, with the oth­er hand. pound their fist on the table and rail against them.
Yes­ter­day, in Amar­il­lo, which is a very con­ser­v­a­tive com­mu­ni­ty, I talked about Texas hav­ing the high­est mater­nal mor­tal­i­ty rate in the devel­oped world, and how we need to stand up for Planned Par­ent­hood, and the abil­i­ty for women to go to health clin­ics. And I talked about the failed war on drugs and how we can replace it with a more ratio­nal set of poli­cies. And I talked about health care. And folks out here are way ahead of every­body, Demo­c­rat or Repub­li­can. They get that the only way we can tru­ly low­er med­ical spend­ing, and ensure that every­body gets healthy and can see a doc­tor, is to have a sin­gle-pay­er sys­tem and have uni­ver­sal health­care. Wher­ev­er I am in the state, the same issues are on people's minds.
Theo: There has been talk for sev­er­al years about Texas ​"going blue." How do you get the vote out? Is it just a mat­ter of get­ting out and mak­ing your­self known to vot­ers in dif­fer­ent parts of the state, or more effec­tive orga­ni­za­tion? Or some com­bi­na­tion of sev­er­al things?
Beto: A lot of it is show­ing up. I can't tell you how many com­mu­ni­ties I've been to where they said, ​"You're the first Demo­c­rat to come here in years." Or, ​"You're the first Demo­c­rat to come here, not a month before the elec­tion, but 16 months before the elec­tion." We were in Hon­do, Texas, which went 70 per­cent for the Repub­li­can side of the tick­et in 2016, and 75 peo­ple showed up at a restau­rant. The per­son who set up the meet­ing said, ​"I've nev­er seen so many peo­ple come out for a Demo­c­ra­t­ic can­di­date, ever, in this coun­ty." So, we're sign­ing those folks up.
Here's the oth­er thing: You don't trim your sails, you don't tack to the myth­i­cal mid­dle that doesn't exist. You are who you are, and you have the courage of your con­vic­tions. Say what's on your mind and lis­ten to what's on the mind of those you want to rep­re­sent. I've seen Democ­rats try to tri­an­gu­late and poll test and have a con­sul­tant-dri­ven strat­e­gy that's some­how sup­posed to cap­ture that pur­ple mid­dle path. It just doesn't exist. You just have to be open and hon­est with people.
On the Repub­li­can and Demo­c­ra­t­ic ques­tion — increas­ing­ly, more peo­ple are telling me, I'm not into that shit. Don­ald Trump is an embar­rass­ment. Nan­cy Pelosi doesn't speak for me. I'm just done with that stuff. I'm just lis­ten­ing to what the can­di­dates have to say. I think the way to do it is by bust­ing through the cyn­i­cism, espe­cial­ly that Democ­rats have. They hear this bull­shit, ​"we've got to get mon­ey out pol­i­tics," and then they see them tak­ing all this cor­po­rate cash and PAC mon­ey. So, doing this right way is absolute­ly con­nect­ed to winning.
Theo: Going back to cam­paign finance reform: How does the prospect for reform look to you? It can seem hope­less, because things seem to be going in the wrong direc­tion on this issue. Do you see any hope of actu­al­ly reform­ing the sys­tem, whether in the near term or the long term, and lim­it­ing the influ­ence of cor­po­ra­tions in our politics?
Beto: After I won my first elec­tion to the House and was sworn in, I was at a meet­ing with my fel­low new­ly elect­ed Democ­rats in Con­gress. We met at the DNC head­quar­ters, and I thought it would be about how great ideas become law, about the things we need­ed to know to leg­is­late. And instead it was an indoc­tri­na­tion into how to raise mon­ey. Lit­er­al­ly, they took us hour by hour through what they expect­ed our sched­ule to be each day. And more than half of our wak­ing hours were expect­ed to be spent rais­ing money.
So, that made me feel a lit­tle hope­less about our abil­i­ty to reform things. But here we are, run­ning this cam­paign. If we win, I'll be the first Demo­c­rat elect­ed to the Sen­ate from Texas in 30 years. We're doing it with­out PAC mon­ey, and I've come to the con­clu­sion that that's the best way to change the sys­tem. No one's going to leg­is­late them­selves out of pow­er, or out of the abil­i­ty to have an edge on a com­peti­tor. But if they see this guy, this unlike­ly guy, do it in a Sen­ate race, do it with­out PAC mon­ey, they're going to fol­low suit. I've actu­al­ly seen some of my col­leagues in the last year stop tak­ing PAC mon­ey. Are they doing it because we did it? I don't know. But if we win, you'll see it a lot more. So I think the best way to reform is to win. It's either that or there will have to be a scan­dal so hor­rif­ic the Amer­i­can pub­lic will brow­beat Con­gress into pass­ing that leg­is­la­tion. You'd rather it hap­pen the first way — that there's a pos­i­tive mod­el. Or it'll take some godaw­ful scandal.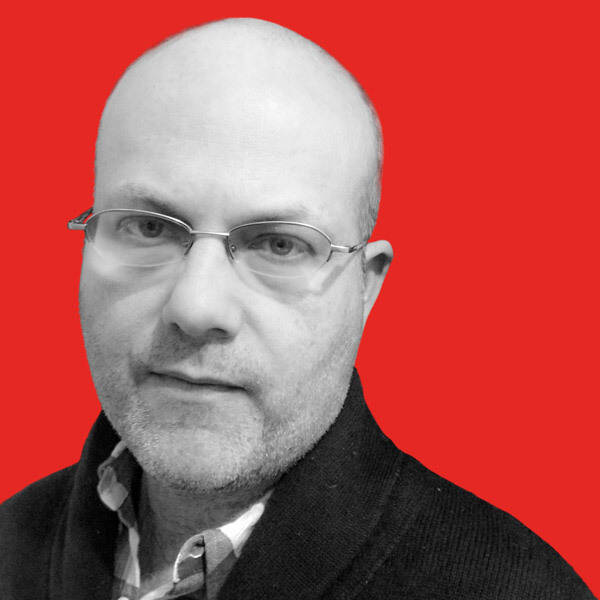 Theo Ander­son
is an In These Times con­tribut­ing writer. He has a Ph.D. in mod­ern U.S. his­to­ry from Yale and writes on the intel­lec­tu­al and reli­gious his­to­ry of con­ser­vatism and pro­gres­sivism in the Unit­ed States. Fol­low him on Twit­ter @Theoanderson
7
.