Maine Becomes the First State To Test Ranked-Choice Voting
Progressives vote for their favorite candidates without the fear of spoilers.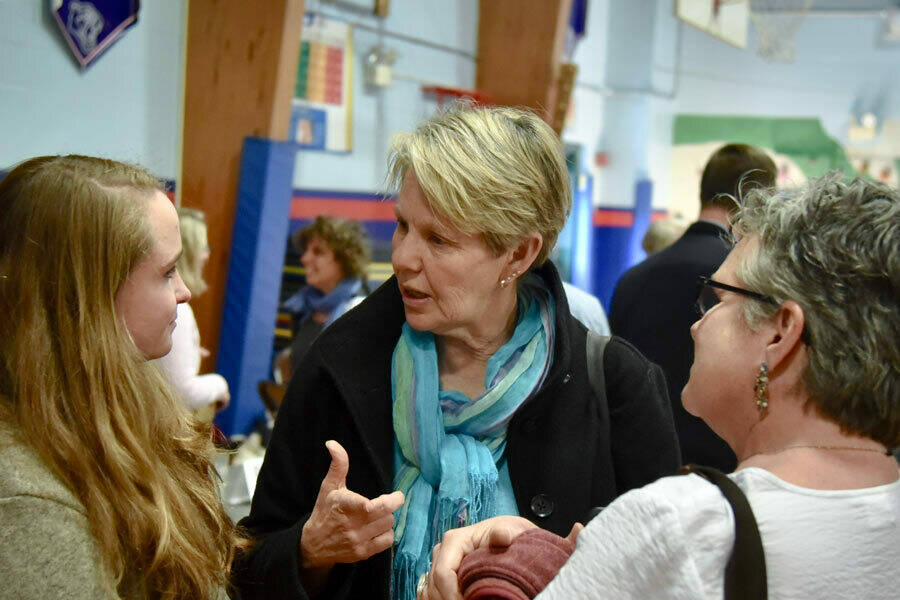 DAMARISCOT­TA, MAINE — At a May 12 Demo­c­ra­t­ic guber­na­to­r­i­al forum host­ed by Indi­vis­i­ble, the crowd is treat­ed to a rein­ter­pre­ta­tion of the 1940s nov­el­ty song, ​"I'm My Own Grand­pa." The new lyrics relate a saga still raw for many Main­ers: how two Inde­pen­dents split the vote in 2010, let­ting racist Repub­li­can Paul LeP­age be elect­ed in the tra­di­tion­al­ly blue state with less than 38 per­cent of the vote. In 2014, it hap­pened again (with just one Inde­pen­dent this time).
"I am no longer hedging my bets. I am voting for the person that my values really resonate with. And voting for a second person who's pretty close."
The audi­ence joins the chorus:
We want RCV
We want RCV
It sounds fun­ny I know, but the peo­ple will show you,
We want RCV
The tone is jubi­lant. RCV, or ranked-choice vot­ing, is a pro­ce­dur­al solu­tion to the prob­lem of vote-split­ting. After a three-year tus­sle between activists and leg­is­la­tors, Maine will become the first state to use RCV, in June.
The can­di­date forum dou­bles as a les­son in RCV. On elec­tion day, vot­ers will rank up to sev­en favorite can­di­dates. If no can­di­date wins a major­i­ty, the one with the fewest first-choice votes is elim­i­nat­ed. Vot­ers who ranked that per­son their top pick will have their sec­ond choice count­ed. The process repeats, with last-place can­di­dates elim­i­nat­ed, until some­one gar­ners a majority.
Under RCV, a vic­tor who is reviled by more than half of the vot­ers will be a thing of the past. And pro­gres­sives can express their sup­port for like­mind­ed can­di­dates with­out fear of vote-splitting.
"I'm very excit­ed," says Lisa Miller, an attendee from Somerville who has sup­port­ed RCV in its long jour­ney to the pri­ma­ry bal­lot. ​"I am no longer hedg­ing my bets. I am vot­ing for the per­son that my val­ues real­ly res­onate with. And vot­ing for a sec­ond per­son who's pret­ty close."
Miller is among the most­ly white, 50-and-over Main­ers who filed into the school gym­na­si­um in the pic­turesque town of Damariscot­ta to hear from the sev­en Demo­c­ra­t­ic can­di­dates in the race. For­mer state Rep. Diane Rus­sell (D) advo­cates mar­i­jua­na legal­iza­tion ("There's a lot of jobs in that, by the way"), a ​"new New Deal" for Maine, Medicare for All and a tax on the wealth­i­est Main­ers to sup­port chron­i­cal­ly under­fund­ed schools. For­mer state House Speak­er Mark Eves pro­pos­es uni­ver­sal health­care, renew­able ener­gy projects and tuition-free com­mu­ni­ty col­lege. Activist Bet­sy Sweet, who has refused spe­cial inter­est mon­ey, decries the polit­i­cal sway of groups like the NRA.
Sweet also talks about the bat­tle for RCV. Fifty-two per­cent of Maine vot­ers backed a plan to imple­ment the sys­tem in 2016 (the sec­ond-largest ref­er­en­dum mar­gin in Maine's his­to­ry). But law­mak­ers delayed the use of RCV until 2020 — and threat­ened to repeal it entire­ly if a con­sti­tu­tion­al amend­ment wasn't passed to make RCV official.
In April, how­ev­er, a judge ordered that the June pri­ma­ry must use RCV. The pri­ma­ry will also include a ref­er­en­dum to invoke the state's ​"people's veto" against the repeal and make RCV stan­dard prac­tice going forward.
"How many of you worked on the ref­er­en­dums last fall?" Sweet asks the audi­ence, nod­ding as hands go up. ​"We heard things in the hall­ways [of the leg­is­la­ture] like, ​'The vot­ers didn't under­stand what they were vot­ing for.' Vot­ers are stu­pid. … I don't think that's true."
Anoth­er can­di­date on the stage, Rus­sell, was instru­men­tal in get­ting RCV on the bal­lot again. Rus­sell and 1,800 vol­un­teers gath­ered more than 80,000 sig­na­tures from vot­ers to ini­ti­ate the ​"people's veto."
"Those of us who have been fight­ing so hard and have been told we couldn't do this — and every time we win, to be told we're not allowed to do it," Rus­sell tells the crowd, her voice shak­ing with emo­tion. ​"I want to thank you from the bot­tom of my heart for fight­ing for RCV."
"Those were tears of anger and joy," Rus­sell tells In These Times after the forum. ​"Peo­ple are pissed … and the people's veto gave them a place they could chan­nel that rage into some­thing super constructive."
Pro­gres­sives like Rus­sell and Sweet hope that, with RCV, Main­ers can grad­u­al­ly replace law­mak­ers who ignore the will of the peo­ple with rep­re­sen­ta­tives who know their job is to serve their constituents.
Julia Con­ley
is a Maine-based staff writer for ​
'
Com­mon Dreams
.