Maine Becomes the First State To Test Ranked-Choice Voting
Progressives vote for their favorite candidates without the fear of spoilers.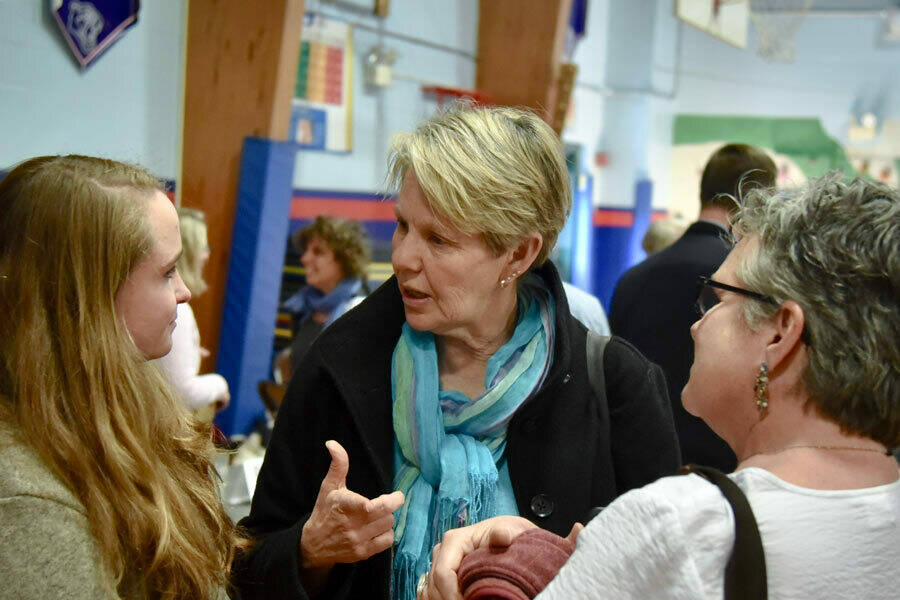 DAMARISCOTTA, MAINE — At a May 12 Democratic gubernatorial forum hosted by Indivisible, the crowd is treated to a reinterpretation of the 1940s novelty song, ​"I'm My Own Grandpa." The new lyrics relate a saga still raw for many Mainers: how two Independents split the vote in 2010, letting racist Republican Paul LePage be elected in the traditionally blue state with less than 38 percent of the vote. In 2014, it happened again (with just one Independent this time).
"I am no longer hedging my bets. I am voting for the person that my values really resonate with. And voting for a second person who's pretty close."
The audience joins the chorus:
We want RCV
We want RCV
It sounds funny I know, but the people will show you,
We want RCV
The tone is jubilant. RCV, or ranked-choice voting, is a procedural solution to the problem of vote-splitting. After a three-year tussle between activists and legislators, Maine will become the first state to use RCV, in June.
The candidate forum doubles as a lesson in RCV. On election day, voters will rank up to seven favorite candidates. If no candidate wins a majority, the one with the fewest first-choice votes is eliminated. Voters who ranked that person their top pick will have their second choice counted. The process repeats, with last-place candidates eliminated, until someone garners a majority.
Under RCV, a victor who is reviled by more than half of the voters will be a thing of the past. And progressives can express their support for likeminded candidates without fear of vote-splitting.
"I'm very excited," says Lisa Miller, an attendee from Somerville who has supported RCV in its long journey to the primary ballot. ​"I am no longer hedging my bets. I am voting for the person that my values really resonate with. And voting for a second person who's pretty close."
Miller is among the mostly white, 50-and-over Mainers who filed into the school gymnasium in the picturesque town of Damariscotta to hear from the seven Democratic candidates in the race. Former state Rep. Diane Russell (D) advocates marijuana legalization ("There's a lot of jobs in that, by the way"), a ​"new New Deal" for Maine, Medicare for All and a tax on the wealthiest Mainers to support chronically underfunded schools. Former state House Speaker Mark Eves proposes universal healthcare, renewable energy projects and tuition-free community college. Activist Betsy Sweet, who has refused special interest money, decries the political sway of groups like the NRA.
Sweet also talks about the battle for RCV. Fifty-two percent of Maine voters backed a plan to implement the system in 2016 (the second-largest referendum margin in Maine's history). But lawmakers delayed the use of RCV until 2020 — and threatened to repeal it entirely if a constitutional amendment wasn't passed to make RCV official.
In April, however, a judge ordered that the June primary must use RCV. The primary will also include a referendum to invoke the state's ​"people's veto" against the repeal and make RCV standard practice going forward.
"How many of you worked on the referendums last fall?" Sweet asks the audience, nodding as hands go up. ​"We heard things in the hallways [of the legislature] like, ​'The voters didn't understand what they were voting for.' Voters are stupid. … I don't think that's true."
Another candidate on the stage, Russell, was instrumental in getting RCV on the ballot again. Russell and 1,800 volunteers gathered more than 80,000 signatures from voters to initiate the ​"people's veto."
"Those of us who have been fighting so hard and have been told we couldn't do this — and every time we win, to be told we're not allowed to do it," Russell tells the crowd, her voice shaking with emotion. ​"I want to thank you from the bottom of my heart for fighting for RCV."
"Those were tears of anger and joy," Russell tells In These Times after the forum. ​"People are pissed … and the people's veto gave them a place they could channel that rage into something super constructive."
Progressives like Russell and Sweet hope that, with RCV, Mainers can gradually replace lawmakers who ignore the will of the people with representatives who know their job is to serve their constituents.
Socialism ... Seriously
"The most fun and accessible introduction to socialist ideas I've ever read."—Anand Gopal
For a limited time, when you donate $20 or more to support In These Times, we'll send you a copy of the new, expanded edition of Socialism ... Seriously by Danny Katch.

Julia Conley is a Maine-based staff writer for Common Dreams.