Mainers Give Grads Debt Relief
Their state's economy at a crossroads, politicians embrace Opportunity Maine, which eases the financial burden of going to college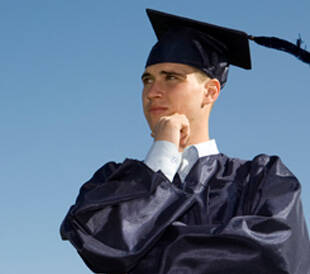 Andrew Bossie was tired of bad bal­lot ref­er­en­dums. After spend­ing the fall of 2005 with Maine stu­dent activists and the League of Young Vot­ers fight­ing a ref­er­en­dum that would have gut­ted an anti-dis­crim­i­na­tion bill writ­ten to pro­tect Maine's gay pop­u­la­tion, he decid­ed to go on the offen­sive and use the same process to address the needs of Maine's students.
"Peo­ple were drop­ping out of school because they couldn't afford it, peo­ple were leav­ing the state after grad­u­a­tion instead of con­tribut­ing back and grow­ing the econ­o­my," he says. ​"It was a huge problem."
So the for­mer Uni­ver­si­ty of South­ern Maine stu­dent body pres­i­dent and his new­ly cre­at­ed polit­i­cal action com­mit­tee, Oppor­tu­ni­ty Maine, devel­oped a pro­pos­al that would ease some of the finan­cial bur­den of going to col­lege. Then, Bossie and 500 vol­un­teers logged more than 12,000 hours can­vass­ing on street cor­ners in the bru­tal Maine win­ter to gath­er the 73,000 sig­na­tures need­ed to put their pro­pos­al on the bal­lot in the Novem­ber 2007 election.
But a fun­ny thing hap­pened on the way to elec­tion day. Leg­is­la­tors grew so enam­ored with the bill that they pre-emp­tive­ly passed it – only the sixth time in a cen­tu­ry that Maine law­mak­ers enact­ed a citizen's ini­tia­tive with­out send­ing it to statewide ref­er­en­dum. So as of June 22, help is on the way for Maine stu­dents in the form of Oppor­tu­ni­ty Maine, an inno­v­a­tive local answer to the stu­dent debt crisis.
Oppor­tu­ni­ty Maine autho­rizes tax cred­its to refund edu­ca­tion­al loan pay­ments for any Main­er who earns an associate's or bachelor's degree in Maine and then pro­ceeds to live, work and pay tax­es in the Pine Tree State after grad­u­a­tion. While the amount avail­able for the cred­it would be capped at the cost of tuition and fees for the Uni­ver­si­ty of Maine sys­tem or the Maine Com­mu­ni­ty Col­lege sys­tem, stu­dents at cost­lier pri­vate col­leges can also apply for the break. As it stands, a grad­u­ate with a bachelor's degree can be reim­bursed up to $2,100 per year for four years. And, in a coup for the busi­ness com­mu­ni­ty, employ­ers can agree to make the loan pay­ment on behalf of hired stu­dents and then claim the tax cred­it themselves.
This par­tic­u­lar bill is good for Main­ers because the state's econ­o­my is at a cross­roads. The decline in qual­i­ty man­u­fac­tur­ing and nat­ur­al resource-based jobs has caused aver­age income to drop 30 per­cent below the New Eng­land aver­age. Mean­while, Maine has one of the high­est high school grad­u­a­tion rates in the coun­try, but only 57 per­cent of stu­dents pur­sue high­er edu­ca­tion, main­ly because of finan­cial con­straints. And those who do grad­u­ate col­lege leave school with an aver­age debt of more than $21,000 (the sev­enth high­est in the nation), a main rea­son why 53 per­cent of stu­dents leave Maine for high­er com­pen­sa­tion in places like Massachusetts.
While the state's econ­o­my is on the ropes, all is not lost. Accord­ing to ​"Chart­ing Maine's Future," an Octo­ber 2006 report by the Brook­ings Insti­tu­tion, the build­ing blocks for a diverse and vibrant econ­o­my remain. For one, in the past sev­en years the state has wit­nessed a sub­stan­tial pop­u­la­tion boom, jump­ing from 46th to 26th in the coun­try in annu­al­ized growth rate. Maine also out­per­formed the nation in job cre­ation dur­ing the last eco­nom­ic cycle and has seen growth (albeit hum­ble) in high-tech indus­tries like boat-build­ing, advanced mate­ri­als and biotech­nol­o­gy. But, the report warns, ​"Maine's aging pop­u­la­tion includes too few young work­ers and too few high­ly skilled or edu­cat­ed people."
"There's been a grow­ing aware­ness of how impor­tant it is to have a high­ly edu­cat­ed pop­u­la­tion if you want to stim­u­late an econ­o­my and be com­pet­i­tive," says Anya Kamenetz, author of Gen­er­a­tion Debt. ​"And Maine is very aware that they have catch­ing up to do."
The bill's major strength is its attrac­tive­ness to mul­ti­ple con­stituents. It eas­es the increas­ing bur­den of col­lege pay­ment for stu­dents and their fam­i­lies. Busi­ness­es will grow more com­pet­i­tive with an influx of tal­ent­ed appli­cants. The state will ben­e­fit with an injec­tion of new tax dol­lars and con­sump­tion. And pro­po­nents claim that finan­cial­ly, the pro­pos­al will break even or bet­ter by 2015, as the state gen­er­ates more income as a result of high­er income tax­es and a stronger econ­o­my. ​"I think the essence of it appeals to a lot of peo­ple because it's a real­ly good idea and one that's real­ly need­ed," says Bri­an Hiatt, com­mu­ni­ca­tions direc­tor for the League of Young Voters.
Some crit­ics con­tend that the law should also include Maine res­i­dents who attend out-of-state col­leges but still want to move back home. Oth­ers ques­tion its focus on Maine at the expense of the nation­al econ­o­my. But such dis­senters are few and far between. Kamenetz says cre­at­ing incen­tives for edu­ca­tion­al attain­ment could strike a chord with stu­dents rights' activists nationwide.
"While it's a real­ly iso­lat­ed local effort, it does go far­ther than most of these nation­al actions because you're actu­al­ly pay­ing off people's loans, you're not just low­er­ing the pay­ment," says Kamenetz. ​"If it does have an eco­nom­ic ben­e­fit for Maine, it has a chance to be a mod­el for others."
Adam Doster
, a con­tribut­ing edi­tor at In These Times, is a Chica­go-based free­lance writer and for­mer reporter-blog­ger for Progress Illinois.