Making Green Jobs Good Jobs
Unions organize the clean energy sector.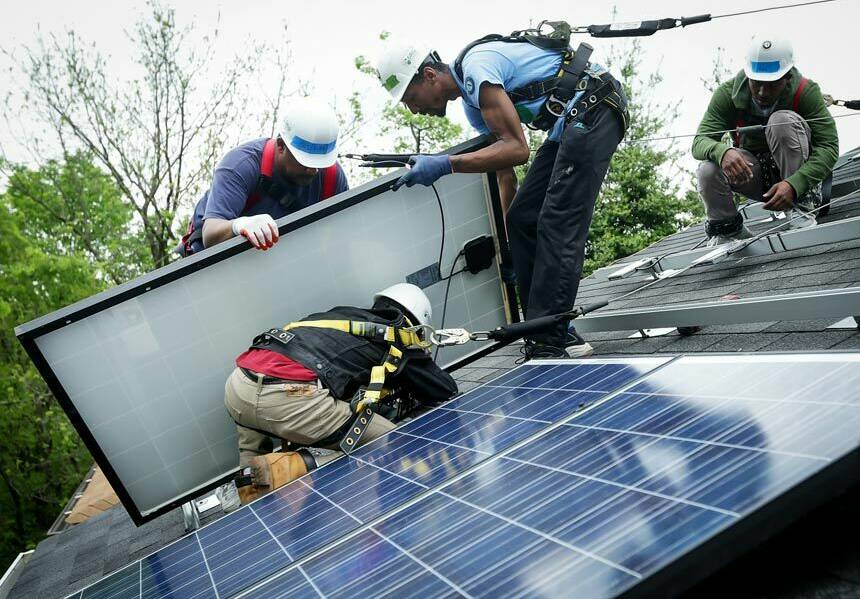 Jobs ver­sus the envi­ron­ment — it's an old dilem­ma that pits unions seek­ing work for their mem­bers against activists ral­ly­ing against projects like the Key­stone XL.
Without strong unions, renewables companies may compete in a race to the bottom. Labor has already learned this lesson the hard way.
An expand­ing renew­able ener­gy sec­tor might pro­vide a way out of this quandary. Solar and wind ener­gy projects can put peo­ple to work with­out imper­il­ing the plan­et. But will these jobs be friend­ly to work­ers, as well as the environment?
The Inter­na­tion­al Broth­er­hood of Elec­tri­cal Work­ers (IBEW) and the Unit­ed Steel­work­ers (USW) want to ensure that unions have a place in the emerg­ing low-car­bon econ­o­my. After decades of orga­niz­ing work­ers in the fos­sil-fuel-inten­sive min­ing, refin­ery and util­i­ty sec­tors, they see the winds shift­ing. Refiner­ies and coal plants are shut­ting down and tak­ing jobs with them, thanks to a com­bi­na­tion of mar­ket forces and new cli­mate poli­cies enact­ed after years of pub­lic pres­sure. Last year, the num­ber of jobs in oil and gas fell by 18 per­cent, while those in renew­ables increased by 6 percent.
While this is good news for the envi­ron­ment, it could cut into unions' mem­ber­ship. In response, they're launch­ing cam­paigns to orga­nize work­ers in the clean ener­gy sec­tor. Data on exist­ing union rep­re­sen­ta­tion in renew­ables is sparse, com­ing almost entire­ly from indus­try sources and vary­ing from state to state. Labor econ­o­mist Car­ol Zabin says that in California's boom­ing solar mar­ket, util­i­ty-scale wind and solar projects that sell whole­sale elec­tric­i­ty are typ­i­cal­ly built with union labor and offer good wages and ben­e­fits. Rooftop solar-pan­el instal­la­tion in the state, con­verse­ly, tends to be non-union, oper­at­ing in the lais­sez-faire world of res­i­den­tial con­struc­tion. Nation­wide, aver­age wages for util­i­ty-scale solar installers are 20 per­cent high­er than those for installers work­ing on res­i­den­tial projects, accord­ing to the 2014 Nation­al Solar Jobs Census.
Yet rooftop solar is one of the fastest- grow­ing sources of renew­able ener­gy, rep­re­sent­ing an impor­tant oppor­tu­ni­ty for unions. Solar work­ers ​"face the exact same chal­lenges all non-union work­ers face," says Maria Som­ma, orga­niz­ing direc­tor for the Steelworkers.
Among those are low­er-than-aver­age wages, lit­tle job secu­ri­ty and no col­lec­tive bar­gain­ing pow­er to change either. Over­all, wages in the solar sec­tor are still far below those in the oil and gas indus­try, where years of union involve­ment has secured good wages and ben­e­fits for many groups of work­ers. Accord­ing to the Bureau of Labor Sta­tis­tics, the medi­an hourly wage for a solar-pan­el-installer in 2015 was $18, com­pared to $32 for a refin­ery operator.
The Steel­work­ers are cur­rent­ly explor­ing ways to orga­nize renew­ables work­ers around the coun­try. Because the union has yet to take any of its cam­paigns pub­lic, Som­ma declined to give specifics.
But orga­niz­ing efforts in the renew­ables indus­try face three major chal­lenges: resis­tance from solar com­pa­nies and oth­er employ­ers, a geo­graph­i­cal­ly dif­fuse work force, and jobs that are espe­cial­ly vul­ner­a­ble to out­sourc­ing and relocation.
"An employ­er is an employ­er, whether they're an envi­ron­men­tal­ly friend­ly employ­er or a pol­luter," says Som­ma. She says the Steel­work­ers have already seen renew­ables com­pa­nies roll out the kind of intim­i­da­tion stan­dard for the pri­vate sec­tor in response to union orga­niz­ing: cap­tive audi­ence meet­ings, threats of ring and con­tracts with a slew of anti-union consultants.
Employ­ers can also lever­age the threat of out­sourc­ing. ​"Import­ing a mas­sive, mas­sive heavy wind tur­bine from Chi­na is still cheap­er than pro­duc­ing it in the Unit­ed States," laments Som­ma. And boss­es are none too shy about hold­ing that fact over work­ers' heads.
Union-busters often feed work­ers the same line. ​"They'll say: ​'If a union were to come in here, we're not sure we would be able to main­tain our com­pet­i­tive­ness in the indus­try,'" explains Jer­ry Kurim­s­ki, an inter­na­tion­al rep­re­sen­ta­tive with the IBEW, which is also expand­ing orga­niz­ing in the renew­able ener­gy sec­tor. ​"They're not going to say ​'we're going to move the place' — that's ille­gal — but they're very care­ful in craft­ing a mes­sage that says it with­out say­ing it."
Kurim­s­ki built wind farms as an IBEW labor­er before mov­ing to Wash­ing­ton to work with the union's nation­al staff. He notes that the nature of the work com­pounds the dif­fi­cul­ty of orga­niz­ing: ​"On wind, you have five to 10 work­ers on wind farms that span sev­er­al hun­dred square miles." This cre­ates bar­ri­ers to build­ing the rela­tion­ships and trust nec­es­sary to win tough fights with bosses.
But with­out strong unions, renew­ables com­pa­nies may com­pete in a race to the bot­tom. Labor has already learned this les­son the hard way: In 2006, the Penn­syl­va­nia governor's office wooed Span­ish wind-tur­bine man­u­fac­tur­er Game­sa to the state. Attract­ed by state and fed­er­al tax cred­its, the com­pa­ny opened facil­i­ties that put 1,200 USW mem­bers to work statewide, with one fac­to­ry open­ing on the site of a long-closed U.S. Steel mill. But when the tax cred­its expired after sev­en years, so did Gamesa's inter­est in Penn­syl­va­nia — and the jobs they brought with them. Thanks to the ease of out­sourc­ing, much of Gamesa's man­u­fac­tur­ing now takes place in Chi­na and Brazil, where labor costs are cheap­er and stan­dards more lax.
Orga­niz­ers say that pub­lic sub­si­dies for wind and solar devel­op­ment should be attached to basic labor require­ments. Between 2008 and 2014, wind and solar projects received as much as $24 bil­lion in tax cred­its and oth­er subsidies.
"If they want … pub­lic mon­ey," says Som­ma, ​"these employ­ers should pro­vide good-pay­ing jobs and those employ­ees need to be able to form a union."
Despite the chal­lenges, Kurim­s­ki and Som­ma are opti­mistic about mov­ing toward an econ­o­my that is good for both work­ers and the envi­ron­ment. Many world lead­ers have at last begun to take cli­mate change seri­ous­ly. At last year's Paris cli­mate con­fer­ence, 43 of the most vul­ner­a­ble coun­tries signed a dec­la­ra­tion high­light­ing the neces­si­ty of a 100 per­cent tran­si­tion to renew­able ener­gy by 2050.
The stakes are high, but orga­niz­ers hope to ensure that in the fren­zy of this tran­si­tion, the renew­able ener­gy sec­tor doesn't treat work­ers like they're disposable.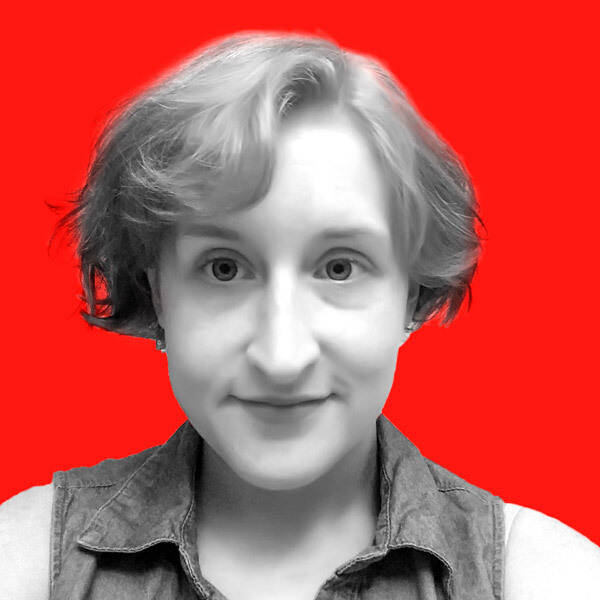 Kate Aronoff
is a Brook­lyn-based jour­nal­ist cov­er­ing cli­mate and U.S. pol­i­tics, and a con­tribut­ing writer at The Inter­cept. Fol­low her on Twit­ter @katearonoff.