Memorial Day Massacre of 1937 Offers Stark Reminder: Media Usually Side With Corporations, Police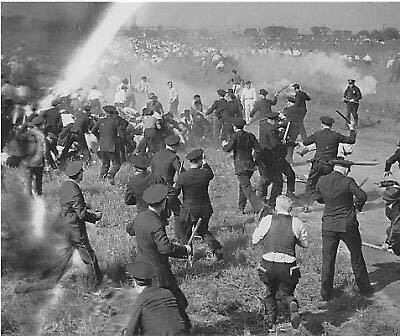 We've become accus­tomed to see­ing ​"cred­i­ble" major media voic­es like The New York Times' Andrew Ross Sorkin and CNN's Wolf Blitzer blame Unit­ed Auto Work­er mem­bers for haul­ing in out­landish wages of a sup­posed $73 an hour, destroy­ing the glob­al com­pet­i­tive­ness of U.S. com­pa­nies. Those claims are way off-base: Actu­al aver­age auto work­er wages are $27 – 29/​hour. Mean­while, new work­ers start at just $14.50, with lim­it­ed benefits.
Giv­en the dis­tance of most reporters and edi­tors from the lives of work­ing peo­ple — and the fact that labor reporters have become vir­tu­al­ly extinct in Amer­i­ca — it is easy to see why reporters and pun­dits would find such false­hoods credible.
But the Memo­r­i­al Day Mas­sacre on May 30, 1937 in south­east Chica­go — the 74th anniver­sary of which was yes­ter­day — should remind us that even when 10 work­ers get shot in the back and killed, the media's nat­ur­al incli­na­tion is to side with cor­po­ra­tions and the police.
On Memo­r­i­al Day 1937, Chica­go police­men fired upon a crowd of 1,000 strik­ing Unit­ed Steel­work­ers and their wives and chil­dren near Repub­lic Steel on the city's south­east side, killing 10 work­ers — each one shot in the back or side, indi­cat­ing that they were flee­ing the police rather than charg­ing them.
Anoth­er 30 work­ers were shot and wound­ed, all but four struck in the back or side. Ten of the strik­ers and sup­port­ers were per­ma­nent­ly crip­pled by bul­let wounds or relent­less thrash­ings inflict­ed by Chica­go Police billy-clubs.
MEDIA REAC­TION: RIOT­ING WORK­ERS PRO­VOKED COPS
But ini­tial reac­tion was any­thing but sym­pa­thet­ic to the strik­ers. Pre­dictably, Colonel Robert McCormick's reac­tionary Chica­go Tri­bune por­trayed the event as an assault by com­mu­nist riot­ers who forced police offi­cers to defend them­selves. Oth­er major media inter­pret­ed pho­tos and news­reel footage as con­firm­ing the sce­nario of a hys­ter­i­cal mob attack on the police. A coroner's jury ruled the shoot­ings ​"jus­ti­fi­able homicide."
Howe­fer, the bit­ter­est pill came from Pres­i­dent Franklin Delano Roo­sevelt, who was beseeched by labor lead­ers to denounce the slaugh­ter. Instead, Roo­sevelt — in whom des­per­ate work­ers had invest­ed so many hopes — report­ed­ly respond­ed ici­ly: ​"The major­i­ty of peo­ple are say­ing just one thing, ​'A plague on both your houses.' "
The con­ven­tion­al ​"fram­ing" — the struc­ture and nar­ra­tive — of the event by cor­po­rate lead­ers, the main­stream media, and lead­ing politi­cians all depict­ed the work­ers as uncon­trol­lable riot­ers who went far beyond the asser­tion of their rights under the Nation­al Labor Rela­tions Act.
Some elect­ed Democ­rats like Roo­sevelt sug­gest­ed that the police were unnec­es­sar­i­ly bru­tal, but implied that the strik­ers had pro­voked a vio­lent response.
EFFORT TO GET OUT THE TRUTH
But the real­i­ty of the Memo­r­i­al Day mas­sacre slow­ly began to be revealed to the pub­lic, like a grad­u­al­ly devel­op­ing pho­to­graph, thanks to the dogged and dili­gent efforts of the Steel­work­ers Orga­niz­ing Com­mit­tee, St. Louis Dis­patch reporter Paul Ander­son, and the audac­i­ty of Wis­con­sin Sen. Robert LaFol­lette, Jr., chair of the Civ­il Lib­er­ties Committee.
The result was a rel­a­tive­ly rare instance of labor turn­ing around ini­tial­ly-hos­tile news cov­er­age and suc­cess­ful­ly re-fram­ing the killings as the result of the par­tic­u­lar­ly avari­cious and aggres­sive Repub­lic Steel, led by pres­i­dent Tom Girdler.
Ini­tial cov­er­age failed to depict the bel­li­cose stance of Girdler and oth­er top exec­u­tives. Repub­lic Steel was rapid­ly advanc­ing out of the Depres­sion, with its prof­its climb­ing. But rather than share the wealth with the work­ers who pro­duced it, Girdler pre­pared lit­er­al­ly for class war. ​"Sure, we've got guns!," he replied jubi­lant­ly when asked about the corporation's response of buy­ing muni­tions instead of rec­og­niz­ing work­ers' demands for their union rights, as report­ed in the class labor his­to­ry by Morais and Boy­er, ​"Labor's Untold Story."
As Prof. Car­ol Quirke has not­ed, the labor move­ment showed a new­found sophis­ti­ca­tion in using the mass media to doc­u­ment class vio­lence against work­ers and to win over pub­lic support:
[N]ewsreel footage and news pho­tographs [now under­stood] to demon­strate police respon­si­bil­i­ty for the vio­lence first appeared in met­ro­pol­i­tan dailies and nation­al­ly cir­cu­lat­ing mag­a­zines in sto­ries rep­re­sent­ing strik­ers as a mob that sought to storm the Repub­lic Steel plant, leav­ing police no option but to shoot.

[The Memo­r­i­al Day Mas­sacre illus­trates] how labor and its allies engi­neered a re-read­ing of news imagery first employed by Chica­go offi­cials and Repub­lic Steel exec­u­tives to con­demn work­ers' activism. This re-read­ing took place at Chica­go ral­lies, in Wash­ing­ton con­gres­sion­al rooms, and ulti­mate­ly, with­in the new­ly nation­al­ized, pho­to­graph­ic media itself.

Under­stand­ing how labor reversed the inter­pre­ta­tion of these images before the Amer­i­can pub­lic sug­gests that labor's new­found polit­i­cal might includ­ed a sophis­ti­cat­ed abil­i­ty to rene­go­ti­ate its visu­al rep­re­sen­ta­tion, and to cap­i­tal­ize on the grow­ing salience of news pho­tog­ra­phy to restrict cor­po­rate and state vio­lence against unions.
CRIT­I­CAL EVI­DENCE KEPT FROM PUBLIC
One crit­i­cal piece of evi­dence was a Para­mount news­reel of the event shot by a pho­tog­ra­ph­er who expect­ed a rou­tine, peace­ful ral­ly. Instead, he wound up film­ing a bar­bar­ic onslaught that was described by reporter Paul Ander­son of St. Louis Post-Dis­patch in these unfor­get­table terms:
Those of us who saw it were shocked and amazed by the scenes show­ing scores of uni­formed police fir­ing their revolvers point­blank into a dense crowd of men, women and chil­dren, and then pur­su­ing and club­bing the sur­vivors unmer­ci­ful­ly as they made fran­tic efforts to escape.

The impres­sion pro­duced by the fear­ful scenes was height­ened by the sound record which accom­pa­nies the pic­ture, repro­duc­ing the roar of the police fire and the screams of the victims

A vivid close-up shows the head of the parade being halt­ed at the police line. The flag bear­ers are in front. Behind them the plac­ards are massed. They bear such devices as ​"Come on out, Help win the strike, Repub­lic vs. the Peo­ple, and CIO …

Then sud­den­ly, with­out warn­ing, there is a ter­rif­ic roar of pis­tol shots, and the men in the front ranks of the marchers go down like grass before the scythe. The cam­era catch­es approx­i­mate­ly a dozen falling simul­ta­ne­ous­ly in a heap. The mas­sive sus­tained roar of the pis­tol shots last per­haps two to three seconds.

In a man­ner which is appalling­ly busi­ness-like, groups of police­men close in on iso­lat­ed indi­vid­u­als. They go to work on them with their clubs. In sev­er­al instances two to four police­men were seen beat­ing on one man.
Even while numer­ous news­pa­pers were reflect­ing the Repub­lic Steel/​Chicago Police Dept. ver­sion of the events, a Para­mount exec­u­tive refused to release the tape, stat­ing he was block­ing it ​"on the grounds that such an unre­lieved record of blood and bru­tal­i­ty was liable to touch off more riots." Yet at the same time, the same footage was being viewed in British cin­e­mas. (The news­reel in video ver­sion is still hard to obtain; try this link).
Sen. LaFol­lette final­ly obtained the news­reel so that his Sen­ate com­mit­tee could view it. The committee's pri­vate view­ing set the stage for a scorch­ing report that exco­ri­at­ed Repub­lic Steel's deci­sion to pre­pare for war rather than rec­og­nize work­ers' rights. It also fault­ed the Chica­go Police Depart­ment for act­ing as an aux­il­iary of Republic's goon squad.
The LaFol­lette Com­mit­tee fur­ther reported,
The Repub­lic Steel Cor­po­ra­tion has a uni­formed police force of near­ly 400 men whom it has equipped not only with revolvers, rifles and shot­guns, but also with more tear and sick­en­ing gas and gas equip­ment than has been purchased…by any law-enforce­ment body, local, State or Fed­er­al in the coun­try. It has loosed its guards, thus armed to shoot down cit­i­zens on the streets and highways.
The LaFol­lette report cre­at­ed sen­sa­tion­al head­lines and wide­spread con­dem­na­tions of Repub­lic Steel, and a vast tide of pub­lic sym­pa­thy for the union movement.
CHAL­LENG­ING DIS­CON­NECT­ED MAJOR MEDIA

The Memo­r­i­al Day Mas­sacre reminds us of the inhu­man lengths that cor­po­rate CEOs — increas­ing­ly cast in the mold of Girdler or for­mer GE head Jack Welch — will go to avoid part­ing with one cent or scin­til­la of con­trol over their workers.
But per­haps the most cru­cial les­son to draw from the awful mas­sacre 74 years ago is that labor must chal­lenge the way that its cause is pre­sent­ed in the media on a dai­ly basis. The increas­ing polar­iza­tion of income is almost entire­ly ignored by major media; glob­al­iza­tion and ​"free trade" are por­trayed as the only view that ​"enlight­ened" peo­ple could pos­si­bly hold, and labor unions are com­mon­ly por­trayed as once-use­ful insti­tu­tions that have become dinosaurs.
Essen­tial­ly, the major media remain almost as remote from the lives of work­ing peo­ple as Colonel McCormick's Tri­bune was from the real­i­ty of the Repub­lic Steel strike and the ensu­ing massacre.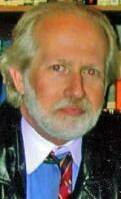 Roger Bybee

is a Mil­wau­kee-based free­lance writer and Uni­ver­si­ty of Illi­nois vis­it­ing pro­fes­sor in Labor Edu­ca­tion.Roger's work has appeared in numer­ous nation­al pub­li­ca­tions, includ­ing

Z

mag­a­zine,

Dol­lars

&

Sense, The Pro­gres­sive, Pro­gres­sive Pop­ulist, Huff­in­g­ton Post, The Amer­i­can Prospect, Yes!

and

For­eign Pol­i­cy in Focus

.More of his work can be found at

zcom​mu​ni​ca​tions​.org/​z​s​p​a​c​e​/​r​o​g​e​r​d​bybee

.