This Minneapolis Mayoral Candidate Wants To Disarm and Demilitarize Police—And He's Winning
Raymond Dehn's progressive policies on criminal justice, housing and more are resonating across the city.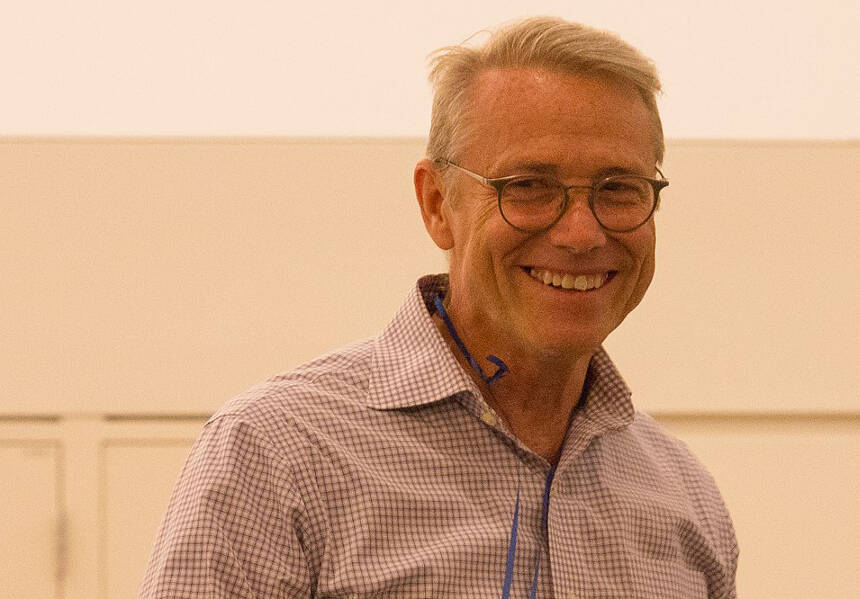 Ray Dehn is not the kind of politi­cian you meet every day. The Min­neapo­lis may­oral can­di­date is call­ing for poli­cies that would dis­arm and de-mil­i­ta­rize the Min­neapo­lis police force, work to elim­i­nate sys­tem­at­ic inequities and gen­er­ate com­mu­ni­ty wealth. He's run­ning against estab­lish­ment incum­bent Bet­sy Hodges, who has made nation­al head­lines for her out-of-touch response to mul­ti­ple Min­neapo­lis police shoot­ings, includ­ing the killings of Jamar Clark, Phi­lan­do Castile and Jus­tine Damond.
"I don't believe all cops should carry guns all the time."
Dehn grew up work­ing-class just north of Min­neapo­lis. He expe­ri­enced the crim­i­nal jus­tice sys­tem first-hand when he was con­vict­ed of a felony for a bur­glary offense in 1976. This con­vic­tion meant he could not vote even after he was released, so in 1982, he asked for — and received — a full par­don so he could vote again. He went to archi­tec­ture school, grad­u­at­ed in 1993 at the age of 39 (at 60, he's still pay­ing off his stu­dent loans, accord­ing to his cam­paign web­site), and from there became pres­i­dent of the Amer­i­can Insti­tute of Archi­tec­ture Stu­dents, a ​"stu­dent-run orga­ni­za­tion ded­i­cat­ed to pro­vid­ing unmatched pro­gres­sive pro­grams … crit­i­cal to archi­tec­ture and the expe­ri­ence of edu­ca­tion," where he learned grass­roots organizing.
Dur­ing the sub-prime mort­gage cri­sis, as part of the North­side Com­mu­ni­ty Rein­vest­ment Coali­tion, he went door to door to hun­dreds of homes in Min­neapo­lis neigh­bor­hoods with a high num­ber of fore­clo­sures, and helped peo­ple find the resources to keep their homes.
He lat­er did vol­un­teer work for Min­neso­ta polit­i­cal leg­ends Paul Well­stone and Kei­th Ellison.
Then, in 2012, he ran for state rep. And won.
Ever since, he's tak­en his expe­ri­ence and pro­gres­sive ideas and inject­ed them into Min­neso­ta law, start­ing with the pass­ing of his bill to Ban the Box, remov­ing the ques­tion about crim­i­nal back­grounds from job applications.
"Every morn­ing when I shave I see a white man who has priv­i­lege, who can do many things because I'm white," he tells In These Times over cof­fee at the Mall of Amer­i­ca in late Sep­tem­ber. ​"The peo­ple I left behind in prison … that's why I run for office."
Now, he's using his plat­form to raise aware­ness of solu­tions to police bru­tal­i­ty and gross inequal­i­ty, among oth­er issues.
"I don't believe all cops should car­ry guns all the time," he says. ​"One, it's not nec­es­sary. Maybe peo­ple in the com­mu­ni­ty would be safer, and then maybe the offi­cers would be safer. In no way should an unarmed per­son be shot. We have peo­ple in our com­mu­ni­ty who won't call the cops because they are afraid, afraid for them­selves and afraid for the per­son com­mit­ting the crime."
Dehn points to the War on Drugs and how it changed polic­ing. ​"Excess mil­i­tary hard­ware passed down to police. It's cre­at­ed a wall between offi­cers and the com­mu­ni­ty." Dehn doesn't expect local police to be enthu­si­as­tic about demil­i­ta­riza­tion, at least at first. Still, he says, ​"We have offi­cers who are afraid to patrol their com­mu­ni­ties, and I don't think that's unique to Min­neapo­lis." He says some offi­cers do ques­tion the effi­ca­cy of their cur­rent strate­gies, and train­ing will be key to reha­bil­i­tat­ing com­mu­ni­ty-police rela­tion­ships and restor­ing trust in the police depart­ment — and to insur­ing no more unarmed cit­i­zens are shot by police.
Dehn's per­spec­tive and sin­cer­i­ty res­onates in com­mu­ni­ties across Min­neapo­lis and across col­or lines. Kel­ly Chat­man, an African-Amer­i­can pas­tor at Redeemer Luther­an Church in North Min­neapo­lis, says Dehn is ​"a con­sci­en­tious rep­re­sen­ta­tive of Min­neapo­lis. I see him treat peo­ple with high regard regard­less of social eco­nom­ic back­ground. And he's been a strong advo­cate for restora­tive jus­tice — an uncom­mon com­mit­ment in that regard."
Dehn is also pas­sion­ate about gen­er­at­ing com­mu­ni­ty wealth. ​"I think of eco­nom­ic oppor­tu­ni­ty gen­er­al­ly, how small employ­ers can cre­ate more coop­er­a­tives, where the actu­al work­er is giv­en some pow­er or say or is able to be engaged in the process of that busi­ness. I think of how in poor com­mu­ni­ties, mon­ey gets extract­ed by pay­day lend­ing. But there are ways we can bank dif­fer­ent­ly," he says, point­ing to a soon-to-open black-owned cred­it union that he is look­ing for­ward to bank­ing with.
"I believe that when peo­ple in the com­mu­ni­ty do well, and the small busi­ness­es do well, it lifts the whole com­mu­ni­ty, and those peo­ple stay in the com­mu­ni­ty as it does bet­ter," he says. Their per­son­al wealth, he says, ris­es with the com­mu­ni­ty. ​"It keeps them in their homes," he says, and pre­vents dis­place­ment and gentrification.
For many accus­tomed to pol­i­tics as usu­al, Dehn's cam­paign may seem uncon­ven­tion­al — but he doesn't see it that way. To him, these ideas seem ​"like what elect­ed offi­cials should be fight­ing for," he says. ​"We have many peo­ple that strug­gle, and … the only way that we're gonna have an impact is actu­al­ly to begin to address these issues at a sys­temic lev­el, and be bold enough to say that we need to put resources where they're going to make a dif­fer­ence in people's lives. It's more about, what is an individual's need, and how can we begin to address that? That includes every­thing from hous­ing to police account­abil­i­ty, and to con­sid­er­a­tions around issues relat­ed to cli­mate change and envi­ron­men­tal justice."
Dehn is endorsed by Our Rev­o­lu­tion , and he received more del­e­gate votes than any oth­er can­di­date at the Demo­c­ra­t­ic-Farmer-Labor (the state's Dems) con­ven­tion last sum­mer. That he received sig­nif­i­cant­ly more votes than incum­bent Bet­sy Hodges gives Dehn a boost over his chal­lengers and the incum­bent, espe­cial­ly in the eyes of local polit­i­cal observers and the gen­er­al pub­lic. He also did it with a cam­paign chest of just over $50,000, a pal­try sum in today's dark mon­ey polit­i­cal landscape.
Dehn says he's being out­raised around five to one, even more by some can­di­dates. ​"My cam­paign has been lead­ing all the way by rais­ing and spend­ing less than a fifth of what the oth­er can­di­dates have been spend­ing. They're run­ning tra­di­tion­al cam­paigns. We're knock­ing on peo­ples doors and we're hav­ing con­ver­sa­tions … engag­ing them in a cam­paign that's about substance."
He'd rather talk about pol­i­cy than about Hodges, or the oth­er con­tenders for the office, includ­ing Hen­nepin The­ater Trust leader Tom Hoch and city coun­cil mem­ber Jacob Frey. That's part­ly because the city's ranked-choice vot­ing sys­tem — in which vot­ers rank their picks by mark­ing on a paper bal­lot their first, sec­ond and third choice — encour­ages cam­paigns to focus on the issues, says Dehn. Besides, Dehn's ​"not an attack kind of guy. You win with dig­ni­ty by talk­ing about your cam­paign," he says.
For many, talk like this might seem like just that: talk. But Chat­man says with Dehn, it's more than that when look­ing at his record as a state rep­re­sen­ta­tive. ​"What he says he's gonna do, he does," says Chat­man. ​"He's a steady leader. He leads with integri­ty. That's how he's known in the community."
The elec­tion is Tues­day, Novem­ber 7.
Valerie Vande Panne
is an inves­tiga­tive fel­low with
In These Times
' Leonard C. Good­man Insti­tute for Inves­tiga­tive Reporting.