Memories of an Afternoon with the Late Eduardo Galeano
Remembering an interview between a "poetically tone-deaf leftist" and the giant of the Latin American Left.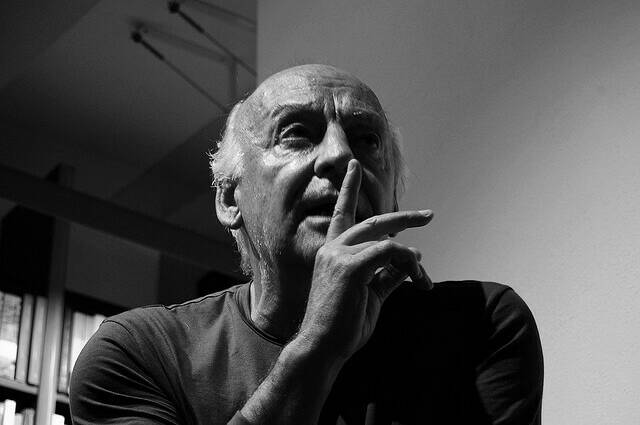 My heart has been heavy since learn­ing over the week­end of the death of the rad­i­cal and mar­velous­ly lyri­cal Uruguayan writer Eduar­do Galeano, whom I had the enor­mous plea­sure of meet­ing some 20 years ago.
"My guest on this week's program is Eduardo Galeano, author of the classic Open Veins of Latin America: Five Centuries of the Pillage of a Continent…" He stopped me in my tracks and asked me to start the interview over. He explained that he hated the subtitle and wanted me to leave it out. I didn't dare tell Galeano that I loved that subtitle.
Galeano was an icon­ic lit­er­ary and intel­lec­tu­al fig­ure of the Latin Amer­i­can Left, but his work has a glob­al foot­print. Arguably among the most influ­en­tial books of the sec­ond half of the 20th cen­tu­ry, his land­mark 1971 Open Veins of Latin Amer­i­ca has been trans­lat­ed into more than a dozen lan­guages and sold over a mil­lion copies. It stands with Fanon's Wretched of the Earth, Albert Memmi's The Col­o­niz­er and the Col­o­nized, and Gillo Pontecorvo's film The Bat­tle of Algiers, as part of the pan­theon of anti-colo­nial­ism and Third World­ism. Hamid Dabashi calls Galeano a ​"cre­ative voice of an alter­na­tive his­to­ri­og­ra­phy, a mode of sub­al­tern think­ing and writ­ing before a num­ber of Ben­gali his­to­ri­ans made the term glob­al­ly popular."
Open Veins of Latin Amer­i­ca was banned under the mur­der­ous mil­i­tary dic­ta­tor­ships in Chile, Argenti­na and Uruguay alike, and Galeano him­self was dri­ven into exile under his country's régime dur­ing the 1970s. In 2009 the book made inter­na­tion­al head­lines—and saw a major surge in sales — when Venezue­lan pres­i­dent Hugo Chávez per­son­al­ly pre­sent­ed Barack Oba­ma with a copy.
But while Open Veins was Galeano's best-known work, his mag­num opus was a tril­o­gy titled Mem­o­ry of Fire. My friend Scott Sher­man cap­tures it beau­ti­ful­ly:
Unques­tion­ably Galeano's mas­ter­work, Mem­o­ry of Fire is a kind of secret his­to­ry of the Amer­i­c­as, told in hun­dreds of kalei­do­scop­ic vignettes that res­ur­rect­ed the lives of campesinos and slaves, dic­ta­tors and scoundrels, poets and vision­ar­ies. Mem­oirs, nov­els, bits of poet­ry, folk­lore, for­got­ten trav­el books, eccle­si­as­ti­cal his­to­ries, revi­sion­ist mono­graphs, Amnesty Inr­na­tion­al reports — all of these sources con­sti­tut­ed the raw mate­r­i­al of Galeano's sprawl­ing mosaic.
Indeed, Galeano ​"rivals such mas­ters of the fable as Kaf­ka," the lit­er­ary crit­ic Michael Dir­da once wrote.
Galeano's Book of Embraces occu­pies a spe­cial place in my heart, in part because it was a gift from my then-girl­friend, Deb­bie Bookchin. Our mutu­al love of Galeano was bond-form­ing. ​"A Diego Rivera mur­al in words," the lit­er­ary crit­ic John Leonard felic­i­tous­ly called it. I read it the way I read Adorno's Min­i­ma Moralia (anoth­er book Deb­bie and I bond­ed over), sip­ping from its apho­risms here and there, drawn back in by its charms over years, decades now.
The Galeano book that has always meant the most to me as a phys­i­cal object is Walk­ing Words. Illus­trat­ed by the Brazil­ian wood­cut artist José Fran­cis­co Borges, it is work of arrest­ing, hyp­not­ic visu­al beau­ty. One review­er called it an ​"assem­blage of tales, fables and para­bles [full of] intense lyri­cism, sub­ver­sive humor and spell­bind­ing storytelling."
I feel deeply for­tu­nate to have spent an after­noon with Galeano almost exact­ly two decades ago, in the sum­mer of 1995. I host­ed a radio show in Chica­go at the time. When I found out that Galeano was com­ing to Chica­go to do a lit­er­ary read­ing, I scram­bled to get an inter­view with him. I con­tact­ed his US pub­lish­er, W. W. Nor­ton. They were not encour­ag­ing. It was too late, they informed me. Galeano's itin­er­ary was already full and in any case he was in Seat­tle and out of con­tact (this was before cell phones and e‑mail). And besides, who was I? I host­ed a show on a col­lege radio station.
I refused to take no for an answer. I asked them which hotel he was stay­ing at in Seat­tle. They some­what reluc­tant­ly told me. I called and got the hotel's fax num­ber. I rushed over to a near­by print­ing and com­put­er shop (I didn't own my own com­put­er) and com­posed a des­per­ate but seri­ous let­ter to Galeano request­ing an inter­view. I poured my heart into the let­ter, express­ing my pro­found admi­ra­tion for his books. I also men­tioned how much I liked an arti­cle he had just pub­lished in the mag­a­zine NACLA: Report on the Amer­i­c­as (a sta­ple of the left-wing Latin Amer­i­can­ist diet) on the tyran­ny of cars (clev­er­ly titled​"Autoc­ra­cy: An Invis­i­ble Dic­ta­tor­ship"). I faxed the let­ter to the hotel and called (more than once) to make sure that the front desk had received it and got­ten it into Galeano's hands.
The next day, my room­mate, Ben­jamin Ortiz, called me at work and said, incred­u­lous­ly, ​"Yo, there's a mes­sage for you on our answer­ing machine from Eduar­do Galeano!" Time stopped. It was one of the coolest moments in my life. Galeano would lat­er tell me that it was the speci­fici­ty of my let­ter that won him over: in par­tic­u­lar the fact that I had read his NACLA arti­cle. He was impressed by this obses­sive metab­o­lism and by my stalk­ing tech­niques, he told me. It was a refresh­ing depar­ture, he said, from many of the media requests he got, for exam­ple, in New York — from jour­nal­ists who had nev­er even heard of pub­li­ca­tions like NACLA, let alone read them.
I met Galeano at the hotel he was stay­ing at in down­town Chica­go and we con­duct­ed the inter­view in his room. I was in such awe of his pres­ence, and so cap­ti­vat­ed by his eyes, that I can bare­ly remem­ber what he said. It tor­ments me to no end that no record­ing of that inter­view has sur­vived. (If any­one read­ing this hap­pened to be lis­ten­ing to WLUW when it was broad­cast, and record­ed it, and saved the record­ing, please con­tact me!) One of the great regrets of my career is that I nev­er tran­scribed that inter­view and pub­lished it…
The one thing I vivid­ly recall from the inter­view is that when I said, by way of intro­duc­tion, ​"My guest on this week's pro­gram is Eduar­do Galeano, author of the clas­sic Open Veins of Latin Amer­i­ca: Five Cen­turies of the Pil­lage of a Con­ti­nent…" he stopped me in my tracks and asked me to start the inter­view over (I was record­ing it for lat­er broad­cast). He explained that he hat­ed the sub­ti­tle and want­ed me to leave it out. It was only the Eng­lish edi­tion that car­ried that sub­ti­tle, he told me. The orig­i­nal Span­ish edi­tion had no sub­ti­tle, just Open Veins of Latin Amer­i­ca. The book's U.S. pub­lish­er, Month­ly Review Press, was a Marx­ist oper­a­tion that spe­cial­ized in polit­i­cal non­fic­tion. It was they who added Five Cen­turies of the Pil­lage of a Con­ti­nent as a sub­ti­tle, which Galeano, a prose styl­ist of the first order, found utter­ly leaden.
I didn't dare tell Galeano that I loved that sub­ti­tle. I remem­ber the first time I held the book in my hands and took in those words on its cov­er. Open Veins of Latin Amer­i­ca: Five Cen­turies of the Pil­lage of a Con­ti­nent. Veins. Pil­lage. Cen­turies. A cas­cade of images, ideas, sen­sa­tions. I knew I had to read the book and that doing so would turn my world upside down.
But I was a poet­i­cal­ly tone-deaf left­ist. Galeano was an artist. I of course oblig­ed and start­ed the inter­view over.
It's because of that expe­ri­ence that I wasn't as shocked as some were when it was report­ed last year that Galeano had dis­avowed that book, or at least dis­tanced him­self from it. ​"I wouldn't be capa­ble of read­ing this book again," he remarked at a book fair in Brazil. ​"I'd keel over. For me, this prose of the tra­di­tion­al left is extreme­ly lead­en, and my physique can't tol­er­ate it."
But this recoil was more than just styl­is­tic. He went on to say in Brazil:
Real­i­ty has changed a lot, and I have changed a lot. … Real­i­ty is much more com­plex pre­cise­ly because the human con­di­tion is diverse. Some polit­i­cal sec­tors close to me thought such diver­si­ty was a heresy. Even today, there are some sur­vivors of this type who think that all diver­si­ty is a threat. For­tu­nate­ly, it is not.
As far as I know, Galeano nev­er wrote an essay or gave a full-blown inter­view elab­o­rat­ing on the this line of think­ing. I inter­pret his com­ments not as an aban­don­ment of left­ism as such but as an affir­ma­tion of plu­ral­ism. In a bril­liant talk at a recent con­fer­ence at Colum­bia Uni­ver­si­ty, the Tunisia schol­ar Mon­i­ca Marks dis­tin­guished between the pol­i­tics of ​"purists" and ​"plu­ral­ists." I read Galeano's com­ments in Brazil as an expres­sion of dis­dain for the for­mer and sym­pa­thy for the latter.
Walk­ing Words. Mem­o­ry of Fire. What fit­ting images Galeano con­jured with these titles. His words will con­tin­ue to walk, to wan­der the earth, to inhab­it our think­ing, and to ignite our imag­i­na­tions. Thank you, Eduar­do, for the mem­o­ry of your mar­velous fire.
This post first appeared at Pulse Media.