Should We Oppose the Intervention Against ISIS?
Most U.S. leftists say yes. But voices we rarely hear—Kurds and members of the Syrian opposition—have more ambiguous views.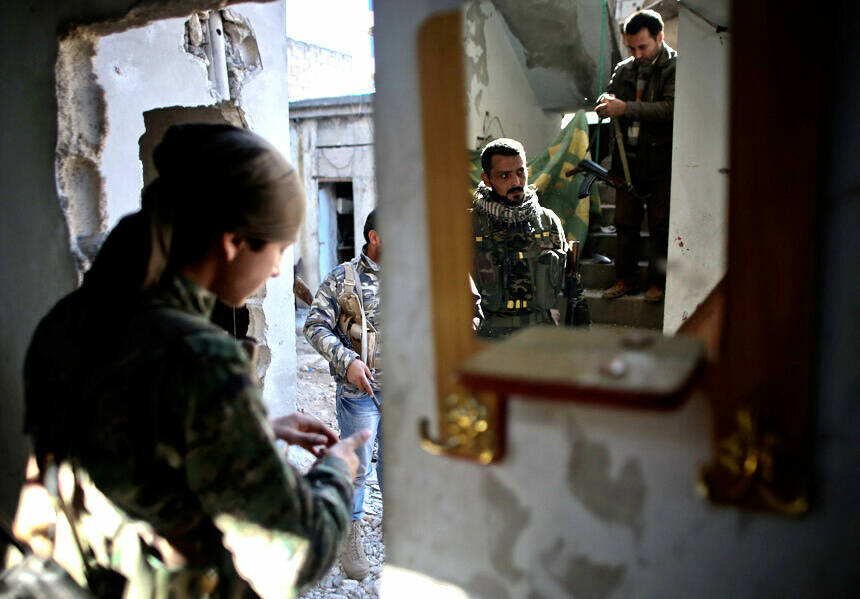 ISIS (or ISIL, or the Islam­ic State) sent shock waves through the Mid­dle East and beyond in June when it seized Mosul, Iraq's sec­ond-largest city. The orga­ni­za­tion has now laid claim to a swath of ter­ri­to­ry ​"stretch­ing from Bagh­dad to Alep­po and from Syria's north­ern bor­der to the deserts of Iraq in the south," in the words of Patrick Cock­burn, author of The Jihadis Return: ISIS and the New Sun­ni Upris­ing.
To consider ending the war, which is what all of us want, without considering what's at the root of this entire monstrosity—which is the Assad regime itself—is unacceptable.
In August, the Unit­ed States assem­bled an inter­na­tion­al coali­tion (even­tu­al­ly includ­ing more than a dozen coun­tries) to con­duct a cam­paign of air strikes on ISIS posi­tions in Iraq, coor­di­nat­ing with Iraqi and Kur­dish Pesh­mer­ga forces. Then, in Octo­ber, the coali­tion expand­ed the inter­ven­tion into Syr­ia, coor­di­nat­ing with Kur­dish fight­ers on the Syr­i­an-Turk­ish bor­der and Free Syr­i­an army forces.
Amer­i­can pro­gres­sives have been rel­a­tive­ly uni­form in oppos­ing the inter­ven­tion against ISIS. But to most Kurds and many Syr­i­an activists, the inter­ven­tion is more wel­come. Turk­ish and Syr­i­an Kurds along the bor­der watch the bat­tles against ISIS from hill­tops, break­ing out in cheers and chant­i­ng, ​"Oba­ma, Oba­ma." With­in the Syr­i­an oppo­si­tion, one finds a range of per­spec­tives—some sup­port inter­ven­tion, oth­ers oppose it, and many, like the Syr­i­an left­ist intel­lec­tu­al Yassin al-Haj Saleh, are torn. In late Sep­tem­ber Saleh told me,
On the one hand, I would like to see this thug­gish gang wiped from the face of the earth. ISIS is a crim­i­nal orga­ni­za­tion that has killed thou­sands of Syr­i­ans and Iraqis while leav­ing intact anoth­er crim­i­nal orga­ni­za­tion — the Assad régime — that is respon­si­ble for the deaths of close to 200,000 peo­ple. ISIS has destroyed the cause of the Syr­i­an rev­o­lu­tion as much as the Assad régime has destroyed our coun­try and soci­ety. On the oth­er hand, an attack against ISIS will send a mes­sage to many Syr­i­ans (and Iraqis and oth­er Arabs) that this inter­ven­tion isn't about seek­ing jus­tice for heinous crimes, but is rather an attack against those who chal­lenged West­ern pow­ers. This will lead to more resent­ment against and sus­pi­cion of the out­side world, which is the very nihilist mood on which ISIS cap­i­tal­izes and profits.
Some Syr­i­an activists ques­tion how com­mit­ted the Kurds are to top­pling the Syr­i­an dic­ta­tor. The Kurds, for their part, dis­trust Turkey, which sup­ports the Syr­i­an oppo­si­tion. These debates and dynam­ics are most­ly unknown to Amer­i­can progressives.
Giv­en that ISIS and the inter­ven­tion against it direct­ly impact the peo­ples of the region, it behooves us to know what they have to say about it. So when In These Times asked me to con­vene a round­table dis­cus­sion on the ISIS inter­ven­tion, I saw it as an oppor­tu­ni­ty to bridge this gap — to explore some of these con­tend­ing per­spec­tives and stim­u­late a con­ver­sa­tion between U.S. pro­gres­sives and some of our Syr­i­an and Kur­dish counterparts.
Richard Falk has been one of the lead­ing voic­es of peace and human rights over the last half cen­tu­ry. He was the UN's Spe­cial Rap­por­teur on Pales­tin­ian Human Rights and a mem­ber of the Inde­pen­dent Inter­na­tion­al Com­mis­sion on Koso­vo. His blog, Glob­al Jus­tice in the 21st Cen­tu­ry, is a con­stant source of thought-pro­vok­ing and self-reflec­tive analy­sis. His essay in The Syr­ia Dilem­ma, the book I co-edit­ed with Nad­er Hashe­mi, is among the most thought­ful and chal­leng­ing argu­ments about the Syr­i­an tragedy I have read.
The Kur­dish region of Roja­va in north­ern Syr­ia has been likened to the Zap­atista autonomous ter­ri­to­ries of Chi­a­pas and has inspired inter­na­tion­al sol­i­dar­i­ty efforts with its exper­i­ment in demo­c­ra­t­ic auton­o­my . The anar­chist writer and activist David Grae­ber has writ­ten a force­ful plea to stand with the belea­guered Kurds as they fight for their lives. With Graeber's help I reached out to Alan Semo, the UK rep­re­sen­ta­tive of the Kur­dish Demo­c­ra­t­ic Union Par­ty (PYD), to get his per­spec­tive on the ISIS intervention.
I also deemed it essen­tial to include a Syr­i­an oppo­si­tion voice in the dis­cus­sion. There has been and remains deep con­fu­sion about the Syr­i­an con­flict amongst many left­ists. So I reached out to Rime Allaf, who serves on the board of direc­tors of The Day After Project, an inter­na­tion­al work­ing group of Syr­i­ans build­ing toward a demo­c­ra­t­ic tran­si­tion in Syr­ia. She is a for­mer advi­sor to the pres­i­dent of the Nation­al Coali­tion of Syr­i­an Rev­o­lu­tion and Oppo­si­tion Forces and for­mer Asso­ciate Fel­low at London's Chatham House think tank.
There are few peo­ple I hold in high­er regard than Rafia Zakaria, a lawyer, board mem­ber of Amnesty Inter­na­tion­al USA, colum­nist for Al Jazeera Amer­i­ca and the Pak­istani news­pa­per Dawn, and the author of The Upstairs Wife: An Inti­mate His­to­ry of Pak­istan (forth­com­ing in Feb­ru­ary from Bea­con Press). Rafia brings both an inter­na­tion­al human rights per­spec­tive and the painful knowl­edge of what U.S. mil­i­tary inter­ven­tion, in the form of drone strikes, has wrought in her part of the world.
Richard, with only one or two excep­tions (notably Koso­vo), you have opposed U.S. mil­i­tary inter­ven­tions for the past 50 years. As some­one who has opposed those inter­ven­tions as a cham­pi­on of self-deter­mi­na­tion — espe­cial­ly self-deter­mi­na­tion for for­mer­ly col­o­nized peo­ples—what do you make of the cur­rent U.S. inter­ven­tion against ISIS? And specif­i­cal­ly, the siege of Kobani and the Kur­dish resis­tance against ISIS along the Turk­ish-Syr­i­an border?
Richard: It's a tough ques­tion. We need to con­tex­tu­al­ize this a bit fur­ther. In my view, there is no basis for the Unit­ed States to play a con­struc­tive role in this region. Its role in Iraq and Syr­ia — much less, Israel, Pales­tine, Egypt and else­where in the region — fig­ures into an over­all strat­e­gy of dom­i­nat­ing the region and sup­port­ing high­ly reac­tionary forces in the Gulf, par­tic­u­lar­ly Sau­di Ara­bia. The notion that the Unit­ed States can be a lib­er­at­ing actor by nar­row­ing the focus to one spe­cif­ic bat­tle site isn't con­vinc­ing to me. The plight of the Kurds in Kobani and their courage in resist­ing ISIS pos­es a trag­ic predica­ment that does chal­lenge the kind of anti-inter­ven­tion­ism that I feel is jus­ti­fied over­all, par­tic­u­lar­ly in the Mid­dle East. But to over­come the pre­sump­tion against mil­i­tary inter­ven­tion, espe­cial­ly from the air, one needs very pow­er­ful evi­dence. And one needs a full-fledged diplo­mat­ic ini­tia­tive, which I see lack­ing so long as Iran con­tin­ues to be exclud­ed from any effort to resolve the Syr­i­an con­flict. Like the drone attacks, the ISIS inter­ven­tion doesn't seem designed to actu­al­ly deal with the prob­lem. Rather, it looks like a pro­jec­tion of U.S. pow­er in the region.
Where do you stand on the inter­ven­tion, Rafia?
Rafia: I oppose it. Look at what the U.S. has done in South Asia in the past ten years. As some­one who has cov­ered drone attack after drone attack in Pak­istan, I can tell you that the dynam­ics are very sim­i­lar. When the U.S. began its drone cam­paign in north and south Waziris­tan, where the Tal­iban were head­quar­tered, there was a lot of sup­port from Pash­tun trib­al lead­ers, sim­i­lar in a way to the cur­rent sit­u­a­tion between the Kurds and ISIS. The nar­ra­tive was that the drone attacks were empow­er­ing the indige­nous peo­ple of area who were fac­ing incur­sions from the Tal­iban. It's been beyond a mis­er­able fail­ure. The drone attacks have led to the dis­place­ment of hun­dreds of thou­sands of peo­ple. When­ev­er you have com­mu­ni­ties that are dis­placed — and this is pre­cise­ly what is hap­pen­ing in Syr­ia and Iraq as a result of ISIS incur­sions and the airstrikes against ISIS — their social mech­a­nisms, their polit­i­cal alle­giances, their forms of gov­er­nance all col­lapse. Once that hap­pens, those pop­u­la­tions are far, far more vul­ner­a­ble to being recruit­ed by groups like ISIS. Or they become dis­en­chant­ed with any effort to rebuild or orga­nize. The con­se­quence of inter­ven­tion is dis­place­ment. And the con­se­quence of dis­place­ment is fur­ther civ­il war, which is what you have in Pak­istan right now.
Syr­i­an activists have expressed a range of views on the inter­ven­tion against ISIS. Rime, how do you see it?
Rime: I very much share the ambiva­lence of Yassin al-Haj Saleh. Many of us in the Syr­i­an oppo­si­tion do. Every­thing that has hap­pened in Syr­ia was pre­dictable — and indeed was pre­dict­ed. The rise of these Islamist ter­ror groups…before they became an orga­nized enti­ty call­ing itself ISIS, they were small­er groups fight­ing in var­i­ous areas in Iraq but most­ly in Syr­ia, where they had free reign because the only forces fight­ing them dur­ing rough­ly their first year on the scene [2013] were the Free Syr­i­an Army. The FSA — the bulk of the Syr­i­an armed oppo­si­tion to the Assad régime — thus found itself fight­ing two very bru­tal forces, the Assad régime on one side and these Islamist groups on the oth­er — and those two forces were not fight­ing each oth­er. This is an essen­tial point. It was inevitable that this would weak­en the oppo­si­tion and strength­en the régime. Because the Assad régime was not attack­ing this Islamist plague, it was to be expect­ed that these ter­ror groups would gain ground. They had help from al-Qae­da type groups in Iraq. Plus they had the advan­tage of their ene­mies [the FSA] being bombed relent­less­ly by the Syr­i­an régime. So they gained strength.
Let's be very clear that for the longest time, the Syr­i­an oppo­si­tion was not ask­ing for a ​"boots on the ground"-style inter­ven­tion, or even for a bomb­ing cam­paign led by the U.S. What was being request­ed ear­ly on was the estab­lish­ment of human­i­tar­i­an cor­ri­dors with the help of a ​"no-fly-zone" and/​or weapons for the FSA to defend lib­er­at­ed areas from the relent­less bar­rel bomb­ing cam­paign of the régime. Since none of this hap­pened, it was to be expect­ed that these Islamist groups have been able to gain so much ground and find them­selves with a weak­ened oppo­nent in the FSA. Now the Assad régime doesn't even need to wor­ry about ISIS because it's got the U.S. fight­ing [ISIS].
Alan, where does the Kur­dish Demo­c­ra­t­ic Union Par­ty (PYD), which you rep­re­sent, stand on the U.S. inter­ven­tion against ISIS? The PYD has opposed exter­nal mil­i­tary inter­ven­tion in the Syr­i­an con­flict, but hasn't the Kur­dish strug­gle against ISIS ben­e­fit­ed from the coali­tion airstrikes?
Alan: I think the Amer­i­can-led inter­na­tion­al inter­ven­tion against ISIS has been effi­cient. The Amer­i­cans real­ized that the expan­sion of ISIS is seri­ous and threat­ens the region — it has to be stopped and elim­i­nat­ed. The U.S. has been rely­ing on air strikes alone, and they know they need troops on the ground. The forces on the ground fight­ing ISIS in north­ern Iraq and now in Kobani, in north­ern Syr­ia, are Kur­dish troops. They have been defend­ing them­selves very effi­cient­ly against ISIS, which is a real threat to the region. So I think elim­i­nat­ing this threat is the right step, both for the Syr­i­an peo­ple and for region­al secu­ri­ty and stability.
Rime: From Jan­u­ary rough­ly until the sum­mer, what hap­pened is that ISIS was allowed to spread its ter­ror through­out the Jazi­ra region of Syr­ia with­out any inter­ven­tion of any kind from out­side Syr­ia — or with­in Syr­ia. The only peo­ple fight­ing them were the Free Syr­i­an Army — alone, with­out ammu­ni­tion. So I agree with Alan that the inter­ven­tion is prov­ing use­ful, but only up to a point. It is prov­ing use­ful in a very lim­it­ed area, and — this is crit­i­cal — it is not tack­ling the ori­gin of this plague, which is the Assad régime.
Alan: Now, Kur­dish forces are work­ing togeth­er with some sec­tions of the Free Syr­i­an Army and oth­er forces in north­ern Syria.
The Cen­tre for Human­i­tar­i­an Dia­logue, a Gene­va-based orga­ni­za­tion, has recent­ly put for­ward a pro­pos­al to end the Syr­i­an con­flict that includes the cre­ation of a Peace and Recon­struc­tion Author­i­ty that would imple­ment local cease­fire agree­ments and serve as an inter­im gov­ern­ing author­i­ty. The report also sug­gests that once a deal has been struck, the Assad régime and the Syr­i­an oppo­si­tion could focus their ener­gies on fight­ing ISIS. What do you make of this idea?
Rime: It's an absolute­ly obscene propo­si­tion because it takes the posi­tion that any­thing is bet­ter than ISIS, where­as most Syr­i­ans view ISIS and the Assad régime as being on an equal lev­el of sav­agery. Many Syr­i­ans will tell you the Assad régime is actu­al­ly worse than ISIS and has killed far more people.
To con­sid­er end­ing the war, which is what all of us want, with­out con­sid­er­ing what's at the root of this entire mon­stros­i­ty — which is the Assad régime itself — is unac­cept­able. To pro­pose that in order to end ISIS we have no choice but to work with Assad is not a solu­tion at all.
Alan: At the end of the day, we have to end Syria's war. To end the war requires a solu­tion on three lev­els: the inter­nal bal­ance on the ground inside Syr­ia; the region­al cir­cum­stances; and the inter­na­tion­al lev­el. I believe the will of the Syr­i­an peo­ple has been hijacked by region­al pow­ers and by glob­al pow­ers — Amer­i­ca and Rus­sia. But the Syr­i­an peo­ple have to deter­mine their own des­tiny. The Syr­i­an oppo­si­tion has to be unit­ed. And they have to have a clear vision of how they can end this war. I do not agree with Rime's state­ment that you have to fight the régime before fight­ing ISIS.
Rime: I did not say that. I said that you can't just get rid of ISIS. You can­not just get rid of Assad. You have to get rid of both.
Alan: The Syr­i­an peo­ple are defend­ing them­selves. They are fight­ing against ISIS. The peo­ple of Kobani have been pro­tect­ing them­selves for two months with their lim­it­ed resources.
Rime: But the coalition's airstrikes are help­ing them. For three years Assad has been drop­ping bar­rel bombs on civil­ians and yet no help has come from any­body. But now you have the coali­tion bomb­ing ISIS, which helps the Kurds in Kobani to defend themselves.
Richard, what do you think of the idea of a Peace and Recon­struc­tion Authority?
Richard: I think that a pro­pos­al of this sort is some­what sus­pect giv­en both how it orig­i­nat­ed and what it's propos­ing, because it's real­ly a plea to, in effect, enlarge the anti-ISIS mil­i­tary coali­tion. I agree with what Rafia said ear­li­er, that bomb­ing only con­tributes to desta­bi­liz­ing the whole under­ly­ing real­i­ty. And we still have to address why Iran hasn't been brought into the process as a major polit­i­cal actor that needs to par­tic­i­pate in any kind of diplo­ma­cy to resolve the Syr­i­an crisis.
I think there are desir­able ele­ments [in the Cen­tre for Human­i­tar­i­an Dia­logue pro­pos­al], such as try­ing to respect the cease­fire, but it over­looks the com­plex­i­ties and con­tra­dic­tions that have emerged in the Syr­i­an con­flict. To try to solve the prob­lems of the Mid­dle East from above is very unlike­ly to have con­struc­tive effects.
Final­ly, there's an absence of polit­i­cal imag­i­na­tion. The Amer­i­can approach has become so mil­i­ta­rized over such a long peri­od of time that it's just about inca­pable of think­ing out­side of the mil­i­tary box. It there­fore keeps rein­vent­ing a mil­i­tary solu­tion to essen­tial­ly polit­i­cal prob­lems — and is unde­terred by a record of fail­ure because it's the only way it knows how to project its pow­er. The U.S. is so addict­ed to hard-pow­er ways of behav­ing in the world. It has very lit­tle cred­i­bil­i­ty in my view — even when you nar­row the focus and it looks like it's bet­ter to help those belea­guered in Kobani than to ignore them. That's why I say it's a trag­ic predica­ment: Every alter­na­tive is repug­nant under these con­di­tions. I've always felt that when all alter­na­tives are repug­nant the one point of moral clar­i­ty is, don't add to the killing. And, echo­ing what Rafia said, don't add to the dis­place­ment, which is sub­vert­ing any pos­si­bil­i­ty of benev­o­lent polit­i­cal reconstruction.