It Wasn't About Oil, and It Wasn't About the Free Market: Why We Invaded Iraq
Muhammad Idrees Ahmad's new book not only interrogates the motivations behind the 2003 invasion of Iraq, but also reveals a cautionary tale for the present.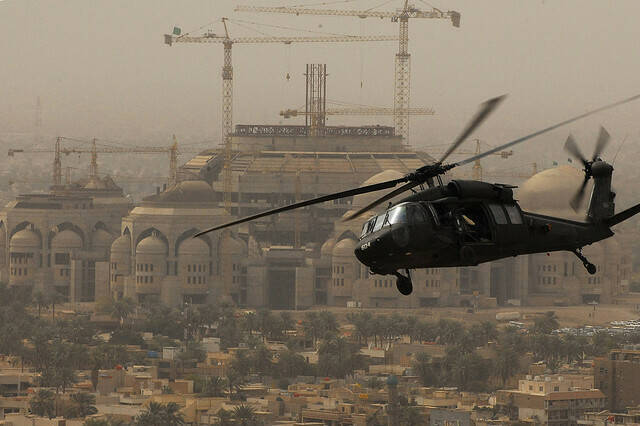 I was reluc­tant to review Muham­mad Idrees Ahmad's The Road to Iraq: The Mak­ing of a Neo­con­ser­v­a­tive War. With all the dra­mat­ic devel­op­ments in the Mid­dle East today — the ISIS cri­sis, the siege of Kobanê, the deep­en­ing night­mare in Syr­ia, the esca­lat­ing repres­sion in Egypt, the fate of Tunisia's demo­c­ra­t­ic tran­si­tion, the sec­tar­i­an­iza­tion of region­al con­flicts dri­ven by the Sau­di-Iran­ian rival­ry — delv­ing back into the 2003 inva­sion of Iraq seemed rather less than urgent. It's hard enough just to keep up with the events unfold­ing day-to-day in the region. Read­ing — let alone review­ing — a detailed study of the inter­nal process­es that led to the Unit­ed States top­pling Sad­dam Hus­sein over a decade ago seemed remote, if not indeed a distraction.
The road to Iraq was paved with neoconservative intentions. Other factions of the U.S. foreign policy establishment were eventually brought around to supporting the war, but the neocons were its architects and chief proponents.
But I'm glad I set these reser­va­tions aside and took the assign­ment. This force­ful­ly argued and metic­u­lous­ly researched (with no few­er than 1,152 foot­notes, many of which are full-blown para­graphs) book turns out to be enor­mous­ly rel­e­vant to the present moment, on at least three fronts:
The US Sen­ate report on CIA tor­ture has brought back into focus the rogues gallery of the Bush-Cheney admin­is­tra­tion — the same cast of char­ac­ters who engi­neered the

2003

Iraq inva­sion. This book shines a heat lamp on that dark chap­ter and many of its protagonists.
There is talk of a neo­con­ser­v­a­tive come­back in Wash­ing­ton. This thor­ough­ly dis­cred­it­ed but zom­bie-like group are now angling for the ear of Hillary Clin­ton, who might be the next US pres­i­dent. Ahmad's book pro­vides a mar­velous­ly illu­mi­nat­ing anato­my of the neo­cons, which has lessons that apply direct­ly to this movement's poten­tial­ly omi­nous next chapter.
The cen­tral ques­tion Ahmad attempts to answer is: Why did the 2003 Iraq War hap­pen? In one of the book's most valu­able sec­tions, felic­i­tous­ly titled ​"Black Gold and Red Her­rings," he goes through sev­er­al preva­lent explanations/​theories and takes them apart one by one:
Oil. ​"If Iraq was invad­ed for oil," Ahmad writes, ​"then the US was remark­ably neg­li­gent in secur­ing the prize." Iraq award­ed its first major post-inva­sion oil con­ces­sions in 2009, and the big win­ners? Nor­way, France, Chi­na and Rus­sia. Of the 11 con­tracts signed only one went to a US com­pa­ny (Exxon Mobil). The only sec­tor in which US firms pre­vailed was oil ser­vices—but ​"in that sec­tor the US has always enjoyed a vir­tu­al monop­oly, inva­sions or no," Ahmad notes.
It's true that Bush and Cheney had worked in the ener­gy indus­try, but US oil com­pa­nies did not push for the inva­sion — in fact they lob­bied to lift the sanc­tions on Iraq, which blocked poten­tial prof­its. The oil indus­try has long favored agree­ments with gov­ern­ments, Ahmad notes; bel­liger­ence, in con­trast, ​"has only jeop­ar­dized invest­ments and brought uncer­tain­ty to future projects." Did US oil com­pa­nies try to cash in on the oppor­tu­ni­ty pre­sent­ed by the top­pling of Sad­dam Hus­sein? By all means, but this is not to be con­fused, Ahmad argues, with why the inva­sion hap­pened. Gulf ener­gy resources have long been a vital US inter­est, he notes, but on ​"no oth­er occa­sion has the US had to occu­py a coun­try to secure them."
Free mar­kets. Nao­mi Klein has done the most to pop­u­lar­ize this notion with her wide­ly-read 2007 book The Shock Doc­trine, see­ing Iraq as a par­a­dig­mat­ic case of dis­as­ter cap­i­tal­ism — of preda­to­ry mar­ket forces exploit­ing a soci­ety con­vulsed by shock and awe. But ​"beyond short-term gains for a few busi­ness­es," Ahmad writes, ​"the war proved a dis­as­ter for the world cap­i­tal­ist sys­tem." The world will be pay­ing for the Iraq war for a bloody long time, as Joseph Stiglitz and Lin­da Blimes have demon­strat­ed in The Three Tril­lion Dol­lar War: The True Cost of the Iraq Con­flict. (They lat­er revised that esti­mate upwards.)
Mar­ket fanati­cism of the Mil­ton Fried­man vari­ety, Ahmad acknowl­edges, ​"was cer­tain­ly ascen­dant in the after­math of the inva­sion, but there is no evi­dence that it played any part in the delib­er­a­tions over war" (empha­sis mine). He shows, more­over, that Klein con­flates neo­con­ser­vatism and neolib­er­al­ism — two dis­tinct doc­trines. His excel­lent dis­cus­sion of the dif­fer­ences between them pro­vides a salient cor­rec­tive to the wide­spread con­fu­sion about this, espe­cial­ly on the Left.
Glob­al hege­mo­ny. The idea that the war was waged to expand US glob­al dom­i­nance is belied, for Ahmad, by two facts: that it had ​"remark­ably few sup­port­ers among the tra­di­tion­al advo­cates of Amer­i­can pri­ma­cy" and that the results have been a geostrate­gic cat­a­stro­phe for the Unit­ed States on myr­i­ad lev­els. The first point might seem counter-intu­itive, but as some­one who wrote exten­sive­ly about the Iraq debate in US for­eign pol­i­cy cir­cles, I can con­firm that Ahmad is exact­ly right about this. Attack­ing Iraq was a minor­i­ty posi­tion in US offi­cial­dom. Against it were the real­ists of the sort who dom­i­nat­ed the admin­is­tra­tion of Bush's father and were pil­lars in the for­eign pol­i­cy teams of Rea­gan, Carter, Ford and Nixon: think nation­al secu­ri­ty advis­ers Brent Scow­croft and Zbig­niew Brzezin­s­ki, sec­re­tary of state James Bak­er and the late senior diplo­mat­ic advis­er Lawrence Eagle­burg­er. All of them opposed the war. As did Col­in Pow­ell. This has been large­ly obscured by the sec­re­tary of state's infa­mous pre­sen­ta­tion to the UN on the eve of the inva­sion, one replete with lies and dis­tor­tions. Not only Pow­ell but vir­tu­al­ly the entire state depart­ment, and indeed a sig­nif­i­cant swath of the mil­i­tary and intel­li­gence estab­lish­ments, opposed going to war.
Who, then, were the war par­ty — and how did this minor­i­ty fac­tion get their way? The road to Iraq was paved with neo­con­ser­v­a­tive inten­tions. Oth­er fac­tions of the US for­eign pol­i­cy estab­lish­ment were even­tu­al­ly brought around to sup­port­ing the war, but the neo­cons were its archi­tects and chief pro­po­nents. New York Times colum­nist Thomas Fried­man, him­self a sup­port­er of the inva­sion, told the Israeli news­pa­per Haaretz in April 2003: ​"I could give you the names of 25 peo­ple (all of whom are at this moment with­in a five-block radius of this office [in Wash­ing­ton]) who, if you had exiled them to a desert island a year and a half ago, the Iraq war would not have happened."
The neo­cons were obsessed for decades with top­pling Saddam's régime. Ahmad pro­vides a thor­ough and instruc­tive geneal­o­gy of the neo­con­ser­v­a­tive move­ment, map­ping both its intel­lec­tu­al coor­di­nates and its ​"long march through the insti­tu­tions" of the nation­al secu­ri­ty appa­ra­tus: from its roots in ex-Trot­sky­ism, to the office of US Sen­a­tor Hen­ry ​"Scoop" Jack­son, a hard­line Cold War­rior, ascend­ing into the Rea­gan admin­is­tra­tion and the Pen­ta­gon, and a labyrinth of mag­a­zines, think tanks and ad hoc com­mit­tees. There is noth­ing con­spir­a­to­r­i­al about Ahmad's analy­sis: he sees the neo­cons as a net­work of indi­vid­u­als (or what the anthro­pol­o­gist Janine Wedel calls a ​"flex-net") with a par­tic­u­lar ide­o­log­i­cal agen­da, using the levers of the state and the media in pur­suit of that agen­da, in close coor­di­na­tion with one anoth­er. In this fig­ure from the book he maps what he calls ​"the neo­con­ser­v­a­tive core":
The neo­con­ser­v­a­tive core and Ahmed Cha­l­abi. Richard Per­le lies at the core of this unusu­al­ly dense net­work with a direct, one-to-one rela­tion­ship with every oth­er mem­ber of the net­work. Albert Wohlstet­ter is the out­lier main­ly because he belongs to a pre­vi­ous gen­er­a­tion. He is includ­ed because he played the cru­cial role in insert­ing apex neo­cons into government.
The neo­cons were the Iraq war's sine qua non, but oth­er stars had to align for the oppor­tu­ni­ty to present itself: the ter­ror­ist attacks of 9⁄11 were a god­send. The moment was ripe, and the neo­cons were abun­dant­ly pre­pared to exploit it. They ​"suc­ceed­ed in using the shock and dis­ori­en­ta­tion of the attacks to place Iraq…on the agen­da and helped man­u­fac­ture the case for invad­ing it," Ahmad writes. Indeed, such was their pre­oc­cu­pa­tion with Iraq that many of them urged going to Bagh­dad imme­di­ate­ly after 9⁄11, nev­er mind Afghanistan. Deputy defense sec­re­tary Paul Wol­fowitz argued this case a mere four days after the ter­ror­ist attacks, at the first gath­er­ing of Bush's nation­al secu­ri­ty team post‑9/​11, held at Camp David. Not even Don­ald Rums­feld, the defense sec­re­tary, sup­port­ed Wolfowitz's posi­tion — at least not at that point. (The ​"flip­ping" of Rums­feld and Cheney — their meta­mor­pho­sis from tra­di­tion­al con­ser­v­a­tives, or ​"aggres­sive nation­al­ists," into two of the war's key cham­pi­ons — was piv­otal in the deci­sion to go to war. Ahmad offers a dis­cern­ing if ulti­mate­ly incon­clu­sive dis­cus­sion of this opaque piece of the his­tor­i­cal puzzle.)
But why exact­ly was top­pling Sad­dam an idée fixe in the neo­con mind? And how did this minor­i­ty fac­tion ulti­mate­ly pre­vail over its rivals with­in the admin­is­tra­tion? Much of the book is devot­ed to answer­ing these two crit­i­cal ques­tions. Ahmad's dis­cus­sion of the lat­ter — his chap­ters on ​"Set­ting the Agen­da" and ​"Sell­ing the War" — are well craft­ed but cov­er famil­iar ground. There are sev­er­al oth­er books that tell that sto­ry, and Ahmad relies on them exten­sive­ly in his own account. But his dis­cus­sion of the for­mer — the expla­na­tion he advances for what moti­vat­ed the neo­con­ser­v­a­tive cru­sade against Sad­dam Hus­sein — is this book's real contribution.
The war was ​"con­ceived in Wash­ing­ton, but its inspi­ra­tion came from Tel Aviv," he writes, echo­ing the polit­i­cal sci­en­tists John Mearsheimer and Stephen Walt, authors of the influ­en­tial (and con­tro­ver­sial) book The Israel Lob­by and US For­eign Pol­i­cy (which began as an essay in the Lon­don Review of Books). Mearsheimer and Walt, the two pre­em­i­nent real­ist schol­ars in inter­na­tion­al rela­tions the­o­ry, main­tain that both Israeli lead­ers and the Israel lob­by in the US urged the Bush admin­is­tra­tion to invade Iraq — a course of action, they con­tend, that was not in the geostrate­gic inter­ests of the US but that Israel saw in its inter­ests. Ahmad con­curs with them. ​"Not all impe­r­i­al projects are about eco­nom­ic pre­da­tion: some sim­ply aim to destroy polit­i­cal ene­mies", he argues — cor­rect­ly, in my view. But in tak­ing out Sad­dam Hus­sein the US destroyed one of Israel's polit­i­cal ene­mies. In so doing, Mearsheimer and Walt argue, it under­mined Amer­i­can nation­al interests.
The Insti­tu­tion­al infra­struc­ture of the Israel lobby.
Ahmad demon­strates in painstak­ing detail how the neo­cons in the Bush admin­is­tra­tion — espe­cial­ly in the Pen­ta­gon (Wol­fowitz and Dou­glas Fei­th — think ​"Fei­th-based intel­li­gence") and the office of the vice pres­i­dent (Lewis ​"Scoot­er" Lib­by) — aggres­sive­ly advanced the (Israeli) case for the inva­sion. ​"It's a toss-up whether Lib­by is work­ing for the Israelis or the Amer­i­cans on any giv­en day," British For­eign Sec­re­tary Jack Straw remarked. Joe Klein, a cen­trist colum­nist for Time mag­a­zine (and him­self Jew­ish) wrote that the neo­cons pushed for the inva­sion ​"to make the world safe for Israel."
As Ahmad notes, how­ev­er, the neo­cons oper­ate on the basis ​"of what they think are Israel's best inter­ests" (his empha­sis): whether the war, which has sig­nif­i­cant­ly strength­ened Iran, was actu­al­ly in Israel's inter­ests, is high­ly con­testable. Many Israelis opposed the war. But as for­mer New Repub­lic edi­tor Andrew Sul­li­van con­tends, neo­con­ser­vatism ​"is about enabling the most irre­den­tist ele­ments in Israel." The neo­cons are more accu­rate­ly seen as Likud-cen­tric than Israel-centric.
Against the wide­ly-held view that Israel does America's bid­ding, Ahmad shows how Israelpoli­tik is at odds with both US geostrate­gic inter­ests and those of glob­al cap­i­tal. Big Oil, the Busi­ness Round­table and the US Cham­ber of Com­merce have locked horns with the Israel lob­by on mul­ti­ple occa­sions over sanc­tions on Syr­ia, Iran, Libya and oth­er states — mea­sures that the lob­by pushed hard but the cor­po­ra­tions opposed fiercely.
"US sup­port for Israel, when con­sid­ered not in abstract but con­crete detail, can­not be ade­quate­ly explained as a result of Amer­i­can impe­r­i­al inter­ests," the late anti-Zion­ist and left­ist writer Israel Sha­hak observed. ​"Strate­gi­cal­ly, Israel is obvi­ous­ly a huge bur­den for the U.S.," notes Sul­li­van. This view is becom­ing increas­ing­ly clear to many observers and indeed to more and more in the US for­eign pol­i­cy establishment.
I find Ahmad's argu­ments about the moti­va­tions behind the Iraq war — and his cri­tiques of the dom­i­nant alter­na­tive expla­na­tions — broad­ly con­vinc­ing. But I wish he had engaged direct­ly with some of the crit­i­cisms of the Mearsheimer-Walt argu­ment. I share his view that most of those crit­i­cisms are uncon­vinc­ing and that the Israel lob­by the­sis gen­er­al­ly stands up to scruti­ny — but his defense of that the­sis would have emerged stronger had he dealt with some of the more seri­ous crit­i­cisms lev­eled at it. He doesn't even men­tion, much less engage, the crit­i­cisms that Noam Chom­sky, Nor­man Finkel­stein, or Joseph Mas­sad, for exam­ple, have advanced against Mearsheimer and Walt.
Like Ahmad, I think those crit­i­cisms are wrong­head­ed. They take issue with Mearsheimer and Walt at the lev­el of their ide­o­log­i­cal frame­work, or the con­cep­tu­al arc of their argu­ment. They argue — to make a long sto­ry short — that Mearsheimer and Walt let the US off the hook, in effect, and are insuf­fi­cient­ly anti-impe­ri­al­ist. But the Mearsheimer-Walt the­sis is an empir­i­cal mat­ter — the ques­tion isn't what one thinks of their world­view in gen­er­al (a world­view Ahmad and I both find deeply flawed, by the way) but whether their argu­ment about why the US invad­ed Iraq in 2003 is cor­rect or not. I agree with Ahmad that the evi­dence is on the side of Mearsheimer and Walt rather than their crit­ics. But it would have made Ahmad's defense of their (and his) case more com­pelling had he aired those arguments.
Final­ly, I want to pick a bone with Ahmad's dis­cus­sion of lib­er­als and human­i­tar­i­an inter­ven­tion­ists. In a sec­tion polem­i­cal­ly titled ​'From human­i­tar­i­an inter­ven­tion to shock and awe', he takes them to task for forg­ing a ​"neo­con­ser­v­a­tive-lib­er­al alliance" in sup­port of the 2003 inva­sion. The lib­er­al inter­ven­tion­ists helped shape ​"the cli­mate of debate," he asserts, by ​"eas­ing the inhi­bi­tions of some about the use of force." There are two prob­lems with this section.
First, he wild­ly over­states the extent of sup­port for the Iraq war among lib­er­als. In fact, the major­i­ty of lib­er­al intel­lec­tu­als and com­men­ta­tors opposed the inva­sion — but Ahmad fails to men­tion that any of them did. It's true that sev­er­al high-pro­file lib­er­als signed on — infa­mous­ly among them, Michael Ignati­eff, Paul Berman, George Pack­er, David Rem­nick and Peter Beinart. (Ahmad includes sev­er­al oth­ers in this group who are/​were decid­ed­ly not lib­er­al: Jean Bethe Elsh­tain was explic­it­ly anti-lib­er­al; Ken­neth Pol­lack is a crea­ture of the CIA and the Nation­al Secu­ri­ty Coun­cil; Christo­pher Hitchens was a Trot­sky­ist who mor­phed into a ​"neo-neo-con," in the apt phrase of Ian Williams, and was decid­ed­ly hos­tile to liberalism.)
The pro-war lib­er­als were dis­pro­por­tion­ate­ly promi­nent. But in fact their sup­port for the war was a minor­i­ty posi­tion among lib­er­al inter­ven­tion­ists. In his impor­tant book The Left at War, Michael Bérubé lists just some of the lib­er­al intel­lec­tu­als and writ­ers who opposed the Iraq war: Ian Buru­ma, Martha Nuss­baum, Jür­gen Haber­mas, Tim­o­thy Gar­ton Ash, Richard Rorty, Stephen Holmes, Tzve­tan Todor­ov, Mary Kaldor, Kwame Antho­ny Appi­ah, Ronald Dworkin, Sask­ia Sassen, Mark Dan­ner, Saman­tha Pow­er, Amartya Sen, Sey­la Ben­hab­ib, Charles Tay­lor, David Held, Ian Williams, Ken­neth Roth, David Corn, the edi­tors of The Nation, Boston Review, open­Democ­ra­cy, The Amer­i­can Prospect, and the New York Review of Books. (And this is only a very par­tial list.)
Ahmad takes the lib­er­al writ­ers Michael Tomasky and Todd Gitlin to task for ​"denounc[ing] anti-war voic­es" — but both Tomasky and Gitlin opposed the Iraq war. They had crit­i­cized oppo­nents of the 2001 inva­sion of Afghanistan, not the 2003 inva­sion of Iraq. Ahmad approv­ing­ly quotes Tony Judt's bril­liant Lon­don Review of Books jere­mi­ad ​"Bush's Use­ful Idiots" (Sep­tem­ber 21, 2006), in which the late his­to­ri­an upbraid­ed the lib­er­al intel­lec­tu­als who sup­port­ed the war. I have writ­ten in praise of the piece myself. It was Judt at his best.
But Ahmad neglects to men­tion that Judt him­self was a lib­er­al who strong­ly sup­port­ed the human­i­tar­i­an inter­ven­tions in Bosnia, Koso­vo, and East Tim­or. Like most of us who sup­port­ed those inter­ven­tions, Judt strong­ly opposed the Iraq war — which, as Ahmad demon­strates, was any­thing but a human­i­tar­i­an inter­ven­tion. To their eter­nal shame, some human­i­tar­i­an inter­ven­tion­ists sup­port­ed the Iraq war — but they were in the minor­i­ty with­in the human­i­tar­i­an inter­ven­tion­ist camp. Judt belonged to the very camp that Ahmad crit­i­cizes for, in his view, pro­vid­ing intel­lec­tu­al cov­er for the Iraq war. In fact, Judt was square­ly in the major­i­ty among lib­er­al inter­ven­tion­ists in oppos­ing the Iraq war. Indeed, lib­er­als and human­i­tar­i­an inter­ven­tion­ists artic­u­lat­ed some of the most force­ful argu­ments against invad­ing Iraq.
It isn't just that Ahmad gets the intel­lec­tu­al his­to­ry wrong in this admit­ted­ly brief sec­tion of his oth­er­wise out­stand­ing book. The much more seri­ous issue is that the argu­ments he advances against the prin­ci­ple of human­i­tar­i­an inter­ven­tion flirt with the very log­ic deployed, for exam­ple, by the tar­gets of Ahmad's sharpest crit­i­cisms in his more recent writ­ings on Syr­ia: those on the Left who stead­fast­ly oppose any form of inter­ven­tion in Syr­ia on the grounds of defend­ing the ​"sov­er­eign­ty" of the mur­der­ous Assad régime. Ahmad finds those argu­ments as spe­cious and per­ni­cious as I do. And, to be sure, he con­cedes in pass­ing that there are ​"crises where preda­to­ry states use the cov­er of sov­er­eign­ty to tyr­an­nize vul­ner­a­ble populations."
But he doesn't think through the larg­er impli­ca­tions involved here. This is not the place to open a philo­soph­i­cal debate on human­i­tar­i­an inter­ven­tion. But I'll close by pos­ing a ques­tion to Ahmad: has the Syr­i­an con­flict, and the ide­o­log­i­cal fault lines that have formed around it, occa­sioned any rethink­ing on his part of the debates about inter­ven­tion going back to the 1990s?
These crit­i­cisms aside, let me reit­er­ate the enor­mous sig­nif­i­cance and rel­e­vance of The Road to Iraq. It is a work of tremen­dous intel­lec­tu­al dili­gence and moral seri­ous­ness. We are all indebt­ed to Ahmad for under­tak­ing this major con­tri­bu­tion to the debate on one of the cen­tral events of this cen­tu­ry, whose after­shocks con­tin­ue to unfold dai­ly, to dis­as­trous effect. With the neo­cons poised to make a come­back, this book serves as a cau­tion­ary tale of brac­ing urgency. It is a must-read guide to the his­to­ry of the present.
This arti­cle first appeared at The Drouth.