Mike Pence, Betsy DeVos and the Klan's Long Shadow
The extremism of their agenda contains the seeds of its undoing.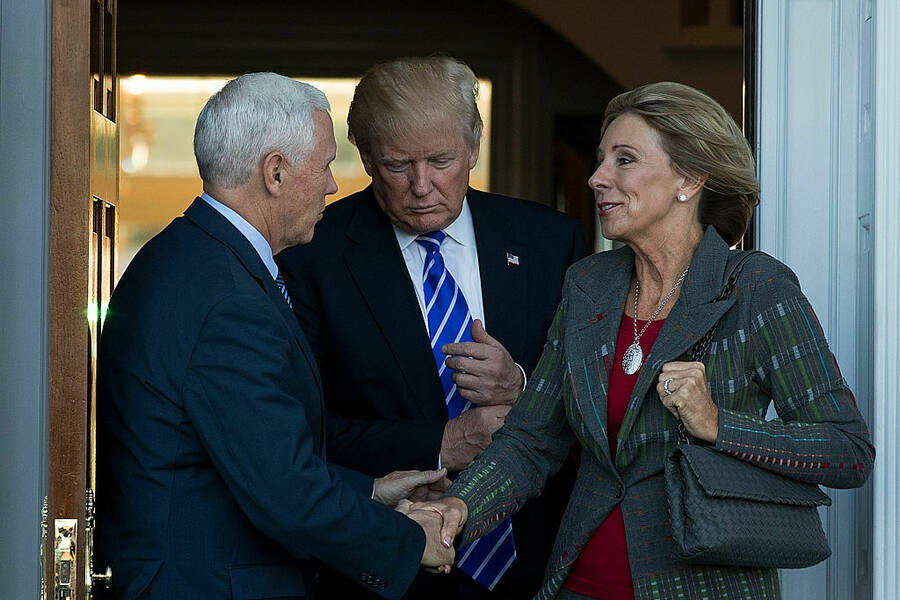 Vice Pres­i­dent Mike Pence, who likes to say that he is ​"a Chris­t­ian, a con­ser­v­a­tive, and a Repub­li­can, in that order," grew up in Colum­bus, Indi­ana, a city of near­ly 50,000 peo­ple about 40 miles south of Indi­anapo­lis. He was raised in an Irish Catholic fam­i­ly but want­ed a more ​"per­son­al rela­tion­ship with Jesus Christ," as he once told the Chris­t­ian Broad­cast­ing Net­work, and in col­lege he con­vert­ed to evan­gel­i­cal­ism dur­ing a Chris­t­ian music fes­ti­val. As gov­er­nor of Indi­ana from 2013 until Jan­u­ary, he tried to remake the state in the image of a small Mid­west­ern city like his home­town, large­ly untouched by the changes that have trans­formed the nation in recent decades.
"The promise of a crusade for a purified Christian America is precisely why evangelicals overwhelmingly gave Trump their vote."
Pence is a throw­back to an ear­li­er time, but it isn't the bas­ket­ball-obsessed, mid-cen­tu­ry Indi­ana of the movie Hoosiers. He's a throw­back to the Indi­ana of the 1920s, when a pop­ulist, grass­roots move­ment — the Ku Klux Klan—grew explo­sive­ly, becom­ing the most pow­er­ful state chap­ter in the nation and claim­ing the gov­er­nor, half the leg­is­la­ture and 250,000 Hoosiers as mem­bers. The move­ment was always Chris­t­ian at its core, defend­ing the one true faith — Protes­tantism—against all here­sies, espe­cial­ly the reli­gious tra­di­tion of so many east­ern Euro­pean immi­grants in the ear­ly 20th cen­tu­ry, Catholicism.
To say that Pence fits firm­ly with­in Indiana's robust Klan tra­di­tion isn't to say that he would ever asso­ciate with the orga­ni­za­tion, of course. There are occa­sion­al attempts to revive the KKK's for­mal pow­er in Indi­ana, but the march­es usu­al­ly high­light its iso­la­tion rather than its strength. A few dozen Klans­men shuf­fle around and bark into bull­horns, out­num­bered by pro­tes­tors and media.
The regalia, rit­u­als and sparse­ly attend­ed march­es have become embar­rass­ing and super­flu­ous. With the rise of the Chris­t­ian Right in the 1970s and 80s, the Klan's agen­da was large­ly absorbed into the main­stream of the Repub­li­can Par­ty. Even at the organization's height, racism was only one ele­ment in a much broad­er vision. In 1923, a week­ly Klan pub­li­ca­tion, The Fiery Cross, out­lined the organization's pri­or­i­ties, which includ­ed law enforce­ment, restrict­ed immi­gra­tion, clean pol­i­tics, mil­i­tant Protes­tantism, respect for the flag, get­ting back to the Con­sti­tu­tion and an inde­pen­dent Klan press. The Klan was also a major force in the Pro­hi­bi­tion move­ment. It's the zeal to restore order and impose moral­i­ty on world torn away from its moor­ings — a world gone mad — that con­nects Pence and the GOP to the Klan agen­da of the 1920s.
That's a neg­a­tive project, in part, and the cov­er­age of Pence often focus­es on the things that he stig­ma­tizes. His own ver­sion of Pro­hi­bi­tion, for exam­ple, is an intense oppo­si­tion to mar­i­jua­na. Pence suc­cess­ful­ly pushed back against attempts to reform Indiana's drug laws, which are among the harsh­est in the nation: Pos­ses­sion of any amount is still pun­ish­able with 180 days in prison in Indi­ana. And Pence's moral cru­sade tar­gets a wide swath of minor­i­ty groups and civ­il rights. He antic­i­pat­ed the Trump administration's mora­to­ri­um on immi­gra­tion by both block­ing Syr­i­an war refugees from set­tling in the state and attempt­ing to cut off fed­er­al funds for those already liv­ing in Indi­ana. In halt­ing that effort, a fed­er­al judge said that it ​"clear­ly con­sti­tutes nation­al ori­gin dis­crim­i­na­tion." In 2015, Pence signed the Reli­gious Free­dom Restora­tion Act (RFRA), which sup­port­ers say was designed to pro­tect the civ­il rights of reli­gious busi­ness own­ers. In prac­tice, it was about empow­er­ing con­ser­v­a­tive Chris­tians to dis­crim­i­nate against LGBT peo­ple. Sim­i­lar­ly, Pence has spent much of his career wag­ing war on repro­duc­tive rights. A year ago he signed a bill, sub­se­quent­ly blocked by a fed­er­al court, that would have required abort­ed fetus­es be buried or cremated.
But stigma­ti­za­tion is just half the sto­ry. For Pence and the evan­gel­i­cals he rep­re­sents, as with the Klan of a cen­tu­ry ago, pol­i­tics is equal­ly about reassert­ing the foun­da­tions for moral author­i­ty, which is why Pence's record on edu­ca­tion is so impor­tant and may well be the pri­ma­ry basis for what­ev­er polit­i­cal lega­cy he leaves.
Keep­ing it ​
"

100

per­cent American"

It has become awk­ward to talk about the vac­u­um of mean­ing in mod­ern life: The lan­guage is too earnest, in an age of irony, and it leads eas­i­ly into the fraught realm of reli­gion and reli­gious dog­ma. But in the era of the Klan's peak, even sec­u­lar writ­ers weren't shy about bring­ing it up. They were obsessed with it, and open-heart­ed about their angst. They feared that sci­ence had destroyed the basis for reli­gious belief but hadn't replaced it with any­thing substantial.

The Klan emerged in response to the vac­u­um. It was a deeply racist and nativist reac­tion to the demo­graph­ic trans­for­ma­tions of Amer­i­can life. It was also a mil­i­tant reasser­tion of the Bible and Protes­tant the­ol­o­gy as the legit­i­mate anchors of mean­ing and author­i­ty. That agen­da man­i­fest­ed in many ways, but espe­cial­ly in the Klan's enthu­si­asm for Bible read­ing and reli­gious edu­ca­tion in pub­lic schools. The Klan, as his­to­ri­an Thomas Pegram writes in One Hun­dred Per­cent Amer­i­can, ​"packed gal­leries in state­hous­es … in sup­port of laws to expand the use of the Bible as an edu­ca­tion­al aid. And where state laws failed to pass, Klans­men pres­sure local school boards into adopt­ing dai­ly read­ings or launched polit­i­cal coali­tions to elect new school boards that would imple­ment the class­room use of scripture."

The mod­ern Chris­t­ian Right, as it orga­nized into a polit­i­cal force in the late 1970s and 80s, solved the prob­lem of the lack of Bible read­ing in pub­lic schools by cre­at­ing a sep­a­rate sphere of pri­vate Chris­t­ian insti­tu­tions. Over the past decade, in par­tic­u­lar, evan­gel­i­cals have also turned to home­school­ing to con­trol edu­ca­tion. But the prob­lem of sec­u­lar schools has always haunt­ed them and remained a pri­or­i­ty. The pub­lic schools' com­mit­ment to diver­si­ty and neu­tral­i­ty in reli­gious mat­ters means that a major­i­ty of chil­dren aren't being indoc­tri­nat­ed in the one truth faith, which trans­lates into a mount­ing moral cri­sis. The genius of Trump's cam­paign slo­gan was that it spoke to both the dis­rup­tions of the glob­al­iz­ing econ­o­my and, maybe even more potent­ly, to the sense of loom­ing moral cat­a­stro­phe that evan­gel­i­cals feel. To make Amer­i­ca great again means, blunt­ly, to make it Chris­t­ian again. And Chris­tian­iz­ing the schools is what the push for pri­va­ti­za­tion is about, which is why Pence and Indi­ana have been at the fore­front of it.

In the 2015 – 16 school year, more than 32,000 stu­dents in Indi­ana — about 3 per­cent statewide — attend­ed a pri­vate school with the assis­tance of state ​"schol­ar­ships," at a cost of more than $131 mil­lion to tax­pay­ers. The pro­gram began in 2011, two years before Pence took office. But, under him, it became one of the largest vouch­er pro­grams in the nation. The pro­gram was orig­i­nal­ly sold as a way to save mon­ey, but its expan­sion has become a drain on the state bud­get, siphon­ing mon­ey from pub­lic edu­ca­tion. Last year, its unfund­ed deficit was $53 mil­lion. Over­all, the state spent more than $131 mil­lion on vouchers.

Near­ly all of the schools that ben­e­fit from the pro­gram have a reli­gious mis­sion. And though they receive indi­rect finan­cial sup­port through it, the gov­ern­ment is barred from reg­u­lat­ing their cur­ricu­lums. Some of them use books by Bob Jones Uni­ver­si­ty and Pen­saco­la Chris­t­ian Col­lege, dom­i­nant play­ers in fun­da­men­tal­ist Chris­t­ian text­book pub­lish­ing. Need­less to say, many of the schools teach creationism.

Indiana's devo­lu­tion of edu­ca­tion to pri­vate, reli­gious insti­tu­tions under Pence, in oth­er words, is a ful­fill­ment of the Klan's obses­sion with get­ting scrip­ture into schools, and into cur­ricu­lums, at tax­pay­ers' expense, but with­out the bur­den of account­abil­i­ty to demo­c­ra­t­ic over­sight or edu­ca­tion­al stan­dards. With Pence as vice pres­i­dent and an aggres­sive advo­cate for school pri­va­ti­za­tion head­ing the Depart­ment of Edu­ca­tion — Bet­sy DeVos — there is every rea­son to expect that the Trump admin­is­tra­tion will try to extend Indiana's mod­el to the nation.

The big­ger-pic­ture truth is that what has dri­ven Trump­ism all along, as with the Klan, is a cru­sade for one nation under a Chris­t­ian God and the fiery cross, puri­fied of for­eign influ­ences and restored to the racial and reli­gious homo­gene­ity of a roman­ti­cized era. Put anoth­er way: The Trump admin­is­tra­tion has ini­ti­at­ed the lat­est bat­tle in a long-run­ning war over the essence of the nation's ​"great­ness."

In Indi­ana, a cen­tu­ry ago, the same bat­tle flared over the same issues, as Chris­t­ian Klans­men sought to take back their state, and their nation, by dra­mat­i­cal­ly assert­ing the pow­er of the white major­i­ty and reassert­ing the moral author­i­ty of Protes­tantism and the Bible. The spir­i­tu­al descen­dants of those Klans­men are the base for Trump, who cares lit­tle about reli­gious doc­trine but glad­ly appoints peo­ple to car­ry out evan­gel­i­cals' mis­sion in exchange for their votes. In this con­text, it makes sense that the new pres­i­dent tapped both Pence and, as an advis­er, Steve Ban­non — a man who seems obsessed with the decay of the ​"Judeo-Chris­t­ian tra­di­tion" and with fan­tasies of an apoc­a­lyp­tic war between the forces of good and evil.

In Feb­ru­ary, House Minor­i­ty Leader Nan­cy Pelosi said it was a ​"stun­ning thing that a white suprema­cist, Ban­non, would be a per­ma­nent mem­ber of the Nation­al Secu­ri­ty Coun­cil." And in one sense, that's true. It is stun­ning. Yet the promise of a cru­sade for a puri­fied Chris­t­ian Amer­i­ca is pre­cise­ly why evan­gel­i­cals over­whelm­ing­ly gave Trump their vote. If the pres­i­dent suc­ceeds, as he has promised, in gut­ting the John­son Amend­ment, which pro­hibits reli­gious orga­ni­za­tions from mak­ing polit­i­cal endorse­ments and con­tri­bu­tions, the seam­less merg­er of con­ser­v­a­tive Chris­tian­i­ty with the state will be com­plete and an old Klan vision will be realized.
Return of the May­ber­ry Machiavellis?
Noth­ing about cur­rent U.S. pol­i­tics is pre­dictable, but moral cru­sades of the kind that Pence and the GOP are wag­ing under Trump's ban­ner often con­tain the seeds of their own undo­ing. It was a moral scan­dal, fit­ting­ly, that brought down the Indi­ana Klan. After a spec­tac­u­lar rise in the ear­ly 1920s, it fell apart in a sin­gle year after its most promi­nent leader was con­vict­ed of rape and mur­der in 1925. Obsessed with the for­eign and immoral influ­ences that it believed were cor­rupt­ing soci­ety, the Indi­ana Klan was undone by the evil within.
Cru­sades can also be undone by incom­pe­tence, and one sliv­er of a sil­ver lin­ing is that Pence has a poor record of push­ing his ideas and of gov­ern­ing. Though he was an evan­gel­i­cal Chris­t­ian in a reli­gious, Repub­li­can state, he wasn't very pop­u­lar with Hoosiers when Trump tapped him to be vice pres­i­dent. His approval rat­ings over the spring and sum­mer last year hov­ered in the mid- to upper 40s, putting him near the bot­tom of the pack among gov­er­nors nation­wide. Part of it was that Indi­ana sim­ply isn't doing well by any mea­sure. It placed 47th, behind only Okla­homa, Ken­tucky and West Vir­ginia, in the 2016 Gallup-Health­ways ​"State of Amer­i­can Well-Being" report, which ranks states based on met­rics that include the social, finan­cial and phys­i­cal health of their pop­u­la­tions. Pence's rep­u­ta­tion also suf­fered because of the Reli­gious Free­dom Restora­tion Act. Push­back from the state's busi­ness com­mu­ni­ty, which feared for Indiana's rep­u­ta­tion, espe­cial­ly after sev­er­al com­pa­nies threat­ened to boy­cott the state, forced Pence to sign an amend­ed ver­sion of the bill that guar­an­teed the rights of LGBT people.
The RFRA fias­co fol­lowed a pat­tern. When Pence strug­gled with the ten­sion between his prin­ci­ples and polit­i­cal real­i­ties, he flailed, until forced to face the truth and cave. But the neg­a­tive effects rip­pled out, and oth­ers suf­fered the con­se­quences and cleaned up the mess. In the case of RFRA, after Pence signed the amend­ed ver­sion of the bill, the Indi­ana Eco­nom­ic Devel­op­ment Cor­po­ra­tion hired a pub­lic-rela­tions firm to repair the dam­age. Three months after the $750,000 con­tract was signed, it was can­celed for vague rea­sons. But IEDC had already paid the firm $365,000, with noth­ing to show for it.
Maybe the best-case sce­nario under a Trump pres­i­den­cy is that it will unfold as a series of RFRAs: Pence's and Trump's agen­da will gal­va­nize and focus the ener­gy of the oppo­si­tion, and under­mine the administration's efforts. Giv­en Pence's his­to­ry of over­reach and Trump's reck­less and rud­der­less impuls­es, and Bannon's lunatic, nation­al­ist fan­tasies, it wouldn't be sur­pris­ing if their admin­is­tra­tion meets a sim­i­lar fate, and the extrem­ism of their agen­da cre­ates the seeds of its undo­ing. As the Bible, itself, warns: Sow the wind and reap the whirlwind.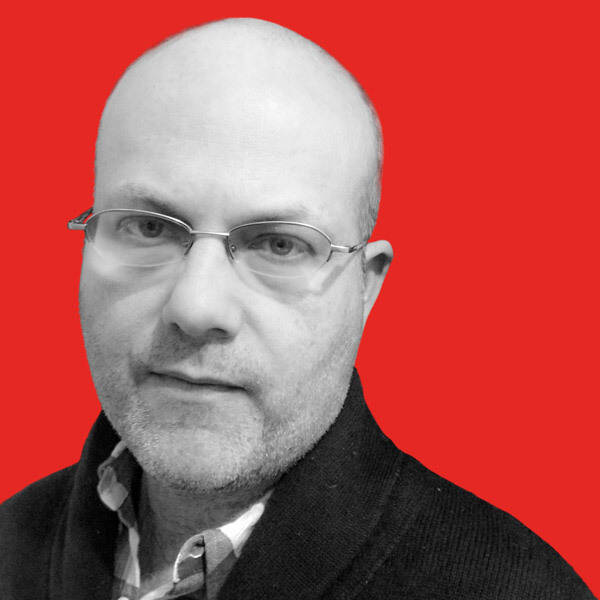 Theo Ander­son
is an In These Times con­tribut­ing writer. He has a Ph.D. in mod­ern U.S. his­to­ry from Yale and writes on the intel­lec­tu­al and reli­gious his­to­ry of con­ser­vatism and pro­gres­sivism in the Unit­ed States. Fol­low him on Twit­ter @Theoanderson
7
.