Millennials Are Ruining Trust Funds
Through the organization Resource Generation, wealthy young people are giving away their money to advance systemic change.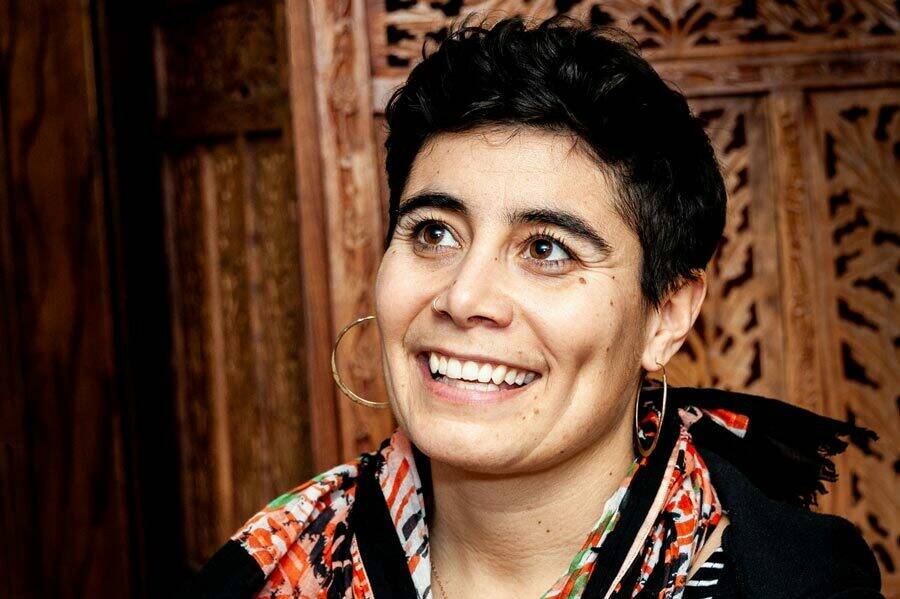 In fall 2017, Alli­son Shack­elford found a book about phil­an­thropy in the apart­ment she shared with two room­mates. She men­tioned it to one, ​"Tay­lor" (they were uncom­fort­able being iden­ti­fied), who said that, well, they got it through an orga­ni­za­tion called Resource Gen­er­a­tion (RG). Tay­lor came from a rich fam­i­ly, and RG con­vinced them to start ​"com­ing out" to peo­ple about their wealth, in a first step toward giv­ing it away.
"I'm like, 'Bitch, feel guilty,' " says George. "You can think of it as the price that you pay. Feel that shame daily. Put that shame to work."
That Tay­lor even had mon­ey was news to Shack­elford, who describes them as a ​"low-key liver."
But Tay­lor was deter­mined — albeit ner­vous — to let peo­ple in. Their prac­tice ​"com­ing out" talk with Shack­elford brought both to tears. Tay­lor opened up about their nag­ging guilt: Why should they have all this mon­ey when so many have none?
RG, a nation­al non­prof­it that orga­nizes young peo­ple with class priv­i­lege, encour­ages mem­bers to donate a ​"mean­ing­ful," ​"risky" por­tion of wealth to move­ments that com­bat sys­temic inequities at the root. But for some mem­bers, dol­ing out cash to friends and acquain­tances can grease the wheels of giving.
Tay­lor had heard Shack­elford com­plain about her stu­dent loan debt at 24 per­cent inter­est. Her $115-a-month pay­ments would add up to mul­ti­ple times her ini­tial loan over the next 23 years.
Tay­lor offered Shack­elford an inter­est-free loan, and paid off the debt with a sin­gle check.
This frank­ness is rare in a soci­ety where talk­ing about mon­ey in per­son­al terms remains taboo. RG com­mu­ni­ca­tions direc­tor Maria Myotte has worked with a num­ber of pro­gres­sive orga­ni­za­tions, and ​"class is nev­er brought up explic­it­ly [on an indi­vid­ual lev­el]. Even, like, social­ist organizations!"
The rich in the Unit­ed States are rarely hon­est about their wealth — even with them­selves. A 2015 CNBC sur­vey showed 84 per­cent of U.S. mil­lion­aire investors iden­ti­fy as mid­dle or upper-mid­dle class rather than wealthy. Wealthy Amer­i­cans tend to com­pare them­selves to the bet­ter off, says Iimay Ho, RG's exec­u­tive direc­tor, and pre­vail­ing social nar­ra­tives reas­sure the wealthy that they deserve what they have.
This is no acci­dent, says Ho. It ​"serves the inter­ests of [white suprema­cy], eco­nom­ic inequal­i­ty and cap­i­tal­ism." As Myotte puts it, ​"If you're try­ing [not to] per­pet­u­ate the same bull­shit, then we have to be aware of [the back­grounds] we're com­ing from."
Like many of RG's 600-plus dues-pay­ing mem­bers, Kestrel Fein­er-Homer saw her­self as mid­dle class grow­ing up. Her fam­i­ly drove used cars and shopped at thrift stores. ​"And look­ing back, I'm like, yeah, and we put radi­ant floor heat­ing in our house and bought a cab­in." That, and she had a trust fund of rough­ly $200,000 in waiting.
In col­lege, Fein­er-Homer became politi­cized, attend­ed work­shops on colo­nial­ism, racism and priv­i­lege, ​"but nobody was real­ly talk­ing about their expe­ri­ences of class," she says. ​"We were talk­ing about big­ger-pic­ture sys­tems, but not in a way that linked to our per­son­al experience."
When friends com­plained about loans and dif­fi­cult jobs, Fein­er-Homer couldn't relate; the dynam­ic made her uncom­fort­able. She kept qui­et, not want­i­ng to rub her sit­u­a­tion in her friends' faces, or to be ​"inau­then­tic."
Then some­one at a potluck made what Fein­er-Homer described as an off­hand dis­parag­ing com­ment of the, ​"oh yeah, this rich kid with his trust fund" vari­ety, and some­one else cut in that, well, she had a trust fund and here were the pos­i­tive things she was try­ing to do with it. ​"It was kind of an awak­en­ing for me," Fein­er-Homer says, ​"just real­iz­ing how often I … played along with putting down wealthy peo­ple in order to not be asso­ci­at­ed with wealth and all the hor­ri­ble things that come with it." She soon joined RG's Twin Cities chapter.
Chap­ters some­times take new mem­bers through ​"prax­is" groups, where they seek out and dis­cuss their mon­ey sto­ries. Much of Feiner-Homer's fam­i­ly mon­ey came from sheet met­al fab­ri­ca­tion, so she has donat­ed to Cen­tro de Tra­ba­jadores Unidos en La Lucha, which orga­nizes low-wage earners.
How much to give? Fein­er-Homer vac­il­lat­ed between bursts of pas­sion — she received an unex­pect­ed $25,000 check when a fam­i­ly busi­ness sold, and fran­ti­cal­ly donat­ed it all with­in the year — to a more sub­dued approach that reflects her own uncer­tain eco­nom­ic real­i­ties as a low-paid school social work­er on con­tract with no 401(k) and a poten­tial desire for children.
Amid these con­cerns, Fein­er-Homer says, her chap­ter remains a source of per­son­al account­abil­i­ty and a ​"polit­i­cal home" in which to ​"deep­en and broad­en my analy­sis of class."
Like many in RG's grow­ing ranks — 28 per­cent of dues-pay­ing mem­bers joined in the past year — Fein­er-Homer has come to know the say­ing, ​"It's not my fault; it is my responsibility."
If you had wealth and didn't feel some shame about it , ​"then some­thing would be wrong with you," says Mon­i­ca George, for­mer co-chair of the Chica­go chap­ter. She ref­er­enced the Wall Street Jour­nal pod­cast Secrets of Wealthy Women. In one episode, Car­rie Schwab-Pomer­antz, daugh­ter of Charles, says she tries not to feel guilty when she declines requests for money.
"And I'm like, ​'Bitch, feel guilty,' " says George. ​"You can think of it as the price that you pay. Feel that shame dai­ly. Put that shame to work."
Andrew Schwartz
is an edi­to­r­i­al intern with In These Times. He was pre­vi­ous­ly a reporter for the Wal­la Wal­la Union-Bulletin.