Jimmy John's Workers Narrowly Reject Union—and Underscore Potential Power of EFCA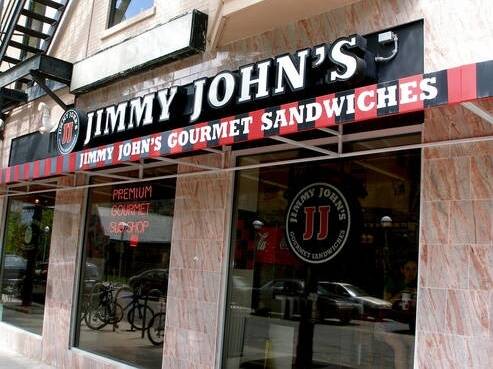 Work­ers at 10 Jim­my John's sand­wich shops in Min­neapo­lis on Fri­day nar­row­ly reject­ed a bid to form a union by a vote of 87 – 85. If the Employ­ee Free Choice Act (aka card check) were the law of the land, these ten out­lets would already have a union. About 60 per­cent of the franchise's 200 work­ers signed pro-union cards ask­ing the NLRB to hold the vote.
It seemed as if these Jim­my John's out­lets were about to become the first union­ized fran­chise in a nation­al fast food chain. Jim­my John's has about 1,000 sand­wich shops in 39 states.
A vote to union­ize would have been a coup for the Indus­tri­al Work­ers of the World (IWW), the union behind the Jim­my John's orga­niz­ing dri­ve. So far, the fast food indus­try has proved near­ly impos­si­ble to union­ize. Less than 1% of the U.S. fast food indus­try is unionized.
So, how did a com­fort­able mar­gin of sup­port with card check turn into a nar­row loss at the polls? The same way it usu­al­ly does with NLRB elec­tions: The vote is sched­uled and the work­ers become management's cap­tive audi­ence for anti-union propaganda.
Jim­my John's launched an aggre­sive anti-union­iza­tion cam­paign ahead of the elec­tion. The dis­crep­an­cy between about 120 signed pro-union cards and 85 votes shows how pow­er­ful this kind of onslaught can be. The restau­rants are owned by Mike Mul­li­gan, a retired vice pres­i­dent of com­mu­ni­ca­tions for SuperValu.
The pro-union fac­tion is alleg­ing wide­spread man­age­ment mis­con­duct in the run-up to the vote. It is ille­gal under the Nation­al Labor Rela­tions Act for man­age­ment to attempt to influ­ence a vote by fir­ing, threats of fir­ing, bribes, or oth­er inducements.
There are four charges pend­ing against Mik­lin Enter­pris­es, accord­ing to a board spokes­woman. Three of the four charges cite mul­ti­ple alleged vio­la­tions. Amongst oth­er things, Mik­lin man­agers are accused of offer­ing to pay an employ­ee to vote in the NLRB elec­tion, fir­ing two employ­ees for pro-union activ­i­ties, kick­ing a pro-union employ­ee out of a ​"cap­tive audi­ence" meet­ing, and threat­en­ing to retal­i­ate against employ­ees for union­iz­ing, accord­ing to charge doc­u­ments pro­vid­ed by the NLRB to Work­ing In These Times.
In Sep­tem­ber, Mik­lin man­agers also alleged­ly sent two pro-union work­ers home to shave, enforc­ing a pol­i­cy that they nev­er upheld before. The facial hair crack­down seems sus­pi­cious in light of Jim­my John's famous­ly flex­i­ble dress code. Just last week, the New York Times report­ed that "[m]any of their young work­ers wear nose rings, beards and dreadlocks."
The NLRB will inves­ti­gate the charges. If the inves­ti­ga­tors deter­mine that the alle­ga­tions have mer­it, the NLRB will file com­plaints against the com­pa­ny, which will be adju­di­cat­ed by an admin­is­tra­tive law judge.
The pro-union fac­tion at Jim­my John's has vowed to fight on. ​"In a com­pa­ny with turnover approach­ing 50% each month, a major­i­ty at any giv­en moment only means so much," said deliv­ery dri­ver Ayo Collins.
As Kari Lyder­sen report­ed for Work­ing In These Times, the griev­ances of Jim­my John's work­ers are typ­i­cal of the fast food indus­try: low pay, lack of sick days, no ben­e­fits, irreg­u­lar and unpre­dictable hours, trun­cat­ed shifts, and wide­spread sex­u­al har­rass­ment. In Sep­tem­ber, Jim­my John's employ­ees ral­lied in sup­port of super­vi­sor Mar­garet Brick­e­ly, who was threat­ened with dis­missal after she refused to serve spoiled meat. (This alle­ga­tion is also cit­ed in one of the charges filed with the NLRB.)
Jim­my John's web­site says of its employ­ees: ​"Their hus­tle is part of how they live their dai­ly lives, and they enjoy the fruits of a hard-earned entre­pre­neur­ial lifestyle."
The sand­wich-mak­ers and deliv­ery dri­vers cer­tain­ly hus­tle – often through the Min­neso­ta snow, with­out haz­ard pay. But when it comes to enjoy­ing the ​"fruits of an entre­preur­ial lifestyle," Jim­my John's is still the pits.
Lind­say Bey­er­stein
is an award-win­ning inves­tiga­tive jour­nal­ist and In These Times staff writer who writes the blog Duly Not­ed. Her sto­ries have appeared in Newsweek, Salon, Slate, The Nation, Ms. Mag­a­zine, and oth­er pub­li­ca­tions. Her pho­tographs have been pub­lished in the Wall Street Jour­nal and the New York Times' City Room. She also blogs at The Hill­man Blog (http://​www​.hill​man​foun​da​tion​.org/​h​i​l​l​m​a​nblog), a pub­li­ca­tion of the Sid­ney Hill­man Foun­da­tion, a non-prof­it that hon­ors jour­nal­ism in the pub­lic interest.