New CPS Board Member Vows Not To Rubber Stamp School Closings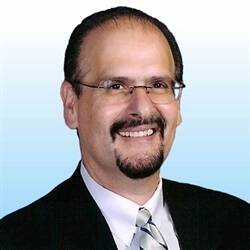 Since at least
1995
, the may­or-appoint­ed Chica­go Board of Edu­ca­tion has signed off on every pro­pos­al placed before it by the may­or's office, often with no dis­cus­sion or dis­sent. A new board mem­ber, how­ev­er, is call­ing for a more delib­er­a­tive process dur­ing a con­tro­ver­sial upcom­ing deci­sion on
54
school closings.
On May
22
, the board is sched­uled to decide on the clos­ings of
53
ele­men­tary schools and one high school pro­gram deemed ​
"
under­uti­lized," as well as the fir­ings of staff at six more schools. Last year, the board approved
17
school actions in one fell vote. But this time, Car­los Azcoitia, who was appoint­ed to the board in Novem­ber, tells Work­ing In These Times that he wants the board to go ​
"
school by school."
Azcoitia says he does not oppose the idea of the clos­ings but believes that the six-mem­ber body needs to ​"spend the time review­ing the rec­om­men­da­tions for each school based on com­mu­ni­ty meet­ings, hear­ings, data and infor­ma­tion from admin­is­tra­tion and local communities."
An in-depth review could yield objec­tions: Just yes­ter­day, hear­ing offi­cers appoint­ed by Chica­go Pub­lic Schools to review the plan announced their oppo­si­tion to ten of the closings.
​
"
This is a major, major under­tak­ing," says Azcoitia, adding that in some cas­es, past CPS clos­ings ​
"
have not worked out."
Giv­en Azcoiti­a's appar­ent poten­tial to be a squeaky wheel, why did Emanuel appoint him?
Accord­ing to Azcoitia, an edu­ca­tion pro­fes­sor at Nation­al Louis Uni­ver­si­ty, he was approached about the open posi­tion by a for­mer col­league (whom he would not iden­ti­fy) after for­mer board mem­ber Rodri­go Sier­ra jumped to the Chica­go Hous­ing Author­i­ty board. The appoint­ment was greet­ed with no press atten­tion, save a
CBS piece
not­ing that Azcoitia is a for­mer CPS prin­ci­pal and start­ed his career as a
7
th
and
8
th
grade teacher.
His back­ground, how­ev­er, is unusu­al for the board. None of the oth­er five mem­bers have ele­men­tary or high-school teach­ing expe­ri­ence, and only one oth­er mem­ber, Mahalia Hines, is a for­mer prin­ci­pal. Board Pres­i­dent David Vitale and Vice Pres­i­dent Jesse Ruiz come from the world of cor­po­rate finance.
​
"
Unlike some of the busi­ness men on this board, he has actu­al­ly been involved in pub­lic edu­ca­tion," says Jesse Sharkey, vice pres­i­dent of the
Chica­go Teach­ers Union
. Sharkey adds that while CTU would real­ly like to see teach­ers and par­ents on the board, a for­mer pub­lic school prin­ci­pal is a good step forward.
​
"
It's prob­a­bly not a coin­ci­dence that he is one of the peo­ple who has crit­i­cal things to say [on the pro­posed clos­ings]," Sharkey says.
Maybe Emanuel saw Azcoitia as an admin­is­tra­tion loy­al­ist thanks to his
1996
 – 
2003
stint as Deputy Chief of Edu­ca­tion for CPS head Paul Val­las, who ini­ti­at­ed poli­cies such as more stan­dard­ized tests that were vehe­ment­ly opposed by the teach­ers union.
But Wan­da Hop­kins, pres­i­dent of the Chica­go group Par­ents Unit­ed for Respon­si­ble Edu­ca­tion, says that dat­ing back to the cre­ation of Local School Coun­cils in
1988
, Azcoitia has been sym­pa­thet­ic to the input of both teach­ers and com­mu­ni­ty mem­bers. ​
"
I was so glad that they put him in, but I didn't real­ly under­stand why," Hop­kins says. ​
"
I tru­ly don't believe Rahm Emanuel knew that Azcoitia was going to do what he has been doing."
The ques­tion remains, how­ev­er: Can Azcoitia pro­pel the board to become some­thing oth­er than a rub­ber stamp for CPS policies?
At the April
24
board meet­ing, Azcoitia vot­ed against three pro­pos­als to effec­tive­ly expand the district's char­ter school seats. The items passed any­way, though Hines, the oth­er for­mer prin­ci­pal on the board, joined Azcoitia on vot­ing ​
"
no" for renew­ing an agree­ment with Chica­go Vir­tu­al Char­ter School. Azcoitia argued at the meet­ing that the dis­trict should not add more char­ter seats amid the process of clos­ing neigh­bor­hood schools.
When the issue of clos­ings came up, Hines expressed con­cern about how spe­cif­ic clos­ings will impact the safe­ty of CPS stu­dents trav­el­ing to new schools. One wor­ry is that Chica­go gangs have become increas­ing­ly fac­tion­al­ized, and Hines won­dered if CPS has real­ly dealt with the mat­ter of stu­dents cross­ing gang bound­aries. ​
"
I think we ought to look at this real­ly, real­ly care­ful­ly and they are going to have to come back with bet­ter options than that," Hines said at the meeting.
Board mem­ber Andrea Zopp, pres­i­dent of the
Chica­go Urban League
, act­ed as a third voice of dis­sent at the meet­ing, though a less vocif­er­ous one than Hines and Azcoitia. She pressed for CPS to pro­vide clear­er infor­ma­tion about the safe­ty of new school routes and how each tran­si­tion will impact spe­cial edu­ca­tion students.
With one of the board's sev­en seats vacant —fol­low­ing the res­ig­na­tion of hotel heiress Pen­ny Pritzk­er, whom Oba­ma has nom­i­nat­ed for U.S. Sec­re­tary of Com­merce — Azcoitia, Hines and Zopp rep­re­sent half of the board. Bar­bara Rad­ner, an edu­ca­tion pro­fes­sor at DePaul Uni­ver­si­ty, believes that the three mem­bers con­cerns could lead to some schools being removed from the clos­ing list.
Oth­ers are not so sure.
Rod Est­van, an edu­ca­tion pol­i­cy spe­cial­ist at the
dis­abil­i­ty rights group Access Liv­ing
, says that board mem­bers rarely com­mu­ni­cate with each oth­er, either in ses­sion or out­side of meet­ings. He pre­dicts that absent a dia­logue about what spe­cif­ic clos­ings to oppose, Vitale may let Azco­tia, Hines and Zopp ​
"
vote their con­science" on oppos­ing a few indi­vid­ual shut­downs, but that with­out coor­di­nat­ed vot­ing, all the slat­ed school actions will nonethe­less pass.
Sharkey also points out that dis­sent is eas­i­er com­ing from the minor­i­ty, com­par­ing Azcoitia to dovish U.S. Rep. Jan Schakowsky, an Evanston Demo­c­rat, who reli­ably votes to the left of the Repub­li­can-con­trolled House on defense issues. ​
"
Jan Schakowsky is free to vote ​
'
no' on any war spend­ing bill," Sharkey says. ​
"
The ques­tion is whether she will vote ​
'
no' when she has the decid­ing vote."
Sharkey says that the union will adopt a wait-and-see approach and judge at the May
22
meet­ing whether the board's dynam­ic has changed. But he acknowl­edges that, fol­low­ing what tran­spired at the April board meet­ing, CTU is ​
"
hold­ing inter­nal dis­cus­sions" about whether to expend more time direct­ly engag­ing board members.
Matthew Blake
is a free­lance jour­nal­ist based in Chica­go. He has writ­ten for the
Chica­go Jour­nal, Wash­ing­ton Month­ly, Wash­ing­ton Inde­pen­dent
and
The Nation
, among oth­er publications.