News Feed Fatigue: It's Getting Harder To Think
The case for taking a break from the news.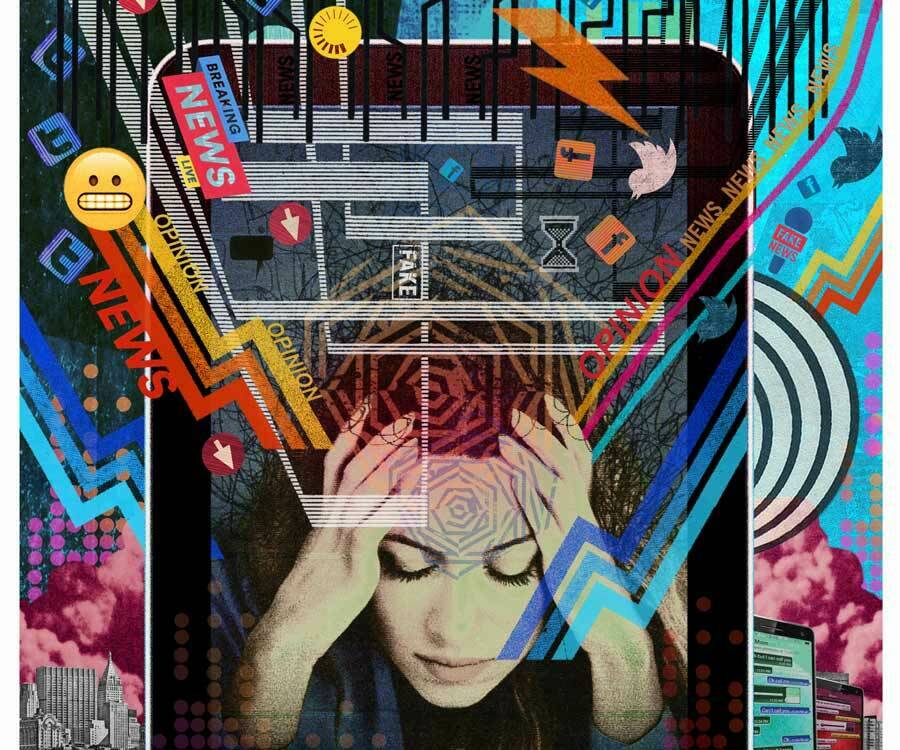 I used to have a recur­ring argu­ment with a friend, who told me he stopped pay­ing atten­tion to the news. ​"Don't you think you should know what's going on in Syr­ia? Or Yemen? Or about the fail­ing pub­lic school sys­tem in Chica­go?" ​"Why?" he would reply. What would he be able to do about it? How does know­ing about these issues help?
Access to information via technology was intended to help us think, to make us smarter and wiser. Instead, we have lost the ability to discriminate.
My friend was not ignor­ing the news so he could live a care­free life and enjoy a glass of expen­sive scotch with­out hav­ing to be bummed out by the day's atroc­i­ties. He was, he argued, ignor­ing it so he could work on his dark and fun­ny nov­els. He need­ed the respite from the onslaught of news so he could access a greater truth about how humans, by their nature, com­mit atroc­i­ties, rather than what spe­cif­ic geopo­lit­i­cal devel­op­ment led to a par­tic­u­lar atroc­i­ty. The news was the symp­tom of larg­er issues, and it dis­tract­ed him from the source.
I am lean­ing more in my friend's direc­tion after read­ing Fran­co ​"Bifo" Berardi's lat­est book, Breath­ing: Chaos and Poet­ry. Berar­di believes that we are suf­fo­cat­ed by the noise of dai­ly life, by the stream of opin­ion and news ema­nat­ing from our many devices. It leaves us lit­tle oppor­tu­ni­ty to stand back, take a breath and gain perspective.
Access to infor­ma­tion via tech­nol­o­gy was intend­ed to help us think, to make us smarter and wis­er. Instead, we have lost the abil­i­ty to dis­crim­i­nate. Real­i­ty tele­vi­sion looks like pol­i­tics, which looks like social media, which looks like war footage, which looks like super­hero movies, and so on. Rather than help­ing us respond to the dan­gers that threat­en society's sur­vival — envi­ron­men­tal col­lapse, end­less war, the world­wide rise of the nation­al­ist Right — the media and its fol­low­ers spend their days pars­ing the lat­est Trump tweet.
Berar­di, an Ital­ian Marx­ist philoso­pher who has been doc­u­ment­ing the dehu­man­iz­ing shift to postin­dus­tri­al cap­i­tal­ism for decades, writes, ​"We no longer know what is rel­e­vant and what is irrel­e­vant in our sur­round­ing envi­ron­ment, this is what we call ​'chaos': the inabil­i­ty to attribute mean­ing to the flow, the break­down of our frame­work of relevance."
Berar­di calls out two crutch­es in today's cul­ture that we use to nav­i­gate the chaos of infor­ma­tion over­load: opin­ion and iden­ti­ty. Watch­ing the news can be over­whelm­ing, and to fil­ter it, we declare an opin­ion rather than ven­ture to under­stand the source of the prob­lem. To under­stand, after all, requires that we con­front our pow­er­less­ness. Thus, our opin­ion of the lat­est left­ist can­di­date being trum­pet­ed as our sav­ior or the lat­est binge-wor­thy Net­flix series is eas­i­er to express than an under­stand­ing of the larg­er com­plex­i­ties at play.
Take the hash­tag that has emerged fol­low­ing the #MeToo move­ment, #Believe­Women. Activists insist all women mak­ing accu­sa­tions of harass­ment or abuse should be believed because they have no moti­va­tion to lie. This ignores the his­to­ry of white women's accu­sa­tions being used to jus­ti­fy lynch­ing men of col­or, the men and women who went to jail on the basis of fic­tion­al accu­sa­tions of sex­u­al abuse dur­ing the Satan­ic Pan­ic of the 1980s and 1990s, the way our jus­tice sys­tem is struc­tural­ly inad­e­quate to deal with inti­mate vio­lence and the way that laws and pun­ish­ments advo­cat­ed by carcer­al fem­i­nists have con­tributed to the cur­rent prison over­pop­u­la­tion problem.
Often, we form our opin­ions out of knee-jerk alle­giance to a spe­cif­ic iden­ti­ty, such as a polit­i­cal par­ty, or out of a desire to posi­tion our­selves either as part of the con­sen­sus or as a delib­er­ate con­trar­i­an. Our pub­lic-fac­ing iden­ti­ties have become more and more like opin­ion, a series of exter­nal mark­ers cre­at­ed espe­cial­ly for pub­lic dis­play, rather than an inter­nal philo­soph­i­cal devel­op­ment. Because we live in a con­sumerist soci­ety, our opin­ions are often con­sid­ered an exten­sion of our pub­lic selves, and we show off our opin­ions in the same way we show off our boozy brunch­es and beachy vaca­tions. Opin­ions become as fash­ion­able, and then as passé, as avo­ca­do toast. Left­ists use Twit­ter and Insta­gram to broad­cast this high­ly curat­ed life back to the world: all these white girls mak­ing sure every­one knows about how ​"impor­tant" they think Crazy Rich Asians is, all these left­ist guys talk­ing about punch­ing Nazis.
And we fall for it. When a pub­lic fig­ure dis­plays wok­e­ness, usu­al­ly just par­rot­ting some line devel­oped by a savvy PR firm, they are cel­e­brat­ed. (All a male celebri­ty has to do to guar­an­tee cov­er­age in women's media today is declare him­self a fem­i­nist.) When a pub­lic fig­ure voic­es an unpop­u­lar opin­ion, they are pilloried.
Under this frame­work, we mis­take opin­ion for insight and taste for moral char­ac­ter. Berar­di does not unpack this, but oth­ers have. The essay­ist Pankaj Mishra has sug­gest­ed one of the rea­sons Pres­i­dent Barack Obama's more destruc­tive poli­cies were ignored or for­giv­en by the East Coast intel­li­gentsia was because he shared their taste. He read lit­er­ary authors like Jhumpa Lahiri and Ta-Nehisi Coates; he lis­tened to Kendrick Lamar and Jay‑Z, just like the left­ist com­men­ta­tors. Iden­ti­fy­ing with his taste, then, meant iden­ti­fy­ing with him, peri­od. How could a man who likes the same books as me be com­mit­ting war crimes in Pak­istan and facil­i­tat­ing famine and geno­cide in Yemen and Syr­ia?
Berar­di wants us to let go of the sta­t­ic iden­ti­ties and the set opin­ions we cling to — to toss away these crutch­es and face the chaos head-on. He does not offer a pre­scrip­tion for deal­ing with said chaos. He pro­vides no step-by-step guide that starts with delet­ing Twit­ter from your phone, nor does he sug­gest this would, in any way, make you hap­pi­er or give you bet­ter orgasms. But, he argues, con­fronting the chaos is required if we are to reverse ​"four decades of neolib­er­al reform, [which have] unleashed an eth­i­cal apoc­a­lypse." If issues such as envi­ron­men­tal dev­as­ta­tion and income inequal­i­ty are eth­i­cal crises, the anti­dotes are empa­thy and uni­ver­sal­i­ty, ​"the two roots of eth­i­cal behav­ior." And to get to those roots, we need to look beyond sur­face-lev­el opin­ions and super­fi­cial iden­ti­ties and start find­ing shared mean­ing of a deep­er kind.
Berar­di turns to the Roman­tic poems of Friedrich Hölder­lin and the prophet­ic dystopias of nov­el­ist Octavia But­ler as exam­ples of works that ignore the top­i­cal to engage with the uni­ver­sal ele­ments of human nature. Rebuild­ing empa­thy and uni­ver­sal­i­ty is what art does. Yet, because art often shows us the ugly, under­ly­ing prob­lems human­i­ty is fac­ing, we use opin­ion to pro­tect our­selves — from art as well as chaos. As Berar­di puts it, ​"Empa­thet­ic sen­si­bil­i­ty … is an open door to the inflow of sur­round­ing suf­fer­ing." But with­out art, we will nev­er find the rhythm in the chaos that we all so des­per­ate­ly need.
Jes­sa Crispin
is the founder and edi­tor of the mag­a­zines Book​slut​.com and Spo​lia​mag​.com. She is the author of
The Dead Ladies Project
, pub­lished by The Uni­ver­si­ty of Chica­go Press, and
The Cre­ative Tarot
, pub­lished by Touch­stone. She has lived in Kansas, Texas, Chica­go, Ire­land, Berlin, among oth­er places. She cur­rent­ly lives in Bal­ti­more and Berlin.