Where Have All the Communes Gone?
Dusting off the dirty hippie.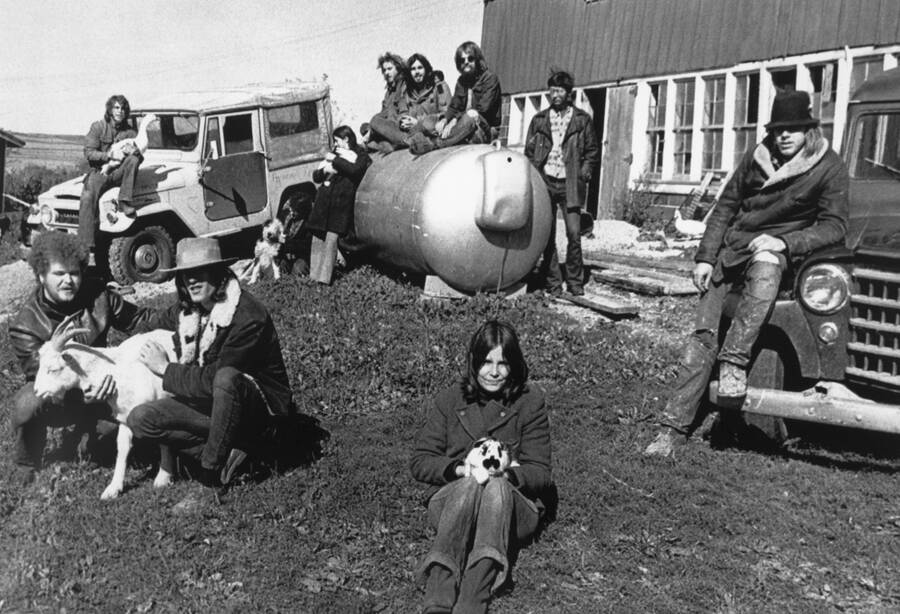 In the ear­ly win­ter of 1967, Kom­mune 1 was born in the West Berlin apart­ment of author and poet Hans Mag­nus Enzens­berg­er. (He was out of town at the time.)
The Left mostly defines itself by what it is against—white supremacy, misogyny, capitalism—but is vague on what it is for.
It was an era of great upheaval, and the Kommune's founders glommed onto some of the ideas float­ing around. From Wil­helm Reich, they took the idea that fas­cism was born of the nuclear fam­i­ly — as he wrote, ​"The author­i­tar­i­an state has a rep­re­sen­ta­tive in every fam­i­ly, the father; in this way he becomes the state's most valu­able tool" — and declared they want­ed to abol­ish mar­riage, monogamy and the sin­gle-fam­i­ly home. From the pre-war Dada move­ment, they learned that absur­di­ty can be a form of protest, and so while their rev­o­lu­tion­ary broth­ers and sis­ters were tak­ing up guns and bombs, they shat on gov­ern­ment build­ings and planned an ​"assas­si­na­tion" attempt on U.S. Vice Pres­i­dent Hubert Humphrey by pelt­ing him with pud­ding, flour and yogurt.
When Enzens­berg­er returned from his trip and found his home tak­en over by the group, which includ­ed his estranged wife and his broth­er, he kicked them out and they relo­cat­ed to writer Uwe Johnson's emp­ty apart­ment. In Enzensberger's hodge­podge mem­oir, Tumult, made up of long­form con­tem­po­ra­ne­ous accounts from the 1960s and 1970s and a 2014 post­script, he calls them a ​"bunch of morons" and ​"more Marx Broth­ers than Marx."
Enzens­berg­er, born in 1929 in Ger­many, believed in change but was sus­pi­cious of rev­o­lu­tion­ary talk, hav­ing seen first­hand what often fol­lows. The Kom­mune was one of many attempts to reck­on with the bloody first half of the cen­tu­ry by try­ing to imag­ine and build a dif­fer­ent future, one less found­ed on an apoc­a­lyp­tic death wish. We tend to think of 1960s and 1970s rad­i­cal­ism and tur­moil as an Amer­i­can phe­nom­e­non, with a slight nod to the stu­dents in France, but the action was world­wide. From Cuba to Israel to Cam­bo­dia, peo­ple were exper­i­ment­ing with com­mu­nal hous­ing, social­ism and com­mu­nism, new ideas about edu­ca­tion, and new forms of roman­tic, sex­u­al and famil­ial rela­tion­ships while fight­ing for their civ­il rights. But, one might say, the rev­o­lu­tion stalled. The world took a hard right turn, and today many on the Left look at the hip­pies and the free-love advo­cates, the star chil­dren and peaceniks and, like Enzens­berg­er, think, ​"what a bunch of morons."
Once again, the world is look­ing a lot like the 1960s and 1970s, with a renewed Black free­dom strug­gle (and the return of white nation­al­ists car­ry­ing the Con­fed­er­ate flag down Amer­i­can streets), and the spread of polit­i­cal vio­lence and ter­ror­ist groups. The meth­ods and the moti­va­tions are dif­fer­ent, but the chal­lenges are sim­i­lar, as is the shift to polit­i­cal extremes. World­wide, peo­ple rec­og­nize the need for real, dra­mat­ic polit­i­cal and cul­tur­al change. But what's miss­ing today are the weirdos of the coun­ter­cul­ture, will­ing to dra­mat­i­cal­ly change their lives and dream up new ways of being on the planet.
Since the end of the 20th cen­tu­ry, left­ists haven't been com­ing up with new ideas about how the world could be dif­fer­ent. The Left defines itself most­ly by what it is against — white suprema­cy, misog­y­ny, cap­i­tal­ism — but is vague on what it is for. While the recent rise of inter­est in social­ism offers a glim­mer of direc­tion, nei­ther of its pop­u­lar lead­ers, Jere­my Cor­byn and Bernie Sanders, has pre­sent­ed clear ideas of how it would be imple­ment­ed or what it would even look like. It seems we've resigned our­selves to neolib­er­al­ism, rapa­cious cap­i­tal­ism and end­less war. The most rad­i­cal sug­ges­tion any­one ever comes up with to deal with the hous­ing short­ages in every major city around the world is maybe to build some more rent-con­trolled hous­ing. Where are the cham­pi­ons of social­ized hous­ing, com­mu­nal liv­ing with pri­vate quar­ters but shared domes­tic spaces (co-hous­ing), sin­gle-sex com­mu­ni­ties, or even large-scale occu­pa­tion of the increas­ing amount of vacant real estate bought only as invest­ment? Our relent­less­ly prof­it-dri­ven health­care sys­tem is one of the most expen­sive and inef­fec­tive in the world, but the dom­i­nant pro­gres­sive fix is to expand pri­vate insur­ance cov­er­age. What about nation­al­iz­ing the phar­ma­ceu­ti­cal indus­try, for­bid­ding reli­gious orders from run­ning hos­pi­tals, and revamp­ing the men­tal health sys­tem to pri­or­i­tize holis­tic treat­ment over drug­ging patients into stu­pors? Mar­riage remains a sup­port sys­tem for the patri­archy, but no one even talks about abol­ish­ing mar­riage any­more (except for maybe me, inap­pro­pri­ate­ly, at par­ties, after a cou­ple mar­ti­nis). It's as though we've decid­ed this world is inevitable and we must adjust our­selves to it, rather than adjust the world to bet­ter suit us.
As Czech polit­i­cal dis­si­dent-turned-pres­i­dent Václav Hav­el not­ed, pol­i­tics fol­lows cul­ture, so there will be no rev­o­lu­tion or improve­ment in our con­di­tion com­ing down through the leg­is­la­ture. To believe oth­er­wise, to leg­is­late cul­tur­al issues through pol­i­tics and ignore the will of the peo­ple, is to sup­port tyran­ny. Using the gov­ern­ment as the cen­tral mode of reform does the Left no favors. When Roe v. Wade was upheld, for exam­ple, nei­ther the main­stream nor the Left was pre­pared for such a shift. The Right imme­di­ate­ly went about grind­ing down abor­tion rights with both a cul­tur­al and leg­isla­tive assault.
The ​"cul­ture" Hav­el refers to does not mean pro­gres­sive tele­vi­sion shows or social media cam­paigns, by the way. It means people's atti­tudes and how they live their lives. If we want mar­riage to be abol­ished (I want mar­riage to be abol­ished), that means peo­ple must both stop par­tic­i­pat­ing in that insti­tu­tion and cre­ate struc­tur­al alter­na­tives for what mar­riage gives its par­tic­i­pants: a role with­in the com­mu­ni­ty, par­ent­ing rights, hous­ing arrange­ments. The gov­ern­men­tal part of mar­riage — health insur­ance, tax breaks, estate rights — can only be bro­ken down when the insti­tu­tion itself is weak­ened by indif­fer­ence. This is the same for near­ly every oth­er issue we face, and we face many.
If we believe in rad­i­cal change, why aren't we liv­ing rad­i­cal lives? It is this res­ig­na­tion Enzo Tra­ver­so exam­ines in Left-Wing Melan­cho­lia: Marx­ism, His­to­ry, and Mem­o­ry, pub­lished in 2016. In part, he says, it's because the mem­o­ry of radicalism's fail­ures is too fresh in our minds. How we remem­ber our past deter­mines how we envi­sion our future, and we tend to remem­ber armed rebel­lion and vio­lent action over the cul­tur­al exper­i­men­ta­tion that hap­pened simul­ta­ne­ous­ly. Hope for a bet­ter world, Tra­ver­so notes, could thus be blamed for fas­cism in Spain, a bloody coup in Nicaragua, and Sovi­et total­i­tar­i­an­ism in Roma­nia, Poland and Bul­gar­ia. Even the left-wing exper­i­ments could be labeled fail­ures: Kom­mune 1, like many, dis­band­ed after a cou­ple of years and nev­er picked up more than a hand­ful of mem­bers. After all these failed rev­o­lu­tions, how does one recov­er and try again?
Tra­ver­so argues that we allow the fail­ures to eclipse the impor­tance of the attempts, and that we let the tru­ly rad­i­cal be tarred by asso­ci­a­tion with the mere­ly fash­ion­able. He dis­tin­guish­es between the bohemi­an, who is a nega­tor of bour­geois soci­ety, and the dandy, who ​"has with­drawn into the cult of the self." Where fem­i­nism and queer cul­ture used to cham­pi­on bohemi­an­ism, envi­sion­ing a world ​"in which kin­ship, sex­u­al divi­sion of labor, and the rela­tion­ship between pub­lic and pri­vate were com­plete­ly recon­fig­ured," they now retreat into self-empow­er­ment-ori­ent­ed iden­ti­ty pol­i­tics. There, the par­tic­u­lar self is stud­ied with­out being eman­ci­pat­ed, and exper­i­men­ta­tion is for per­son­al grat­i­fi­ca­tion rather than for the pur­pos­es of soci­etal dis­rup­tion. But the choice of bohemi­an­ism, of con­scious­ly reject­ing the mate­r­i­al com­forts of our cap­i­tal­ist soci­ety, was the start­ing point of Marx­ism — both Marx's and Trotsky's self-imposed mar­gin­al­iza­tion were cat­a­lysts of their philoso­phies — as well as artis­tic rev­o­lu­tions such as sur­re­al­ism and cubism.
Even Enzens­berg­er, after thor­ough­ly den­i­grat­ing the Kom­mune, admits in a post­script, ​"The tumult had not been in vain." To call these social move­ments fail­ures says a lot about our cyn­i­cism and how lit­tle we under­stand his­tor­i­cal change. ​"It depends on what it pro­duced in the long run. Not just for me but also for the vast major­i­ty, even for those who had noth­ing to do with it," he writes. ​"For to my sur­prise — very grad­u­al­ly, almost behind our backs — our des­o­late coun­try was becom­ing more and more a land that was fit to live in." All of those social deviants of the 1960s and 1970s coun­ter­cul­ture, by tak­ing a non­vi­o­lent, extreme posi­tion, man­aged to pull the cul­ture clos­er to them. The once-con­ser­v­a­tive Ger­man soci­ety now has very low mar­riage rates, a blasé atti­tude toward sin­gle par­ent­ing, and an inno­v­a­tive and suc­cess­ful edu­ca­tion­al sys­tem — all areas the Kom­mune and sim­i­lar groups were exper­i­ment­ing with.
But not only that; Enzens­berg­er also reports that after this peri­od of social exper­i­men­ta­tion, soci­ety felt dif­fer­ent, less author­i­tar­i­an and for­mal. The job of the Kommune's founders and those like them was not to cre­ate long-last­ing insti­tu­tions, but to show the world that many of the insti­tu­tions we take for grant­ed are not nec­es­sary. It was to show us that a rad­i­cal future is pos­si­ble. We need weirdos like this more than ever before.
Jes­sa Crispin
is the founder and edi­tor of the mag­a­zines Book​slut​.com and Spo​lia​mag​.com. She is the author of
The Dead Ladies Project
, pub­lished by The Uni­ver­si­ty of Chica­go Press, and
The Cre­ative Tarot
, pub­lished by Touch­stone. She has lived in Kansas, Texas, Chica­go, Ire­land, Berlin, among oth­er places. She cur­rent­ly lives in Bal­ti­more and Berlin.