A Middle America You'll Never See in the Coastal Media
The micro-comics in John Porcellino's From Lone Mountain show a way of life the media largely ignores.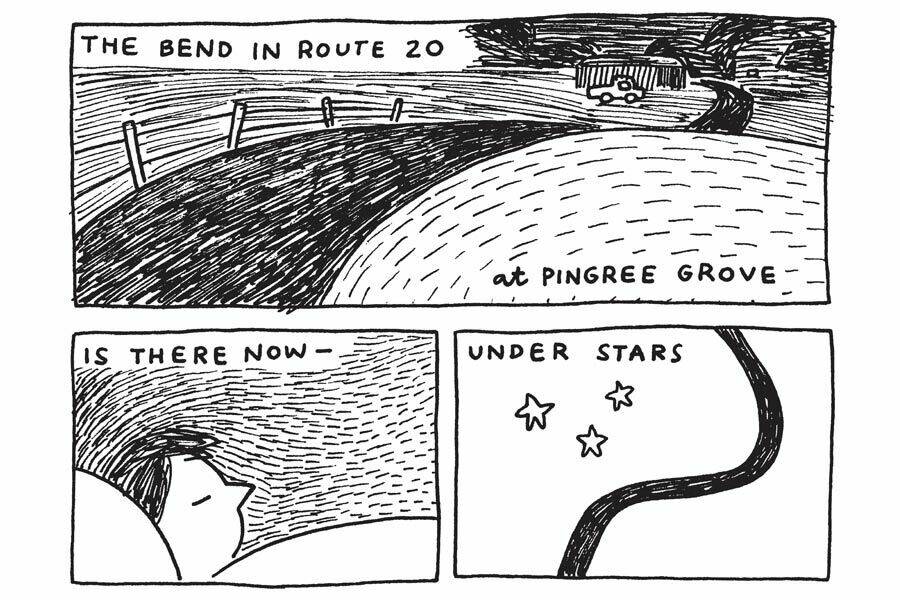 I first came across John Porcellino's self-pub­lished King-Cat Comics, and so many like them, in the 1990s as I was sift­ing through micro-comics, zines and chap­books in book­stores in places like Lawrence, Kansas. The set­tings of his comics are where I spent my youth, from rur­al Kansas to Den­ver through Iowa and up to Chica­go. And the sto­ries echo my mem­o­ries — dri­ving aim­less­ly through flat prairie land blast­ing punk music, eat­ing bad white-peo­ple Mid­west­ern tacos and play­ing darts with eccen­tric old men in dive bars lit up with Christ­mas lights. These were not sto­ries I read much in books, or saw on the television.
Yet zines remain a space for the untold stories and unheard voices that fill our nation, providing respite from the noisy, angry internet and the insulated mass media.
Mid­dle Amer­i­ca remains dis­con­nect­ed from the cul­ture at large, ignored by mass media except when coastal reporters drop in to inter­view a Trump vot­er or a white nation­al­ist. It some­times seems the only rur­al Amer­i­cans on the inter­net are those whose job it is to explain rur­al Amer­i­ca back to the rest of the world, à la Hill­bil­ly Ele­gy and The View from Fly­over Coun­try.
The comics in John Porcellino's new col­lec­tion, From Lone Moun­tain, are the kind of qui­et, fine­ly observed sto­ries that cap­ture the pace and qual­i­ty of life in Mid­dle Amer­i­ca. The sto­ries are short — often only a page — and con­cern the mun­dane going­son and mild anx­i­eties of a white, mar­ried Mid­west­ern man. He inter­acts with his cat or notices an anthill on a walk. They are emo­tion­al with­out dip­ping into sen­ti­men­tal­i­ty or twee­ness. A Zen qual­i­ty per­vades both the obser­va­tions and the artis­tic style, most­ly line draw­ings, sim­ple and direct.
We meet fig­ures like Square-Head John, a south­ern Col­orado man who is tremen­dous­ly good at the arcade claw game, the one where you try to win stuffed ani­mals by grab­bing onto them with a mech­a­nized claw. Through the year he fills a room in his house with the toys, from one wall to anoth­er, before bag­ging them up to donate at Christ­mas. The vignette is short and men­tioned as a small part of anoth­er sto­ry about a road trip, but fig­ures like John are sketched out so mas­ter­ful­ly by Por­celli­no that they stick in the mind.
From Lone Moun­tain made me nos­tal­gic, and not only for being 19 with dyed pink hair in Lawrence. Porcellino's comics made me miss what we lost when the inde­pen­dent pub­lish­ing scene that flour­ished in the 1980s and 1990s gave way to the inter­net. The web promised to be a democ­ra­tiz­ing force, decen­tral­iz­ing media atten­tion — and hence pow­er — from the usu­al elites and allow­ing us to hear from mar­gin­al­ized voic­es the world over. And the ear­ly days of the inter­net did resem­ble zine cul­ture. Writ­ers, artists and nerds took to the web to cre­ate stim­u­lat­ing­ly ugly sites, to write and pub­lish their diaries, to explore their passions.
Once peo­ple real­ized they could make mon­ey from the inter­net, things changed. Today, the most pop­u­lar cre­ators on the inter­net are exact­ly the same peo­ple who we hear from in tra­di­tion­al media: white men and women, locat­ed on the coasts, well-edu­cat­ed, and affil­i­at­ed with pow­er cen­ters like uni­ver­si­ties and media conglomerates.
Social media has also frag­ment­ed audi­ences and short­ened atten­tion spans. Rather than spend­ing time on one cre­ator, we scroll past dozens, only paus­ing if some­one says some­thing shock­ing or salacious.
Porcellino's qui­et sto­ries about work­ing-class white men would not trans­late well into an inter­net cul­ture that runs on out­rage and spec­ta­cle. I am grate­ful I can sim­ply enjoy the sto­ry of Square-Head John with­out know­ing who he vot­ed for.
As stark­ly beau­ti­ful as Porcellino's sto­ries can be, they do some­times come up short. They are pop­u­lat­ed almost exclu­sive­ly with white men. He writes about his girl­friend and then wife, Mis­un, as his great love, but she rarely shows up as a full­fledged char­ac­ter. (In one of the few sto­ries where she appears at length, she nags him to deal with a bug in the house.) These are sto­ries from his per­son­al expe­ri­ence, and he is a most­ly apo­lit­i­cal white man. His work­ing-class expe­ri­ences make no men­tion of unions or sol­i­dar­i­ty, and his road trips through the Mid­west don't lead him to encounter any­one of a dif­fer­ent race. The zine and indie com­ic cul­ture was not a mer­i­toc­ra­cy, either, and these self-cen­tered white male cre­ators like Por­celli­no or Jef­frey Brown, anoth­er Mid­west­ern car­toon­ist, always did get more atten­tion than more rad­i­cal coun­ter­parts, like punk fem­i­nist Julie Doucet, pover­ty and sin­gle moth­er­hood chron­i­cler Ariel Gore or the polit­i­cal and queer Osa Atoe.
Zines do still exist, although the places that used to sell them, inde­pen­dent book­stores and record shops, have dis­ap­peared from the land­scape, pushed out by chains which were then pushed out by the inter­net. Iron­i­cal­ly, and trag­i­cal­ly, the eas­i­est place to find them is online, less­en­ing the plea­sure of the aim­less search and unin­ten­tion­al dis­cov­ery. Yet zines remain a space for the untold sto­ries and unheard voic­es that fill our nation, pro­vid­ing respite from the noisy, angry inter­net and the insu­lat­ed mass media. Some­times it is good sim­ply to be remind­ed that they exist.
Jes­sa Crispin
is the founder and edi­tor of the mag­a­zines Book​slut​.com and Spo​lia​mag​.com. She is the author of
The Dead Ladies Project
, pub­lished by The Uni­ver­si­ty of Chica­go Press, and
The Cre­ative Tarot
, pub­lished by Touch­stone. She has lived in Kansas, Texas, Chica­go, Ire­land, Berlin, among oth­er places. She cur­rent­ly lives in Bal­ti­more and Berlin.