NFL Crackdown on Violent Hits Won't Stop Football's Concussion Problem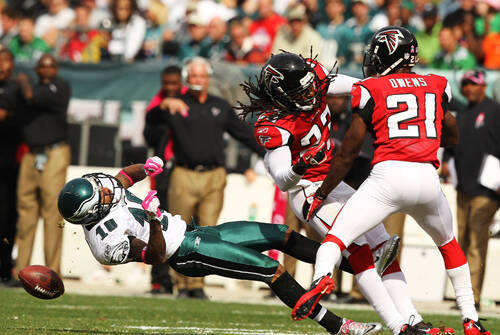 On Wednes­day, the Nation­al Foot­ball League announced tough new penal­ties for vio­lent hits, like the bru­tal hel­met-to-hel­met hit that left the Eagles DeSean Jack­son lying on the field for sev­er­al min­utes. Play­ers who deliv­er ille­gal blows to the head and neck will face large fines and sus­pen­sions. The play­er who hit Jack­son will be fined $50,000, a huge sum by NFL standards.
All of a sud­den, the NFL wants to look tough on con­cus­sions. This is less a mat­ter of com­pas­sion and more an issue of self-preservation.
For years, the league denied there was any con­nec­tion between repeat­ed blows to the head and ear­ly-onset demen­tia. At this point, the sci­en­tif­ic evi­dence is so over­whelm­ing that con­tin­u­ing to deny the obvi­ous could leave the league open to law­suits by play­ers who were deceived about the risks.
In late July, the league abrupt­ly acknowl­edged the facts on the ground and post­ed con­cus­sion warn­ing notices in play­ers' lock­er­rooms, acknowl­edg­ing the link between repeat­ed con­cus­sions cog­ni­tive decline. The NFL's lawyers prob­a­bly real­ized that, in the face of such over­whelm­ing sci­en­tif­ic evi­dence, denial was a big­ger lia­bil­i­ty than acceptance.
NFL foot­ball play­ers with a his­to­ry of con­cus­sions are at risk of an incur­able brain dis­ease called chron­ic trau­mat­ic encephalopa­thy (CTE). Repeat­ed brain bruis­es (aka ​"con­cus­sions") lit­er­al­ly scar the brain. Symp­toms include mem­o­ry loss, depres­sion, con­fu­sion, and fits of uncon­trol­lable rage. In most cas­es, the true toll of the CTE doesn't become appar­ent for sev­er­al years after the play­er retires.
After for­mer Eagles defen­sive back Andre Waters died of a self-inflict­ed gun­shot wound in 2007 at the age of 44, a foren­sic pathol­o­gist found that his brain resem­bled that of an 85-year-old. The brain was shrunk­en and shot through with abnor­mal tau pro­tein, the bio­log­i­cal mark­er that sets trau­mat­ic encephalopa­thy apart from Alzheimer's disease.
That year, the NFL and the Play­ers' Asso­ci­a­tion joint­ly found­ed the 88 Plan, which helps retired play­ers with demen­tia pay their med­ical bills. Many observers wor­ry that eli­gi­ble retirees aren't ben­e­fit­ing because they are already to impaired to apply.
To date, neu­roanatomists have per­formed autop­sis­es on 13 for­mer pro­fes­sion­al foot­ball play­ers who died after exhibit­ing signs of degen­er­a­tive brain dis­ease, 12 of these play­ers were found to have suf­fered from CTE. Recent­ly, signs of ear­ly CTE were found in the brain of a col­lege play­er with a his­to­ry of con­cus­sions who com­mit­ted sui­cide dur­ing a bout of depression.
A sur­vey of 1000 ran­dom­ly select­ed retired NFL play­ers with a his­to­ry of con­cus­sions found that 6.1% of respon­dents said they'd had been diag­nosed with demen­tia, a rate five times high­er than for peo­ple the same age in the gen­er­al population.
The NFL's crack­down on vio­lent hits prob­a­bly won't do much to stem the epi­dem­ic of post-con­cus­sion demen­tia. That's because the worst dam­age doesn't nec­es­sary come from the most spec­tac­u­lar hits.
Researchers at the Uni­ver­si­ty of North Car­oli­na installed accelerom­e­ters in the hel­mets of col­lege play­ers to mea­sure the g‑forces act­ing on their brains. As Mal­colm Glad­well explains, the sen­sors show that play­ers are reg­u­lar­ly sub­ject­ed to g‑forces strong enough to cause brain dam­age dur­ing practice:
When we think about foot­ball, we wor­ry about the dan­gers posed by the heat and the fury of com­pe­ti­tion. Yet the HITS data sug­gest that prac­tice — the rou­tine part of the sport — can be as dan­ger­ous as the games them­selves. We also tend to focus on the dra­mat­ic hel­met-to-hel­met hits that sig­nal an aggres­sive and reck­less style of play. Those kinds of hits can be policed. But what side­lined the U.N.C. play­er, the first time around, was an acci­den­tal and seem­ing­ly innocu­ous elbow, and none of the blows he suf­fered that day would have been flagged by a ref­er­ee as ille­gal. Most impor­tant, though, is what Guskiewicz found when he reviewed all the data for the line­man on that first day in train­ing camp. He didn't just suf­fer those four big blows. He was hit in the head thir­ty-one times that day. What seems to have caused his con­cus­sion, in oth­er words, was his cumu­la­tive exposure.
Bet­ter hel­mets prob­a­bly won't solve the prob­lem, either. The hel­met cush­ions out­side of the head, but it doesn't stop the brain from bash­ing against the cra­ni­um when the play­er stops suddenly.
The UNC con­cus­sion research sug­gests that return­ing to the game before a con­cus­sion is espe­cial­ly dan­ger­ous. Sus­tain­ing a sec­ond blow before recov­er­ing from the first is far more dam­ag­ing than either blow in iso­la­tion.
There's not a lot the NFL can do about the physics of large guys crash­ing into each oth­er, or the fragili­ty of the human ner­vous sys­tem. How­ev­er, the NFL can do some­thing about the cul­ture of play­ing hurt.
Push­ing through pain is always going to be a part of sports. It's one thing to do a cost-ben­e­fit analy­sis and play with a sore knee or a wrenched back. Maybe it's not what a doc­tor would rec­om­mend, but some­times that's what the game demands. The price might be a short­er career, or a less spry retire­ment. Pro­fes­sion­al ath­letes are more than will­ing to make that tradeoff.
We now know that con­cus­sions are a qual­i­ta­tive­ly dif­fer­ent kind of threat. The stan­dard cost/​benefit analy­sis doesn't apply. The stakes are much high­er. We're not talk­ing about pun­ish­ing the body, we're talk­ing about anni­hi­lat­ing the self.
Dis­cour­ag­ing play­ers from play­ing with con­cus­sions is one of the few things the NFL could do to mit­i­gate the toll the sport takes on the brains of play­ers.
The NFL and the Play­ers' Asso­ci­a­tion need to sup­port a cul­tur­al shift when it comes to play­ing through concussions.
Lind­say Bey­er­stein
is an award-win­ning inves­tiga­tive jour­nal­ist and In These Times staff writer who writes the blog Duly Not­ed. Her sto­ries have appeared in Newsweek, Salon, Slate, The Nation, Ms. Mag­a­zine, and oth­er pub­li­ca­tions. Her pho­tographs have been pub­lished in the Wall Street Jour­nal and the New York Times' City Room. She also blogs at The Hill­man Blog (http://​www​.hill​man​foun​da​tion​.org/​h​i​l​l​m​a​nblog), a pub­li­ca­tion of the Sid­ney Hill­man Foun­da­tion, a non-prof­it that hon­ors jour­nal­ism in the pub­lic interest.