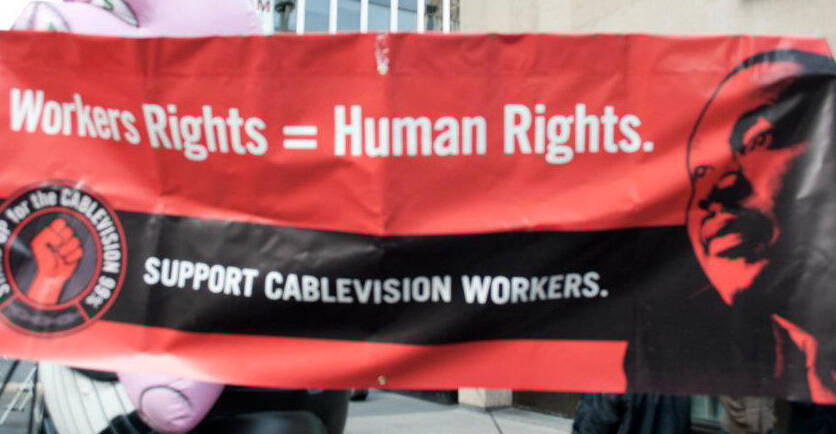 Last June, Cable­vi­sion work­ers in the Bronx vot­ed against join­ing the Com­mu­ni­ca­tions Work­ers of Amer­i­ca by a land­slide, with 43 work­ers vot­ing in favor of union­iza­tion and 121 work­ers vot­ing against it. Now, the Nation­al Labor Rela­tions Board (NLRB) says that it plans to file a com­plaint against Cable­vi­sion, accus­ing the com­pa­ny of engag­ing in ille­gal con­duct in the lead-up to the election.
On Mon­day, the NLRB said that it had autho­rized the issuance of a com­plaint against Cable­vi­sion, hav­ing found that two days before the Bronx elec­tion, in a speech to work­ers, Cable­vi­sion CEO James Dolan per­son­al­ly threat­ened to deny job and train­ing oppor­tu­ni­ties to work­ers who vot­ed for the union. The NLRB also accus­es Cable­vi­sion of attempt­ing to deter work­ers from join­ing unions by exclud­ing Brook­lyn Cable­vi­sion work­ers —who vot­ed to union­ize in ear­ly 2012 — from the rais­es the com­pa­ny gave to thou­sands of non-union­ized Cable­vi­sion workers.
CWA said the NLRB com­plaint vin­di­cat­ed its belief that Cable­vi­sion has act­ed ille­gal­ly in order to pre­vent work­ers from join­ing the union.
​"Whether it's inter­fer­ing with a fair elec­tion in the Bronx, or refus­ing to sign a fair con­tract in Brook­lyn, Cable­vi­sion's behav­ior is despi­ca­ble and shame­ful," said Chris Cal­abrese, exec­u­tive vice pres­i­dent of CWA Local 1109 and the lead orga­niz­er in CWA's con­tract cam­paign for Cable­vi­sion work­ers in Brook­lyn. ​"There's no excuse for any busi­ness to intim­i­date its work­ers in an effort to pre­vent them from exer­cis­ing their right to orga­nize and join a union."
Cable­vi­sion has denied the charges.
​"The CWA's alle­ga­tions are not accu­rate and are part of the CWA's ongo­ing cam­paign to dam­age Cablevision's rep­u­ta­tion," Cable­vi­sion spokesper­son Whit Clay said in an email to Work­ing In These Times. ​"This com­plaint is not a find­ing of any wrong­do­ing and now the mat­ter will pro­ceed to an admin­is­tra­tive law judge and we look for­ward to an impar­tial hear­ing so that the facts can be ful­ly understood."
NLRB Region 2 Direc­tor Karen Fern­bach told the New York Times that ​"the NLRB would ask a judge to order Cable­vi­sion to desist from engag­ing in any future ille­gal activ­i­ties should the com­mu­ni­ca­tions work­ers seek anoth­er union­iza­tion vote in the Bronx." How­ev­er, before the case goes before a judge, the NLRB is offer­ing Cable­vi­sion a chance to reach a settlement.
CWA did not seem opti­mistic that Cable­vi­sion would allow the case to go to trial.
​"We pre­dict that James Dolan will try to sweep these charges under the rug by seek­ing a set­tle­ment of the com­plaint with the NLRB," Cal­abrese said. ​"He knows his actions were so egre­gious that no judge will find him inno­cent. If there was no guilt on his part, sure­ly an indi­vid­ual of his rep­u­ta­tion would have the courage of his con­vic­tions to stand tri­al and prove his innocence."
Cable­vi­sion did not respond to a request for com­ment on Calabrese's pre­dic­tion that the com­pa­ny would seek a settlement.