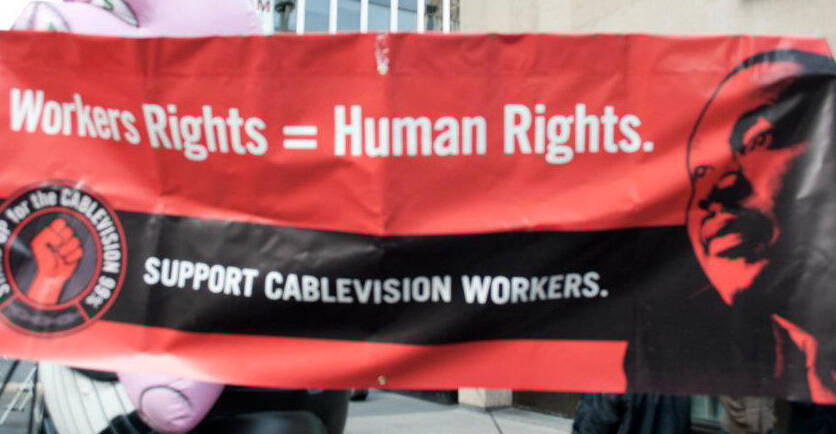 Last June, Cablevision workers in the Bronx voted against joining the Communications Workers of America by a landslide, with 43 workers voting in favor of unionization and 121 workers voting against it. Now, the National Labor Relations Board (NLRB) says that it plans to file a complaint against Cablevision, accusing the company of engaging in illegal conduct in the lead-up to the election.
On Monday, the NLRB said that it had authorized the issuance of a complaint against Cablevision, having found that two days before the Bronx election, in a speech to workers, Cablevision CEO James Dolan personally threatened to deny job and training opportunities to workers who voted for the union. The NLRB also accuses Cablevision of attempting to deter workers from joining unions by excluding Brooklyn Cablevision workers —who voted to unionize in early 2012 — from the raises the company gave to thousands of non-unionized Cablevision workers.
CWA said the NLRB complaint vindicated its belief that Cablevision has acted illegally in order to prevent workers from joining the union.
​"Whether it's interfering with a fair election in the Bronx, or refusing to sign a fair contract in Brooklyn, Cablevision's behavior is despicable and shameful," said Chris Calabrese, executive vice president of CWA Local 1109 and the lead organizer in CWA's contract campaign for Cablevision workers in Brooklyn. ​"There's no excuse for any business to intimidate its workers in an effort to prevent them from exercising their right to organize and join a union."
Cablevision has denied the charges.
​"The CWA's allegations are not accurate and are part of the CWA's ongoing campaign to damage Cablevision's reputation," Cablevision spokesperson Whit Clay said in an email to Working In These Times. ​"This complaint is not a finding of any wrongdoing and now the matter will proceed to an administrative law judge and we look forward to an impartial hearing so that the facts can be fully understood."
NLRB Region 2 Director Karen Fernbach told the New York Times that ​"the NLRB would ask a judge to order Cablevision to desist from engaging in any future illegal activities should the communications workers seek another unionization vote in the Bronx." However, before the case goes before a judge, the NLRB is offering Cablevision a chance to reach a settlement.
CWA did not seem optimistic that Cablevision would allow the case to go to trial.
​"We predict that James Dolan will try to sweep these charges under the rug by seeking a settlement of the complaint with the NLRB," Calabrese said. ​"He knows his actions were so egregious that no judge will find him innocent. If there was no guilt on his part, surely an individual of his reputation would have the courage of his convictions to stand trial and prove his innocence."
Cablevision did not respond to a request for comment on Calabrese's prediction that the company would seek a settlement.