Nuclear Weapons Won't Keep Us Safe
The U.S. will spend an estimated $1 trillion on its nuclear arsenal in the next 30 years. And for what cause?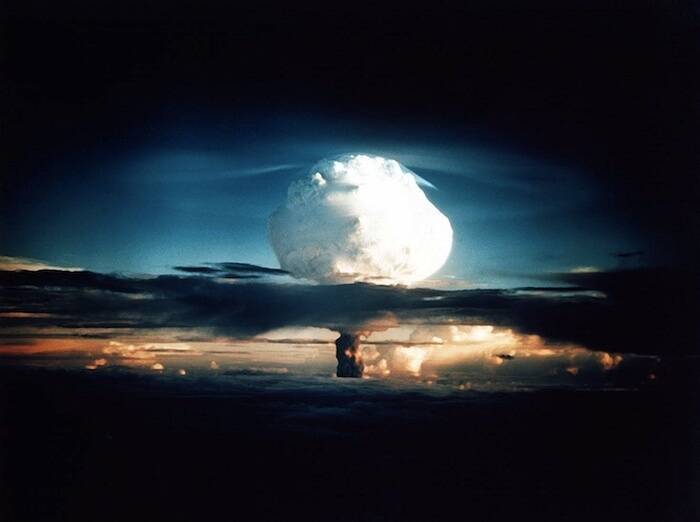 The pre­vi­ous arti­cle explored how secu­ri­ty is a high pri­or­i­ty for gov­ern­ment plan­ners: secu­ri­ty, that is, for state pow­er and its pri­ma­ry con­stituen­cy, con­cen­trat­ed pri­vate pow­er — all of which entails that offi­cial pol­i­cy must be pro­tect­ed from pub­lic scrutiny.
It's hard to contest the conclusion of the last commander of the Strategic Air Command, Gen. Lee Butler, that humanity has so far survived the nuclear age 'by some combination of skill, luck and divine intervention, and I suspect the latter in greatest proportion.'
In these terms, gov­ern­ment actions fall in place as quite ratio­nal, includ­ing the ratio­nal­i­ty of col­lec­tive sui­cide. Even instant destruc­tion by nuclear weapons has nev­er ranked high among the con­cerns of state authorities.
To cite an exam­ple from the late Cold War: In Novem­ber 1983 the U.S.-led North Atlantic Treaty Orga­ni­za­tion launched a mil­i­tary exer­cise designed to probe Russ­ian air defens­es, sim­u­lat­ing air and naval attacks and even a nuclear alert.
These actions were under­tak­en at a very tense moment. Per­sh­ing II strate­gic mis­siles were being deployed in Europe. Pres­i­dent Rea­gan, fresh from the ​"Evil Empire" speech, had announced the Strate­gic Defense Ini­tia­tive, dubbed ​"Star Wars," which the Rus­sians under­stood to be effec­tive­ly a first-strike weapon — a stan­dard inter­pre­ta­tion of mis­sile defense on all sides.
Nat­u­ral­ly these actions caused great alarm in Rus­sia, which, unlike the U.S., was quite vul­ner­a­ble and had repeat­ed­ly been invaded.
New­ly released archives reveal that the dan­ger was even more severe than his­to­ri­ans had pre­vi­ous­ly assumed. The NATO exer­cise ​"almost became a pre­lude to a pre­ven­ta­tive (Russ­ian) nuclear strike," accord­ing to an account last year by Dmit­ry Adamsky in the Jour­nal of Strate­gic Studies .
Nor was this the only close call. In Sep­tem­ber 1983, Rus­si­a's ear­ly-warn­ing sys­tems reg­is­tered an incom­ing mis­sile strike from the Unit­ed States and sent the high­est-lev­el alert. The Sovi­et mil­i­tary pro­to­col was to retal­i­ate with a nuclear attack of its own.
The Sovi­et offi­cer on duty, Stanislav Petrov, intu­it­ing a false alarm, decid­ed not to report the warn­ings to his supe­ri­ors. Thanks to his dere­lic­tion of duty, we're alive to talk about the incident.
Secu­ri­ty of the pop­u­la­tion was no more a high pri­or­i­ty for Rea­gan plan­ners than for their pre­de­ces­sors. Such heed­less­ness con­tin­ues to the present, even putting aside the numer­ous near-cat­a­stroph­ic acci­dents, reviewed in a chill­ing new book, ​"Com­mand and Con­trol: Nuclear Weapons, the Dam­as­cus Acci­dent, and the Illu­sion of Safe­ty," by Eric Schlosser.
It's hard to con­test the con­clu­sion of the last com­man­der of the Strate­gic Air Com­mand, Gen. Lee But­ler, that human­i­ty has so far sur­vived the nuclear age ​"by some com­bi­na­tion of skill, luck and divine inter­ven­tion, and I sus­pect the lat­ter in great­est proportion."
The gov­ern­men­t's reg­u­lar, easy accep­tance of threats to sur­vival is almost too extra­or­di­nary to cap­ture in words.
In 1995, well after the Sovi­et Union had col­lapsed, the U.S. Strate­gic Com­mand, or Strat­com, which is in charge of nuclear weapons, pub­lished a study, ​"Essen­tials of Post-Cold War Deter­rence."
A cen­tral con­clu­sion is that the U.S. must main­tain the right of a nuclear first strike, even against non-nuclear states. Fur­ther­more, nuclear weapons must always be avail­able, because they ​"cast a shad­ow over any cri­sis or conflict."
Thus nuclear weapons are always used, just as you use a gun if you aim it but don't fire when rob­bing a store — a point that Daniel Ells­berg, who leaked the Pen­ta­gon Papers, has repeat­ed­ly stressed.
Strat­com goes on to advise that ​"plan­ners should not be too ratio­nal about deter­min­ing … what an adver­sary val­ues," all of which must be tar­get­ed. ​"It hurts to por­tray our­selves as too ful­ly ratio­nal and cool-head­ed… That the U.S. may become irra­tional and vin­dic­tive if its vital inter­ests are attacked should be a part of the nation­al per­sona we project to all adversaries."
It is ​"ben­e­fi­cial for our strate­gic pos­ture hat some ele­ments may appear to be poten­tial­ly ​'out of con­trol'" — and thus pos­ing a con­stant threat of nuclear attack.
Not much in this doc­u­ment per­tains to the oblig­a­tion under the Non-Pro­lif­er­a­tion Treaty to make ​"good faith" efforts to elim­i­nate the nuclear-weapon scourge from the earth. What resounds, rather, is an adap­ta­tion of Hilaire Bel­loc's famous 1898 cou­plet about the Max­im gun:
What­ev­er hap­pens we have got,

The Atom Bomb and they have not.
Plans for the future are hard­ly promis­ing. In Decem­ber the Con­gres­sion­al Bud­get Office report­ed that the U.S. nuclear arse­nal will cost $355 bil­lion over the next decade. In Jan­u­ary the James Mar­tin Cen­ter for Non­pro­lif­er­a­tion Stud­ies esti­mat­ed that the U.S. would spend $1 tril­lion on the nuclear arse­nal in the next 30 years.
And of course the Unit­ed States is not alone in the arms race. As But­ler observed, it is a near mir­a­cle that we have escaped destruc­tion so far. The longer we tempt fate, the less like­ly it is that we can hope for divine inter­ven­tion to per­pet­u­ate the miracle.
In the case of nuclear weapons, at least we know in prin­ci­ple how to over­come the threat of apoc­a­lypse: Elim­i­nate them.
But anoth­er dire per­il casts its shad­ow over any con­tem­pla­tion of the future — envi­ron­men­tal dis­as­ter. It's not clear that there even is an escape, though the longer we delay, the more severe the threat becomes — and not in the dis­tant future. The com­mit­ment of gov­ern­ments to the secu­ri­ty of their pop­u­la­tions is there­fore clear­ly exhib­it­ed by how they address this issue.
Today the Unit­ed States is crow­ing about ​"100 years of ener­gy inde­pen­dence" as the coun­try becomes ​"the Sau­di Ara­bia of the next cen­tu­ry" — very like­ly the final cen­tu­ry of human civ­i­liza­tion if cur­rent poli­cies persist.
One might even take a speech of Pres­i­dent Oba­ma's two years ago in the oil town of Cush­ing, Okla., to be an elo­quent death-knell for the species.
He pro­claimed with pride, to ample applause, that ​"Now, under my admin­is­tra­tion, Amer­i­ca is pro­duc­ing more oil today than at any time in the last eight years. That's impor­tant to know. Over the last three years, I've direct­ed my admin­is­tra­tion to open up mil­lions of acres for gas and oil explo­ration across 23 dif­fer­ent states. We're open­ing up more than 75 per­cent of our poten­tial oil resources off­shore. We've quadru­pled the num­ber of oper­at­ing rigs to a record high. We've added enough new oil and gas pipeline to encir­cle the Earth and then some."
The applause also reveals some­thing about gov­ern­ment com­mit­ment to secu­ri­ty. Indus­try prof­its are sure to be secured as ​"pro­duc­ing more oil and gas here at home" will con­tin­ue to be ​"a crit­i­cal part" of ener­gy strat­e­gy, as the pres­i­dent promised.
The cor­po­rate sec­tor is car­ry­ing out major pro­pa­gan­da cam­paigns to con­vince the pub­lic that cli­mate change, if hap­pen­ing at all, does not result from human activ­i­ty. These efforts are aimed at over­com­ing the exces­sive ratio­nal­i­ty of the pub­lic, which con­tin­ues to be con­cerned about the threats that sci­en­tists over­whelm­ing­ly regard as near-cer­tain and ominous.
To put it blunt­ly, in the moral cal­cu­lus of today's cap­i­tal­ism, a big­ger bonus tomor­row out­weighs the fate of one's grandchildren.
What are the prospects for sur­vival then? They are not bright. But the achieve­ments of those who have strug­gled for cen­turies for greater free­dom and jus­tice leave a lega­cy that can be tak­en up and car­ried for­ward — and must be, and soon, if hopes for decent sur­vival are to be sus­tained. And noth­ing can tell us more elo­quent­ly what kind of crea­tures we are.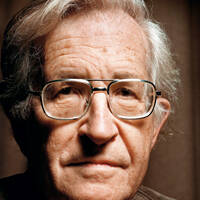 Noam Chom­sky
is Insti­tute Pro­fes­sor and Pro­fes­sor of Lin­guis­tics (Emer­i­tus) at the Mass­a­chu­setts Insti­tute of Tech­nol­o­gy, and the author of dozens of books on U.S. for­eign pol­i­cy. His most recent book is
Who Rules the World?
from Met­ro­pol­i­tan Books.