Oakland Activists 'Block the Boat' for Three Days Running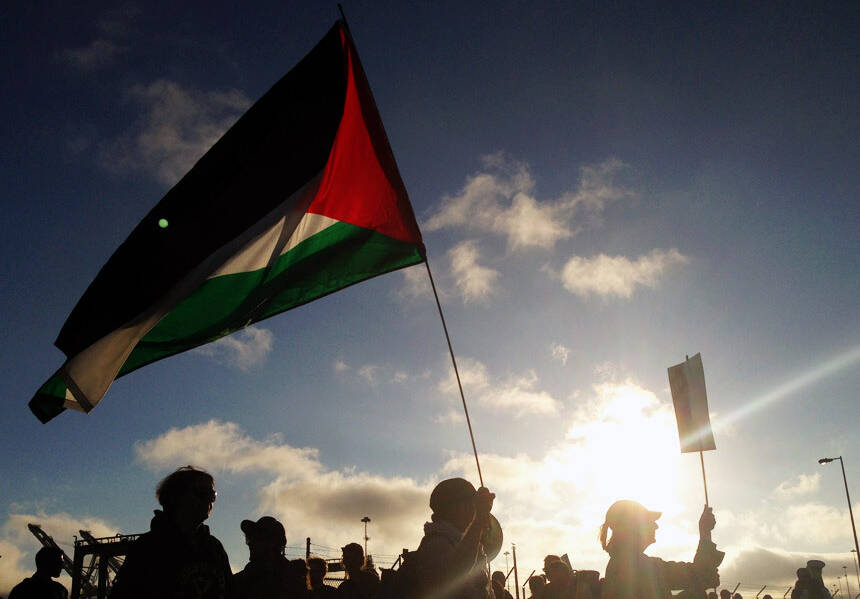 In response to the recent war between Israel and Gaza, the Pales­tine Gen­er­al Fed­er­a­tion of Trade Unions has issued a call urg­ing Amer­i­can labor unions ​"to con­demn the Israeli aggres­sion and to boy­cott Israel through var­i­ous means." In the Bay Area, that con­dem­na­tion has emerged in the form of ​"Block the Boat," a cam­paign to stop the unload­ing of an Israeli-owned Zim Inte­grat­ed Ship­ping Ser­vices ves­sel in the Port of Oakland.
This week­end, thou­sands of pro­test­ers massed in Oak­land to pre­vent mem­bers of the Inter­na­tion­al Long­shore and Ware­house Union (ILWU) Local 10 from emp­ty­ing the ship, effec­tive­ly unit­ing the com­mu­ni­ty in sup­port of the inter­na­tion­al Boy­cott, Divest from, and Sanc­tion Israel cam­paign, known as BDS. As of Mon­day evening, the boat had still not man­aged to suc­cess­ful­ly deposit its cargo.
On Sat­ur­day after­noon, more than 1,000 pro­test­ers gath­ered at the West Oak­land Bay Area Rapid Tran­sit (BART) sta­tion before march­ing about 1.5 miles to the Port of Oak­land, where they planned to erect a pick­et line. Mid­way through the jour­ney, how­ev­er, orga­niz­ers announced that they had received word the ship would not dock for the rest of the day.
​"On August 16, 2014," Sameh Ayesh of the San Fran­cis­co-head­quar­tered Arab Youth Asso­ci­a­tion (AYO) cried over a loud­speak­er, ​"we have stopped the ZIM Line from dock­ing in the Unit­ed States."
The pro­test­ers con­tin­ued to the Port any­way, where they held a vic­to­ry ral­ly upon arrival. Clarence Thomas, a mem­ber of ILWU Local 10 who was sup­port­ive of the block­ade, addressed the crowd.
​"I want every­one to know an injury to one is an injury to all," he said, invok­ing the ILWU's his­toric slogan.
​"What you've done here will rever­ber­ate around the world," he con­tin­ued. ​"This action needs to be dupli­cat­ed at oth­er ports around the country."
Although there was back­ing from some rank-and-file mem­bers of the ILWU Local 10 for the action, includ­ing Thomas, the union itself did not take an offi­cial posi­tion. Orga­niz­ers pro­ceed­ed with the action in the hopes that union mem­bers would hon­or the com­mu­ni­ty pick­et line and decline to work their shift.
Local 10 is cur­rent­ly in nego­ti­a­tions for a new con­tract, its last one hav­ing expired July 1. Accord­ing to Roy San Fil­ip­po, a spokesper­son for the ILWU, Local 10's exec­u­tive board does not accept out­side speak­ers dur­ing con­tract nego­ti­a­tions, pre­vent­ing it from for­mal con­sid­er­a­tion of an endorsement.
ILWU Local 10 has a long his­to­ry of under­tak­ing inter­na­tion­al sol­i­dar­i­ty actions, such as the union's refusal to load bomb parts intend­ed for the mil­i­tary dic­ta­tor­ship of Chile in 1978 and a 10-day 1984 strike against South African goods in protest of apartheid.
Because of this, com­mu­ni­ty activists often assume that even with­out explic­it endorse­ment from the ILWU, union mem­bers will not cross the pick­et line.
​"Usu­al­ly if a pick­et line is big enough, strong enough, and pow­er­ful enough, the ILWU will respect that," says Peter Olney, the for­mer Orga­niz­ing Direc­tor of the ILWU. Olney is now retired, and does not speak for the union.
Indeed, Local 10 has a con­tract pro­vi­sion that allows for a shift to be can­celled to pro­tect the health and safe­ty of its mem­bers if a pick­et line is in place at the Port. (The union points to a demon­stra­tion in 2005 when ILWU mem­bers were struck by rub­ber bul­lets fired by Oak­land police as an exam­ple of why such lan­guage is needed.)
The con­tract pro­vi­sion has become well known in activist cir­cles in the Bay Area, mak­ing the Port an attrac­tive tar­get for direct action because of the poten­tial for dra­mat­ic vic­to­ry. In 2011, all ILWU work at the Port of Oak­land was stopped twice by Occu­py Oak­land activists, first in Novem­ber as part of a city­wide ​"gen­er­al strike" called in response to the police raid of the Occu­py Oak­land camp, and again in Decem­ber as part of a planned shut­down of all U.S. ports on the West Coast. Then, in August, Octo­ber, and Novem­ber of 2013, pick­et­ing truck­ers and their sup­port­ers shut down the Port to protest work­ing con­di­tions for the dri­vers. (Port truck dri­vers can­not union­ize because they are inde­pen­dent owner-operators.)
The fre­quen­cy of these actions has led to a feel­ing amongst some ILWU mem­bers and lead­ers that work­ers are being used as an ​"instru­ment," rather than approached as allies.
​"Cer­tain groups feel a huge sense of eupho­ria and pow­er from shut­ting down the Port, but it's impor­tant to remem­ber that pow­er comes from the sac­ri­fice of work­ers will­ing to go with­out pay," says Olney. ​"If groups abuse that pow­er, cer­tain­ly resent­ment will devel­op. Some groups have abused the good­will and sol­i­dar­i­ty tra­di­tions of the ILWU."
Olney con­trast­ed Occu­py Oak­land activists unfa­vor­ably with com­mu­ni­ty orga­ni­za­tions involved in the resis­tances to South African apartheid and South Amer­i­can dic­ta­tor­ships, with whom he said the union had ​"worked close­ly and har­mo­nious­ly" to car­ry out major actions.
This weekend's ​"Block the Boat" action, too, had the poten­tial to cause anoth­er rift between the union and com­mu­ni­ty activists. The action was ini­tial­ly cre­at­ed by a hand­ful of advo­cates on July 25, who planned to obstruct the ZIM ves­sel arriv­ing on Sat­ur­day, August 2. This short time frame left lit­tle room for out­reach to the ILWU. The Bay-based grass­roots group Arab Resource and Orga­niz­ing Cen­ter (AROC), which had also been con­sid­er­ing a Port action, intervened.
​"We pro­posed to [the orig­i­nal groups of] local activists to push it back to give us some time to do some out­reach to the ILWU," says Lara Kiswani, the exec­u­tive direc­tor of AROC. Some ILWU mem­bers joined plan­ning meet­ings for the protest, and young mem­bers of AROC went to the ILWU's union hall every morn­ing and after­noon to speak with work­ers about the sit­u­a­tion in Israel and Palestine.
Saturday's demon­stra­tion con­clud­ed with a dec­la­ra­tion of vic­to­ry in delay­ing, at least for one day, the dock­ing and unload­ing of the Israeli ship. On Sun­day, how­ev­er, a rank-and-file long­shore­man informed AROC orga­niz­ers that the ship planned to dock that after­noon, and that union mem­bers had been called in to work to unload the car­go. Phone calls, emails, and mes­sages on Face­book and Twit­ter began cir­cu­lat­ing around 4:00 p.m., call­ing on activists to return to the Port to put up a com­mu­ni­ty pick­et line.
By 5:30 p.m., about 40 pick­eters were in place to block ILWU mem­bers from going to work. The crowd grew over the next hour, with vol­un­teers shut­tling pick­eters and sup­plies from the BART sta­tion. About 50 police offi­cers were present, but they did not pre­vent the pick­et lines from forming.
Antho­ny, a mem­ber of ILWU Local 10 who had worked with orga­niz­ers of the block­ade action and asked that his last name not be used, was pre­pared to medi­ate with work­ers and try to talk them into hon­or­ing the pick­et line.
​"I'm angry at any offi­cial gov­ern­ment orga­ni­za­tion gun­ning down peo­ple who can't defend them­selves with the sup­port of the U.S. gov­ern­ment," he said of his rea­sons for join­ing in the protest. He antic­i­pat­ed that his fel­low union mem­bers would hon­or the pick­et line, but said, ​"As far as con­scious­ness about Israel, I don't know that there's much of that."
As work­ers arrived for the evening shift, they con­gre­gat­ed on the side of the road about 100 yards from the pick­et line and wait­ed for Melvin MacK­ay, the pres­i­dent of Local 10, to decide their course of action. None of those work­ers agreed to be inter­viewed, with one say­ing, ​"I'm not a politi­cian. I don't talk politics."
MacK­ay, who has been a mem­ber for Local 10 for more than 20 years, told In These Times that he did not intend for his mem­bers to cross the pick­et line. ​"I think it's a health and safe­ty issue for my men to go across the line," he said. ​"If they're try­ing to block the line, we're not going to cross."
Even­tu­al­ly, MacK­ay led the work­ers away from the site of the protest, to cheers from the pick­eters. A state­ment from the ILWU issued Mon­day morn­ing states, ​"When it was ascer­tained that last night's demon­stra­tion and asso­ci­at­ed police pres­ence cre­at­ed an unsafe envi­ron­ment, dis­patched ILWU-rep­re­sent­ed Long­shore­men and Clerks that arrived at the SSA gate to work stood by instead at a safe loca­tion away from the demon­stra­tion point. SSA, after rec­og­niz­ing the safe­ty sit­u­a­tion asso­ci­at­ed with ingress to their gates, released all ILWU man­pow­er at 7:30 p.m." SSA Marine is the oper­a­tor of the ter­mi­nal at the Port of Oakland.
Although the block­ade was only intend­ed to delay and not pre­vent unload­ing of the ship, orga­niz­ers of the action con­sid­ered it a his­toric win. ​"We just got con­fir­ma­tion for the sec­ond day in a row … the ZIM ship did not get unloaded. We won," Lara Kiswani announced to the pick­eters at 8:10 p.m., after word came that the work­ers were going home. ​"The work­ers hon­ored our pick­et line. Israel apartheid is falling."
Despite AROC's inten­tion to end the block­ade on Sun­day, a group of about 20 returned to the Port Mon­day morn­ing. And though the protest was small, ILWU mem­bers again hon­ored the com­mu­ni­ty pick­et line: The shift was cancelled.
That evening, a larg­er group of pro­test­ers amassed around the Port. While about 50 police offi­cers pre­vent­ed them from form­ing a pick­et line across the entrance to the berth, few, if any, ILWU mem­bers entered it. At 9:20 p.m., activists received word that the shift had once again been can­celled, mark­ing the third straight day the ZIM ship had been effec­tive­ly stymied.
As the pick­eters pre­pared to go home, some spoke of return­ing in the morn­ing at 5:30 a.m. to con­tin­ue to pick­et. On Tues­day after­noon, the still-loaded ship left the area, pur­port­ed­ly for Los Ange­les. How­ev­er, after pass­ing through the Gold­en Gate into the Pacif­ic Ocean, it turned around and returned to a dif­fer­ent berth at the Port of Oak­land. Although pro­test­ers returned to mount anoth­er pick­et line, the ship's car­go was unloaded. Regard­less, orga­niz­ers promise that the actions will not end with this round of barricades.
​"This ship comes every week," warned Kiswani on Sun­day. ​"So we'll be com­ing back."
Julia Car­rie Wong is a free­lance jour­nal­ist liv­ing in San Fran­cis­co. You can fol­low her on Twit­ter @juliacarriew or email her at julia.carrie.wong [at] gmail​.com.