Obama's Choice of Walmart Draws Angry Protests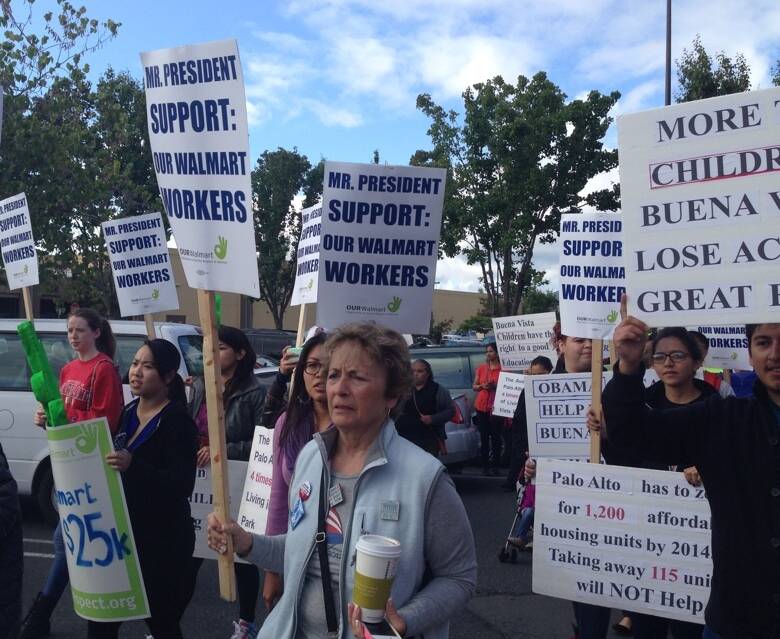 This morning, President Barack Obama delivered a speech on energy efficiency at a Walmart in Mountain View, California. Outside in the parking lot, amidst a sizeable crowd hoping for a glimpse of the president, marched some 200 protesters carrying large signs.
The picketers were there to express their surprise and anger at the supposedly pro-labor president's choice of venue. Walmart has a longstanding record of low wages and opposition to unions.
The two-hour-long protest marked the second attempt by OUR Walmart—a non-union organization of workers seeking higher wages and better standards for the corporation's 1.3 million U.S. employees—to get a message to the president during his short visit to Northern California.
On Thursday evening, Charmaine Givens-Thomas — an electronic sales associate at a Walmart store in Evergreen Park, Illinois — attempted to attend a Democratic National Committee fundraiser at the San Jose Fairmont Hotel, where Obama was giving a speech. The event, which cost between $1,000 to $32,400 a plate, was co-hosted by Yahoo CEO and Walmart Board of Directors member Marissa Mayer.
According to Givens-Thomas, who spoke with In These Times on Thursday evening, she and a UFCW staff member were barred by DNC security from entering the event, despite the fact that they had two $1,000 tickets. (According to a spokesperson for UFCW, the tickets were sponsored by an anonymous donor. ) The DNC's Washington, D.C. office did not respond to a request for comment.
​"I am so devastated," Givens-Thomas says. ​"I came all the way from Illinois to attend this fundraiser. The DNC turned me away at the door because they said I would be disruptive."
In fact, Givens-Thomas says, she hoped to have an opportunity to speak with the president and with Mayer about Our Walmart. Givens-Thomas has been a high-profile spokesperson for the campaign; in November 2013 she launched a petition during OUR Walmart's Black Friday strikes calling on Obama to meet with strikers.
She has worked for Walmart for almost 9 years. At 61, she financially supports her husband, daughter and granddaughter. She says she makes $12 an hour and is typically only scheduled for about 24 hours per week — earning her a total of approximately $17,000 a year.
Obama's choice of Walmart as a venue is especially galling for UFCW, which has led the efforts to organize Walmart workers and was the first major international union to endorse Obama's candidacy for president in 2008.
In a statement earlier this week, UFCW president Joe Hansen said, ​"On Friday, President Obama will stand side-by-side with a company known for low wages, few benefits, unreliable hours, discrimination against women, violating workers' rights, and yes, environmental degradation … More than anything, the president's visit sends a terrible message to workers across America. He is lending credibility to a bad actor when he should be joining the calls for Walmart to change."
President Obama's views on Walmart appear to have changed since his first presidential campaign, when he criticized Hillary Clinton for her time sitting on the company's board of directors. In 2007, while speaking to a group of union workers, Obama was asked what his intentions toward Walmart would be as a president. He responded, ​"Well, I know I won't shop there." Days later, Michelle Obama resigned from the board of directors of Walmart supplier TreeHouse Foods, Inc.
Since the president's election, however, both Obamas appear to be less concerned with distancing themselves from organized labor's most-hated corporation. Michelle Obama partnered with Walmart in 2011 in her campaign to bring healthy foods to low-income neighborhoods; in 2013, she published an op-ed in the Wall Street Journal praising the corporation for selling more healthy foods. Just a few days later, she visited a Walmart store in Springfield, Missouri, to reiterate the message in person.
For his part, President Obama nominated Sylvia Mathews Burwell, the former president of the Walmart Foundation, to serve as director of the White House Office of Management and Budget in 2013. Despite the criticism the decision prompted, Obama then nominated Burwell to replace Kathleen Sebelius as Secretary of Health and Human Services.
But Friday's event is viewed by UFCW representatives as the president's most direct endorsement of the corporate behemoth yet. Chris Stampolis, who works in government affairs for the Laborers International Union Local 270 and is one of California's 21 elected representatives to the DNC, was present at Friday morning's protest. Addressing the crowd, he pledged his support for OUR Walmart and expressed frustration with Obama. ​"Please do not think the Democratic Party is happy with the president for holding an event at Walmart," he said.
OUR Walmart has several dozen members at the Mountain View store, and UFCW Local 5 members staff a Safeway grocery store in the same shopping center.
About an hour before Obama was scheduled to speak, approximately 60 Walmart workers lined up in pairs inside the security perimeter and marched into the store. The workers cheered, and one confirmed that they were going inside to see the president. A representative from UFCW said that the group of employees was selected by Walmart management to attend the speech, and that none of OUR Walmart's members were among the store workers who went inside.
Pam Ramos, a cashier at the Mountain View Walmart, tells In These Times that she was not invited to be part of that select group of employees. After four years of employment at Walmart, she says, she makes $10.10 an hour and is never scheduled to work more than 32 hours per week.
In late March, the 55-year old took a one-week leave of absence from work for medical testing. The missed work, combined with the cost of doctor's appointments, caused her to get behind on her rent for the bedroom she rented in San Jose. Ramos says her landlord started harassing her for payment and put a lock on her door, so she left without a new home to go to.
Ramos is now sleeping on the floor in her son's apartment. She keeps her clothes in her car and the rest of her belongings in storage. She says she can't afford to rent a place of her own.
Asked what she would say to Obama if she had the chance to speak with him, Ramos said, ​"I would say to President Obama that I'm disappointed that he didn't choose to talk with us and listen to us about our wages and lack of respect from management. We work really hard, and we're not even recognized or acknowledged for what we do."
Charmain Givens-Thomas had a more pointed message for the president. ​"I would have said, Mr. President, I marched with Dr. Martin Luther King when I was 15 years old. I was 120 percent behind you when you ran for president. We need you to tell Walmart that we need a livable wage. At Walmart, we live income inequality every day. The majority of my coworkers are on public assistance. Please look out for the workers like you promised when you campaigned."
Julia Carrie Wong is a freelance journalist living in San Francisco. You can follow her on Twitter @juliacarriew or email her at julia.carrie.wong [at] gmail​.com.