Obama's Choice of Walmart Draws Angry Protests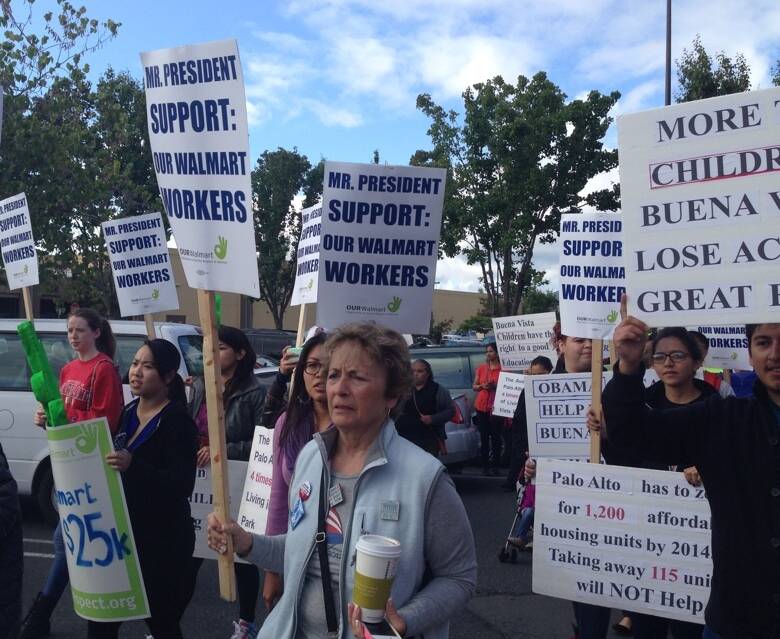 This morn­ing, Pres­i­dent Barack Oba­ma deliv­ered a speech on ener­gy effi­cien­cy at a Wal­mart in Moun­tain View, Cal­i­for­nia. Out­side in the park­ing lot, amidst a size­able crowd hop­ing for a glimpse of the pres­i­dent, marched some 200 pro­test­ers car­ry­ing large signs.
The pick­eters were there to express their sur­prise and anger at the sup­pos­ed­ly pro-labor president's choice of venue. Wal­mart has a long­stand­ing record of low wages and oppo­si­tion to unions.
The two-hour-long protest marked the sec­ond attempt by OUR Wal­mart—a non-union orga­ni­za­tion of work­ers seek­ing high­er wages and bet­ter stan­dards for the corporation's 1.3 mil­lion U.S. employ­ees—to get a mes­sage to the pres­i­dent dur­ing his short vis­it to North­ern California.
On Thurs­day evening, Char­maine Givens-Thomas — an elec­tron­ic sales asso­ciate at a Wal­mart store in Ever­green Park, Illi­nois — attempt­ed to attend a Demo­c­ra­t­ic Nation­al Com­mit­tee fundrais­er at the San Jose Fair­mont Hotel, where Oba­ma was giv­ing a speech. The event, which cost between $1,000 to $32,400 a plate, was co-host­ed by Yahoo CEO and Wal­mart Board of Direc­tors mem­ber Maris­sa Mayer.
Accord­ing to Givens-Thomas, who spoke with In These Times on Thurs­day evening, she and a UFCW staff mem­ber were barred by DNC secu­ri­ty from enter­ing the event, despite the fact that they had two $1,000 tick­ets. (Accord­ing to a spokesper­son for UFCW, the tick­ets were spon­sored by an anony­mous donor. ) The DNC's Wash­ing­ton, D.C. office did not respond to a request for comment.
​"I am so dev­as­tat­ed," Givens-Thomas says. ​"I came all the way from Illi­nois to attend this fundrais­er. The DNC turned me away at the door because they said I would be disruptive."
In fact, Givens-Thomas says, she hoped to have an oppor­tu­ni­ty to speak with the pres­i­dent and with May­er about Our Wal­mart. Givens-Thomas has been a high-pro­file spokesper­son for the cam­paign; in Novem­ber 2013 she launched a peti­tion dur­ing OUR Walmart's Black Fri­day strikes call­ing on Oba­ma to meet with strikers.
She has worked for Wal­mart for almost 9 years. At 61, she finan­cial­ly sup­ports her hus­band, daugh­ter and grand­daugh­ter. She says she makes $12 an hour and is typ­i­cal­ly only sched­uled for about 24 hours per week — earn­ing her a total of approx­i­mate­ly $17,000 a year.
Obama's choice of Wal­mart as a venue is espe­cial­ly galling for UFCW, which has led the efforts to orga­nize Wal­mart work­ers and was the first major inter­na­tion­al union to endorse Obama's can­di­da­cy for pres­i­dent in 2008.
In a state­ment ear­li­er this week, UFCW pres­i­dent Joe Hansen said, ​"On Fri­day, Pres­i­dent Oba­ma will stand side-by-side with a com­pa­ny known for low wages, few ben­e­fits, unre­li­able hours, dis­crim­i­na­tion against women, vio­lat­ing work­ers' rights, and yes, envi­ron­men­tal degra­da­tion … More than any­thing, the president's vis­it sends a ter­ri­ble mes­sage to work­ers across Amer­i­ca. He is lend­ing cred­i­bil­i­ty to a bad actor when he should be join­ing the calls for Wal­mart to change."
Pres­i­dent Obama's views on Wal­mart appear to have changed since his first pres­i­den­tial cam­paign, when he crit­i­cized Hillary Clin­ton for her time sit­ting on the company's board of direc­tors. In 2007, while speak­ing to a group of union work­ers, Oba­ma was asked what his inten­tions toward Wal­mart would be as a pres­i­dent. He respond­ed, ​"Well, I know I won't shop there." Days lat­er, Michelle Oba­ma resigned from the board of direc­tors of Wal­mart sup­pli­er Tree­House Foods, Inc.
Since the president's elec­tion, how­ev­er, both Oba­mas appear to be less con­cerned with dis­tanc­ing them­selves from orga­nized labor's most-hat­ed cor­po­ra­tion. Michelle Oba­ma part­nered with Wal­mart in 2011 in her cam­paign to bring healthy foods to low-income neigh­bor­hoods; in 2013, she pub­lished an op-ed in the Wall Street Jour­nal prais­ing the cor­po­ra­tion for sell­ing more healthy foods. Just a few days lat­er, she vis­it­ed a Wal­mart store in Spring­field, Mis­souri, to reit­er­ate the mes­sage in person.
For his part, Pres­i­dent Oba­ma nom­i­nat­ed Sylvia Math­ews Bur­well, the for­mer pres­i­dent of the Wal­mart Foun­da­tion, to serve as direc­tor of the White House Office of Man­age­ment and Bud­get in 2013. Despite the crit­i­cism the deci­sion prompt­ed, Oba­ma then nom­i­nat­ed Bur­well to replace Kath­leen Sebe­lius as Sec­re­tary of Health and Human Services.
But Friday's event is viewed by UFCW rep­re­sen­ta­tives as the president's most direct endorse­ment of the cor­po­rate behe­moth yet. Chris Stam­po­lis, who works in gov­ern­ment affairs for the Labor­ers Inter­na­tion­al Union Local 270 and is one of California's 21 elect­ed rep­re­sen­ta­tives to the DNC, was present at Fri­day morning's protest. Address­ing the crowd, he pledged his sup­port for OUR Wal­mart and expressed frus­tra­tion with Oba­ma. ​"Please do not think the Demo­c­ra­t­ic Par­ty is hap­py with the pres­i­dent for hold­ing an event at Wal­mart," he said.
OUR Wal­mart has sev­er­al dozen mem­bers at the Moun­tain View store, and UFCW Local 5 mem­bers staff a Safe­way gro­cery store in the same shop­ping center.
About an hour before Oba­ma was sched­uled to speak, approx­i­mate­ly 60 Wal­mart work­ers lined up in pairs inside the secu­ri­ty perime­ter and marched into the store. The work­ers cheered, and one con­firmed that they were going inside to see the pres­i­dent. A rep­re­sen­ta­tive from UFCW said that the group of employ­ees was select­ed by Wal­mart man­age­ment to attend the speech, and that none of OUR Walmart's mem­bers were among the store work­ers who went inside.
Pam Ramos, a cashier at the Moun­tain View Wal­mart, tells In These Times that she was not invit­ed to be part of that select group of employ­ees. After four years of employ­ment at Wal­mart, she says, she makes $10.10 an hour and is nev­er sched­uled to work more than 32 hours per week.
In late March, the 55-year old took a one-week leave of absence from work for med­ical test­ing. The missed work, com­bined with the cost of doctor's appoint­ments, caused her to get behind on her rent for the bed­room she rent­ed in San Jose. Ramos says her land­lord start­ed harass­ing her for pay­ment and put a lock on her door, so she left with­out a new home to go to.
Ramos is now sleep­ing on the floor in her son's apart­ment. She keeps her clothes in her car and the rest of her belong­ings in stor­age. She says she can't afford to rent a place of her own.
Asked what she would say to Oba­ma if she had the chance to speak with him, Ramos said, ​"I would say to Pres­i­dent Oba­ma that I'm dis­ap­point­ed that he didn't choose to talk with us and lis­ten to us about our wages and lack of respect from man­age­ment. We work real­ly hard, and we're not even rec­og­nized or acknowl­edged for what we do."
Char­main Givens-Thomas had a more point­ed mes­sage for the pres­i­dent. ​"I would have said, Mr. Pres­i­dent, I marched with Dr. Mar­tin Luther King when I was 15 years old. I was 120 per­cent behind you when you ran for pres­i­dent. We need you to tell Wal­mart that we need a liv­able wage. At Wal­mart, we live income inequal­i­ty every day. The major­i­ty of my cowork­ers are on pub­lic assis­tance. Please look out for the work­ers like you promised when you campaigned."
Julia Car­rie Wong is a free­lance jour­nal­ist liv­ing in San Fran­cis­co. You can fol­low her on Twit­ter @juliacarriew or email her at julia.carrie.wong [at] gmail​.com.