Obama's Drone Policy Crashes and Burns
Yemen, the poster child for drone-based foreign policy, has collapsed on itself.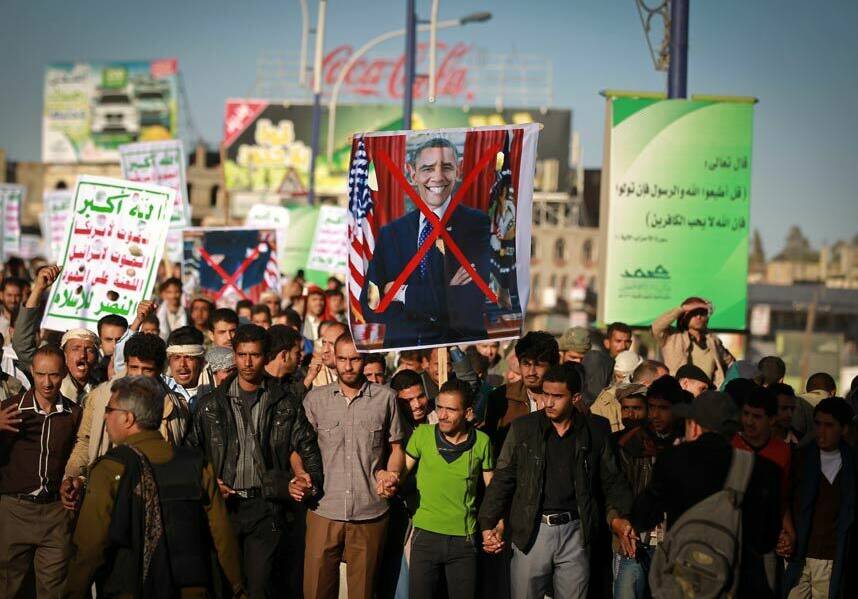 The unrav­el­ing of Yemen should be a wake-up call for Oba­ma loy­al­ists. Oba­ma was elect­ed in large part because of his oppo­si­tion to the dis­as­trous Iraq War and his promise of a smarter Mid­dle East pol­i­cy, one less reliant on inva­sion and occu­pa­tion. Nev­er­the­less, in office, Oba­ma has sup­port­ed the occu­pa­tion of Afghanistan and the NATO-led over­throw of Libya's Muam­mar Gaddafi, which led to chaos.
Still, as Oba­ma explained in a Sep­tem­ber 2014 for­eign pol­i­cy speech, the cen­ter­piece of his strat­e­gy in the Mid­dle East has been a more long-dis­tance approach: ​"tak­ing out ter­ror­ists who threat­en us, while sup­port­ing part­ners on the front lines." In oth­er words: air strikes, drones and mil­i­tary aid. He tout­ed the suc­cess of this strat­e­gy in Yemen and Somalia.
Indeed, Yemen has been the poster child for Obama's Mid­dle East strat­e­gy. Using the U.S. mil­i­tary bases that sur­round Yemen, we have propped up the cor­rupt and repres­sive regimes of Pres­i­dent Ali Abdul­lah Saleh and his suc­ces­sor, Abdu Rab­bu Man­sour Hadi (i.e., our ​"part­ners on the front lines"). In exchange, they let us incin­er­ate alleged mil­i­tants. And when we slaugh­ter inno­cents (like 35 women and chil­dren in a 2009 bomb­ing, or 12 mem­bers of a wed­ding par­ty in a 2014 drone strike), our part­ners help cov­er up our crimes, even jail­ing the Yemeni jour­nal­ist who exposed the U.S. role in the 2009 attack.
Of course, the cov­er-up was effec­tive only in the Unit­ed States, where most of our news comes from cor­po­rate sources that almost nev­er chal­lenge offi­cial pro­nounce­ments about mil­i­tary or CIA mis­sions. The Yemeni peo­ple know all too well our crim­i­nal acts. Last Sep­tem­ber, 13-yearold Mohammed Tuaiman al-Jah­mi told the Guardian that ​"he lived in con­stant fear of the ​'death machines' in the sky that had already killed his father and broth­er" in 2011, as they were out herd­ing the family's camels. In Feb­ru­ary, Mohammed him­self was killed by a U.S. drone.
The Oba­ma ​"suc­cess sto­ry" in Yemen had already come to an end in Jan­u­ary, when Houthi rebels took con­trol of the pres­i­den­tial com­pound in Sanaa, oust­ing Hadi, his prime min­is­ter and his entire cab­i­net. The mot­to of the new lead­ers is ​"Death to Amer­i­ca, death to Israel, curse on the Jews, vic­to­ry to Islam." On Feb­ru­ary 10, the State Depart­ment con­firmed that it had closed the U.S. embassy in Yemen, the third in an Arab coun­try since 2012.
In truth, Obama's for­eign pol­i­cy is sim­i­lar to George W. Bush's. The war con­trac­tors want to keep the rivers of tax­pay­er cash flow­ing into their cof­fers, while multi­na­tion­al ener­gy firms want the U.S. to keep sup­port­ing bru­tal, unde­mo­c­ra­t­ic regimes that keep their boots on the necks of restive cit­i­zens who might object to for­eign firms exploit­ing nation­al resources. And as long as our laws per­mit cor­rupt ties between cor­po­rate inter­ests and politi­cians, we will con­tin­ue to see dis­as­trous fail­ure after fail­ure of our for­eign policy.
In Feb­ru­ary, Oba­ma led a three-day sum­mit on coun­ter­ing vio­lent extrem­ism. The president's remarks at this sum­mit, of course, made no men­tion of our odi­ous drone pol­i­cy. No cit­i­zens of Yemen or Pak­istan were invit­ed to speak about how liv­ing with the con­stant anx­i­ety caused by armed drones buzzing in the sky dri­ves res­i­dents to join anti‑U.S. ter­ror groups. Nor was there any talk of the blow­back caused by the U.S. mil­i­tary bases which gar­ri­son the greater Mid­dle East, or of the cor­rupt, repres­sive regimes that those U.S. bases sup­port. Instead, lead­ers of some of those regimes attend­ed the summit.
Oba­ma did offer emp­ty rhetoric about how we are not at war with Islam. Such words are unlike­ly to impress Mus­lims out­side the Unit­ed States, who know that it's Mus­lims who pop­u­late Obama's kill list, who are indef­i­nite­ly detained at Guan­tá­namo with­out charges and whose sys­tem­at­ic tor­ture by the CIA was swept under the rug by Obama.
Amer­i­cans, who are ill-informed about our actions over­seas, will hear Obama's empa­thet­ic rhetoric and quite ratio­nal­ly con­clude that the rea­son we are los­ing in places like Yemen, Libya, Iraq and Afghanistan is because Oba­ma is too soft. Per­haps our next pres­i­dent will be some­one who promis­es to get tougher on Mus­lim extrem­ists. But until we end the part­ner­ship between gov­ern­ment and cor­po­rate pow­er, three things will remain con­stant: Our for­eign pol­i­cy will be expen­sive for U.S. tax­pay­ers, prof­itable for the war con­trac­tors and dis­as­trous for every­day people.