Obama's in the Eye of the Beholder
Can the junior senator from Illinois be both a stalwart progressive and a post-ideological unifier?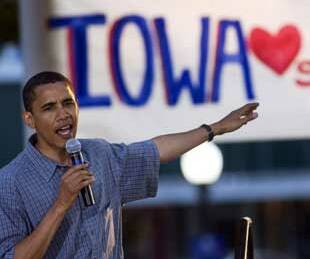 Every August for 46 years, until she retired two years ago, Duffy Lyon carved the but­ter cow sculp­ture that has occu­pied a place of hon­or at the Iowa State Fair. But new­ly inspired, this sum­mer she craft­ed 17 pounds of but­ter into the cam­paign logo of Demo­c­ra­t­ic pres­i­den­tial aspi­rant Barack Oba­ma, proud­ly dis­play­ing her cre­ation at an Oba­ma forum on rur­al issues here.
"He's the kind of per­son who will rep­re­sent us the best, bet­ter than Hillary," she says. ​"He's for peo­ple who haven't got things." Promi­nent dairy farmer Joe Lyon, like his wife an active 78-year-old inde­pen­dent who Bush turned into an ardent Demo­c­rat, adds, ​"We've got to have a change in Wash­ing­ton. I think it's been a calami­ty – war, give­aways to the well-con­nect­ed. I don't think we've seen any­thing like it in his­to­ry. And we've just seen the tip of the ice­berg. I don't know how long it will take to straight­en out."
Many Democ­rats – and a sur­pris­ing swath of Repub­li­cans and inde­pen­dents – think that first-term sen­a­tor Barack Oba­ma rep­re­sents the best hope (his con­stant theme) to turn the coun­try in a new direc­tion. Whether attract­ed by his inspi­ra­tional speech­es, his fresh face, or his ear­ly oppo­si­tion to the war in Iraq, peo­ple respond to Obama's per­son­al sto­ry and what they think he rep­re­sents for Amer­i­ca, as much as to the poli­cies he advocates.
But there are two Oba­mas run­ning for pres­i­dent – or at least two polit­i­cal per­sonas that vot­ers see. One is the polit­i­cal­ly pro­gres­sive Oba­ma, lead­ing in the nation­al polls over rivals such as for­mer Sen. John Edwards to be the left alter­na­tive to front-run­ner Hillary Clinton's cen­trist, estab­lish­ment pol­i­tics. The oth­er is the post-par­ti­san Oba­ma, who will bring peo­ple togeth­er and tran­scend the morass of Wash­ing­ton pol­i­tics that he is run­ning against.
Both reflect Obama's polit­i­cal his­to­ry, but the big ques­tion – for both his cam­paign and his poten­tial pres­i­den­cy – is: How com­pat­i­ble are these two per­sonas? To what extent does striv­ing for post-par­ti­san­ship con­flict with – or com­ple­ment – pro­gres­sive polit­i­cal goals?
One Oba­ma, two Obama
Pro­gres­sives often see Obama's career as evi­dence that he is a cham­pi­on of grass­roots democ­ra­cy, and issues like ethics reform and nation­al health insur­ance. ​"Peo­ple have choic­es to make in life, and choic­es give you some insight into what they believe and what their val­ues are," says Hen­ry Bay­er, direc­tor of AFSCME Dis­trict Coun­cil 31 in Illi­nois. ​"Here's a guy who had his pick of what he could do, the world was open to him, and he became a com­mu­ni­ty orga­niz­er, then went to law school, did civ­il rights and vot­er reg­is­tra­tion work," before becom­ing a reli­ably lib­er­al state senator.
That per­son­al his­to­ry counts with vot­ers. After an Iowa Fed­er­a­tion of Labor can­di­date forum in Water­loo, Amal­ga­mat­ed Tran­sit Work­ers Union local polit­i­cal direc­tor Lon Kam­mey­er – a bold ​"Live Union, Die Union" tat­too on his mas­sive fore­arm – praised Oba­ma for his can­dor about his expe­ri­ences grow­ing up and for his will­ing­ness more recent­ly to cam­paign against Wal-Mart. ​"I like Barack," he says. ​"To me, he's just worked his way up, work­ing with peo­ple who didn't have anything."
But many admir­ers – espe­cial­ly young peo­ple, peo­ple turned off to pol­i­tics, and less par­ti­san vot­ers span­ning the ide­o­log­i­cal spec­trum – do not view Oba­ma as a pro­gres­sive or even a cham­pi­on of the down­trod­den. They see him as a plain-speak­ing, uncor­rupt­ed, new force for change who wants to solve com­mon prob­lems and unite the country.
Pat Nel­son – a polit­i­cal­ly inde­pen­dent, mid­dle-aged, ele­men­tary school teacher – vol­un­teered to help at an Oba­ma ral­ly held in August on the Cass Coun­ty Fair­grounds in the small town of Atlantic, Iowa. Not a close fol­low­er of pol­i­tics in past elec­tions, she says she's pay­ing more atten­tion this time. ​"When­ev­er I lis­ten to Oba­ma, I get the feel­ing he's not a Repub­li­can, not a Demo­c­rat, but ask­ing what can we do as a group to solve prob­lems, and that intrigues me," she says. ​"We need to get over what Democ­rats and Repub­li­cans are for and think of what's impor­tant for the country."
Jim Lynam, 65, and his daugh­ter, Emi­ly, 20, both liked Obama's stand on the war in Iraq and the envi­ron­ment, but it is his charis­ma and nov­el­ty that excite them. ​"To me, he rep­re­sents fresh air, change," Jim says. ​"I would sup­port Hillary if she's nom­i­nat­ed, but I wouldn't be hap­py because she brings old ideas. You know what she's going to say. She's not inven­tive. It's pol­i­tics as usu­al. She speaks to please the audi­ence. But he's not as cor­rupt­ed by the sys­tem as peo­ple who've been swim­ming in it for years."
Even high­ly par­ti­san, lib­er­al Democ­rats, like 77-year-old retired union house painter Her­bert Abra­ham and his 53-year-old wife, Nan­cy, a home care work­er, admire Obama's post-par­ti­san­ship for a prac­ti­cal rea­son. ​"Of all the can­di­dates, I can't think of one that can get crossover votes besides Oba­ma," Her­bert said at the Atlantic ral­ly. ​"He can win, and we want the Democ­rats to win."
Indeed, in an intrigu­ing Uni­ver­si­ty of Iowa Poll in ear­ly August, Oba­ma received more sup­port from Repub­li­can vot­ers – 6.7 per­cent – than all of the oth­er Repub­li­can con­tenders except for Mitt Rom­ney and Rudy Giu­liani. And Oba­ma argues that he can expand the polit­i­cal­ly viable ter­ri­to­ry for Democ­rats more than oth­er can­di­dates by both inspir­ing South­ern blacks to vote and attract­ing more rur­al, reli­gious voters.
All togeth­er now
In his stump speech­es, like the one he gave at the Atlantic fair­grounds, Oba­ma pits the ​"gen­eros­i­ty of spir­it and decen­cy of the Amer­i­can peo­ple" against the cor­rup­tion of pol­i­tics, adroit­ly mak­ing him­self the vehi­cle of his lis­ten­ers' most noble impuls­es. Large crowds turn out for his cam­paign, he says, not because of what he's doing but ​"because Amer­i­cans all across the coun­try are des­per­ate for change. They want some­thing new. They want to take this coun­try in a new direc­tion. Part of it is a response to the last six years and the sense that the chal­lenges and dif­fi­cul­ties you face here in Atlantic and peo­ple are fac­ing all across the coun­try have not been dealt with. We've got a lot of pet­ty pol­i­tics and a lot of neg­a­tive adver­tis­ing but when it comes to the chal­lenges of this coun­try, Wash­ing­ton hasn't done the job."
— —  —  — – PAGE BREAK — — — — -
In an engag­ing and author­i­ta­tive man­ner, he ticks off Bush's pol­i­cy fail­ures – health­care, edu­ca­tion, ener­gy, glob­al warm­ing, eco­nom­ic inequal­i­ty, offi­cial con­tempt for the law, cor­rup­tion, and a ​"war that nev­er should have been autho­rized." But he often warns that sim­ply chang­ing par­ties in pow­er is not enough to change the pol­i­tics in Washington.
"Our gov­ern­ment has to reflect our deep­est val­ues, and our deep­est val­ues involve not just think­ing about our­selves but think­ing about oth­er peo­ple," he says. ​"If there are poor peo­ple in Cass Coun­ty, it impov­er­ish­es us all. That idea that I am my brother's keep­er, I am my sister's keep­er, that we're look­ing after our seniors, our chil­dren, our dis­abled, the vul­ner­a­ble – that notion has to be reflect­ed not just in our reli­gious insti­tu­tions, not just in church. It has to express itself through our gov­ern­ment. We're all in this togeth­er. We rise and fall togeth­er. We're not just on our own."
With almost iden­ti­cal lan­guage dur­ing the same week in Iowa, Edwards and Clin­ton talked about ​"shared pros­per­i­ty" and the need to rec­og­nize ​"we're in this togeth­er" instead of think­ing that ​"you're on your own" – polit­i­cal fram­ing terms pro­mot­ed by the pro­gres­sive think tank, the Eco­nom­ic Pol­i­cy Institute.
Bold is better
Yet much as the can­di­dates have con­verged in rhetoric and some poli­cies, they have staked out dif­fer­ences. Clin­ton, who hews to an estab­lish­ment for­eign pol­i­cy view to make her­self appear tough, tries to paint Obama's mod­est but laud­able can­dor and open­ness on for­eign pol­i­cy as naïve. Oba­ma coun­ters that judg­ment is more impor­tant than expe­ri­ence. ​"Nobody has a longer resume than Dick Cheney and Don­ald Rums­feld," he says, ​"and that hasn't worked out so well."
Both Oba­ma and Clin­ton have talked about bring­ing all inter­est­ed par­ties to the table to cre­ate uni­ver­sal health insur­ance. But Oba­ma, who like Edwards dis­tin­guish­es him­self from Clin­ton by refus­ing con­tri­bu­tions from polit­i­cal action com­mit­tees and Wash­ing­ton lob­by­ists, also says, ​"I don't mind insur­ance and drug com­pa­nies hav­ing a seat at the table. I just don't want them buy­ing all the chairs."
And Edwards, in a point­ed cri­tique of Oba­ma, Clin­ton and ​"cor­po­rate Democ­rats," argues that it's nec­es­sary ​"to take the pow­er away" from ​"entrenched pow­ers," not invite them to make a deal on health care, ener­gy or oth­er major prob­lems. At a UAW hall in Ottumwa, Iowa, Edwards said, ​"The idea that you can coop­er­ate and nego­ti­ate with these peo­ple and give them a seat at the table is a fan­ta­sy." Instead, he said he'd announce his health care plans from the White House lawn, then warn Amer­i­cans how cor­po­ra­tions would attack his pro­pos­als. ​"We can't be cute about this," he said. ​"We've got to take these peo­ple head on."
That crit­i­cism strikes at the fault line between the pro­gres­sive Oba­ma, will­ing as he often sug­gests to mobi­lize pop­u­lar pres­sure to bring change, and the post-par­ti­san Oba­ma, intent on bring­ing every­one togeth­er to resolve issues with­out polit­i­cal conflict.
After years of endur­ing Bush and the Repub­li­can right, ​"most Democ­rats are not in any bipar­ti­san uni­ty mind­set," says one vet­er­an Iowa polit­i­cal strate­gist, who is advis­ing anoth­er cam­paign. ​"They need some red meat."
Pro­gres­sive Democ­rats in par­tic­u­lar want a pres­i­den­tial can­di­date who will take advan­tage of the recent left­ward shift in pub­lic opin­ion. Oba­ma appeals to the party's left: He edged out Edwards in a straw poll of par­tic­i­pants in a June con­fer­ence orga­nized by Cam­paign for America's Future (CAF), a D.C.-based group that mobi­lizes pro­gres­sives with­in Demo­c­ra­t­ic pol­i­tics, and he and Edwards were vir­tu­al­ly tied in an ear­ly sum­mer sur­vey of sup­port­ers of Democ­ra­cy for Amer­i­ca, a nation­al group that grew out of Howard Dean's cam­paign four years ago.
But Robert Borosage, co-direc­tor of CAF, says Oba­ma has ​"run a very cau­tious cam­paign and cho­sen to make him­self the voice of respon­si­ble cen­trism." With his timid­i­ty on issues such as health care, ener­gy and trade, Borosage says, ​"he's almost Hillaryesque in his cau­tion on posi­tions he's tak­en. You have to take a lot on faith that he's car­ry­ing a pro­gres­sive ban­ner, but he hasn't been around long enough to know where he'll come down. He's stirred a lot of excite­ment among young peo­ple and peo­ple not much engaged in pol­i­tics, but oth­er pro­gres­sives have increas­ing ques­tions about where he is: Is he the new tri­an­gu­la­tor or one of us?"
William McNary, pres­i­dent of USAc­tion, a nation­al net­work of statewide pro­gres­sive cit­i­zen groups, per­son­al­ly – but not orga­ni­za­tion­al­ly – sup­ports Oba­ma as a ​"gen­uine pro­gres­sive" who will ​"expand the bound­aries of Amer­i­can democ­ra­cy," and heal the rup­ture with the rest of the world Bush caused with the war in Iraq. But even McNary, who has long known and worked with Oba­ma, says, ​"If I had to offer any crit­i­cism, he's a bit cau­tious for my taste. Peo­ple have to see some­one who is putting forth bold pro­pos­als, not weak, timid pro­grams. Bold­er can be better."
In Iowa, where Edwards remains the fron­trun­ner, some polls show Oba­ma gain­ing strength. State Sen­a­tor Joe Bolk­com, a lead orga­niz­er for the Work­ing Fam­i­lies Win mobi­liza­tion project of Amer­i­cans for Demo­c­ra­t­ic Action, sees Oba­ma as inspir­ing young peo­ple much like Howard Dean did four years ago. ​"One of his main mes­sages is the cor­rup­tion of spe­cial inter­est mon­ey in pol­i­tics and how that dis­torts what the coun­try needs now," Bolk­com says. ​"That's a mes­sage that's strong here, and that was one of Gov. Dean's messages."
And John Nor­ris, the field orga­niz­er for Sen. John Kerry's upset vic­to­ry in the 2004 Iowa cau­cus, con­tends that old­er, more expe­ri­enced Democ­rats are now join­ing young Oba­ma sup­port­ers, and that Oba­ma has more of an oppor­tu­ni­ty to grow his sup­port than the more estab­lished can­di­dates. ​"Is he pro­gres­sive?" Nor­ris says. ​"In my mind, yes. Ide­ol­o­gy is impor­tant to me. I don't know there's a great deal of dis­tinc­tion among top can­di­dates, though I think Oba­ma is more pro­gres­sive than Hillary, who's moved to the right." But Nor­ris also sup­ports Oba­ma because he has the ​"capac­i­ty, insight and approach to re-estab­lish our ties with the world com­mu­ni­ty" and the ​"enor­mous capac­i­ty to excite a new gen­er­a­tion about pub­lic service."
"He fun­da­men­tal­ly under­stands that we have to change the way we do pol­i­tics in Wash­ing­ton," says Nor­ris. ​"I think every­one else is cyn­i­cal that we can make a fun­da­men­tal change. I think you have to start with that fun­da­men­tal belief or you can't get any­thing done. He's lived that as a com­mu­ni­ty orga­niz­er, work­ing for change from the demo­c­ra­t­ic roots. If you're going to change Wash­ing­ton, it has to start in the countryside."
Can Oba­ma resolve the ten­sion between his post-par­ti­san and pro­gres­sive per­sonas, and the dif­fer­ing camps of vot­ers they attract? Unless he does, he may not have the oppor­tu­ni­ty to win the pres­i­den­cy, much less fun­da­men­tal­ly change Amer­i­can politics.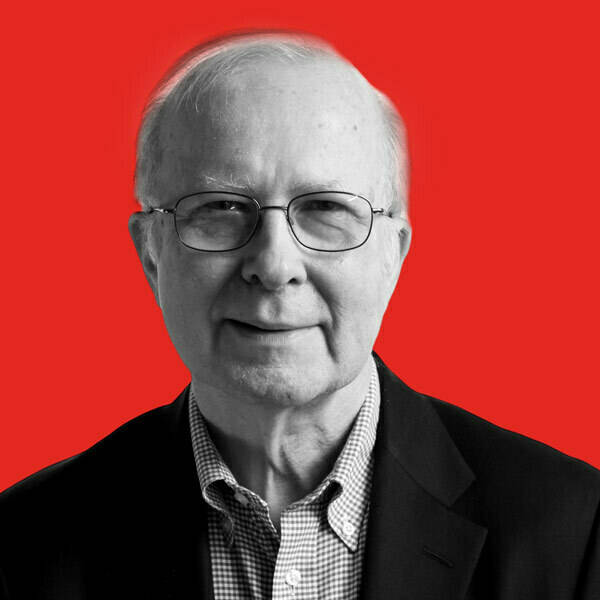 David Moberg, a senior edi­tor of In These Times, has been on the staff of the mag­a­zine since it began pub­lish­ing in 1976. Before join­ing In These Times, he com­plet­ed his work for a Ph.D. in anthro­pol­o­gy at the Uni­ver­si­ty of Chica­go and worked for Newsweek. He has received fel­low­ships from the John D. and Cather­ine T. MacArthur Foun­da­tion and the Nation Insti­tute for research on the new glob­al economy.