Off the Rails: How a Lack of Oversight Doomed Lac-Megantic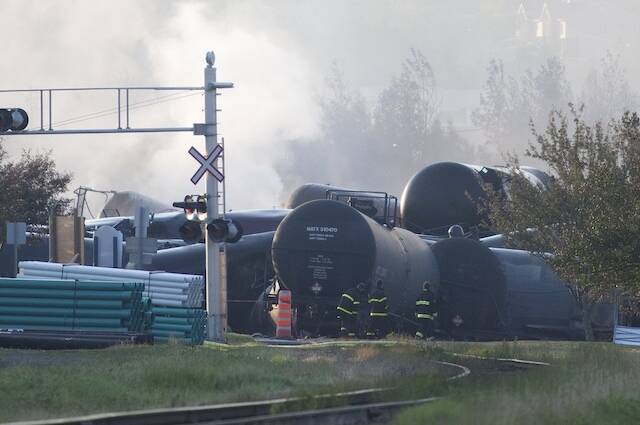 When a run­away train slammed into the small Que­bec town of Lac-Megan­tic in July, incin­er­at­ing the city's core and killing 47 peo­ple, it may have marked the end of the line for the per­ilous, prof­it-max­i­miz­ing mod­el of rail­road­ing that has enthralled cor­po­rate and gov­ern­ment offi­cials across North Amer­i­ca and the globe.
The prin­ci­pal pro­po­nent of this lais­sez-faire tem­plate for rail­road­ing — rais­ing income while min­i­miz­ing main­te­nance costs, resist­ing safe­ty reg­u­la­tions, and fight­ing unions and ade­quate staffing — has been, fit­ting­ly enough, none oth­er than Edward Burkhardt, own­er of the Mon­tréal, Maine, and Atlantic (MM&A) rail­way whose train dec­i­mat­ed Lac-Megan­tic this summer.
Burkhardt — who also owns MM&A's par­ent com­pa­ny, Illi­nois based Rail World Inc., which con­trols rail lines in the U.S. and Poland in addi­tion to sev­er­al hun­dred miles of MM&A track in Cana­da — was a pio­neer in rec­og­niz­ing the prof­it-gen­er­at­ing pos­si­bil­i­ties of rail dereg­u­la­tion made avail­able by the Stag­gers Rail Act of 1980. The act per­mit­ted the for­ma­tion of non-rail hold­ing com­pa­nies by rail cor­po­ra­tions, who could then use the ratio­nale that the rail lines had ​"new" own­ers to tear up exist­ing union contracts.
Burkhardt was among the first to use this loop­hole in the Stag­gers Act to try to elim­i­nate rail unions, which also facil­i­tat­ed reduc­ing track main­te­nance and cut­ting rail-crew sizes to a min­i­mum. Burkhardt has long been press­ing for one-man crews and radio-direct­ed unmanned trains.
He began active­ly employ­ing this approach in the 1980s with the Wis­con­sin Cen­tral Rail­road, fero­cious­ly resist­ing union­iza­tion efforts and keep­ing main­te­nance costs at a min­i­mum. After buy­ing up 2,700 miles of Soo Line track, Burkhardt used the new­ly formed Wis­con­sin Cen­tral Rail­road to apply his mod­el of prof­it max­i­miza­tion: fight­ing union­iza­tion, slash­ing crew size and skimp­ing on track maintenance.
As doc­trines of what might be brand­ed ​"free-mar­ket fun­da­men­tal­ism" took root among cor­po­rate lead­ers and media elites in the Eng­lish-speak­ing world, Burkhardt gained more oppor­tu­ni­ties for rev­enue even while his com­pa­nies' rep­u­ta­tions suffered.
​"Wis­con­sin Cen­tral — which also took advan­tage of pri­va­ti­za­tion to acquire rail oper­a­tions in coun­tries such as Britain, Aus­tralia and New Zealand — racked up a ques­tion­able safe­ty record," not­ed Philip Mat­tera, Research Direc­tor and the Direc­tor of the Cor­po­rate Research Project at Good Jobs First.
But despite sev­er­al near-dis­as­ters at Wis­con­sin Cen­tral, Burkhardt's influ­ence con­tin­ued to grow. After being cho­sen as ​"Rail­road­er of the Year" in 1999 by Rail­way Age mag­a­zine, his rail empire fur­ther extend­ed glob­al­ly. The World Bank, noto­ri­ous for pro­mot­ing and enforc­ing poli­cies that ele­vate prof­its above human needs, repeat­ed­ly used him as a con­sul­tant for their pro-pri­va­ti­za­tion maneu­vers, even­tu­al­ly anoint­ing him as the head of pri­va­tized rail­roads in Esto­nia and Poland as well as Hon­orary Con­sul for New Zealand at Chicago.
A grow­ing danger
The social costs — both to com­mu­ni­ty health and to work­ers' liv­ing stan­dards and safe­ty — of Burkhardt's cost-cut­ting mod­el were ignored by his admir­ers despite dan­ger­ous acci­dents in the 1990s that fore­shad­owed the Lac-Megan­tic cat­a­stro­phe. On March 4, 1996, a derail­ment of a petro­le­um-laden train in Weyauwe­ga, Wis. set off a fire that blazed for two weeks and forced 3,000 res­i­dents from their homes. Only the actions of the con­duc­tor, who uncou­pled the cars car­ry­ing chem­i­cals and propane, pre­vent­ed the fire from spread­ing even fur­ther. He was part of a two-man crew — at a time when sev­er­al rail com­pa­nies, includ­ing Wis­con­sin Cen­tral, were exper­i­ment­ing with cut­ting crew teams down to sin­gle members.
The next year, a derail­ment in Fond du Lac killed two work­ers when a Wis­con­sin Cen­tral freight train veered off the tracks and crashed into a factory.
Accord­ing to Craig Peachy, leg­isla­tive direc­tor for the Wis­con­sin Trans­porta­tion Divi­sion of the Sheet Met­al, Air, Rail & Trans­porta­tion Work­ers Union (SMART), under­staffing and poor main­te­nance clear­ly led to both crashes.
The mount­ing list of acci­dents moved even con­ser­v­a­tive Repub­li­can leg­is­la­tors. Wis­con­sin Central's prac­tices prompt­ed Rep. Gov. Tom­my Thomp­son to sign a bill in 1997 man­dat­ing two-man crews. ​"I think it was the only law man­dat­ing two-man crews in the nation," Peachy told In These Times.
How­ev­er, the law was even­tu­al­ly ruled uncon­sti­tu­tion­al by fed­er­al judges, who deter­mined that the Inter­state Com­merce Act required the crew size to be stan­dard­ized equal­ly through­out all states.
Mon­tréal, Maine, and Atlantic's decline
Burkhardt's 2003 pur­chase of MM&A, then fac­ing finan­cial trou­bles, was con­duct­ed in his typ­i­cal style: by pres­sur­ing Broth­er­hood of Loco­mo­tive Engi­neers and Train­men union mem­bers to accept pay cuts between 25 and 40 per­cent. Claim­ing that he was seek­ing to ​"improve safe­ty and effi­cien­cy," Burkhardt also sought in 2010 to reduce MM&A's crew size from two work­ers to one.
That step led vet­er­an engi­neer Jar­od Brig­gs to quit MM&A. He told the Toron­to Star, ​"If you have two peo­ple watch­ing, you can catch a mis­take. It was all about cut­ting, cut­ting, cut­ting. It's just an exam­ple of putting com­pa­ny prof­its ahead of pub­lic safety."
MM&A also appar­ent­ly had no reg­u­lar crews of its own to main­tain its tracks, rely­ing instead on con­trac­tors, SMART's James Stem told In These Times.
These cost-cut­ting prac­tices have arguably result­ed in dan­ger­ous laps­es in safe­ty. Accord­ing to the Toron­to Globe & Mail, MM&A report­ed more acci­dents than 93% of the 288 small rail lines between 2009 and 2012. The crash at Lac-Megan­tic is just the lat­est tragedy.
Roy LaFontaine, a Lac-Megan­tic con­trac­tor who fre­quent­ly worked for MM&A to per­form main­te­nance work, told local reporters that the tracks should have been changed a cen­tu­ry ago. LaFontaine, who suf­fered the loss of his son, two daugh­ters-in-law, and an employ­ee in the July explo­sion and fire, cit­ed inci­dents like derail­ments and sub­se­quent fuel spills as evi­dence that MM&A fre­quent­ly left stretch­es of track with­out vital upkeep.
A full-scale Trans­porta­tion Safe­ty Board of Cana­da inves­ti­ga­tion of what caused the Lac-Megan­tic dis­as­ter is under­way, but anoth­er fail­ure of main­te­nance appears to be the cul­prit. MM&A had lined up 72 tank cars loaded with oil on a sid­ing locat­ed sev­en miles from Lac-Megan­tic, held in place by the locomotive's air brakes. In line with MM&A pol­i­cy, the train's engi­neer kept the engine run­ning to max­i­mize the brakes' pow­er as a safe­ty mea­sure and then left the train unat­tend­ed, also part of MM&A procedures.
But when part of the loco­mo­tive caught fire, local vol­un­teer fire­fight­ers and MM&A work­ers sum­moned to the scene decid­ed to shut off the locomotive's engine to min­i­mize the pos­si­bil­i­ty of the fire spread­ing or an explo­sion. How­ev­er, shut­ting off the engine weak­ened the hold of the brakes. With­out any MM&A work­er remain­ing behind to mon­i­tor the sit­u­a­tion — again in line com­pa­ny pol­i­cy with min­i­miz­ing costs — even­tu­al­ly, the unmanned train got rolling, build­ing momen­tum and reach­ing a peak speed of 63 miles an hour as it head­ed down­hill toward Lac-Megantic's down­town, filled with Sat­ur­day night revelers.
The ensu­ing dis­as­ter instan­ta­neous­ly trans­formed Burkhardt from rail-indus­try leg­end into Canada's lead­ing vil­lain. Burkhardt's four-day delay in vis­it­ing the Lac-Megan­tic site shocked local res­i­dents who had lost friends and rel­a­tives in the close-knit com­mu­ni­ty of 6,000. Burkhardt then deep­ened pub­lic fury by first attempt­ing to blame the vol­un­teer fire­fight­ers, then sin­gling out the engi­neer for sup­pos­ed­ly not set­ting the brakes prop­er­ly on the unmanned train. In real­i­ty, as the pres­i­dent of Trans­porta­tion Safe­ty Cana­da told NPR, it's deeply unlike­ly that a sin­gle oper­a­tor is sole­ly to blame for the crash.
The stun­ning loss­es at Lac-Megan­tic have ignit­ed a fierce back­lash by pub­lic offi­cials, the media, and cit­i­zen groups against lax reg­u­la­tion of rail­roads. The elite con­sen­sus behind prof­it-max­i­miz­ing, safe­ty-min­i­miz­ing rail­road dereg­u­la­tion has gone up with the flames of Lac-Megantic.
They've also shed light on the ban via rail­roads through pop­u­lat­ed areas. Crude oil, extract­ed through envi­ron­men­tal­ly dev­as­tat­ing ​"frack­ing" and then car­ried by rail­cars through­out North Amer­i­ca, has been found to have a unique­ly high con­tent of volatile organ­ic com­pounds. The train that explod­ed in Lac-Megan­tic was trans­port­ing this dead­ly cargo.
But cat­alyzed first by the Lac-Megan­tic tragedy and fur­ther stoked by Burkhardt's arro­gance, momen­tum has built in both Cana­da and the U.S. for the estab­lish­ment of a stan­dard of two-man crews and re-exam­in­ing rail­road safe­ty. For now, the Cana­di­an gov­ern­ment — sen­si­tive to wide­spread pub­lic out­cry — has imposed a mora­to­ri­um that bans one-man crews on trains car­ry­ing haz­ardous car­go like crude oil. For its part, the U.S. Fed­er­al Rail­way Admin­is­tra­tion has issued new rules requir­ing that rail­cars con­tain­ing haz­ardous mate­ri­als must be attend­ed at all times.
Fur­ther, Maine Rep. Mike Michaud, a staunch pro-work­er pro­gres­sive, intro­duced leg­is­la­tion after Lac-Megantic's hor­rors that would ban one-man crews alto­geth­er. The rail indus­try is pre­dictably opposed, fram­ing it as an unnec­es­sary mea­sure aimed at pro­tect­ing jobs rather than improv­ing safe­ty. As Burkhardt explained to the Port­land Press Her­ald, a one-per­son crew is actu­al­ly safer because it elim­i­nates the dis­tract­ing pres­ence of anoth­er person.
Michaud's spokesper­son Ed Gilman coun­tered by stress­ing the need to address obvi­ous dan­gers to pub­lic safe­ty. ​"We hope to focus more atten­tion on the need to increase safe­ty," he said. ​"That's why the con­gress­man recent­ly request­ed a hear­ing into rail safe­ty, includ­ing an exam­i­na­tion of spe­cif­ic issues such as crew size, tank car design, and insur­ance requirements."
Both Gilman and SMART's James Stem see the poten­tial for bi-par­ti­san sup­port even in a high­ly polar­ized Con­gress where Repub­li­cans have almost reflex­ive­ly done the bid­ding of big indus­try. Stem stat­ed, ​"We expect to have many Repub­li­can co-spon­sors and the orig­i­nal spon­sor Con­gress­man Michaud is also work­ing on get­ting sev­er­al Repub­li­cans on the bill."
​"The safe­ty of the pub­lic," he con­tin­ued, ​"Is not a par­ti­san issue."
Sim­i­lar leg­is­la­tion is being intro­duced in Cana­da, where the New Demo­c­ra­t­ic Par­ty is call­ing for a min­i­mum of two crew mem­bers on trains car­ry­ing dan­ger­ous goods, and a dead­line for retir­ing the oft-cit­ed DOT-111 tank cars, the mod­el used on the MM&A train. Par­ty mem­ber and Cana­di­an law­mak­er Olivia Chow said munic­i­pal­i­ties should also know when and where dan­ger­ous goods are trav­el­ing by rail through their towns.
As Canada's Trans­porta­tion Safe­ty Board's inves­ti­ga­tion of the July 6 night of hor­ror in Lac-Megan­tic unfolds and more is learned about the rail industry's prac­tices, a long-delayed debate on the rail industry's fix­a­tion on max­i­mum prof­its — with­out regard to pub­lic health or work­er safe­ty — will final­ly be unavoid­able on both sides of the U.S.-Canadian border.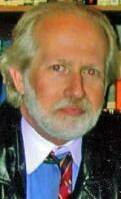 Roger Bybee

is a Mil­wau­kee-based free­lance writer and Uni­ver­si­ty of Illi­nois vis­it­ing pro­fes­sor in Labor Edu­ca­tion.Roger's work has appeared in numer­ous nation­al pub­li­ca­tions, includ­ing

Z

mag­a­zine,

Dol­lars

&

Sense, The Pro­gres­sive, Pro­gres­sive Pop­ulist, Huff­in­g­ton Post, The Amer­i­can Prospect, Yes!

and

For­eign Pol­i­cy in Focus

.More of his work can be found at

zcom​mu​ni​ca​tions​.org/​z​s​p​a​c​e​/​r​o​g​e​r​d​bybee

.