How Privatization Sparked the Massive Oklahoma Teacher Uprising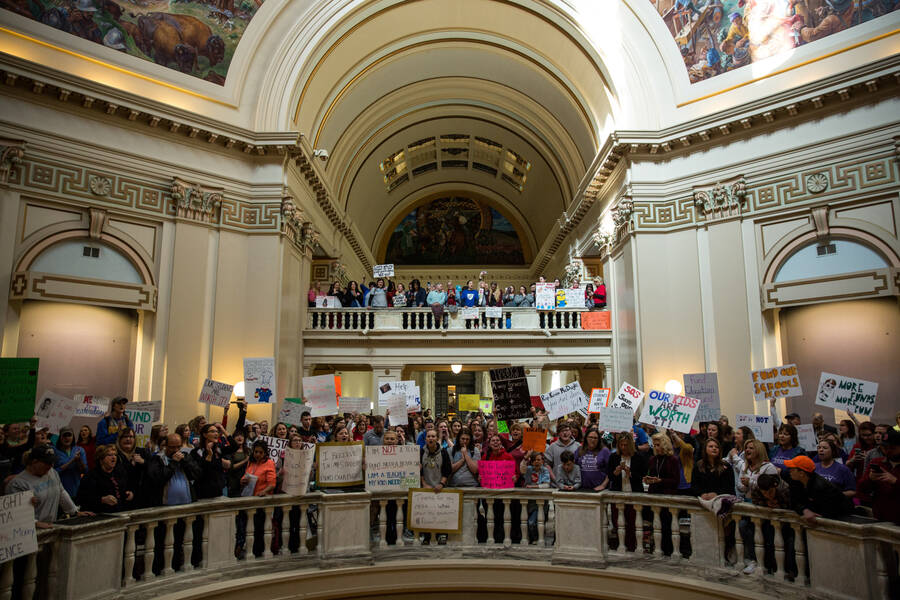 OKLA­HOMA — On April 2, an esti­mat­ed 30,000 Okla­homa teach­ers walked out of schools across the state, some trav­el­ing hun­dreds of miles to the cap­i­tal to protest. This momen­tum has not stopped: At the time of this writ­ing, teach­ers are march­ing — by foot — from Tul­sa to Okla­homa City. Across the state, they are plan­ning to con­tin­ue to mobi­lize, despite leg­isla­tive oppo­si­tion that has gone so far as to accuse the teach­ers of bussing in pro­tes­tors from Chicago.
To explain the rea­sons for the strike and ongo­ing mobi­liza­tions, most main­stream media have been mar­ket­ing pover­ty porn: This teacher sells plas­ma. Anoth­er works six jobs to make ends meet. Some teach­ers in Okla­homa tell In These Times that major out­lets are specif­i­cal­ly only ask­ing to speak with the poor­est teachers.
But there's a big­ger issue at hand than the impov­er­ished state of teach­ers and their sup­port staff: pri­va­ti­za­tion. For more than a decade, state leg­is­la­tors — Democ­rats and Repub­li­cans alike — have marched the state off the prover­bial finan­cial cliff, then used bud­get short­falls to push pri­va­ti­za­tion. For every notch the state's eco­nom­ic belt is tight­ened, a pri­vate com­pa­ny comes in and takes over — at a cost large­ly unknown to Okla­homans. Take, for exam­ple, the Okla­homa Depart­ment of Human Ser­vices (ODHS), which shift­ed the shel­ter­ing of some abused and neglect­ed chil­dren to the pri­vate enti­ty White Fields in 2006. Pri­vate insti­tu­tions aren't sub­ject to the same lev­el of open records require­ments and account­abil­i­ty stan­dards as state agen­cies are in Okla­homa, wor­ries Con­nie John­son, for­mer state sen­a­tor and Our Rev­o­lu­tion can­di­date for governor.
This trend, along­side shrink­ing unions, is a fac­tor behind Monday's walk­out, as well as protests con­tin­u­ing through the week and planned into the com­ing months.
Okla­homa should be a rich state. Oil der­ricks suck the Earth's blood like mechan­i­cal mos­qui­tos, from small-town back­yards to the front and back lawn of the state capi­tol build­ing in Okla­homa City. The state has a rich and long his­to­ry of coal min­ing. Yet the oil, gas and coal indus­tries have fina­gled low-to-no-tax schemes. Mean­while, the poor pay a greater per­cent­age of their incomes on state and local tax­es than wealth­i­er res­i­dents, and face sin tax­es on cig­a­rettes and alcohol.
Amid this cli­mate, the Okla­homa leg­is­la­ture did pass an 11th hour bill on March 28 to fund teach­ers' salaries with a raise that many con­sid­er insuf­fi­cient. The ques­tion of how the state would fund the raise was left out, even though there was much self-con­grat­u­la­to­ry back-slap­ping among elect­ed offi­cials. ​"I hope [the teach­ers] can come up here and say ​'thank you' on Mon­day and go back to the class­rooms," announced Okla­homa Gov. Mary Fallin ®.
But many Okla­homans were dis­gust­ed by the bill and the governor's state­ment. State Rep. Karen Gad­dis (D‑Tulsa/​Broken Arrow) wrote on her Face­book page:
… it was noth­ing more than a bait-and-switch… THE BILL IS ALMOST $150M UNDER­FUND­ED! … the Leg­is­la­ture must either come up with new sources of rev­enue (… usu­al­ly on the back of the com­mon man) or cut the bud­get in oth­er areas, like men­tal health ser­vices, drug and alco­hol rehab ser­vices, high­er ed, infra­struc­ture, cor­rec­tions, whatever.
State Rep. Roger Ford (R‑Oklahoma City) agreed on his Face­book page: ​"I'm being told rais­es will be paid from ​'oth­er' rev­enue sources next fis­cal year. So once again dis­tricts have to trust the leg­is­la­ture to fund edu­ca­tion or the dis­trict will have anoth­er unfund­ed man­date on their back."
Yet, some main­stream media out­lets, includ­ing USA Today, paint­ed the sto­ry of the teach­ers walk­ing out after the bill was signed by the gov­er­nor as if the teach­ers were ingrates.
Teach­ers express frus­tra­tion with the legislature's incom­pe­tence in pass­ing an unfund­ed bill. ​"Every piece of leg­is­la­tion that comes, out it's like, what now?" Julie Eden­bor­ough, 51, tells In These Times. She's the direc­tor of Title III and Migrant Ser­vices for Guy­mon Pub­lic Schools — a tiny dis­trict in the Okla­homa pan­han­dle, just north of the Texas bor­der and hours away from the near­est shop­ping mall. She works with the migrant chil­dren of the farm­work­er com­mu­ni­ty. She says in the last two years, the state has tak­en back mon­ey they had already bud­get­ed to the dis­trict, three times.
Eden­bor­ough says it's not just those cuts that hurt. It's the cuts to the Depart­ment of Men­tal Health and Sub­stance Abuse Ser­vices, which was direct­ed to shed near­ly 25 per­cent of its bud­get last Fall. ​"The Texas Coun­ty Health Depart­ment is on the brink of clos­ing," she adds. ​"I need [those] core service[s] to be oper­a­tional so the stu­dent is healthy and can learn. We have two case­work­ers work­ing a six-coun­ty area. They are over worked. They can't take stu­dents in." Chil­dren, she says, are being sent home into harm's way for lack of state support.
"We're hop­ing those oth­er employ­ees in those agen­cies will fight with us as well," she says. ​"Every agency of the state is at a crit­i­cal mass of breakage."
Oth­er state agen­cies, from Cor­rec­tions to Men­tal Health to Trans­porta­tion, are now com­plain­ing about their severe­ly cut bud­gets, too.
The way Okla­homa funds pub­lic ser­vices has to be revis­it­ed, says Lar­ry Cagle, a teacher and leader of the mobi­liza­tion group Okla­homa Teach­ers Unit­ed. ​"Those state work­ers have gone with­out a raise as much as we have."
In addi­tion, many school super­in­ten­dents of pub­lic school sys­tems and prin­ci­pals have been com­plic­it, offer­ing lit­tle to no sup­port of the teach­ers, says Cagle. ​"They are work­ing aggres­sive­ly to force in a pri­va­ti­za­tion of the schools," he says. ​"That's the real story."
Cagle points to the Eli and Edythe Broad Foun­da­tion, an orga­ni­za­tion that seeks to run schools as pri­vate enti­ties under the ban­ner of ​"entre­pre­neur­ship for the pub­lic good." He says this group is a key force push­ing resources out of Oklahoma's pub­lic schools and into pri­vate enti­ties like char­ter schools.
Cagle says pub­lic school super­in­ten­dents, prin­ci­pals and school board mem­bers across the state were trained by or are oth­er­wise a part of Broad's sys­tem. Tul­sa Pub­lic Schools super­in­ten­dent Deb­o­rah Gist, for exam­ple, is Broad trained, and des­ig­nat­ed a ​"Cham­pi­on for Char­ters" by the Nation­al Alliance for Pub­lic Char­ter Schools when she was com­mis­sion­er of Rhode Island's pub­lic schools.
Cindy Deck­er is an elect­ed school board mem­ber for Tul­sa Pub­lic Schools and is also direc­tor of research and inno­va­tion at CAP Tul­sa — a $65 mil­lion orga­ni­za­tion that is also open­ing ear­ly edu­ca­tion cen­ters in Tul­sa pub­lic schools.
"Why is Cindy Deck­er allowed to be a school board mem­ber when [her orga­ni­za­tion] has con­trac­tu­al agree­ments with [pub­lic schools] — but a school admin­is­tra­tor isn't allowed to sit because of con­flict of inter­est? Why do we allow pri­vate indus­try to have posi­tions on the school board?" Cagle asks.
The strat­e­gy, he says, makes it easy for pri­vate edu­ca­tion to move into poor minor­i­ty com­mu­ni­ties, and then squeeze white dis­tricts until they suc­cumb to pri­va­ti­za­tion. KIPP, one of the char­ter school busi­ness lac­er­at­ed by John Oliv­eron Last Week Tonightin 2016, has already tak­en over a large Tul­sa minor­i­ty high school.
But pri­va­ti­za­tion of state ser­vices isn't work­ing: Last week, White Fields announced it was ter­mi­nat­ing its ODHS con­tract because it isn't ​"set up to help the type of child we are being sent [men­tal­ly ill]," cre­at­ing a new cri­sis in what to do with kids who need a place to go and a state com­plete­ly unready to house them. But it's hard to tal­ly just how much mon­ey the state is spend­ing on such privatization.
Sup­port for the teach­ers and state work­ers res­onates across the state. ​"My mom is a retired teacher," says Chris Isbell, a phar­ma­cist and own­er of Johnny's Home­town Phar­ma­cy in Roland. ​"I very much sup­port the teachers."
Oth­ers think it's time to vote new folks in. ​"I sym­pa­thize with the teach­ers," says Tim Tanksley, of Bokoshe. ​"But some­times I won­der how many of them, their fam­i­lies, what their par­ty affil­i­a­tions are, who they vote for, who they put in office. Some­times I think a lot of them, they keep hand­ing them back the stick and say­ing ​'hit me again. I haven't suf­fered enough.'"
Cagle says the leg­is­la­ture is known to retal­i­ate against teach­ers when they step out of line. For exam­ple, despite bipar­ti­san agree­ment that the bill the gov­er­nor signed on the 28this unfund­ed, the Tul­sa World report­ed that State Rep. Kevin McDugle, (R‑Broken Arrow) said, ​"I'm not vot­ing for anoth­er stink­ing mea­sure when [the teach­ers are] act­ing the way they're acting."
Despite the poten­tial for retal­i­a­tion, the teach­ers are more angry than afraid: Cagle says teach­ers from across the state are par­tic­i­pat­ing in ongo­ing, state-wide, march­es and rolling walk­outs. And despite pop­u­lar stereo­types of Okla­homans as white and Repub­li­can, Oklahoma's demo­graph­ics have changed dra­mat­i­cal­ly in 20 years. A third of the pop­u­la­tion is minor­i­ty or mixed race. And in Guy­mon, dozens of lan­guages are spo­ken in a stu­dent pop­u­la­tion of just 3,000.
Moti­vat­ed, inspired, and hope­ful for change from the bot­tom up, Eden­bor­ough says that 60 teach­ers from Guy­mon made the rough­ly five-hour dri­ve to Okla­homa City to protest, leav­ing East­er Sun­day after­noon. The oth­er teach­ers are protest­ing local­ly in shifts, while still mak­ing sure the stu­dents are picked up by bus­es and are brought to school so they can eat break­fast and lunch. Eden­bor­ough says 85 per­cent of Guymon's stu­dents receive free meals.
"You don't grow stronger by starv­ing peo­ple," says Edenborough.
Pos­si­ble solu­tions con­tin­ue to fall short, and while the OEA issued demands to end the walk­out, Okla­homa Teach­ers Unit­ed is pub­licly not will­ing to end the ongo­ing work actions and protests before fund­ing is secured for teach­ers and fel­low pub­lic school and state employees.
Okla­homa, says Cagle, is ​"not a poor state. It's a pri­or­i­ty state," mean­ing where the mon­ey goes demon­strates the pri­or­i­ties of the state. Clear­ly, he says, ​"the mon­ey in the state is going some­where." And the answer to where it's going, he says, is in ​"the hands of the one percent."
"They're pump­ing it from our home," he says. ​"It's our oil. Our water. Our land. And peo­ple are wak­ing up."
Valerie Vande Panne
is an inves­tiga­tive fel­low with
In These Times
' Leonard C. Good­man Insti­tute for Inves­tiga­tive Reporting.